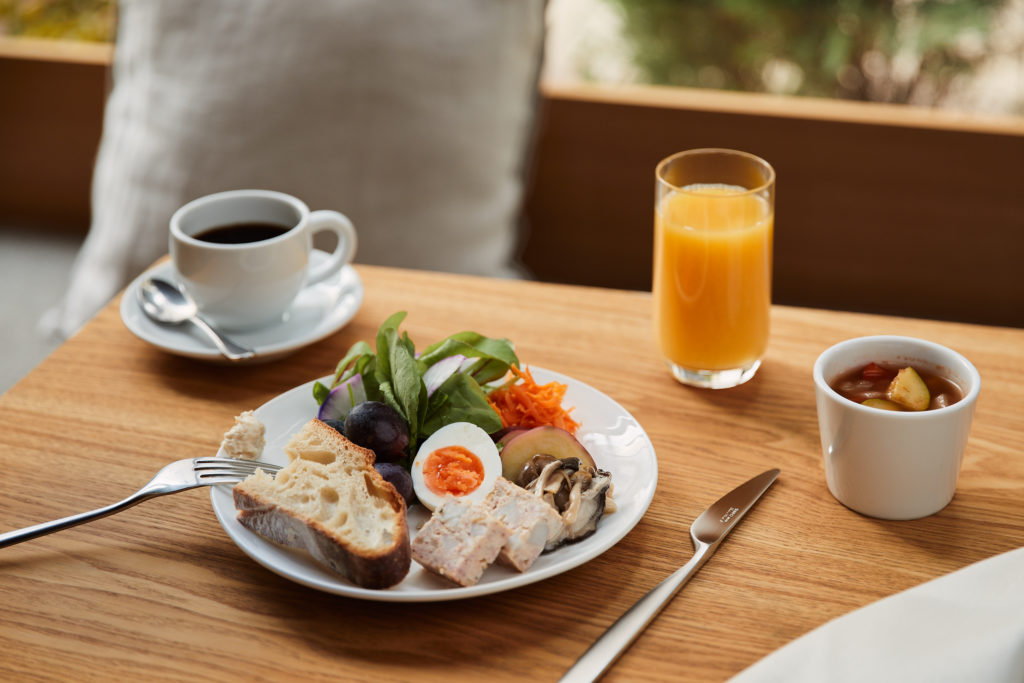 Beginning November 1, 2019, Kaname Inn Tatemachi will be offering a new breakfast to its guests in the morning.
As with all dishes from Kanazawa Music Bar, this meal is made with local ingredients from Kanazawa and the surrounding areas in Ishikawa Prefecture. Our goal is to offer you, our guest, a morning meal that is neither too light or too filling and is well balanced to give you the energy you need to enjoy your stay with us in Kanazawa.
Please notify us in advance if you have food allergies and we will do our best to accommodate.
Breakfast Plate
Green Salad with Purple Radish
Pork & Chicken Loaf with Kaga Lotus Root
Today's Deli: Selection of 3
Pickled Red Bell Pepper with Herbs
Curry-Marinated Carrot
Pickled Mushrooms in Oil
Lentils, Pickles, and Miniature Tomatoes
Lemon-Simmered Japanese Sweet Potato
"Nior" Natural Yeast Bread
Boiled Egg
Fruit
Kaga Cucumber Minestrone
Drinks
"No. 3 Warehouse Roasters" Coffee
or
Paysan Herb Tea
or
Apple Juice
1500 yen
limited quantity | reservation requried
About Our Breakfast Menu
Produce: Matsuda Hisanao Shop
Our local grocer just down the street in Shin-tatemachi who carefully selects produce from all over Japan and sells homemade side dishes and services many places in Kanazawa.
Bread: Nior
Authentic French style bakery in Nonoichi, just south of Kanazawa, known for using three different types of wood ovens to bring out the flavor of the wheat in their dedicated baking method.
Coffee: No. 3 Warehouse Coffee Roasters
A renovated warehouse with a high-end sound system, this spacious cafe offers a get-away from both work and home in which to enjoy home-roasted coffee.
"Kaga"
Kaga refers to the Kaga region, the southern half of Ishikawa Prefecture, and the name of the province during the Edo era of Japanese history and a heritage of which we are very proud.
←Back