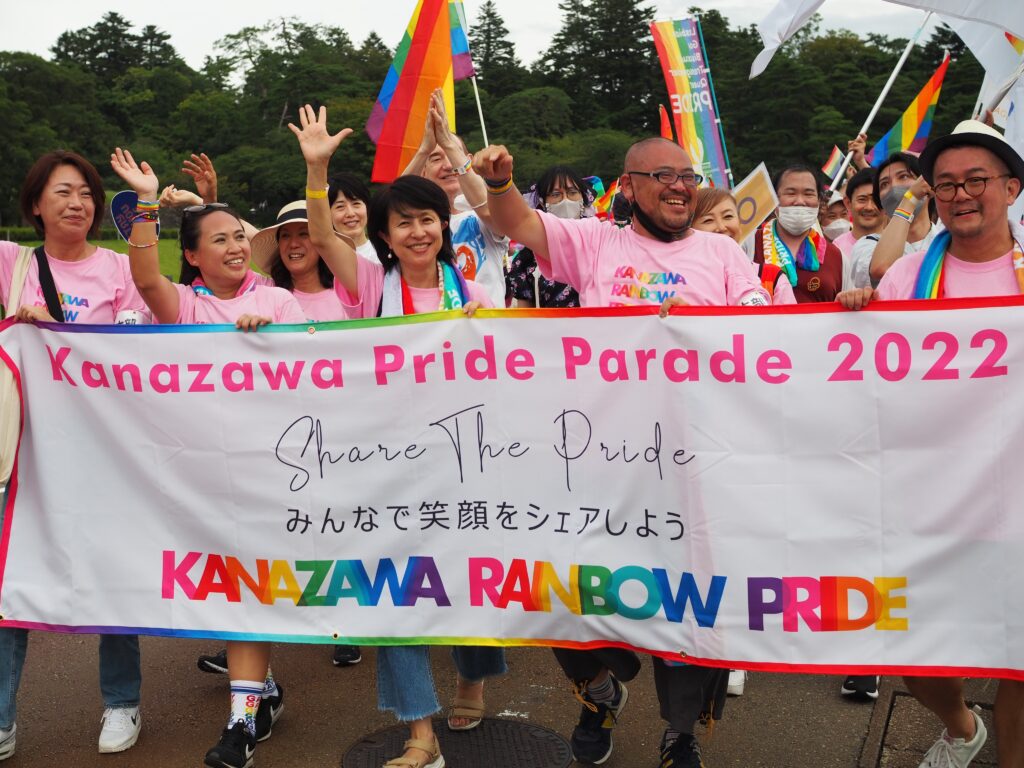 A Japanese woman in her 30s with cheerful eyes holds a heart-shaped sign that says, "Love is Love!" Another sign, translated from Japanese, says "Every one is different, and every one is good! 'YES' to diversity!" A Buddhist monk bears a rainbow on his robe. A Japanese salaryman in a colorful tee-shirt smiles and waves. Among the sea of rainbow flags flies the pastels of transgender colors and a sprinkling of purples, yellows and blacks from the intersex and asexual flags. University student organizers in pink escort the crowd and cheer. Small floats holding up lavishly adorned drag royalty blast dance music down the street.
"Share the Pride!"
At the second annual Kanazawa Rainbow Pride Parade, these many members of the LGBTQ+ community and their allies, all with ties to Kanazawa, march and cheer "Happy Pride!" at waving bystanders. There are five hundred of us, a 60% increase in the number over last year, the very first year Kanazawa ever saw a rainbow pride parade.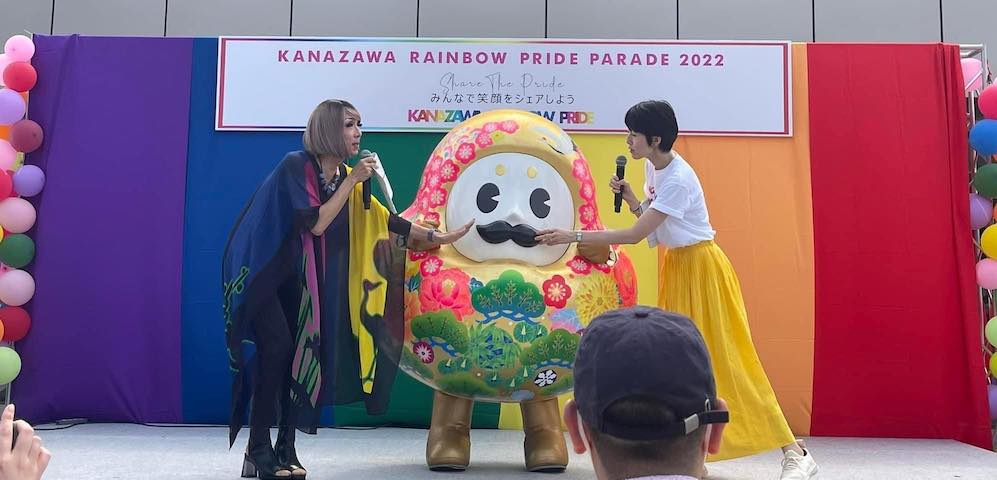 Even Hyakuman-san, the roly-poly toy-themed mascot of the Kanazawa-Tokyo bullet train line, came to show his support in the pre-parade staging area near Kanazawa Castle.
Kaname Inn Tatemachi were not only proud sponsors of the Kanazawa Rainbow Pride, but active participants as well. The president, Hiroshi Hosokawa, who earlier this year promised to employ and promote LGBTQ+ acceptance in his businesses, was a prominent figure, drawing the attention from across the prefecture and the country to this otherwise conservative castle town.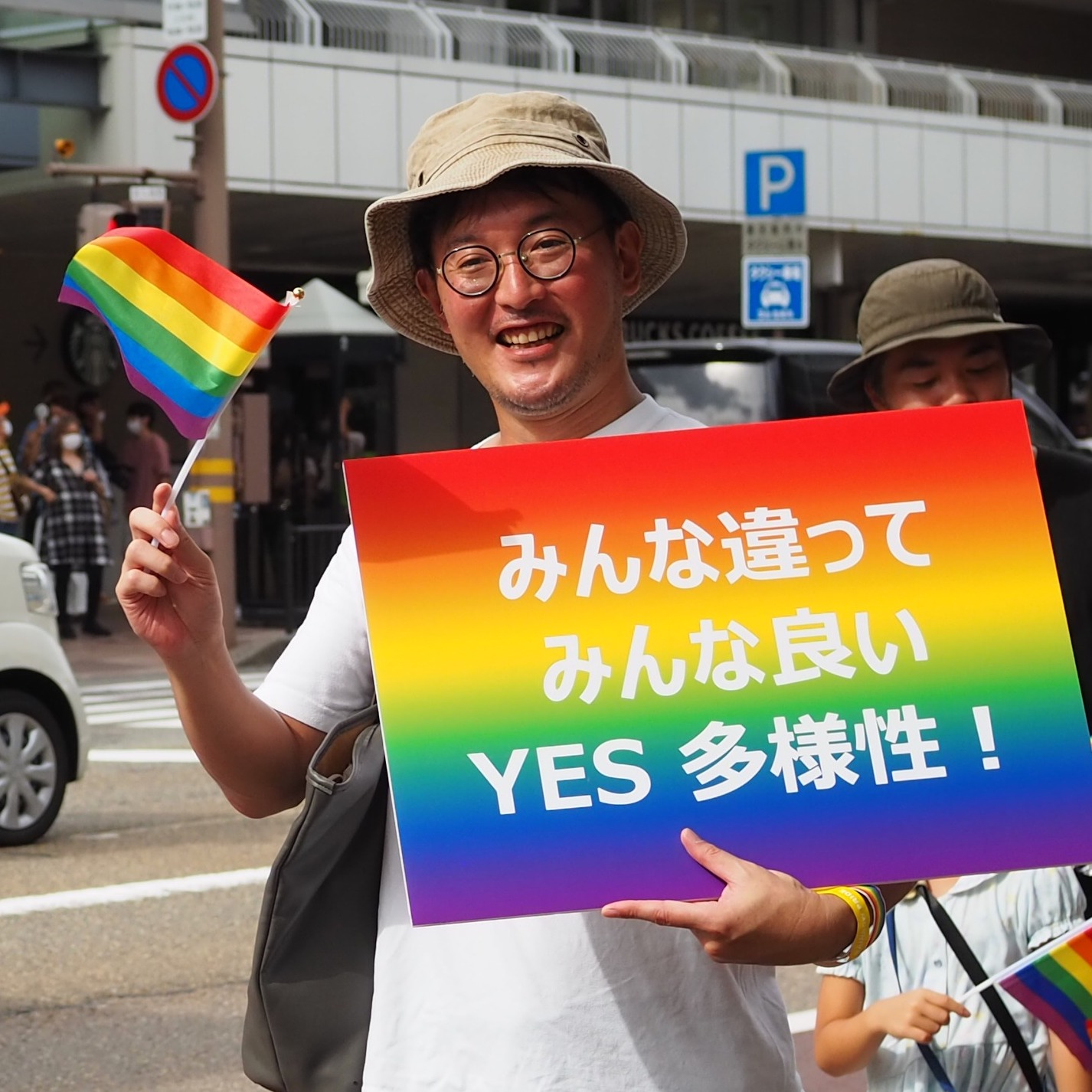 Kaname Inn Tatemachi president Hiroshi Hosokawa at Kanazawa Rainbow Pride Parade, bearing a sign that says, "Everyone is different, and everyone is good. 'YES' to diversity!"
Leading the parade were Kanazawa Rainbow Pride co-founders Diana Hoon and Gon Matsunaka, the latter of whom also servers as Kaname Japan's Chief of Diversity. Organizers also included Chiga Ogawa, Kaname Japan's Chief of Communications.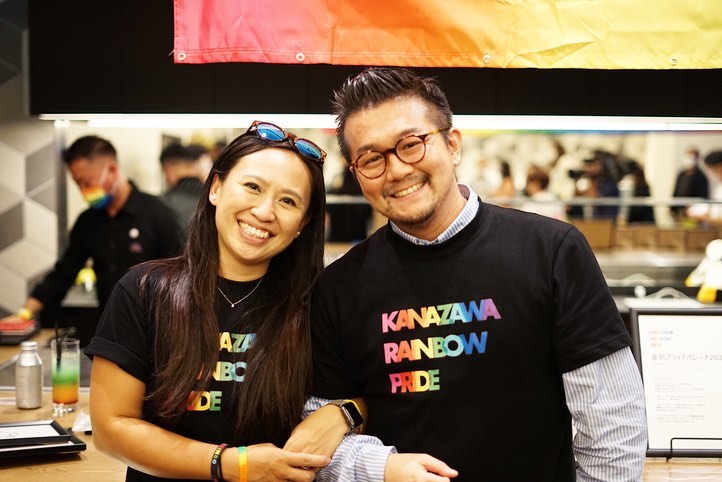 Kanazawa Rainbow Pride co-founders Diana Hoon (left) and Gon Matsunaka (right).
Though the parade was the the most eye-catching event of the weekend, there were no shortage of events for LGBTQ+ members and allies alike. A number of meet-and-greets, educational lectures, supporting events and parties marked four days from Friday to Monday, during Japan's mid-September Silver Week.
We were also honored to host the first ever Kanazawa Pride Parade After Party right here at Kaname Inn Tatemachi, on the outdoor terrace. Drag queens bantered on microphones, roasting the crowd. A burlesque performer danced (PG) to a live Japanese koto set to an electronic beat. The evening ended in a raucous dance-off among the organizers!
The entire weekend was exciting and energizing, and one we look forward to next year!
photos courtesy Diana Hoon
←Back