Drink Up Ishikawa!
27.12.2022
What do you think of Japanese drinks? How many have you tried? Sake? Matcha green tea? If you're in Ishikawa Prefecture, be sure to try these drinks made in Kanazawa!
Oriental Brewing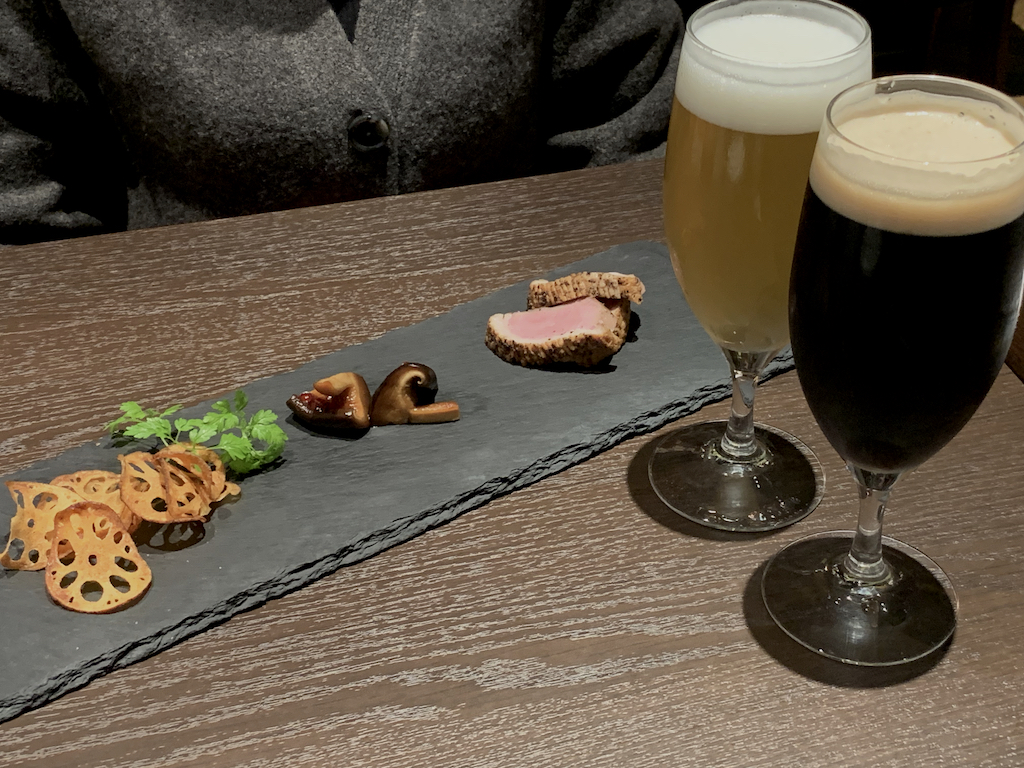 Oriental Brewing craft beer in the Yuwaku Onsen area of Kanazawa. You find their bottles at some stores, but there are four Oriental Brewing pubs in Kanazawa where you can enjoy this unique beer alongside local specialties.
At one such store near Kanazawa Station called the Bistro Oriental, you can read the many unusual beer names in Japanese and English along the walls, making for a fun way to pick your beverage of choice. My friend and I selected the Kaga Boucha Stout, flavored with the famous local variety of roasted twig tea, and Yuwaku Yuzu Ale, which uses Kanazawa Yuzu citris fruit, a specialty of the nearby Yuwaku Onsen area. The Kaga Boucha Stout had a deep, coffee-like aroma and bitterness, while the Yuwaku Yuzu Ale was refreshing, with a complex bouquet of spices.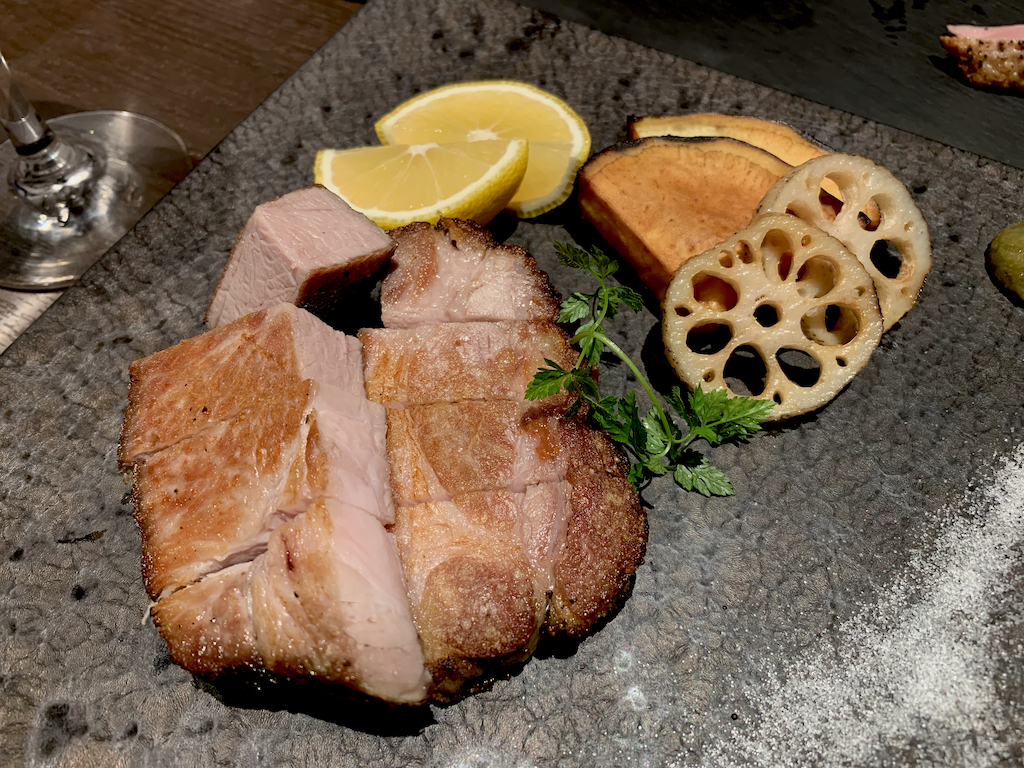 The beers went along especially well with Noto pork!
Oriental Brewing locations
Oriental Brewing, Kohrinbo
2-4-26 Kohrinbo, Kanazawa
8 minutes walk from Kaname Inn Tatemachi
Oriental Brewing, Higashiyama
3-2-22 Higashiyama, Kanazawa
across from the Higashi Chaya geisha district
Oriental Brewing Kanazawa
Kanazawa Station, Anto Shopping Center
Bistro Oriental
1-5-3 Hiro-oka
Cross Gate Kanazawa, 2F
Kanazawa Brewery
Kanazawa Brewery has made craft beer out of a minka, a type of traditional Japanese house, since 2016.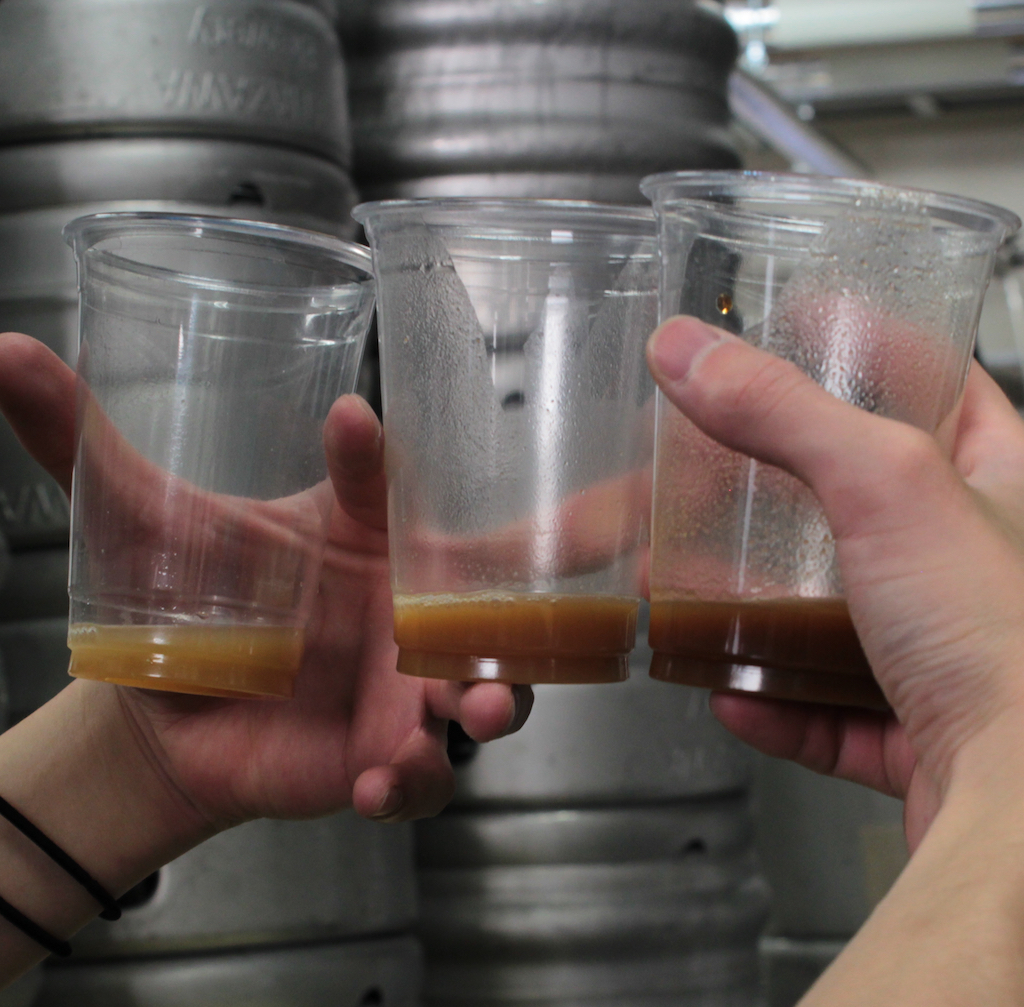 samples of Kanazawa Beer at various stages, taken at Kanazawa Brewery
The brewery's "Kanazawa Beer" comes in four varieties: Virgin Ale (red label), Gold Bach (gold), Weizen (silver), and Dry Stout (black). The Virgin Ale—Note that this is an alcoholic drink, despite the name!—in the red label is slightly sweet and is available at many restaurants.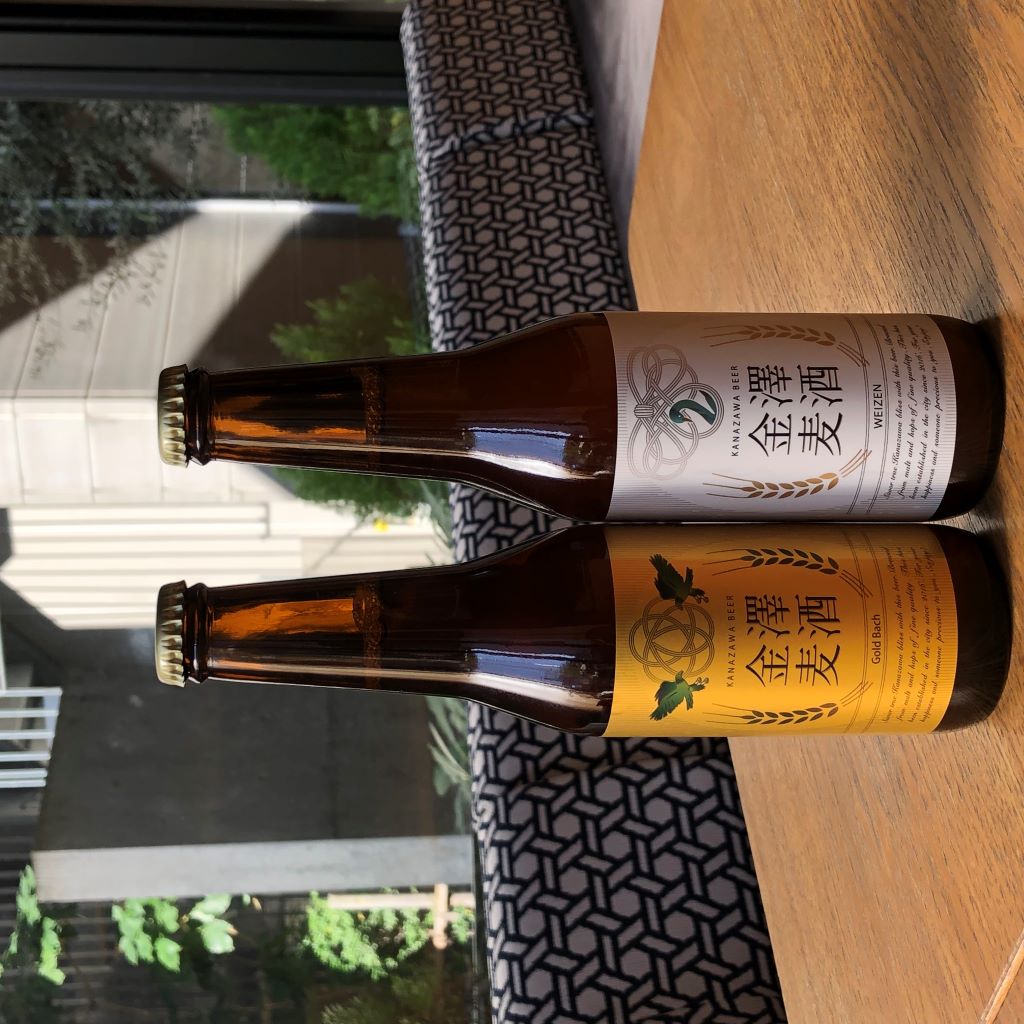 Two larger bottles of premium beer use fermentation methods from sake production: koubo, the yeast starter, is a different species than is usually used for beer, and kouji is the mold that is the secret ingredient for Japanese sake and other fermented foods. These premium bottles are named for Kanazawa's famous rivers, the Asanogawa (Asano River) and Saigawa (Sai River).
Ginger Liquour, in the blue bottle with the golden cat, uses rice syrup instead of barley malt, allowing the drink to be gluten free. The taste is more mellow than in ginger ale, and it's smooth to drink and slightly sweet.
Kanazawa Brewery's beverages are easy to find in most places, especially the Kanazawa Beer varieties. And, of course, they are available here at Kaname Inn Tatemachi, at our first floor Kanazawa Music Bar.
Kanazawa Yuzu Cider (non-alcoholic)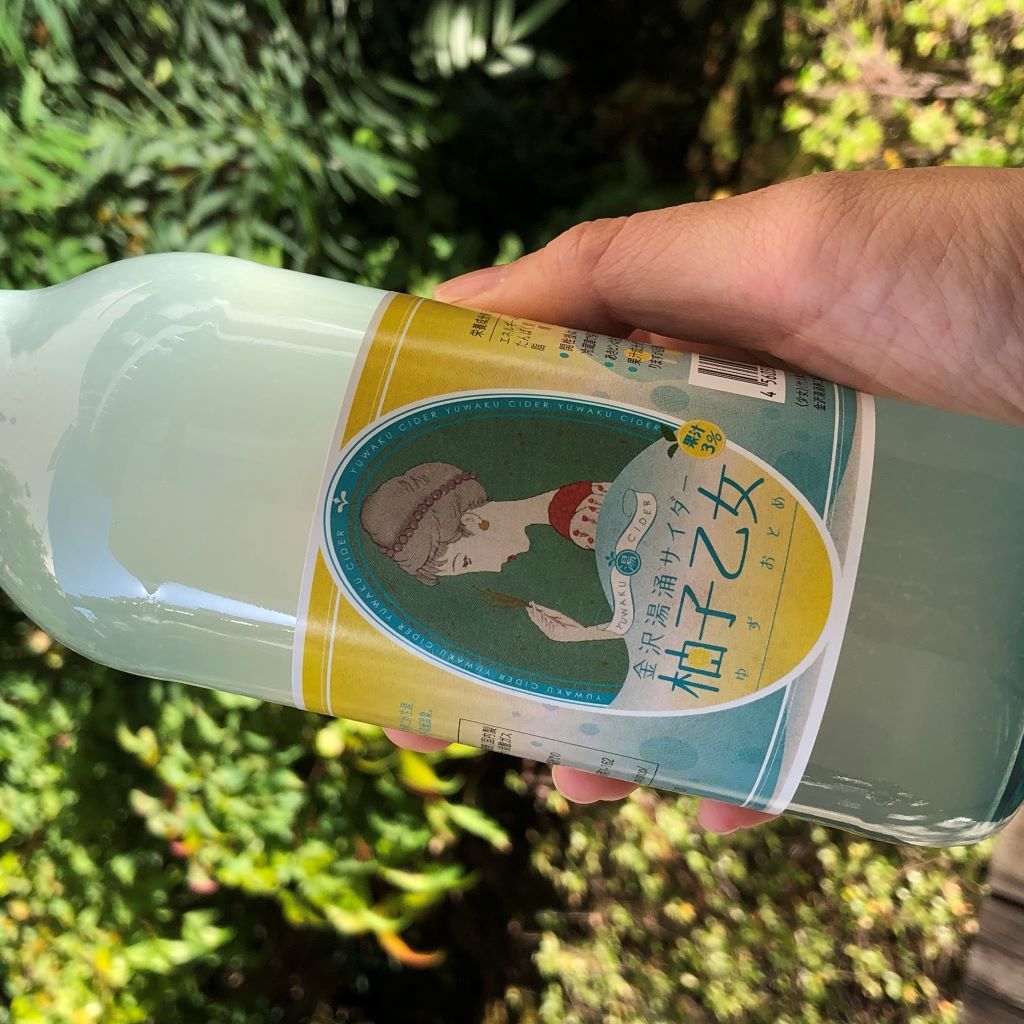 When the Asano River flooded in 2008, it severely damaged the areas around the highway through to Yuwaku. In hopes of revitalizing the area, Kanazawa Yuzu Cider was created, using the bright, sweet flavor of yuzu famous around Yuwaku Onsen.
In Japan, drinks labeled as "cider" are non-alcoholic and popular with children. However, this drink is only slightly sweet, and has a refreshing taste that enhances the bitter notes and aroma of the yuzu fruit.
These can also been found at many shops around town, and at Kanazawa Music Bar, where you can enjoy it in our Kanazawa Yuzu Mojito with mint and rum, or our non-alcholic version, the Virgin Yuzu Mojito.
Kaga Boucha, Roasted Twig Tea in a bottle (non-alcoholic)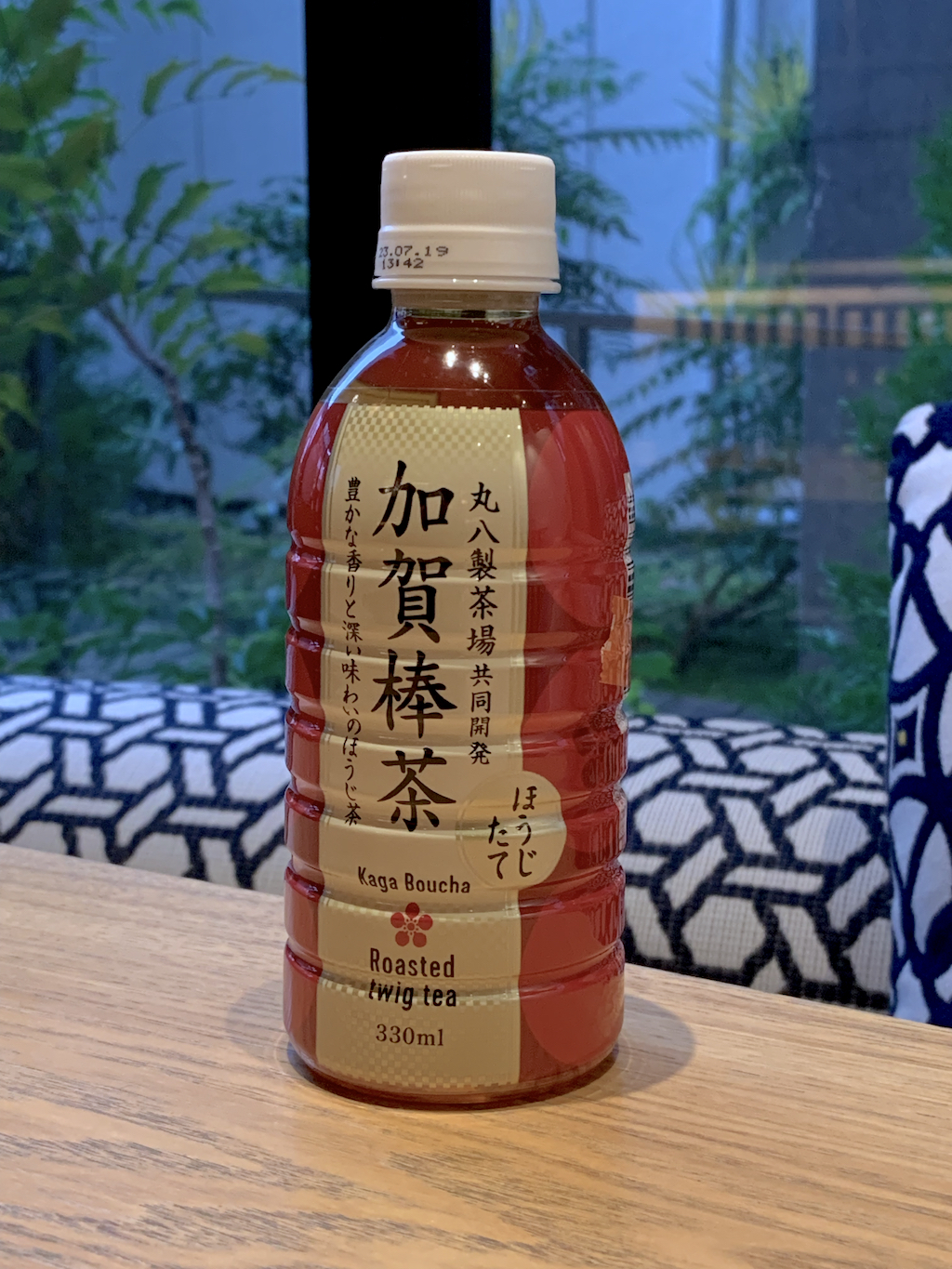 Another non-alcoholic local drink are these bottles of Kaga Boucha, the same tea that goes into the stout by Oriental Brewing. The tea itself from Kaga, and it's bottled in nearby Fukui Prefecture.
You can find them in most convenience stores, which makes it really easy to find. It's also small, only 330 mililiters, so it's perfect for a quick refresher while touring the city! Oh, and here's a tip: White caps on bottles mean the contents have been formulated to taste best when cold. Orange caps are best served warm!
---
Which drinks will you try when you're in Kanazawa?
Hiromi
Like many people living in Kanazawa, I'm a bit of a homebody. It's hard to venture far with the mountains and forests nearby and access to such delicious seafood! But if there's one thing I'd like to share, it's how much I appreciate the slow pace of this well-preserved castle town. Also, like so many Kanazawans, I'm still learning all the secrets around me. Let's learn about them together!