Kanazawa's Cooking Class: From Fish Market to the Kitchen
19.02.2020
We've talked a bit about Kanazawa's famous fish and shopping market before: Hiroshi gave us his recommended spots to sample as you go in Omicho. It's excellent if you like touring solo or with a traveling partner. It's also especially good if you love sake!
But for a more something more social or hands-on, you might prefer this shopping tour and cooking class by the In Kanazawa House. (They also host one of the best geisha encounters in the city.)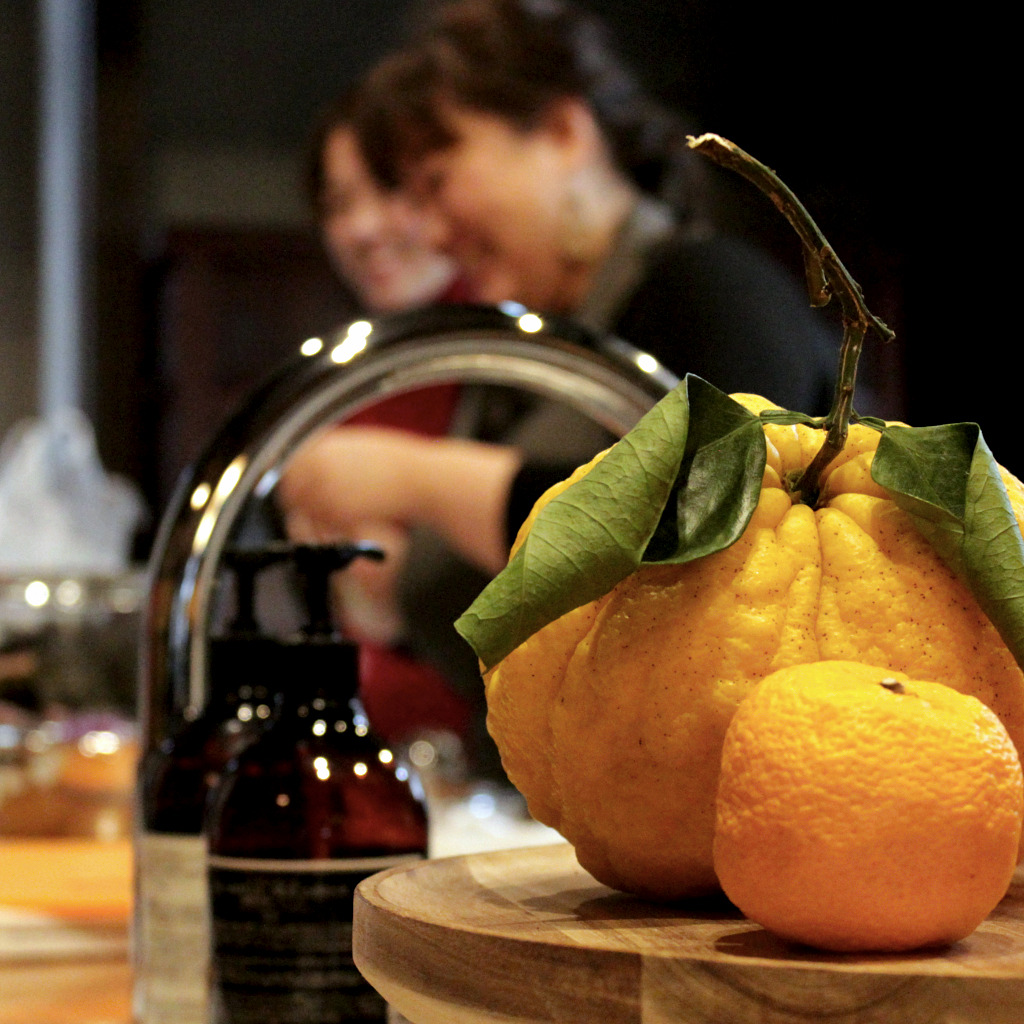 Omicho Market & Cooking Class
The tour is led by Naoko, who instantly became my favorite Japanese aunt.
She has two faces, though. When selecting the right kombu or correcting your knife skills, she's all business. But as the ingredients fall into place and everyone finds their groove, she suddenly shifts to broad smiles and an easy laughs.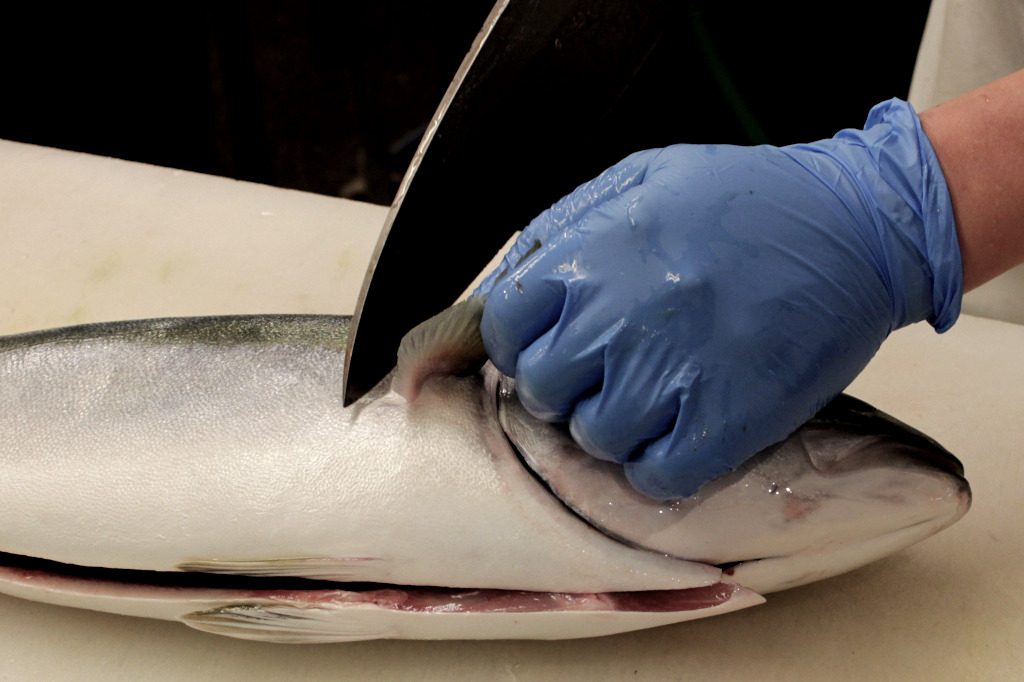 The tour starts at the entrance to Omicho, and we work our way through a sea of bodies to select stalls of local veggies and seafood.
After scaring the kids with some of the more unusual bottom-dwellers that find their way in fishers' nets, Naoko turned her attention to the buri, or yellowtail (Japanese amberjack). This fish is a staple in the Hokuriku area and a favorite in Kanazawa. The meaty texture and mild flavor make a perfect combination for sushi and sashimi.
Just as they would do for any kaiseki chef, the butchers at Omicho's stall cut the fish for us, cleaning and discarding what wouldn't be used.
Nearby, booths full of vegetables gave us our choice of two more ingredients. Yuzu is a deliciously sweet and bright Japanese citrus fruit. Kaga lotus is a local variety of the root vegetable whose texture changes as you cut into the core.
One of the more unusual stops for any tourist—tour group or no—is the seaweed shop. The sheer variety of seaweed was a surprise. Some where black sheets were so large they had to be carefully folded down into books to be carried. Others were green and white flakes shredded so fine that they melted on the tongue without chewing.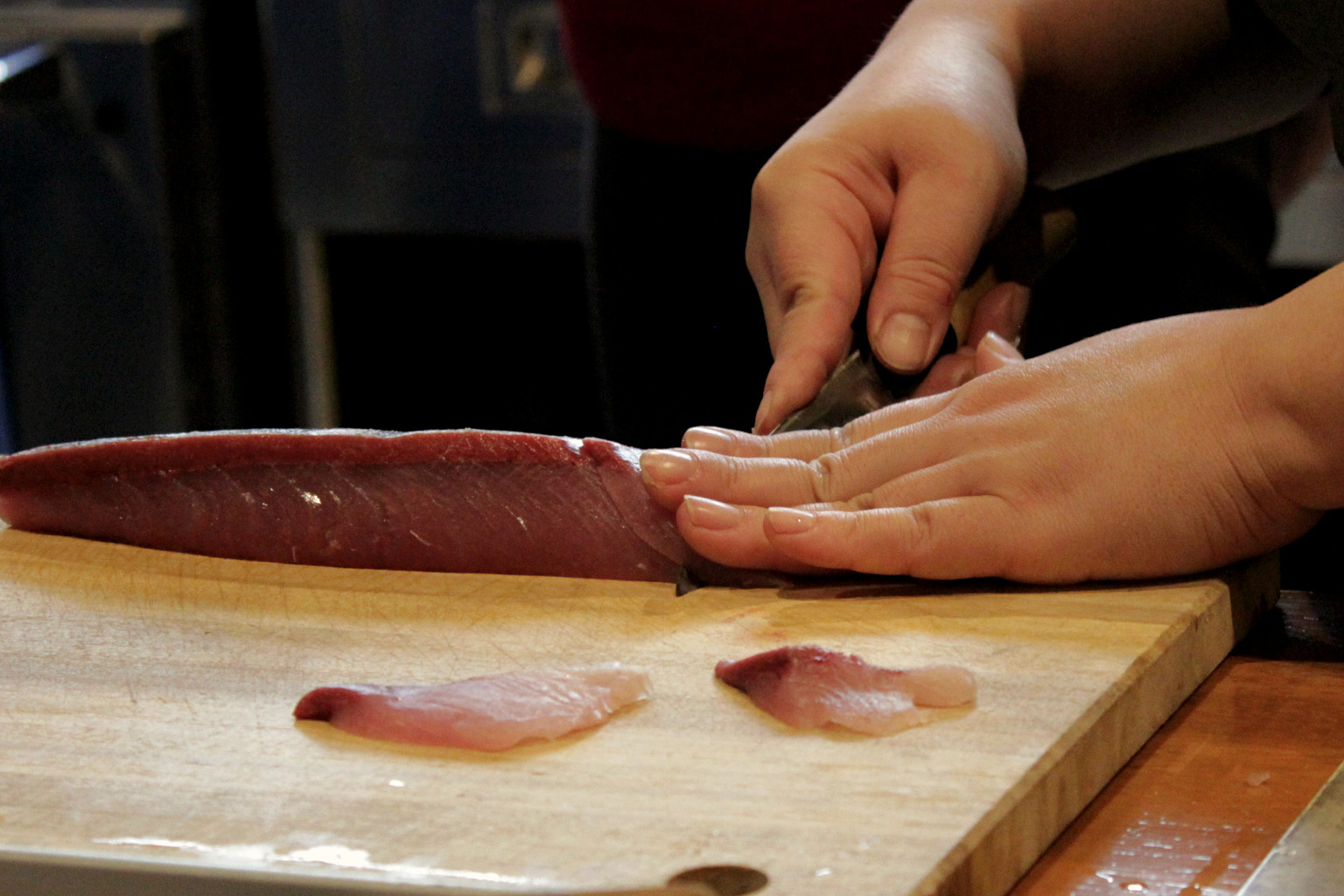 From Market to Machiya
A short walk and we were at the In Kanazawa House, a massive machiya, a kind of Japanese townhouse, that had once been a dye shop.
With hands washed and aprons on, we set to work preparing our own Japanese lunch.
Naoko showed us the correct angle for cutting sashimi. It has to be just right to capture every change in texture, while also being easiest to chew. Because Japan favors single-edged knives for these tasks, one of our left-handed members ran into an interesting obstacle…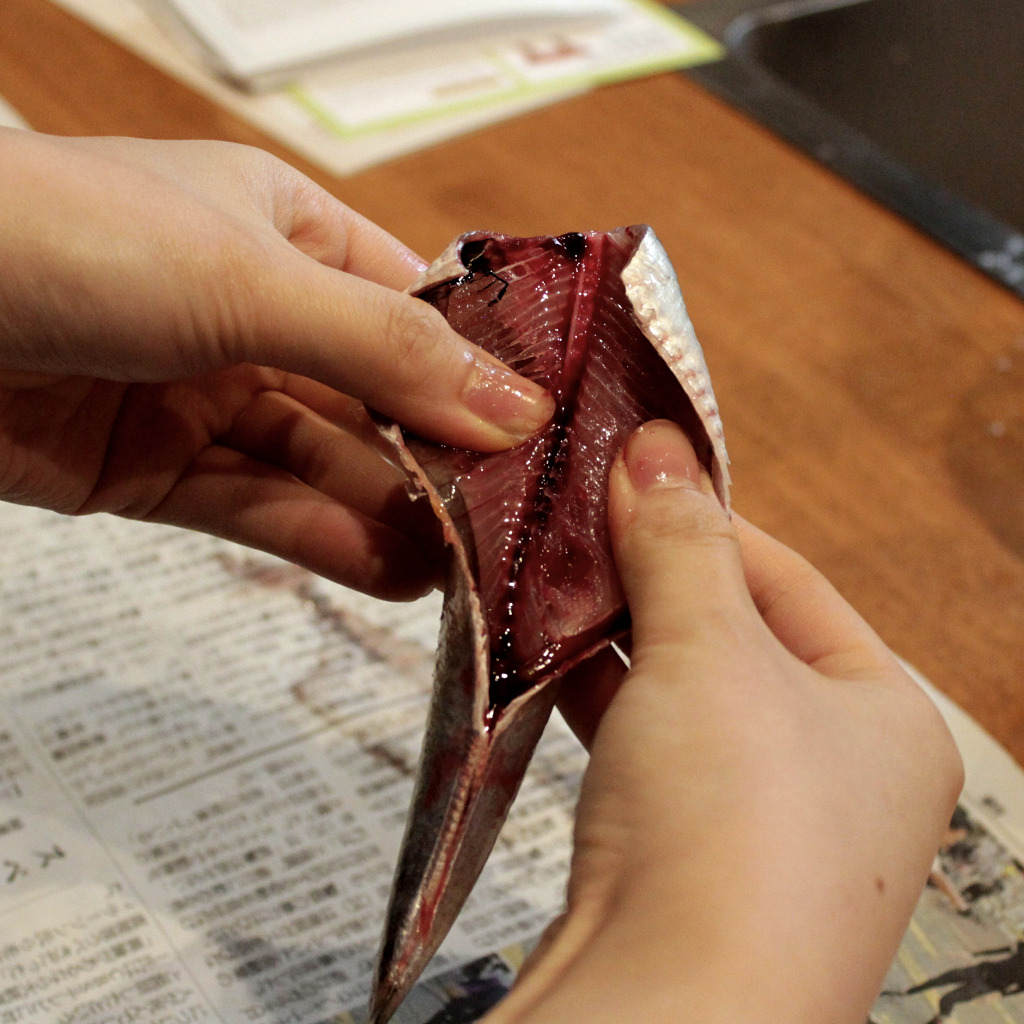 We each had a large sardine to debone by hand. The whole lot went into a large mortar and pestle, along with ginger and other seasonings. We took turns grinding it into a paste and then shaped balls of fish cake.
The lotus root was sauteed until sweet and savory brown. With mirin, sugar, oil a bit of practice, we rolled scrambled eggs into Japanese omelettes. All the while, rice steadily steamed along with Japanese sweet potato and black sesame.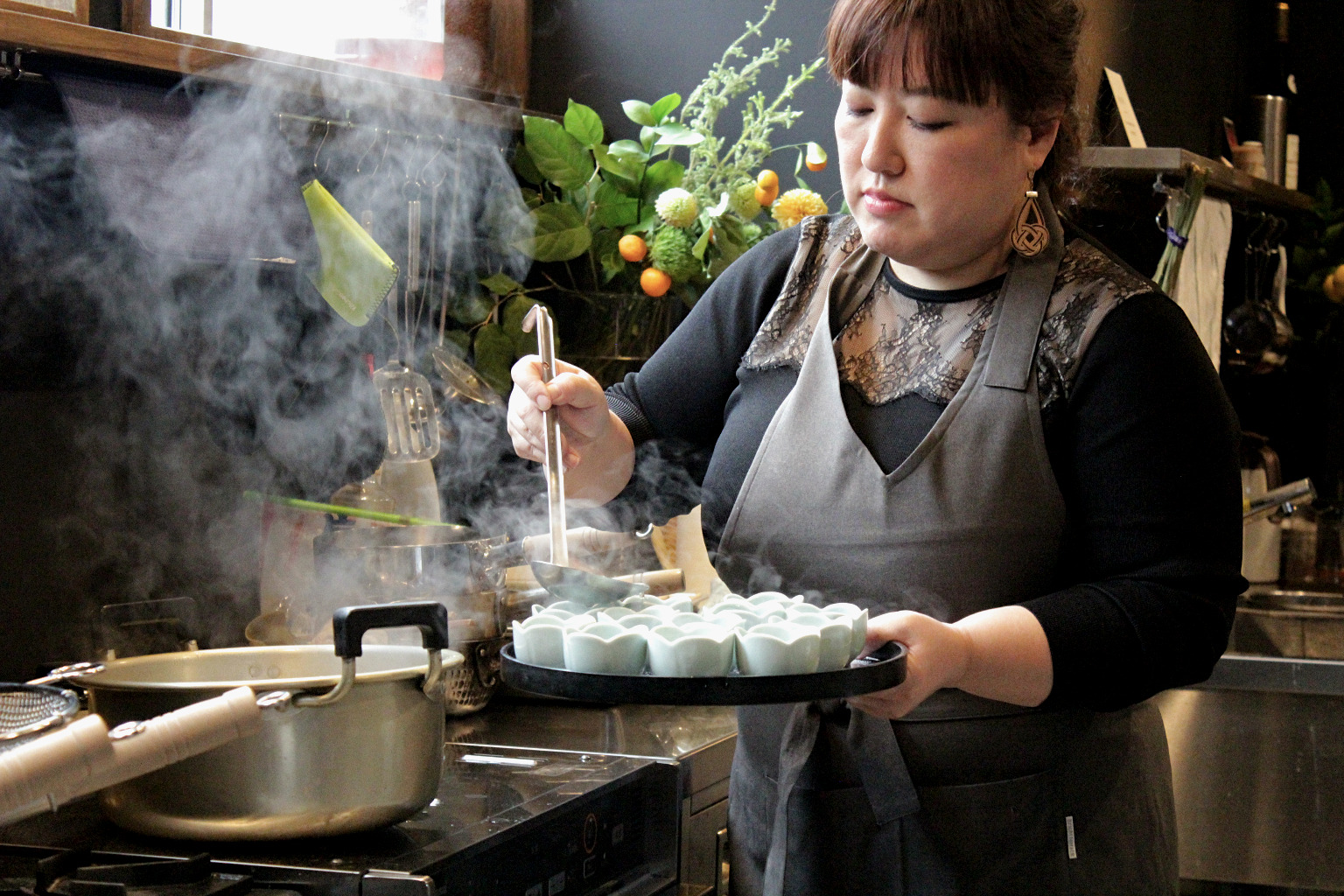 Kombu seaweed and freshly shaved bonito flakes simmered into a dashi richer than I'd had in any restaurant. Naoko dished us some cups to taste.
When the fish cake dumplings were ready, she topped them with yuzu zest. I had to stifle my inner child from blurting out my eagerness to get eating.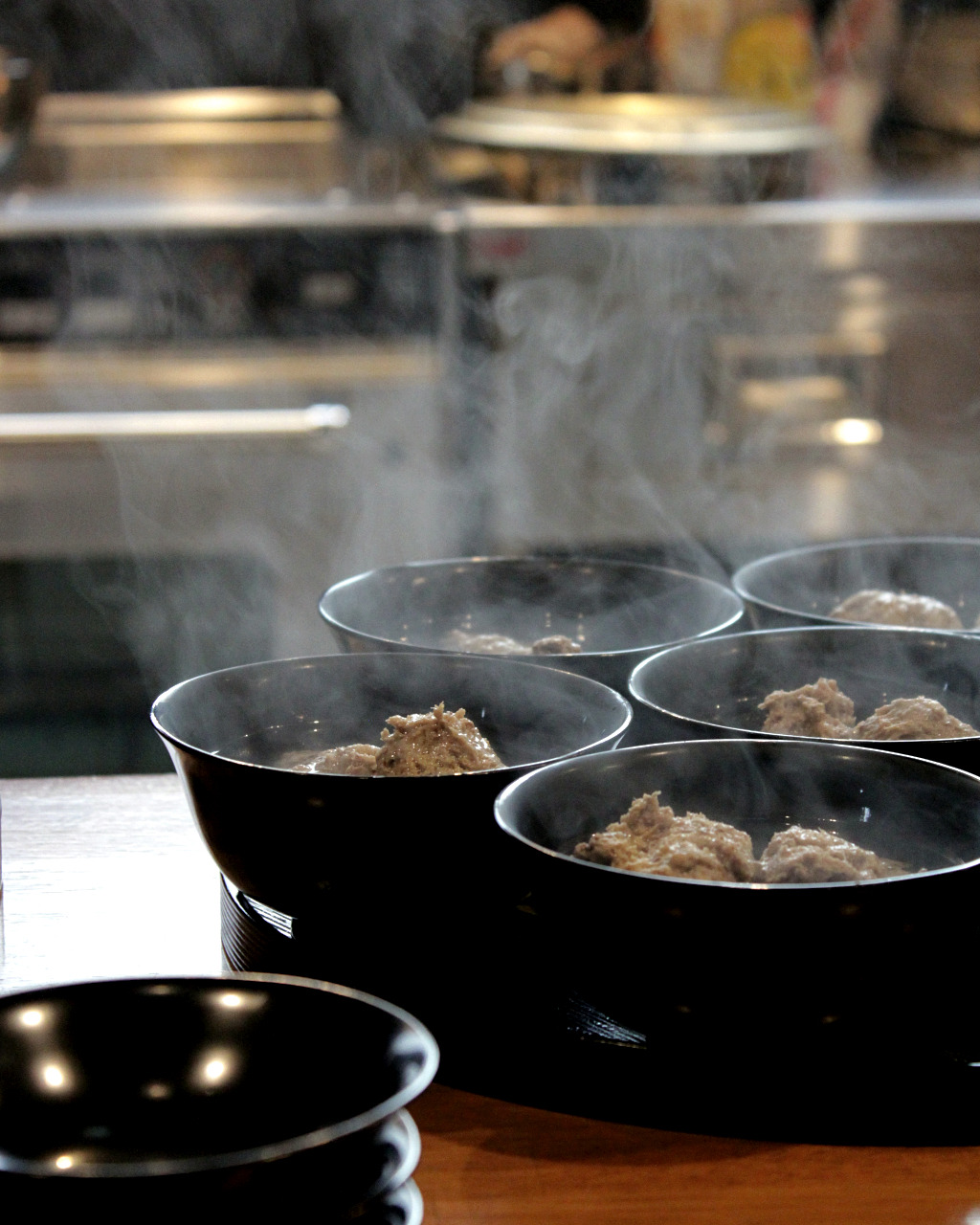 As any home chef will tell you, eating a meal you've cooked yourself and eating one that's been cooked for you are two different experiences. Something about working the food with your own hands—taking the time and effort required and attending to every step—changes how your perceive what goes in your mouth.
No "food tourism" is complete without a hands-on activity like this.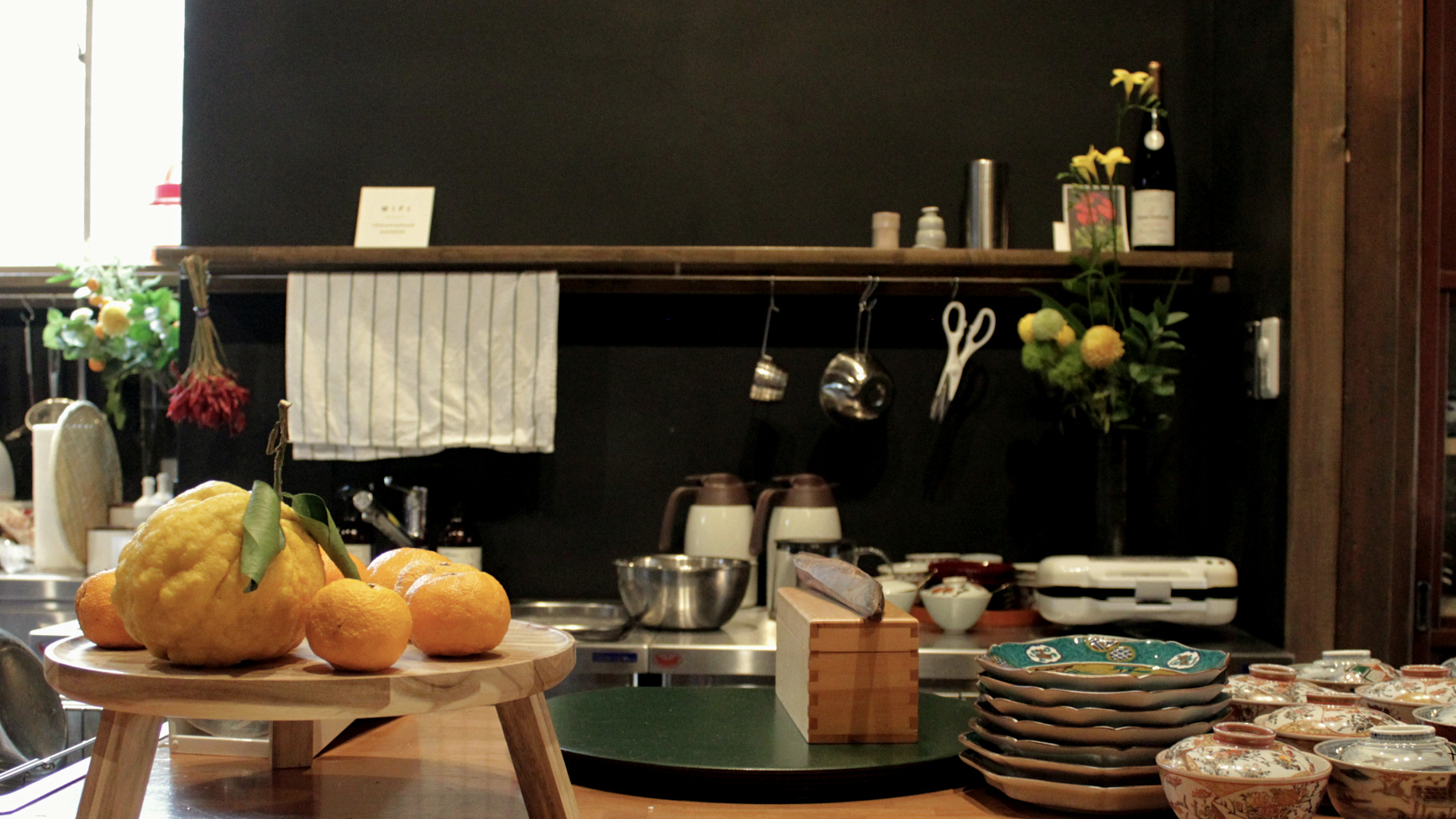 Omicho Market is just a short walk away from Kaname Inn Tatemachi. Consider staying in one of our limited Deluxes, hotel apartments that include a kitchenette where you can try out your new skills while they're fresh on your mind!
Many thanks to In Kanazawa House for inviting us on their Omicho Market and Cooking Class.
---
Notice concerning COVID-19: Information and services for the above sites may be temporarily suspended due to the coronavirus pandemic. Please check again close to the dates of your visit. Guests of Kaname Inn Tatemachi may also use our concierge service to make inquiries as necessary. Thank you for your understanding, and we eagerly look forward to your stay.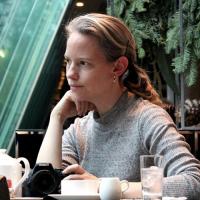 Rachel
About a decade ago Rachel fell off a bus and then fell in love with this traditional-crafts and ice-cream-consuming capital of Japan. Editor and amateur photographer with a penchant for nature and history. Not actually fifty songbirds in a trench coat. (Former penname: Ryann)