Omicho Fish Market: East as You Go in "Kanazawa's Kitchen"
29.03.2019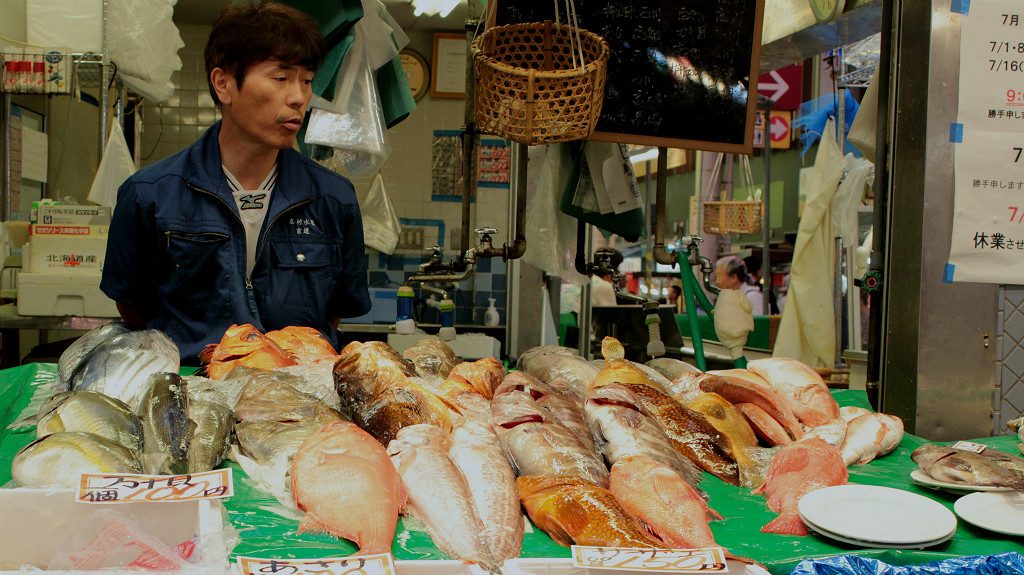 Isn't Omicho Fish Market one of the most famous sightseeing spots in Kanazawa? Of course! Locals also use the market, and so Omicho is called "Kanazawa's Kitchen."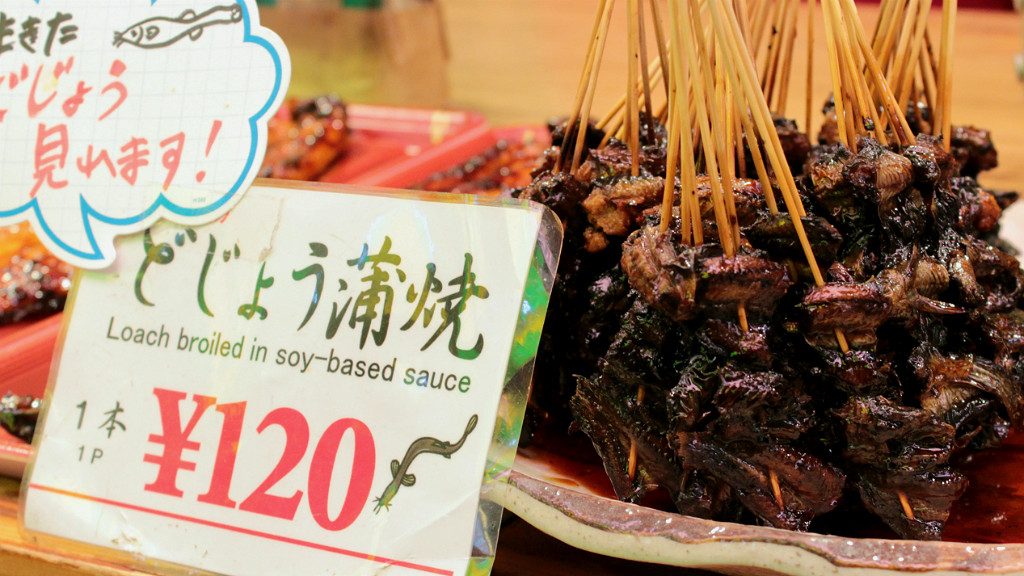 With so many fish sellers, fruit shops, restaurants and a variety of other stalls and stores, our guests often ask where to go and what to eat there. So here is my recommendation, the way I personally LOVE to enjoy the market. Check this out…
The market's main entrance is overcrowded and often overwhelming, so after parking the bike, head in through the Jukken-machi entrance on the south side instead.
First stop: Sake no Osawa (1)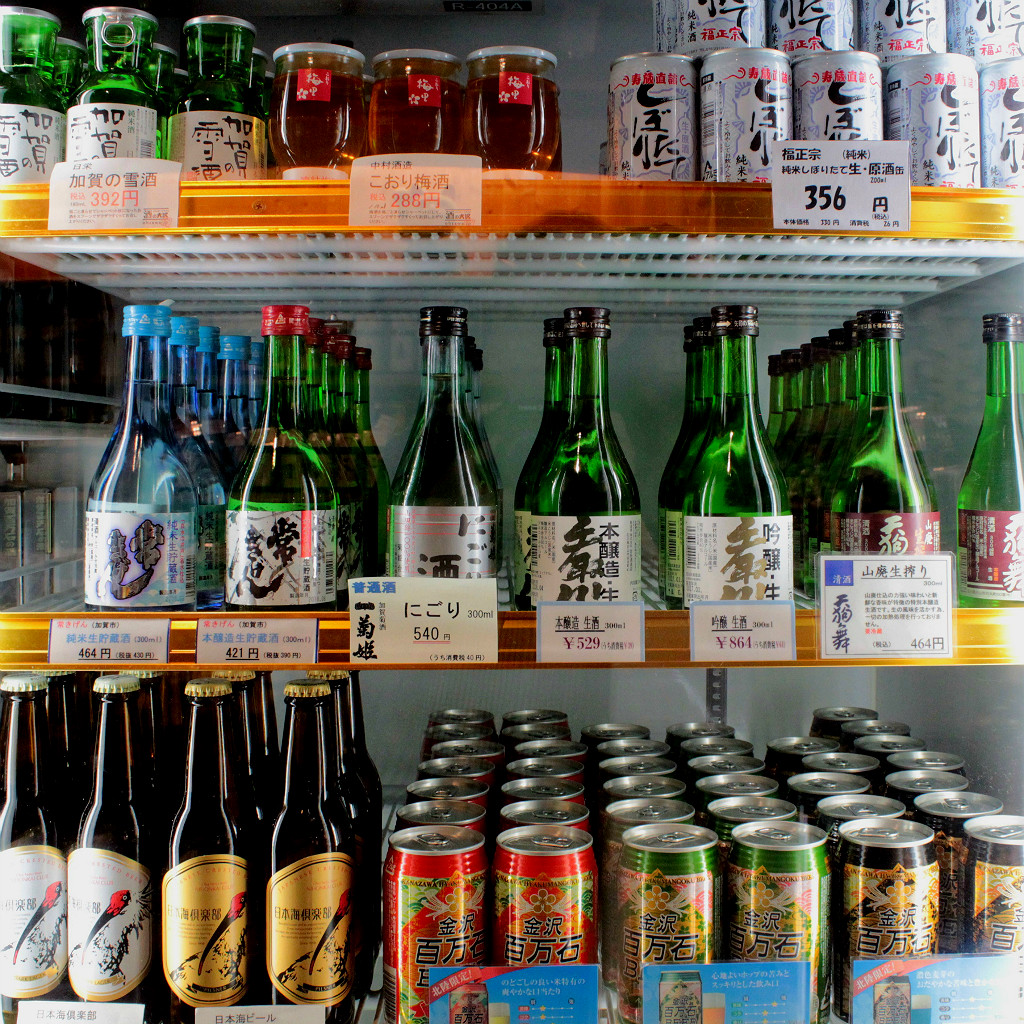 As you go in, make a right to the first stop, Sake no Osawa. Here you can taste sake from all over Ishikawa Prefecture. Select "Sogen," a sake brewed in the Noto Peninsula.
Why this one in particular? Medium-bodied and off-dry, junmaishu grade Sogen sake pairs perfectly with Kanazawa's local seafood. The 300-milliliter bottle is the perfect size for two and is only 360 yen. A small plastic cup is only 5 yen more, and they also sell ceramic cups for a nice souvenir.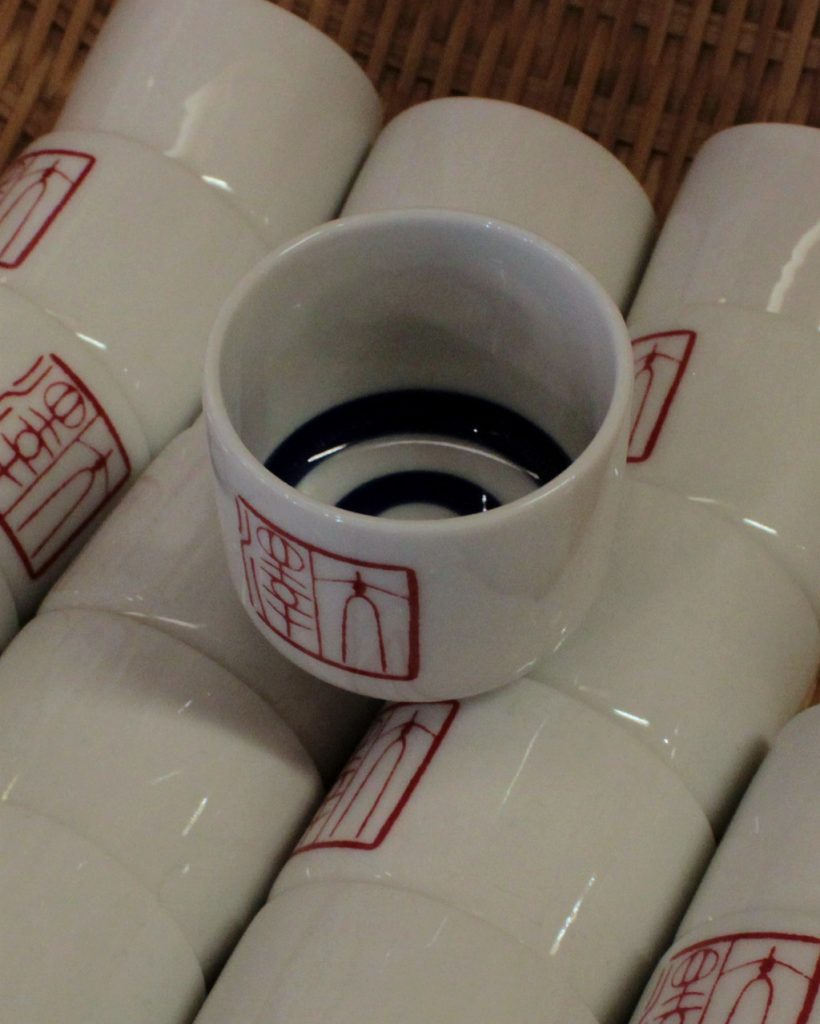 I always walk about, cup in hand, sampling food and drinking as I go.
Yaki-yaki Corner (2)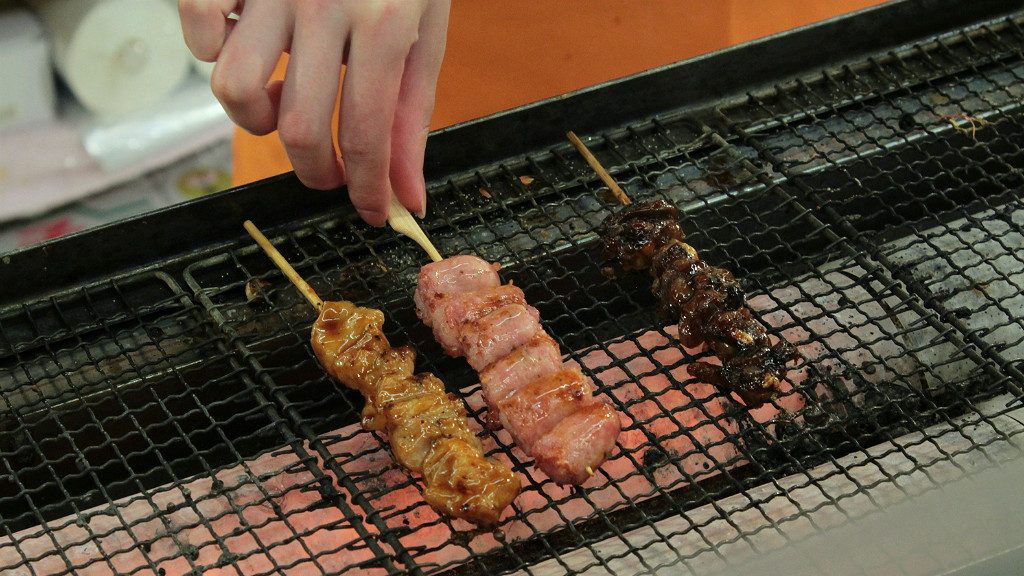 Just across the way is Yaki-yaki Corner, where you can buy seasonal fresh seafood grilled on a stick and have it with your sake.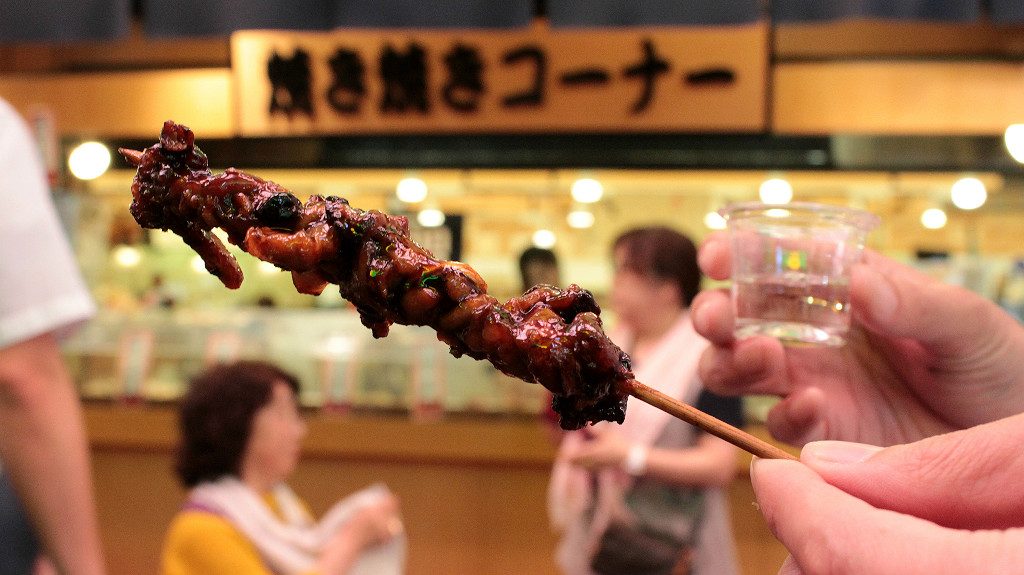 Today, we're sinking our teeth into grilled eel's liver (250 yen). So good!
Kaidoya (3)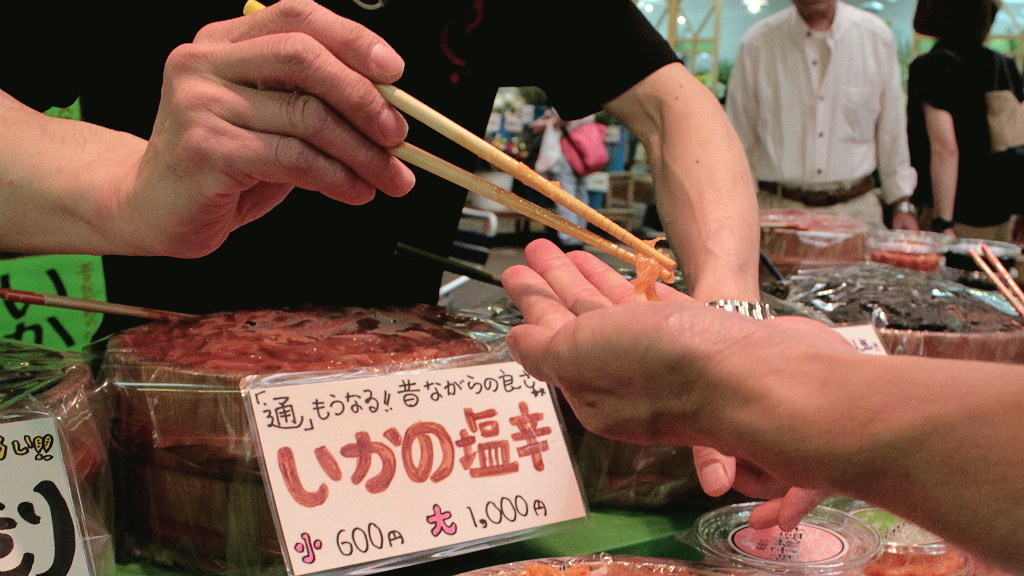 The best seafood nibbling shop can be had at Kaidoya, with two stalls in Omicho. Hold out your hand for a sample of ika no kimchi (spicy pickled squid), aosa no tsukudani (sea lettuce simmered in soy sauce and rice wine) or any of the other seafoods and styles you likely have never tried. I always recommend the tangy ama ebi no shiokara, spicy-salted sweet shrimp, to my friends. Some may seem challenging, but the sampling is free!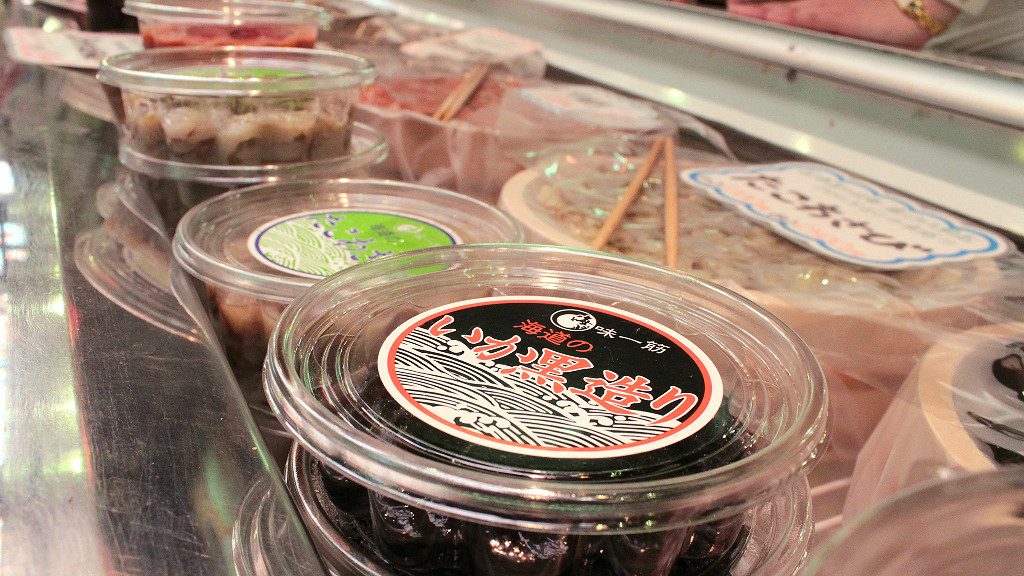 Find something you like? Buy a small tub to share later. These are great with beer as well.
Shimada Suisan (4)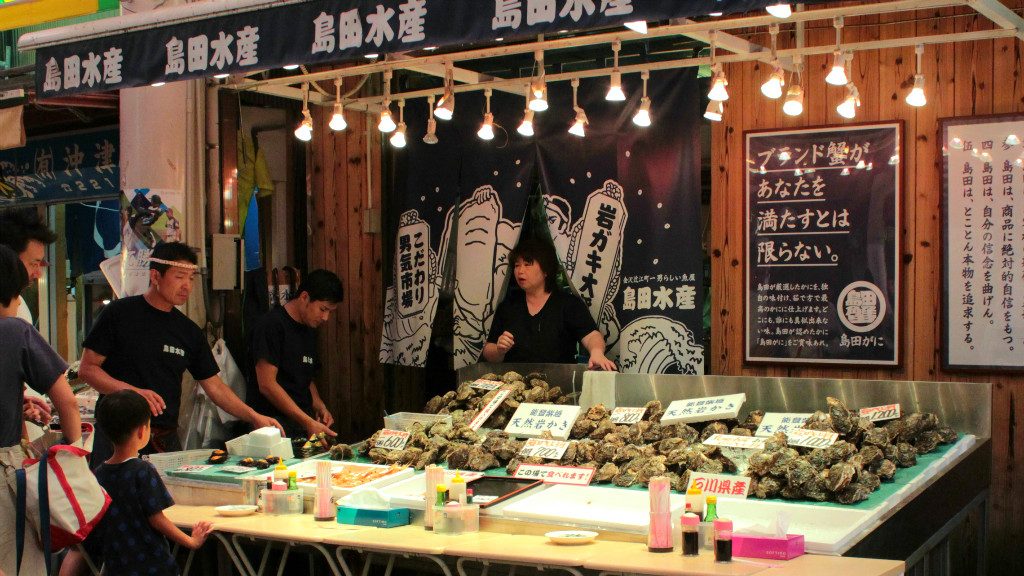 During today's run, quality oysters and uni from the Noto Peninsula were in season and sold at Shimada Suisan.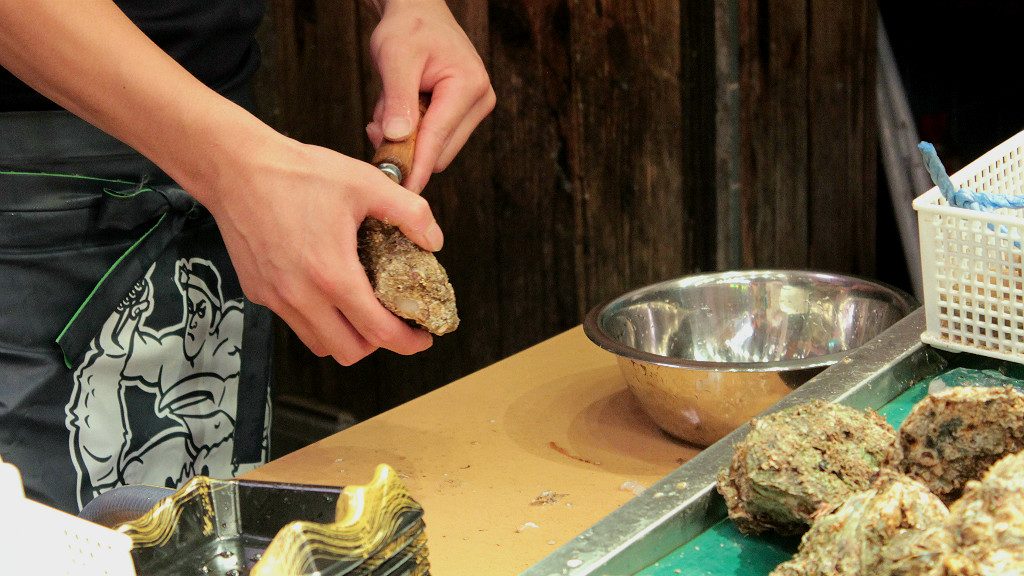 Pick your choice from the lot, and the owners will cut and clean the oyster right in front of you! I always choose the smallest oyster (600 yen), and even that is enough to fill me up.
Soy sauce, ponzu vinegar and other seasonings are available but not needed! Enjoy the unadulterated taste of the East Sea / Sea of Japan. After all, that's what matches Sogen sake best!
Kitagata Seika (5)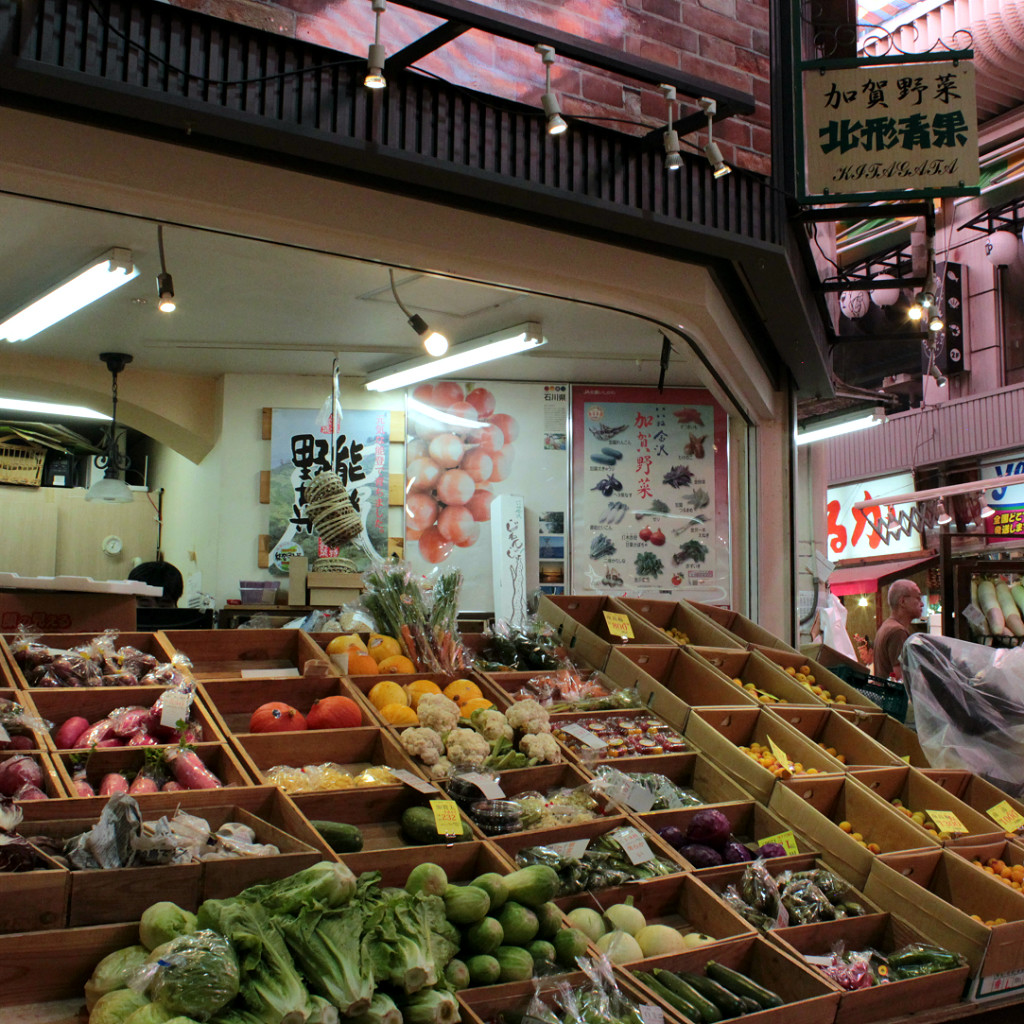 If you are in Kanazawa, you must try Kaga-yasai, the selection of vegetables that are mainly cultivated in the local Kaga region and popular throughout Japan. There are many, and even Kanazawa people don't know them all.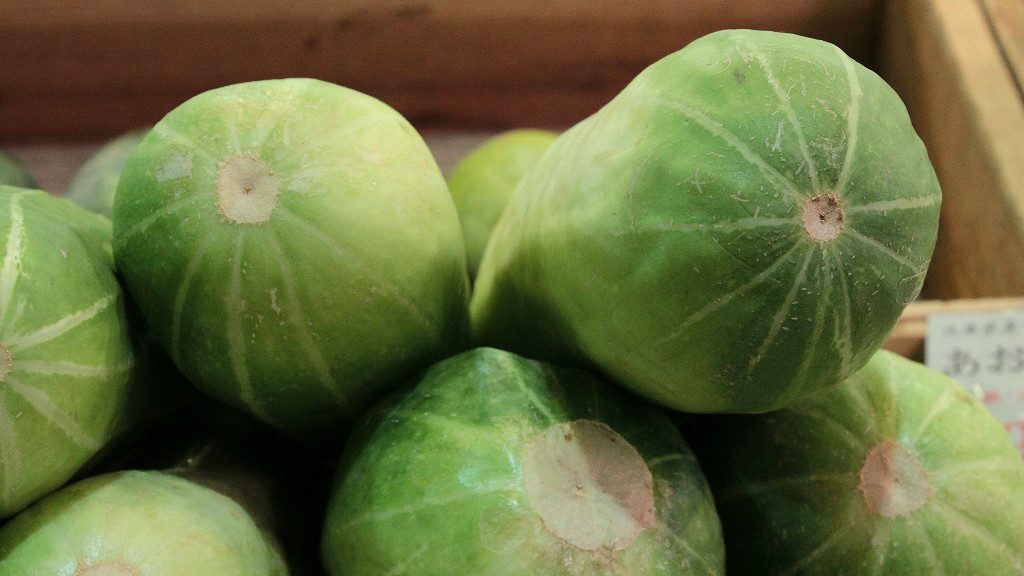 Gorojima kintoki is a particularly sweet variety of sweet potato. Kintokiso is a sticky kind of spinach good vinegared or made into tempura. The unusually large Kaga futo kyuuri, a cucumber, is boiled in soups. We see these veggies often in restaurants, but there is a pleasure to see them before they're cooked at shops like Kitakata Seika.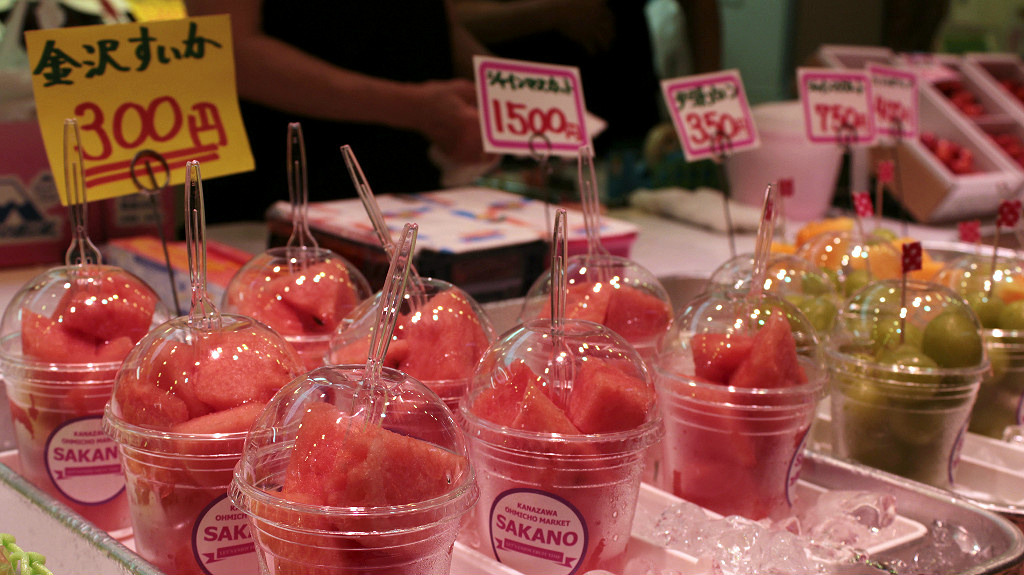 A nearby fruit vendor has Kanazawa-grown watermelon for sale. So sweet! Not mushy at all.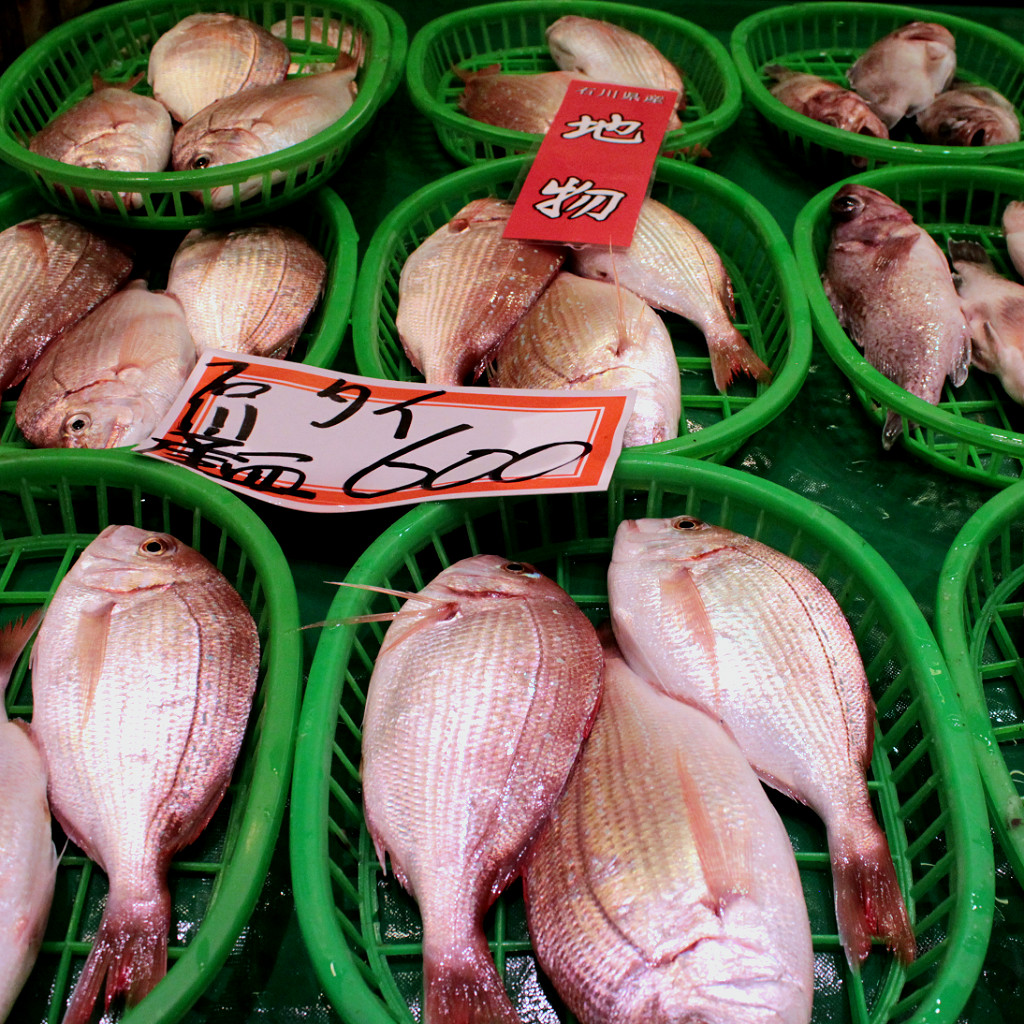 If you don't see the characters for Kanazawa (金沢) you can look for ji-mono (地物), meaning the item is guaranteed to be locally caught.
Still hungry?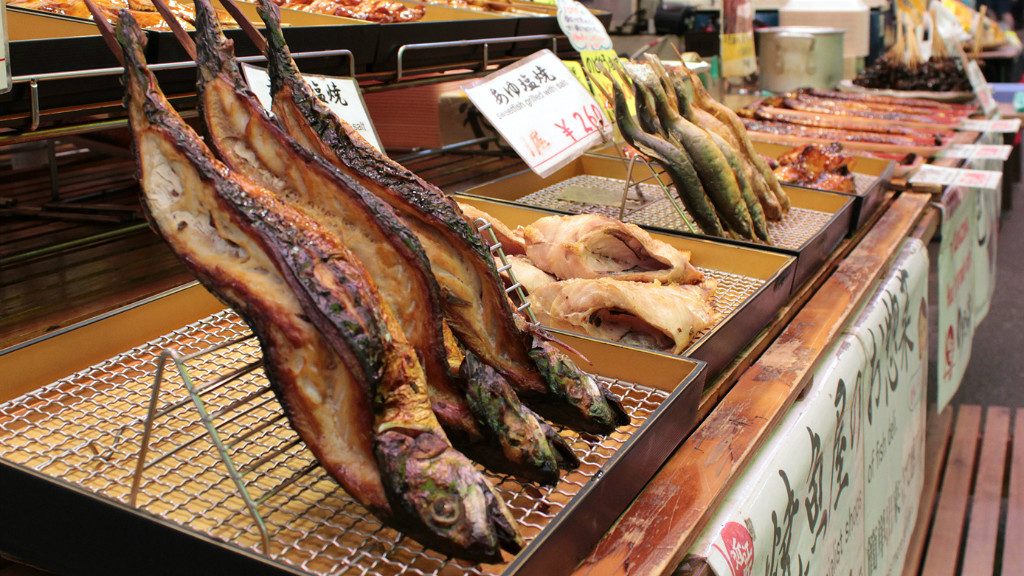 Explore and see what else Omicho has in store. Cooked fish samples are everywhere. There's always a line for the fried croquets and other fritters, but they are delicious!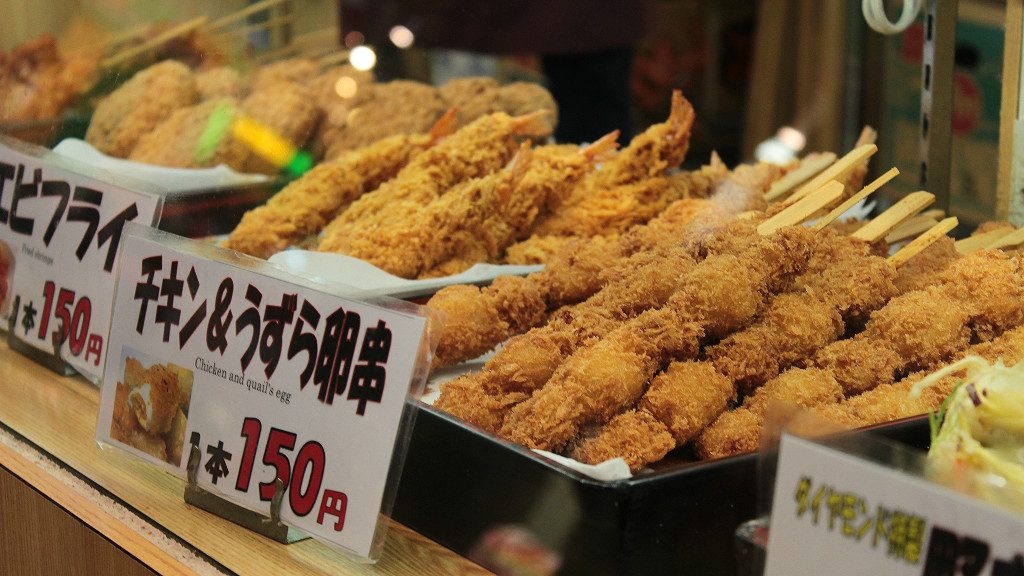 The most popular question we get is which restaurant to have lunch in, but most locals don't lunch here so often. It can be too expensive, and we prefer to take ingredients home to cook there. (But if you're an early riser, there's a great place to grab sushi for breakfast.)

But, when I need a big meal at the market, Kanazawa curry is my go-to dish! This is our soul food. Champion Curry (6) is a local business specializing in Kanazawa curry and an easy point to find the dish in Omicho, on the basement floor.
Dark colored and stew-like, Japanese curry is like no other curry on earth. The taste is complex and earthy. Curry served Kanazawa-style provides the perfect proportions of curry and rice for taste and balance.
---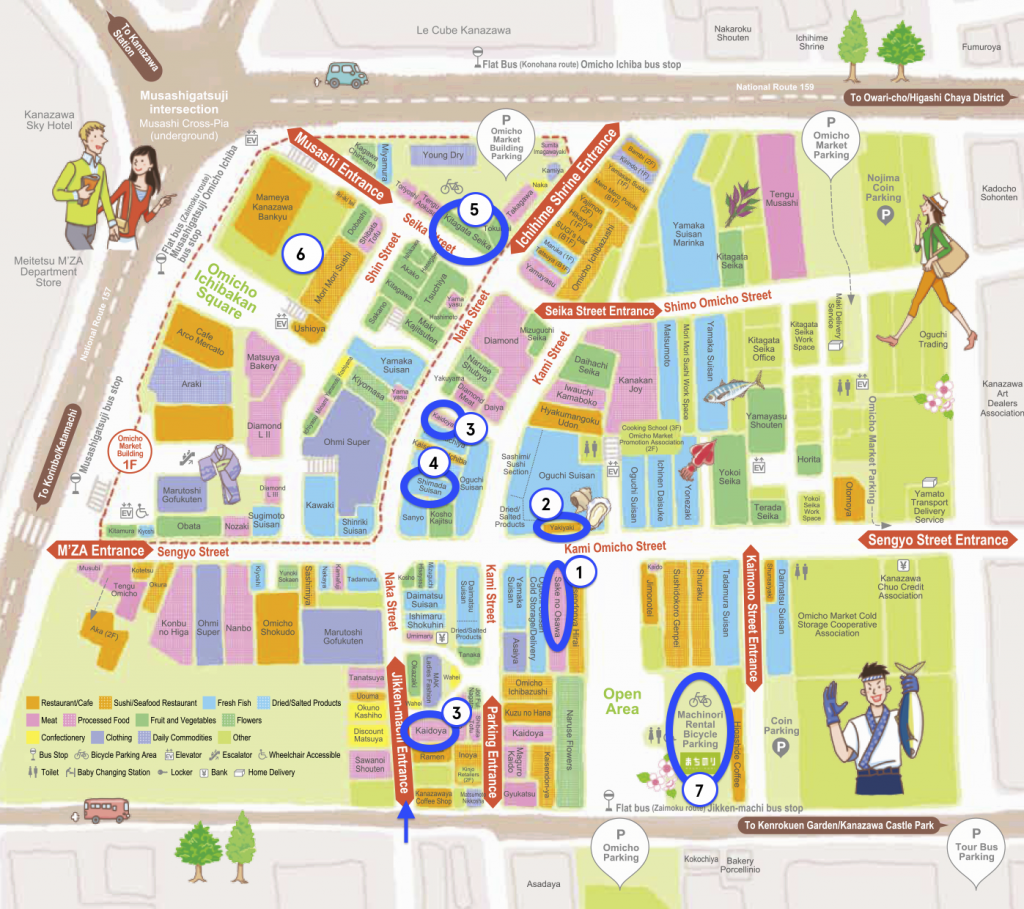 original map courtesy of Omicho Market Promotion Association
I recommend hopping on a Machi-Nori rental bike on the end of Tatemachi and traveling alongside Kanazawa Castle Park for a scenic view and fresh air. Machi-Nori and other bicycle parking is very close (7) to the Jukken-machi entrance! Or, a great way to start the day is to head to Higashi Chaya and enjoy the geisha district from about 9:00 a.m. before the crowds roll in. Cycle down to Omicho Market and peruse between 10:00 a.m. and noon, before things start to sell out.
After enjoying the market, you can access Kenroku-en from Kanazawa Castle Park's Kuro-mon Gate entrance. You can also head to nearby Oyama Shrine with its stained glass windows and oldest lightning rod in Japan. Enjoy your day!
---
Notice concerning COVID-19: Information and services for the above sites may be temporarily suspended due to the coronavirus pandemic. Please check again close to the dates of your visit. Guests of Kaname Inn Tatemachi may also use our concierge service to make inquiries as necessary. Thank you for your understanding, and we eagerly look forward to your stay.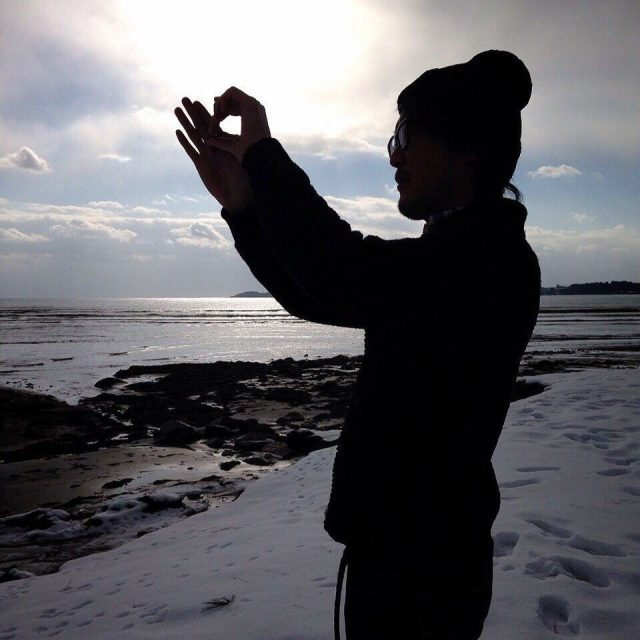 Hiroshi
A foodie who has explored all things edible in Kanazawa, from high-end sushi and ryokan multi-course dinners to casual meals and snack bars. His recommendations have been shared by friends and now even magazines ask for his opinions! Unofficially the best taster in the city. ;) Ask him anything!