All Aboard! Favorite Sushi Train Restuarants in Kanazawa
25.10.2022
What do you get when you cross pride in freshness with Japanese efficiency? Kaiten-zushi! Literally meaning "rotation sushi," kaiten-zushi restaurants serve their plates of nigiri and sushi rolls along conveyor belts and novelty trains.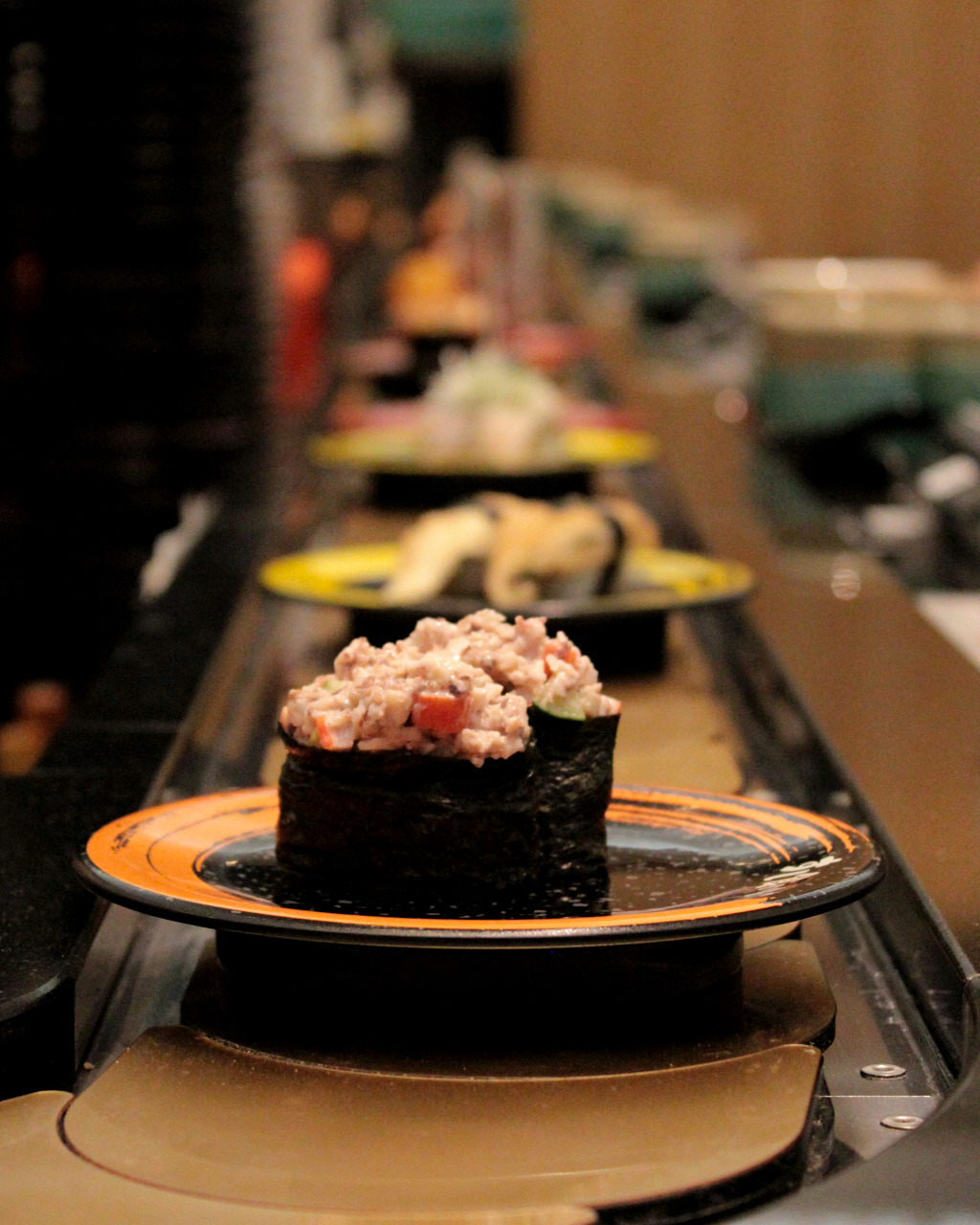 At most kaiten-zushi restaurants, plates are color coded to the price of the order. Usually, a legend is hung on a wall or listed in the menu. Take what looks good off the conveyor belt or order directly from a touch screen or to the chef. When you've had your fill, stack the plates for the staff to scan and produce your ticket.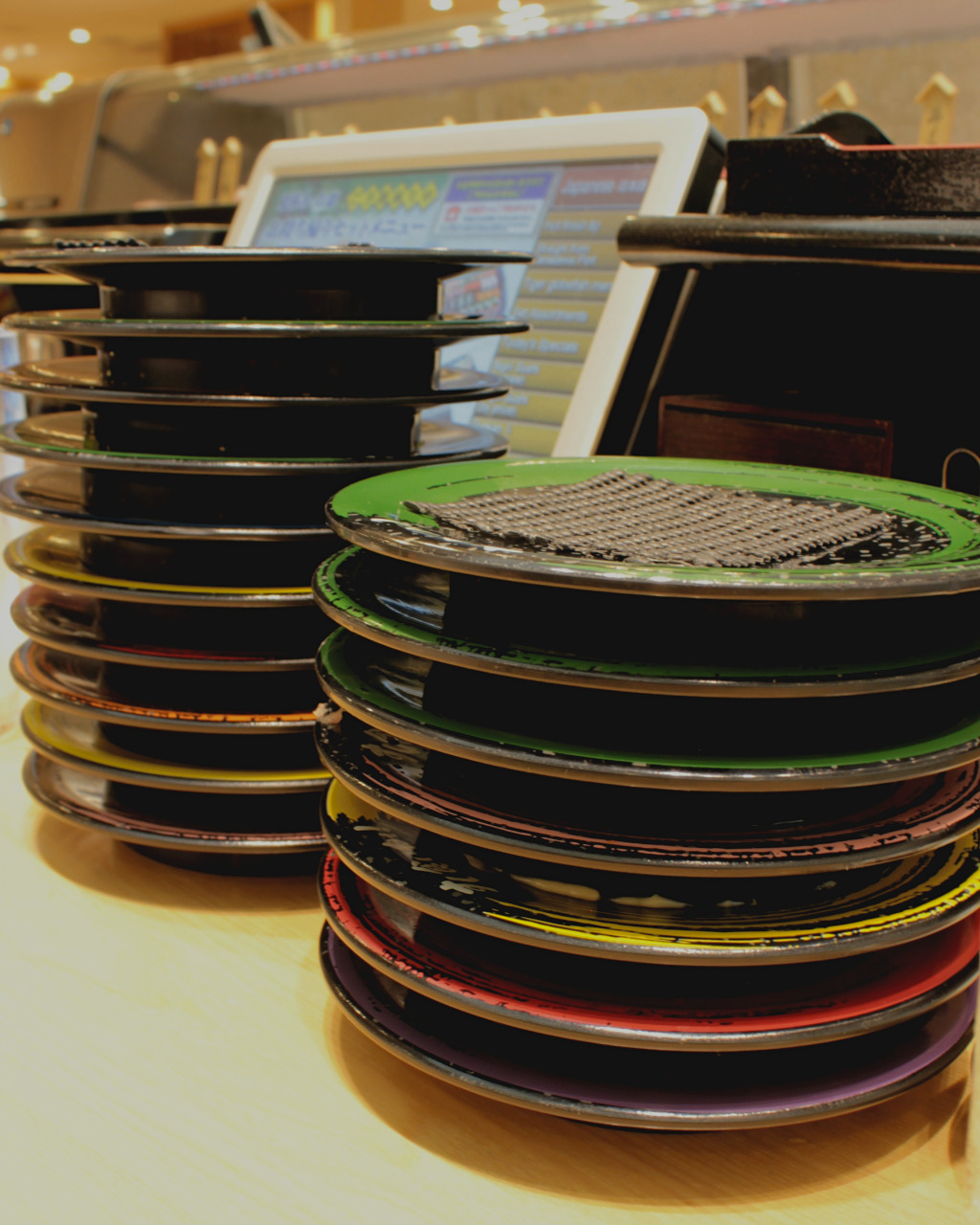 The local diners of Kanazawa have long been known for their unusual attitude toward sushi train restaurants: They love to go, but they never take a plate from the conveyor belt!
There are several kaiten-zushi restaurants scattered throughout Kanazawa. Here are our favorites, each with a strikingly different style.
Classy and Classic
Maimon Sushi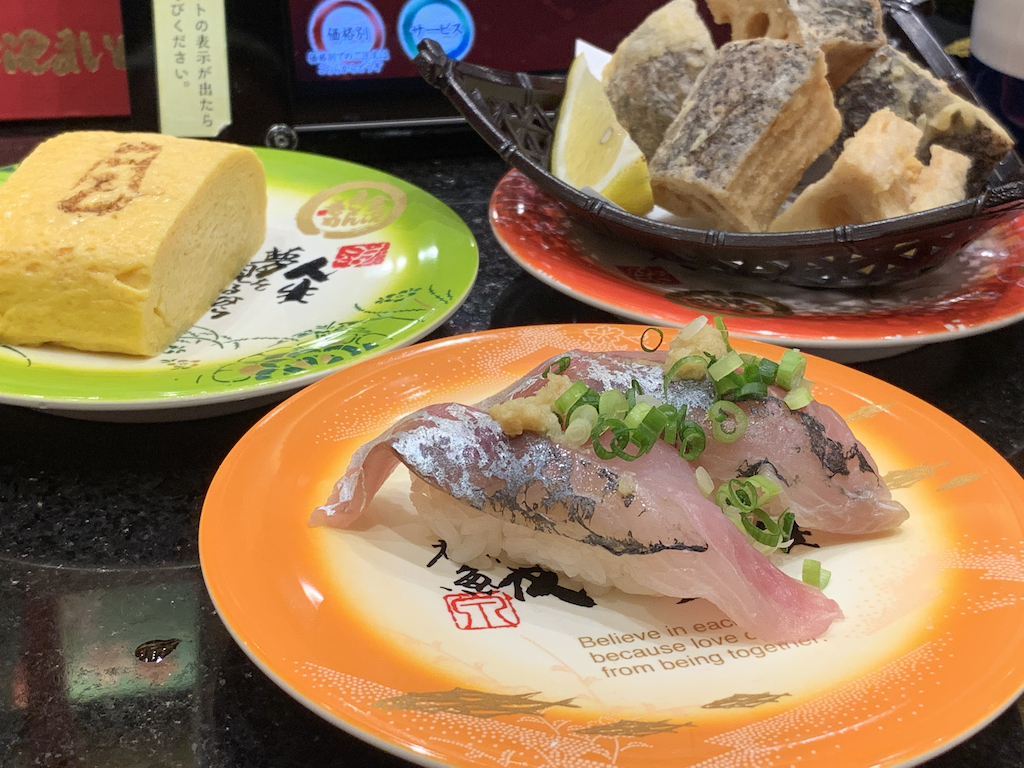 Perhaps Kanazawa's most strongly Kanazawa-themed conveyor belt sushi restaurant, Maimon is beautiful in both decor and presentation. The red and gold walls are interrupted with bold motifs from Kaga-yuzen, the local style of decorating kimono silk.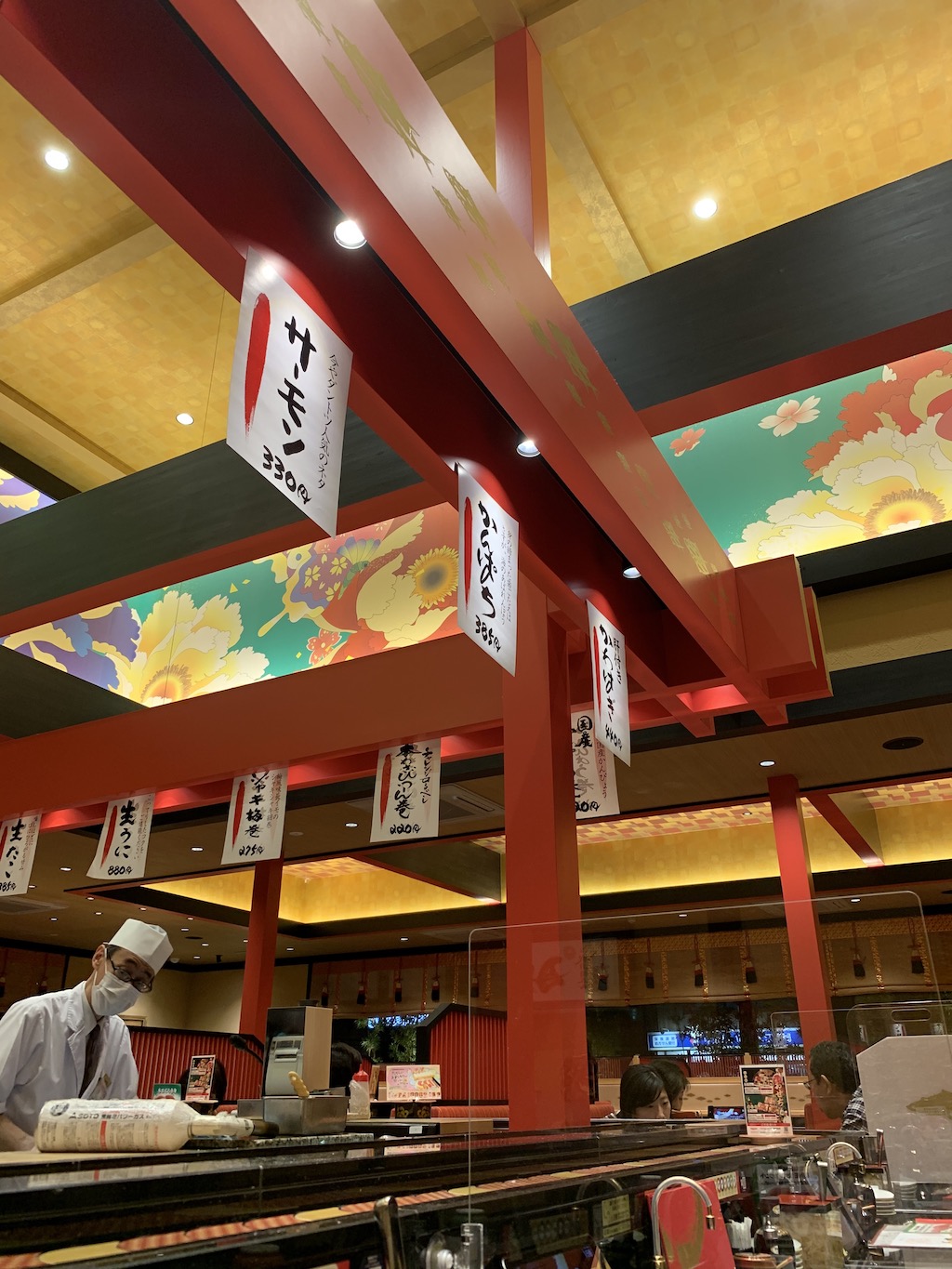 Like all sushi train restaurants, the plate colors indicate price. But Maimon adds another layer to their presentations with proverbs and sayings that reveal themselves as you eat. Many are charming: "Life is like a game of 'hide and seek' between dreams and reality." Others require a bit of cultural knowledge: "Don't give your dreams to the Baku!" (The baku is a dream eating monster of east Asian lore.)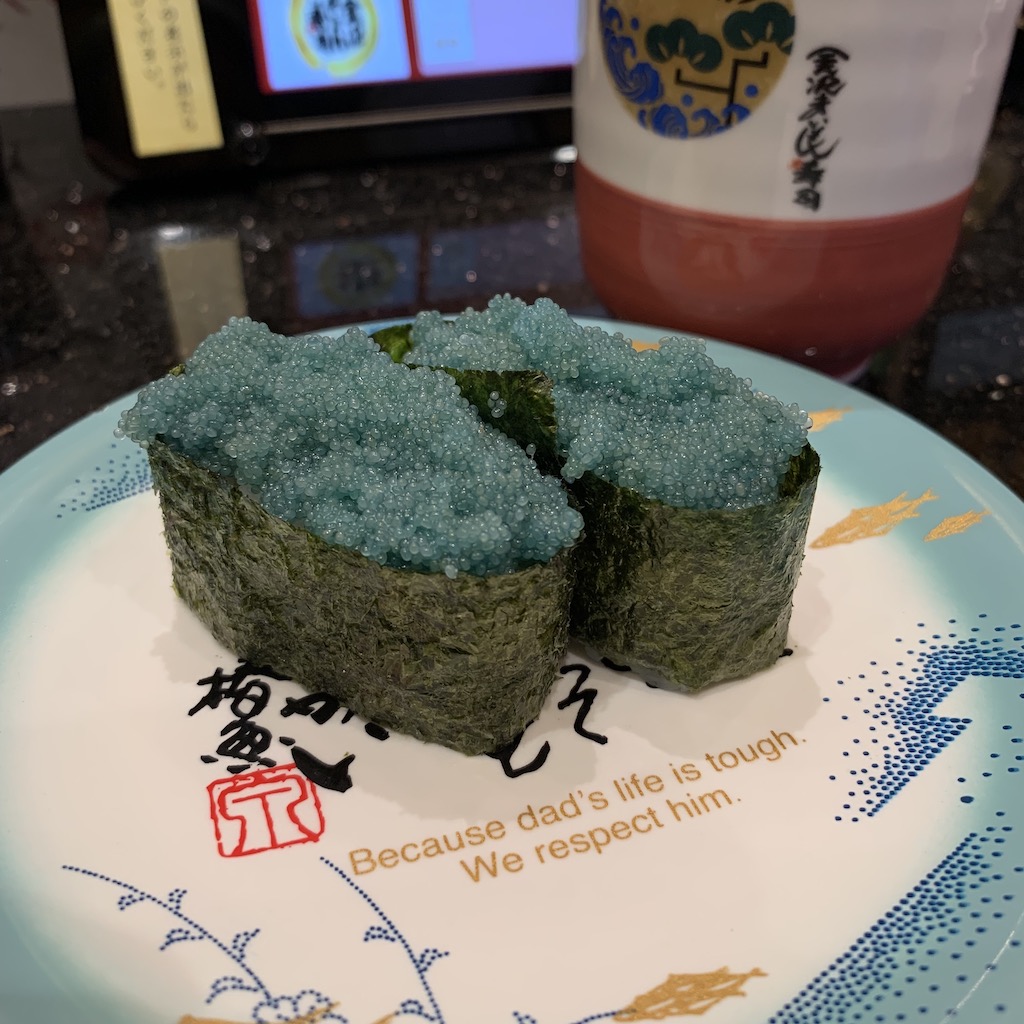 Others are centered around family: "Children are treasure." However, when I received this one with my salmon oyako-maki (親子巻, "parent-and-child roll"), I had a gasp and a chuckle: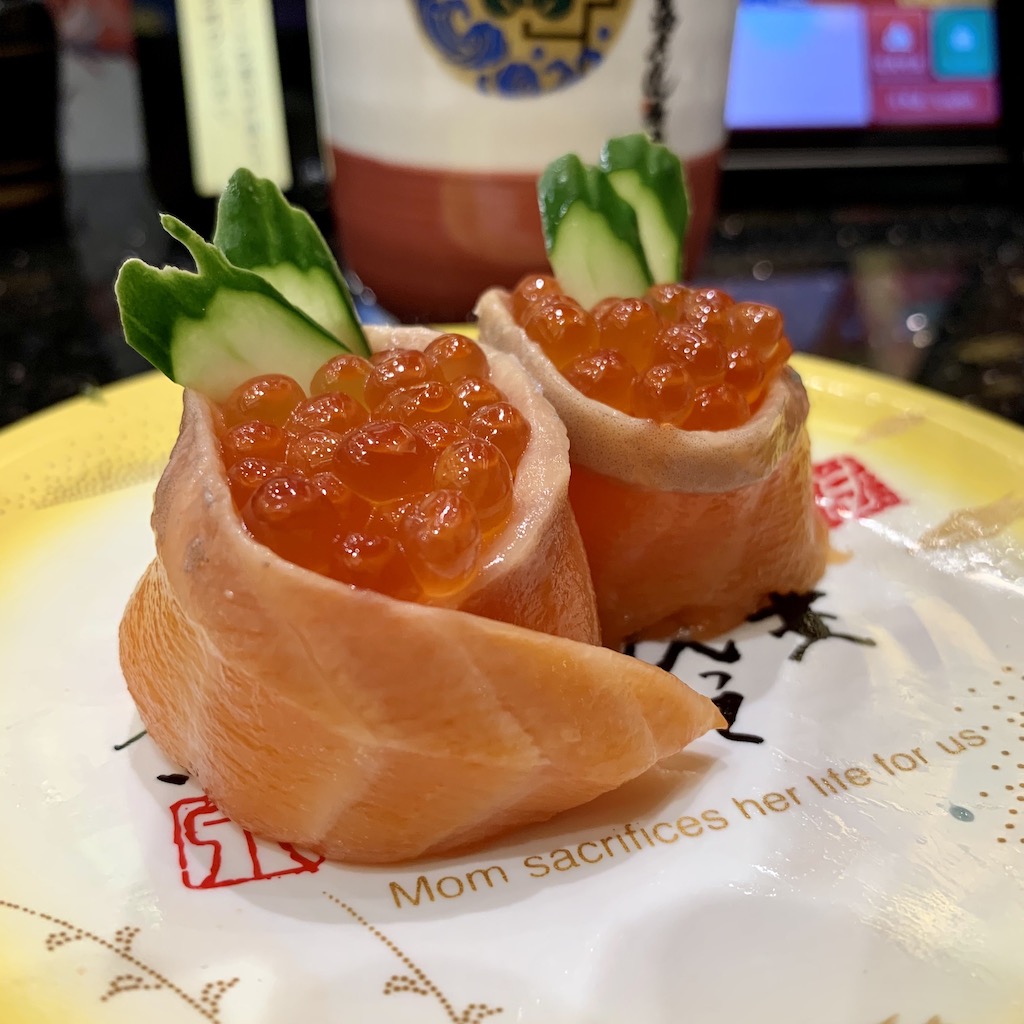 Naturally, the shop that features local color also serves local ingredients. Along with the abundant seafood, be sure to order the local variety of lotus root, kaga-renkon, served fried. I also highly recommend the hand rolls. They're easy to devour, and the seaweed wrap is always crisp and delicious.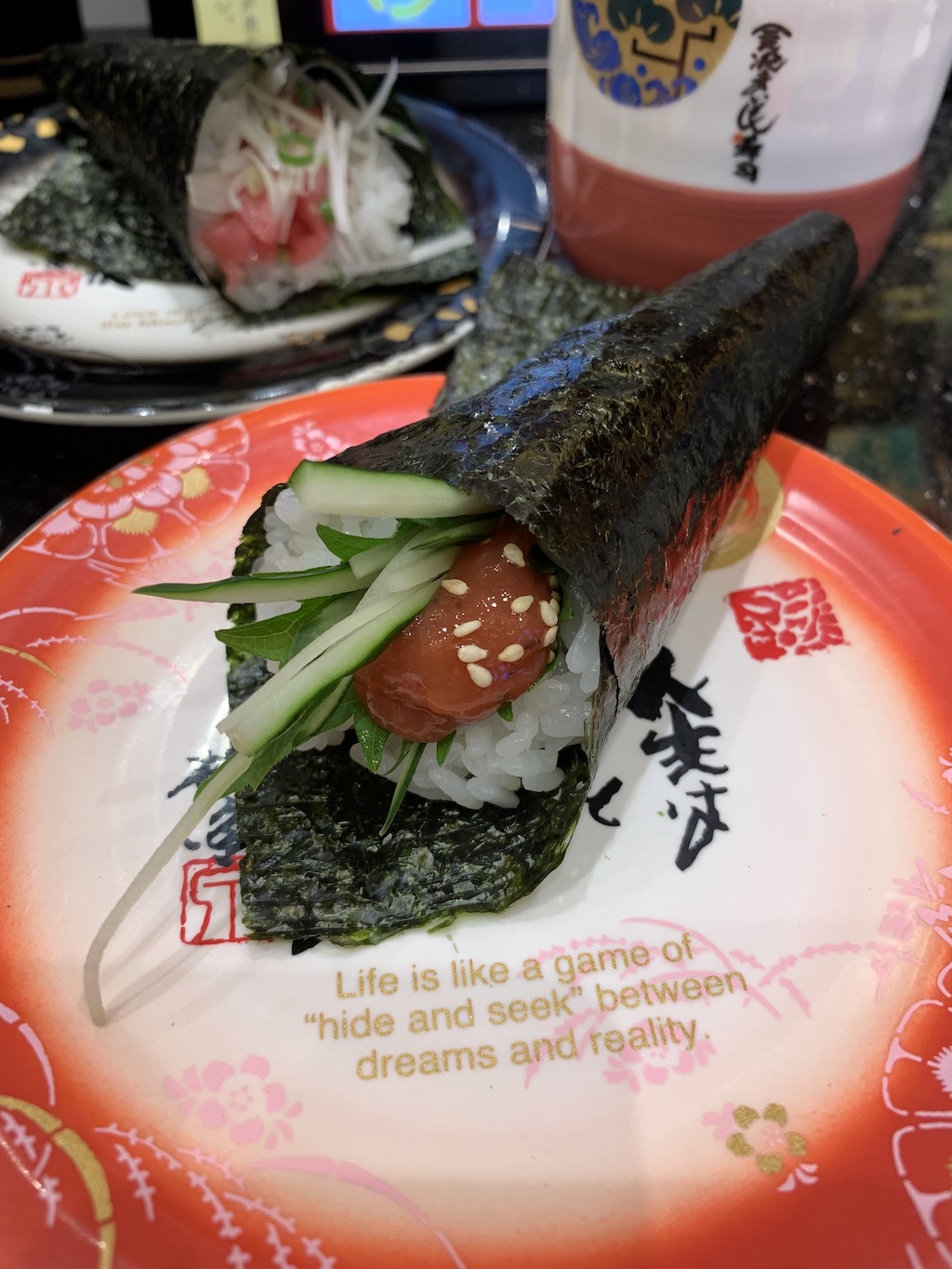 Maimon Sushi
Kanazawa Station, Anto Shopping Area
11:00 a.m. – 10:00 p.m. every day
10 minutes by car or 17 by bus from Kaname Inn Tatemachi
"I'll order it myself!"
Kaiten Sushi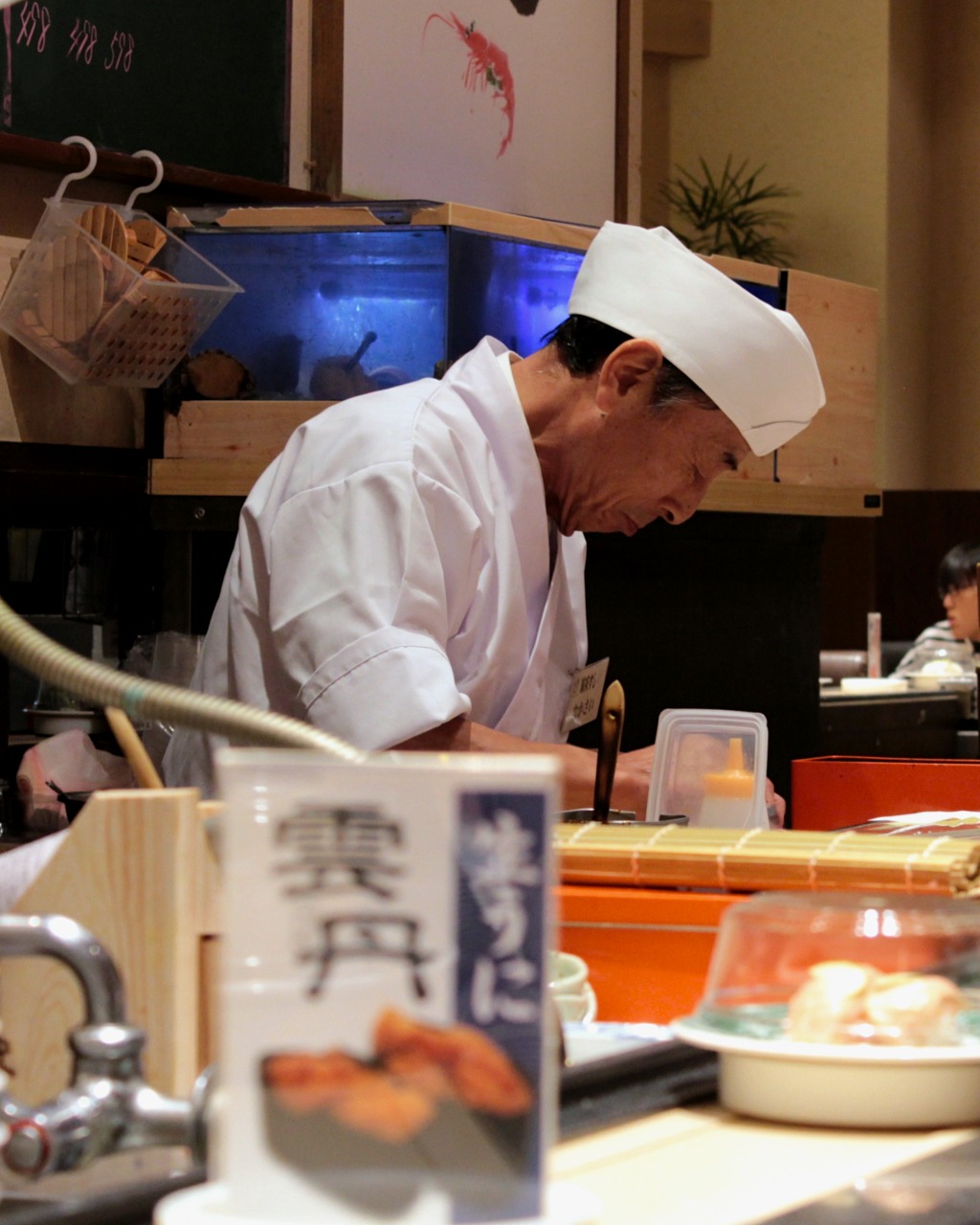 This name is a pun, as the Chinese characters for the restaurant have the same pronunciation as the style of restaurant it is. Here, kaiten means "ocean heaven," suitable for their menu. Kaiten Sushi is a local chain throughout Kanazawa with a lot of pride in consistency and comfort. If you enjoy one, a sister store is a safe bet.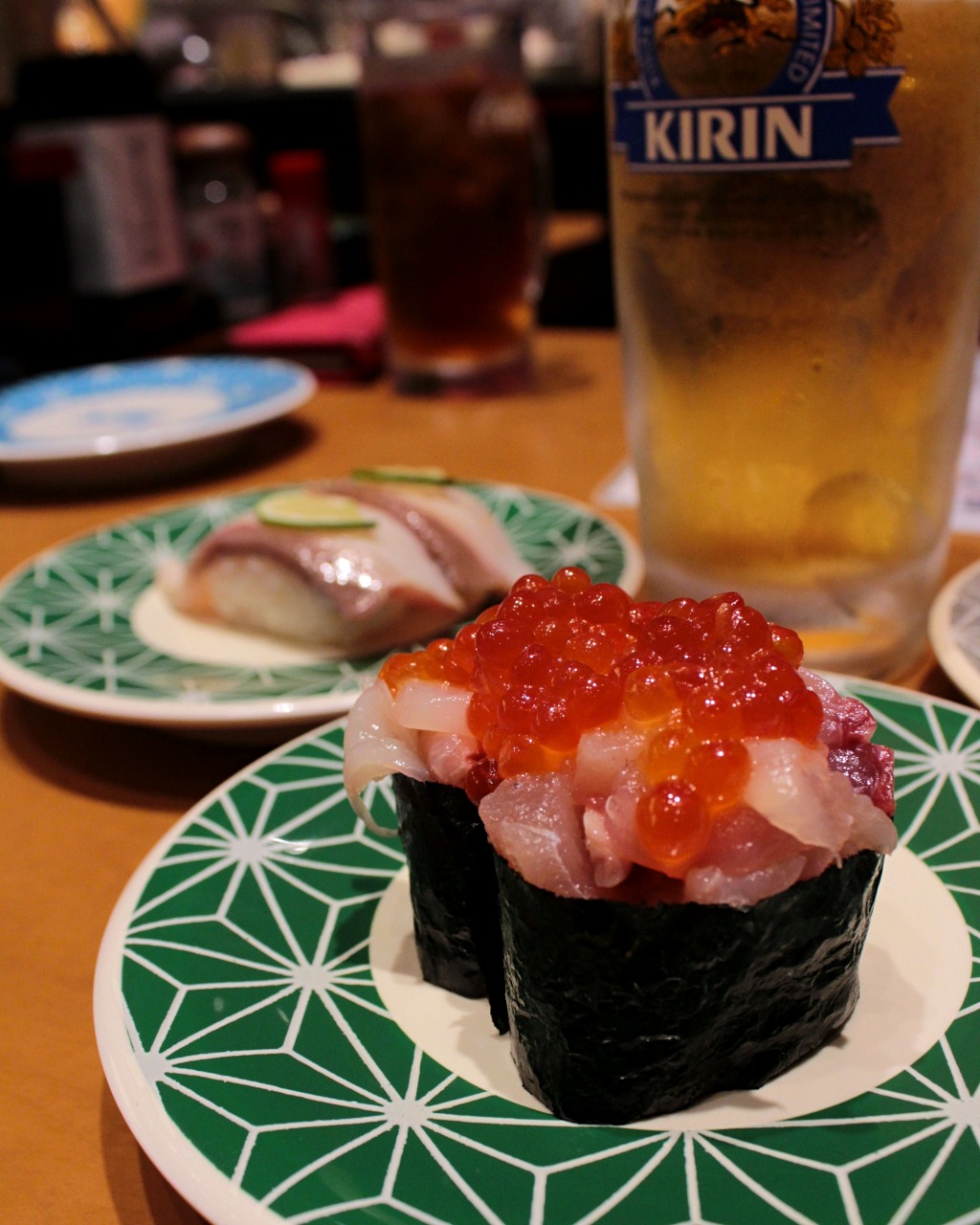 Kaiten is ideal for the visitor who wants to practice their Japanese. The printed menus are Japanese with an awkward English translation. (At least, during our visit, they had a penchant for writing "alive" when they meant "raw.") But the ingredients are accurate!
Ordering happens on a paper system. Grab one of the pink carbon slips, copy the name of the item onto the slip, and list how many you would like with wasabi or without respectively on the columns to the right.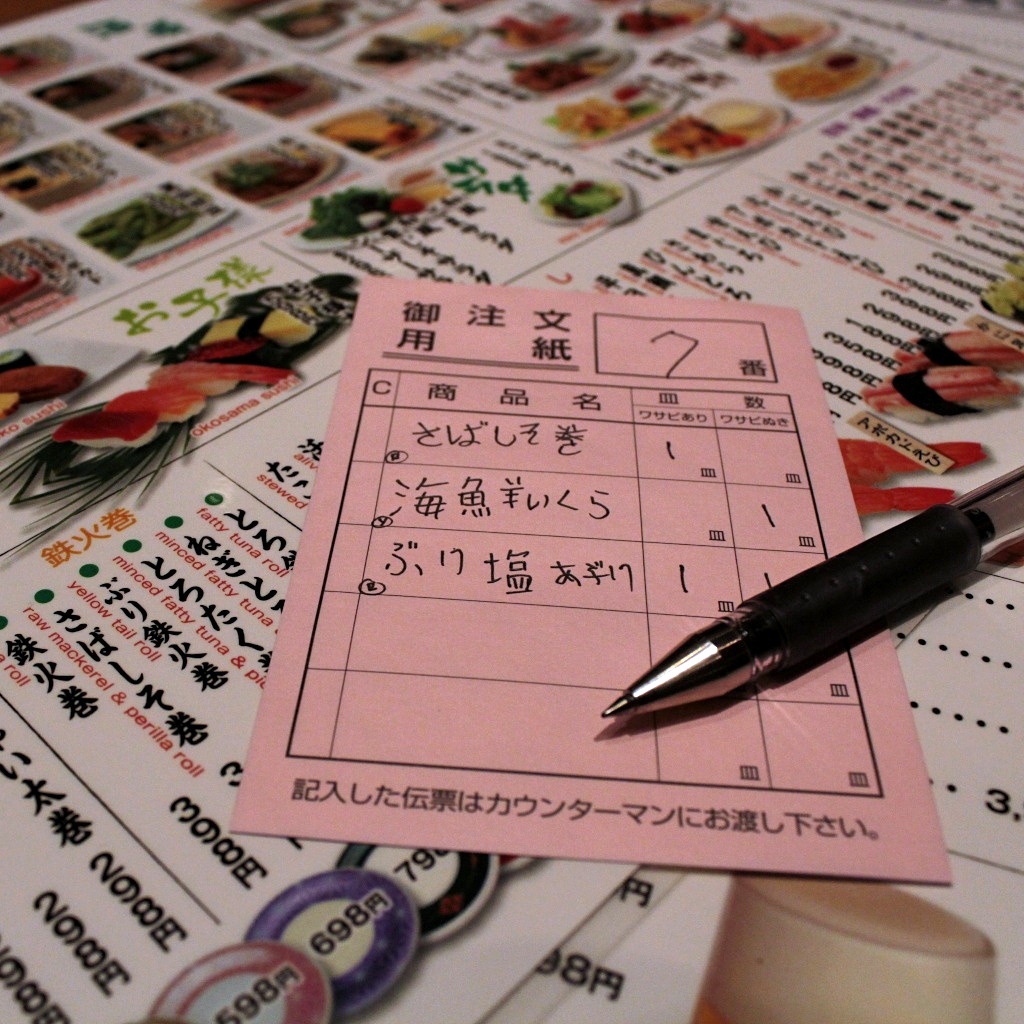 The coconut ice cream for dessert makes for a nice finish.
Kaiten Sushi
2-157-1 Motomachi, Kanazawa
11:00 a.m. – 2:30 p.m., 5:00 – 8:45 weekdays
11:00 a.m. – 8:45 p.m. Saturday, Sunday
10 minutes by car or 19 by bus from Kaname Inn Tatemachi
Where the Sushi Train Meets Stylish Taste
Sushi Kuine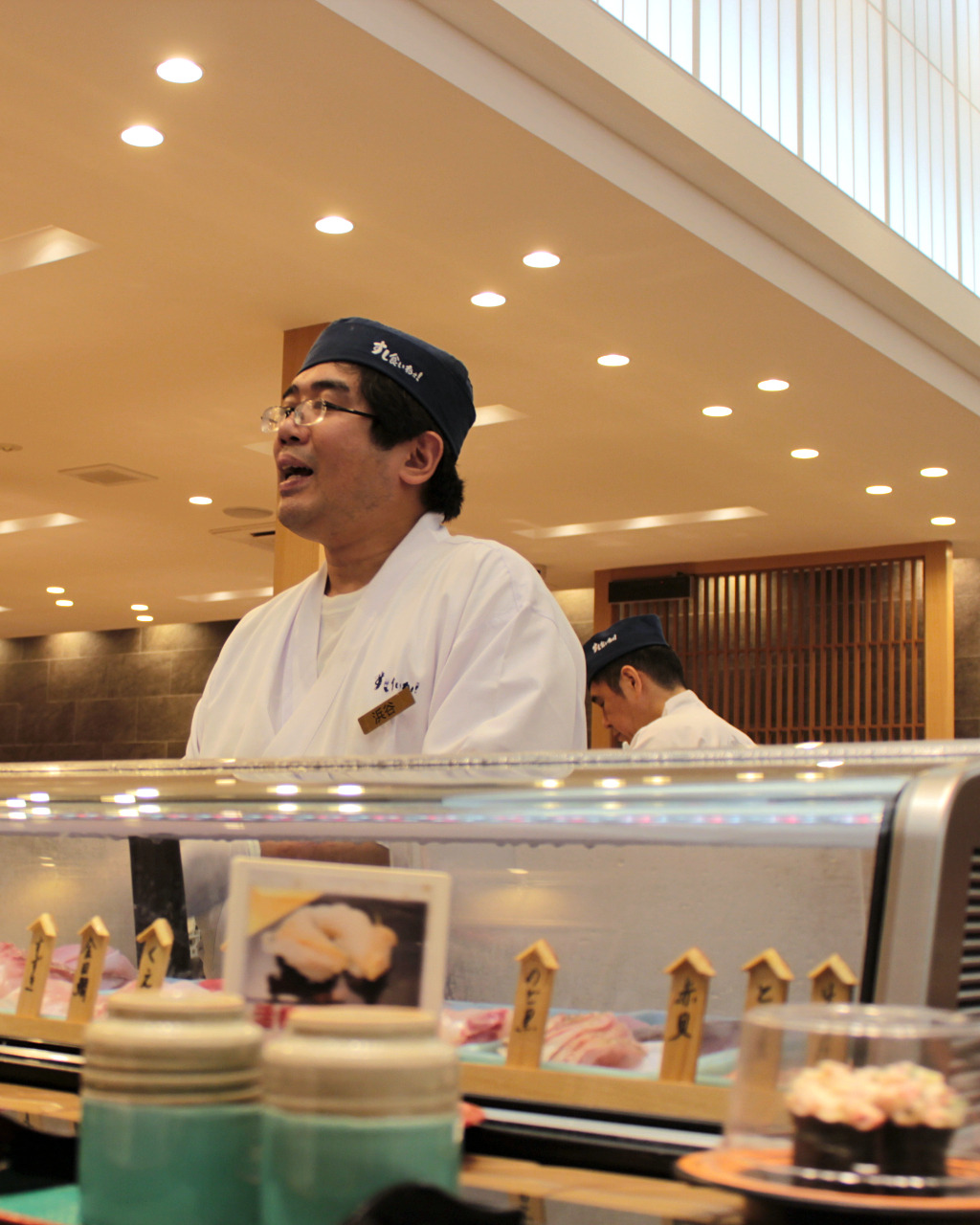 Kuine's atmosphere conveys class in a way that makes it difficult to remember it's a sushi train restaurant. No wonder this one is Nao's favorite sushi train spot. The menu is particularly easy to navigate with English and Japanese language options that each include specials of the day and are readily updated should something sell out. Everything has pictures, and what you see is what you get.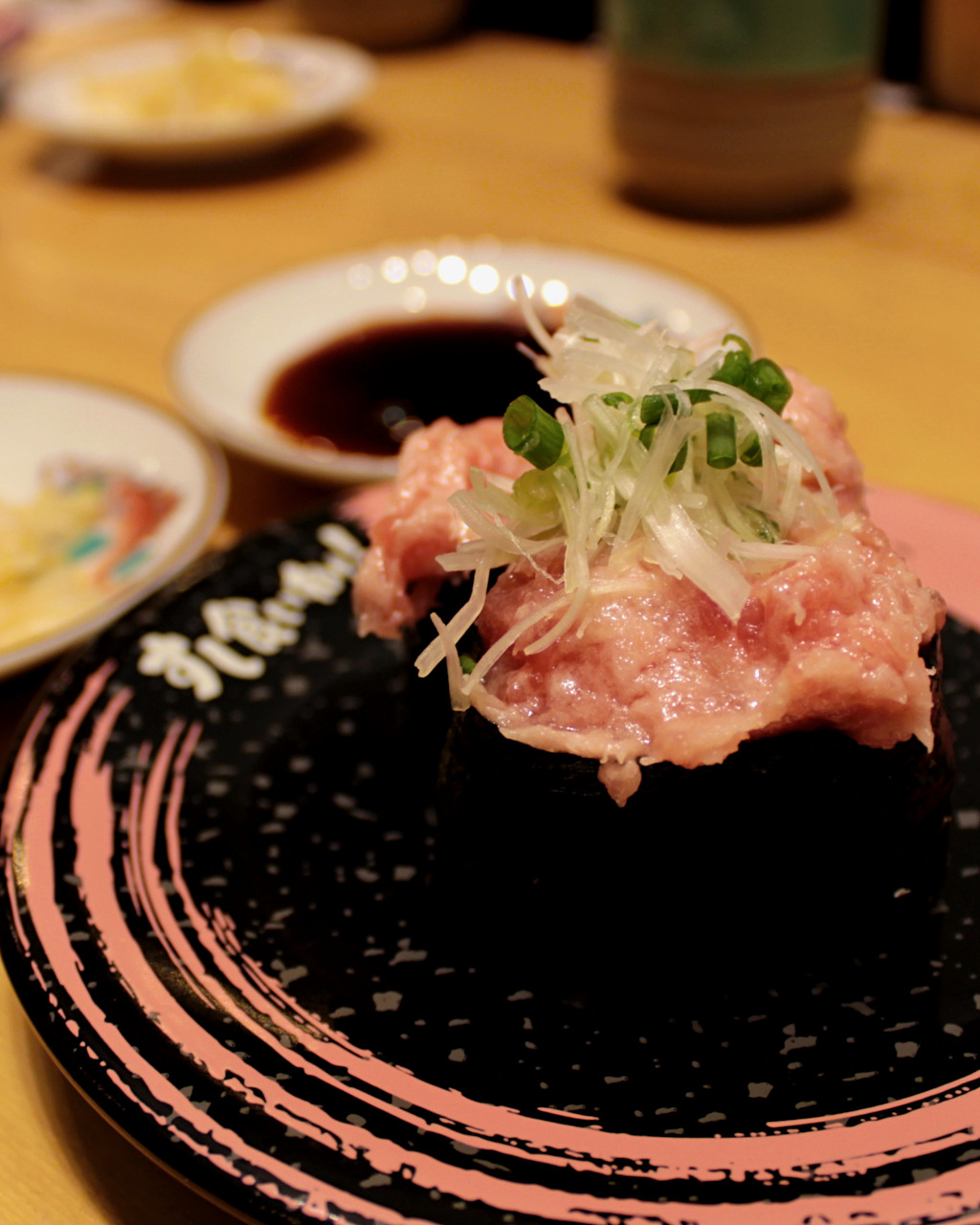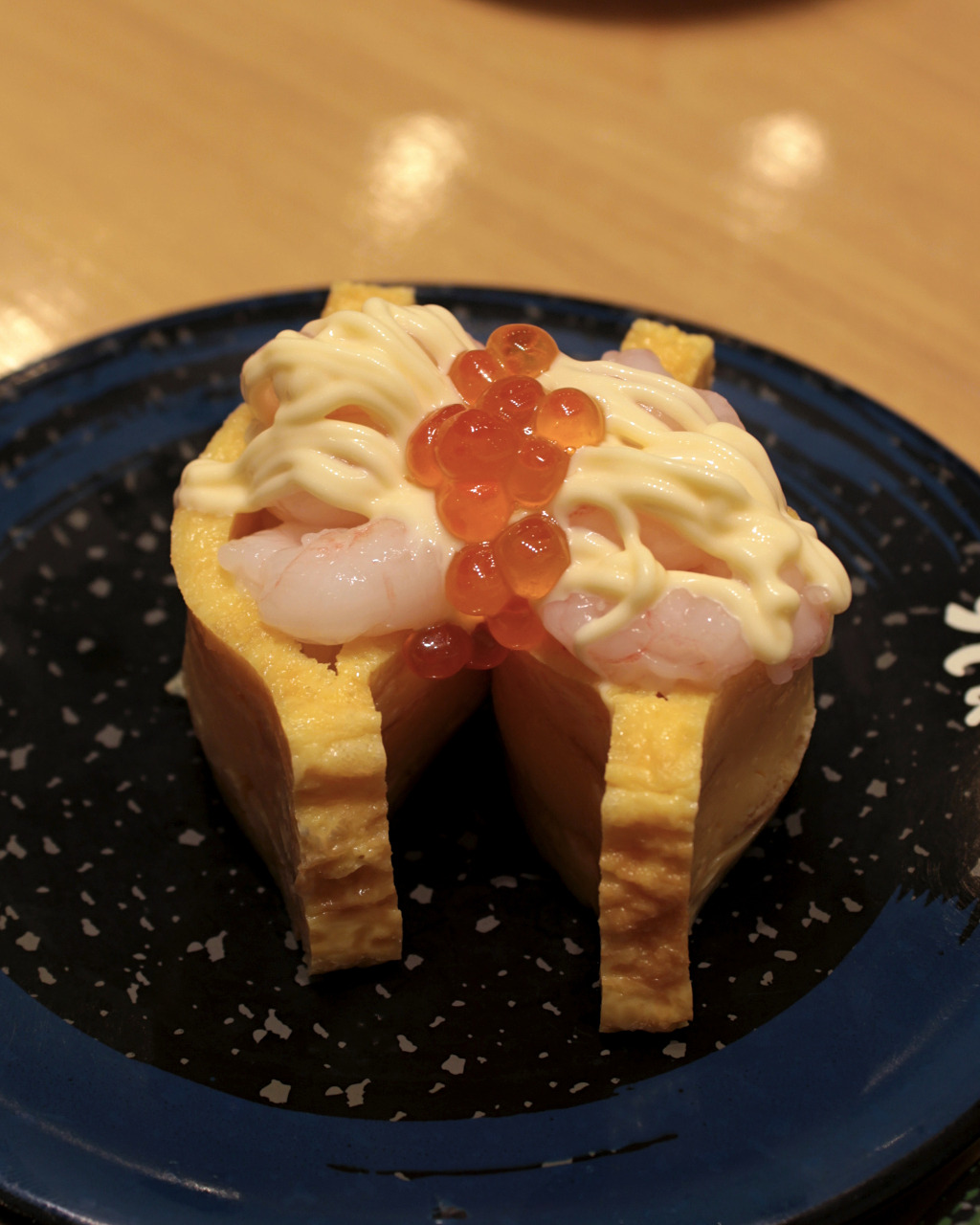 Nothing disappoints. Even the fried fish chips, which we first thought a bit oily, paired perfectly with the house beer. The special order plates are a delight, particularly the vegetarian sushi platter, which is both light and flavorful.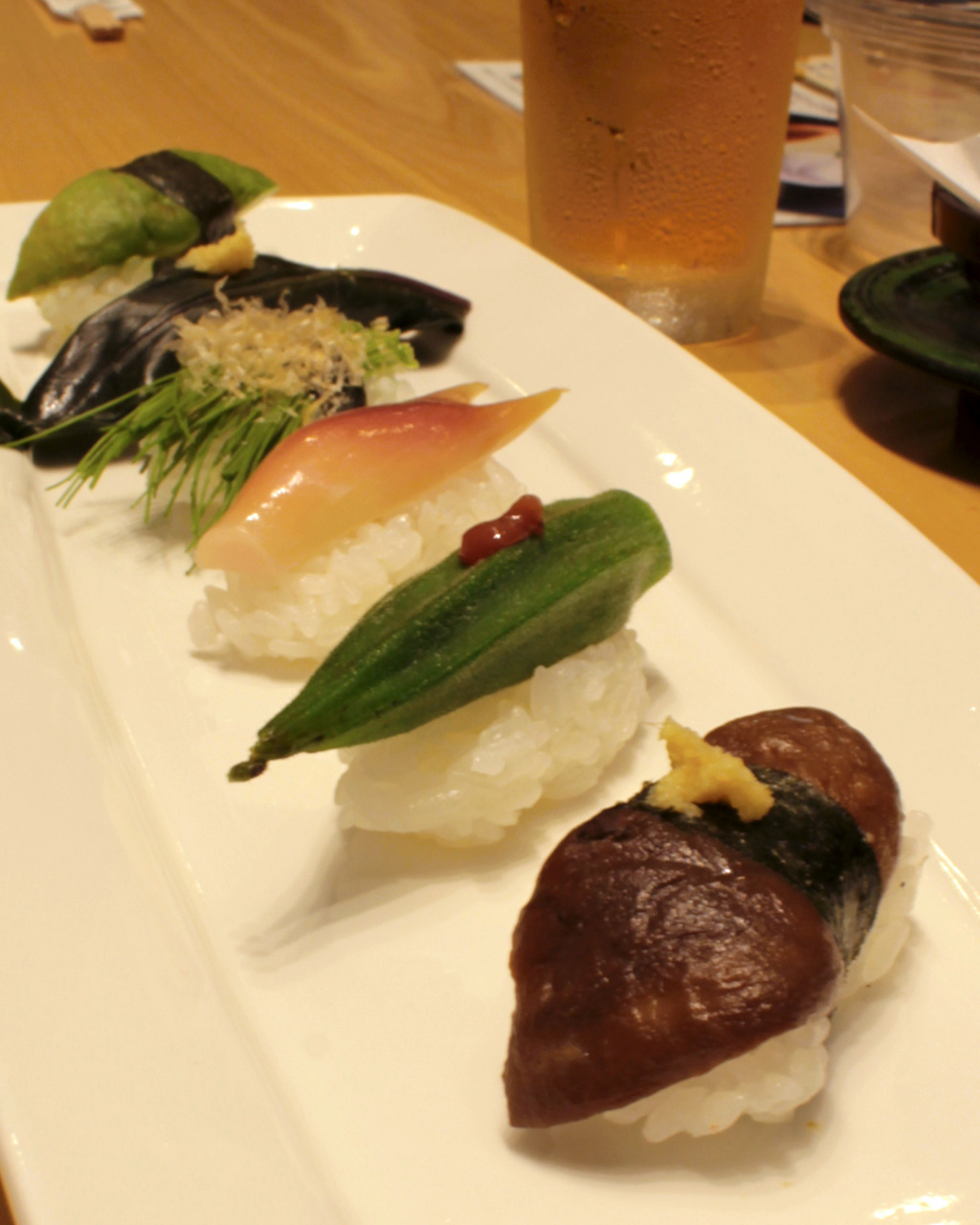 My dining partner couldn't resist the call of the matcha ice cream on sweet beans and biscuit for dessert!
Sushi Kuine
2-3-10 Teraji, Kanazawa
11:00 a.m. – 9:30 p.m. every day
12 minutes by car or 16 by bus from Kaname Inn Tatemachi
Sushi for Breakfast??? Yes, please!
Mori Mori Sushi
Another local sushi train chain, Mori Mori has several locations around Kanazawa, including at Kanazawa Station. It's here in Omicho Market, however, that they open bright and early before the market has begun to bustle.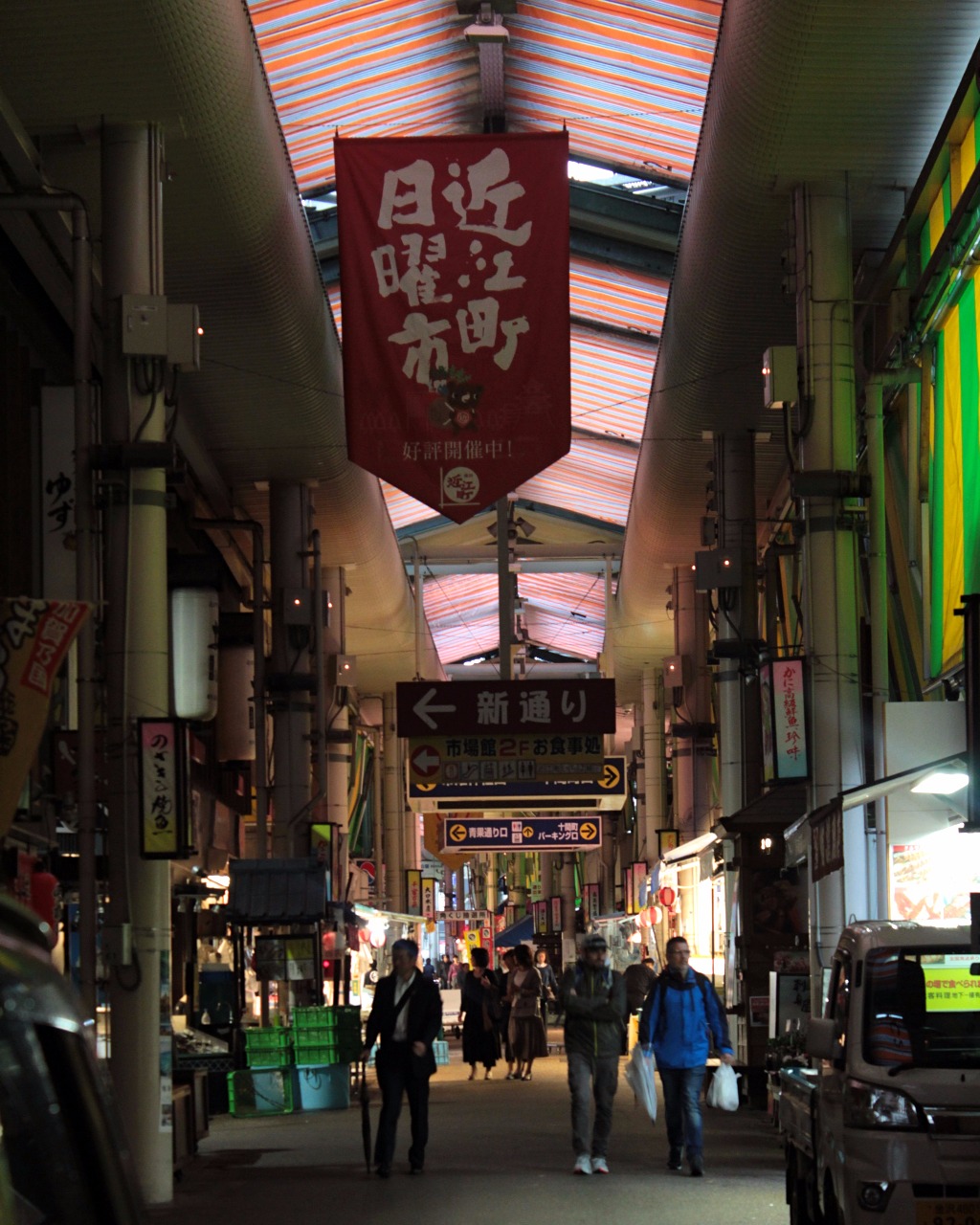 Head inside the main entrance and make the first left. Along the wall and fronted by benches for the long lines that develop for lunch is Mori Mori Sushi, Omicho Branch. This particular store hosts special hours from 7:00 in the morning and closing at 4:20 in the afternoon.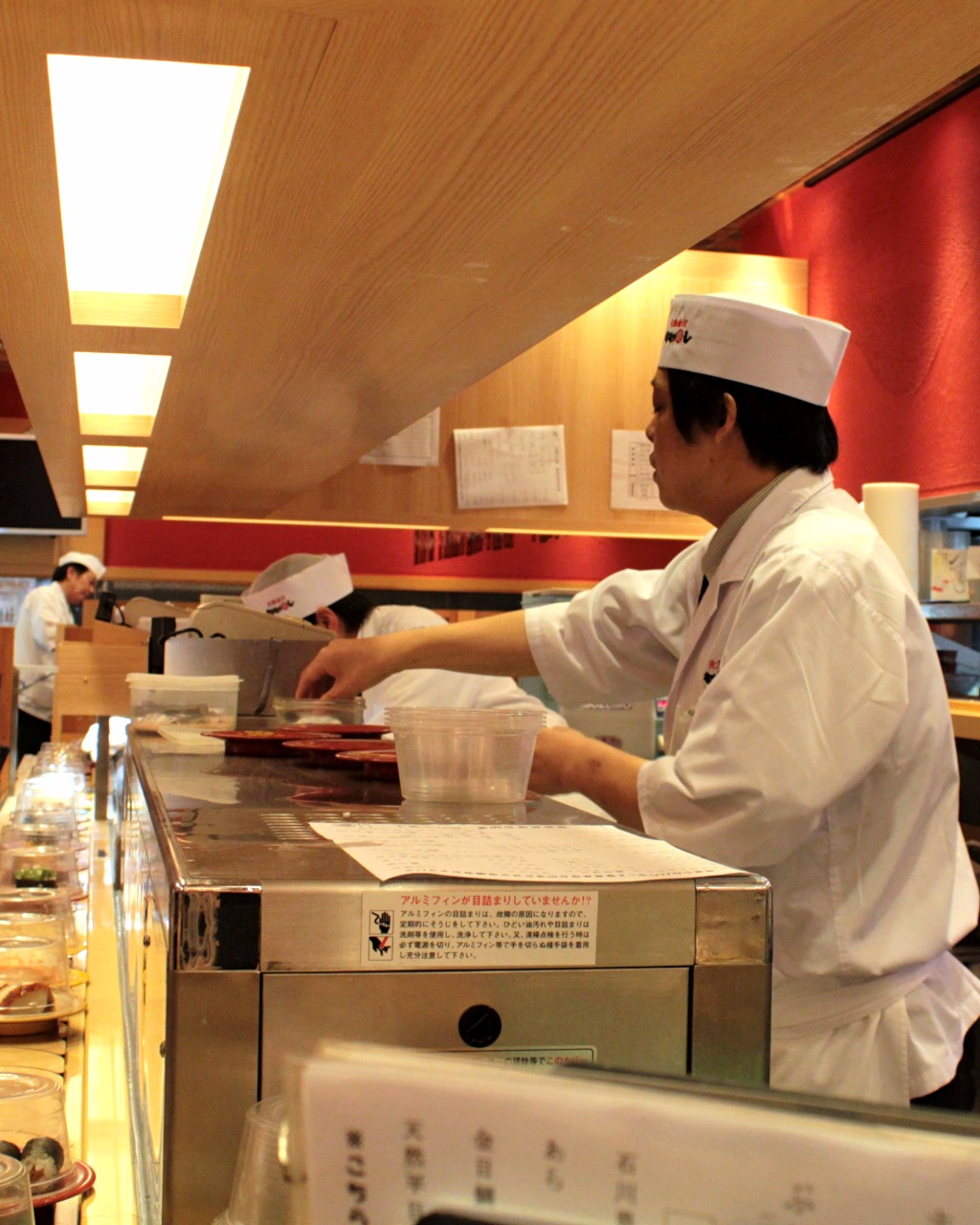 Servings are guaranteed fresh, even and especially along the belt. The touch screen has capability in several languages, including English, and the business is especially kid-friendly.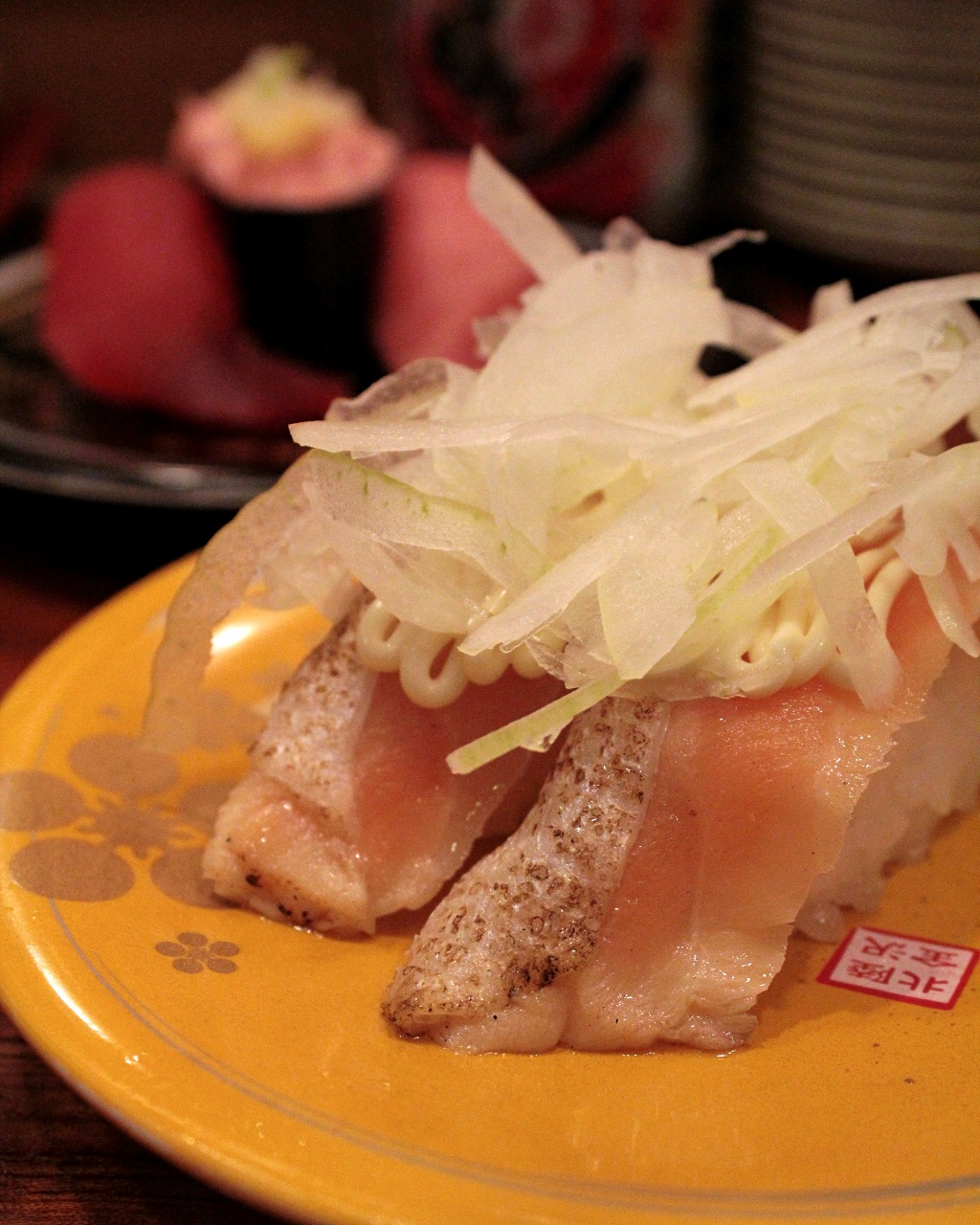 By 10:00 a.m., this shop has a massive line. But if you've gone first thing in the morning, then most of Omicho Market is ready and open before the largest crowds have hit. Enjoy!
Mori Mori Sushi Omicho
in Omicho Market Hall
8:00 a.m. – 4:15 p.m. every day

12 minutes by bus or 18 on foot from Kaname Inn Tatemachi
Mori Mori has a branch just around the corner from us! Head here for lunch or dinner:
Mori Mori Sushi Katamachi
1-7-23 Katamachi, Kanazawa
11:00 a.m. – 3:00 p.m., 5:00 – 10:00 p.m.
(closed Tuesday & Wednesday)
4 minutes on foot from Kaname Inn Tatemachi
As Fresh as You Can Get (and my favorite!)
Ponta Sushi
Just across from Kanzawa's port town of Ono-machi, where that morning's catches are delivered, Ponta is guaranteed to be fresh. More so than other restaurants listed here, Ponta is super casual. It feels like I walked over to eat at my friend's kitchen table.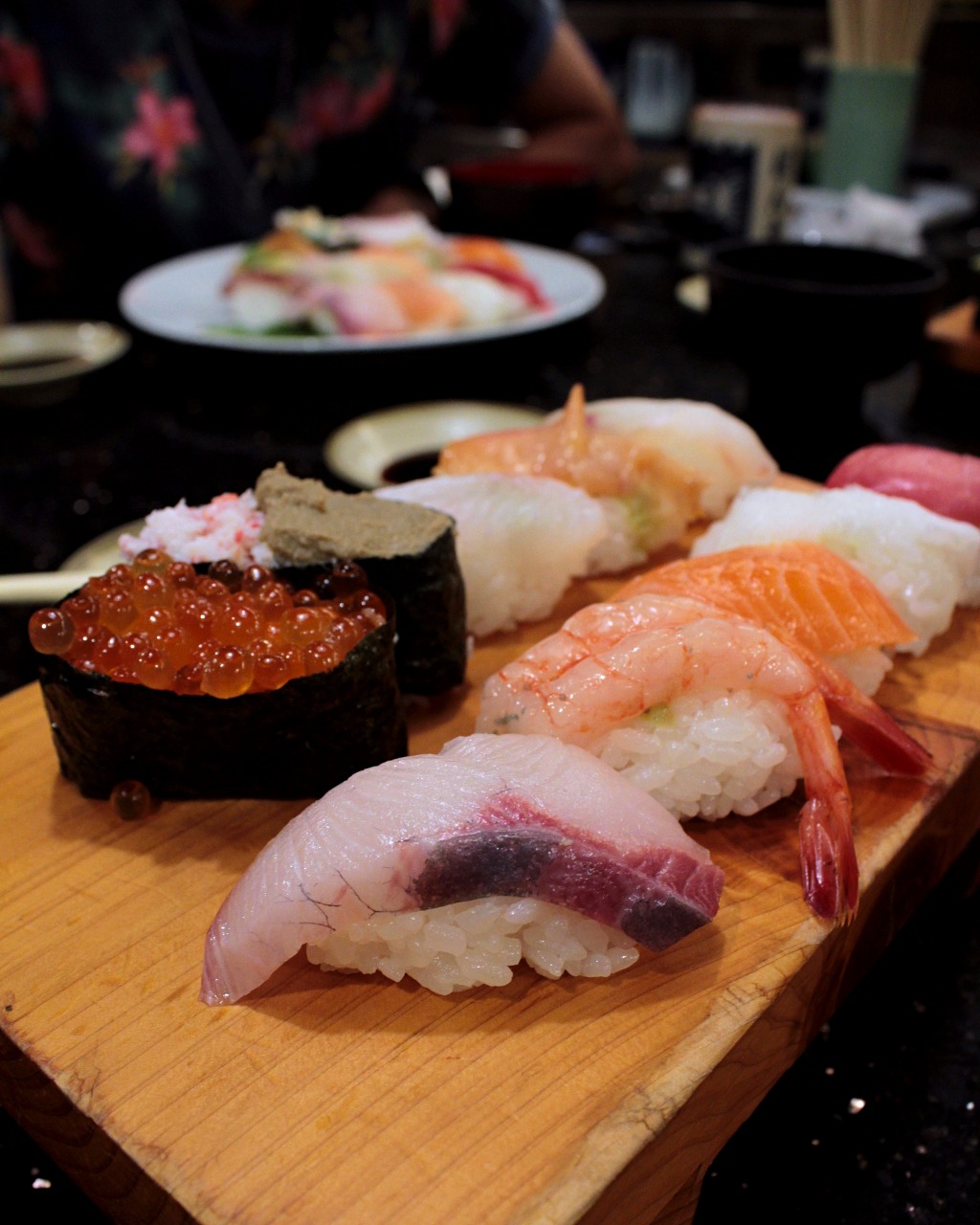 There are two conveyor belts running around the center counter. The top has fresh sushi in the morning and signs for specials at night. The bottom belt holds a selection of tea cups for agari. Pick your favorite!
The menu and everything is in Japanese, with no English in sight, so bring a translator if your Japanese is uncertain. I recommend one of the nigiri platters, which range in size and quality. My go-to is the Yokozuna Set (横綱セット), which gives me a nice spread of the day's fish and fills me up.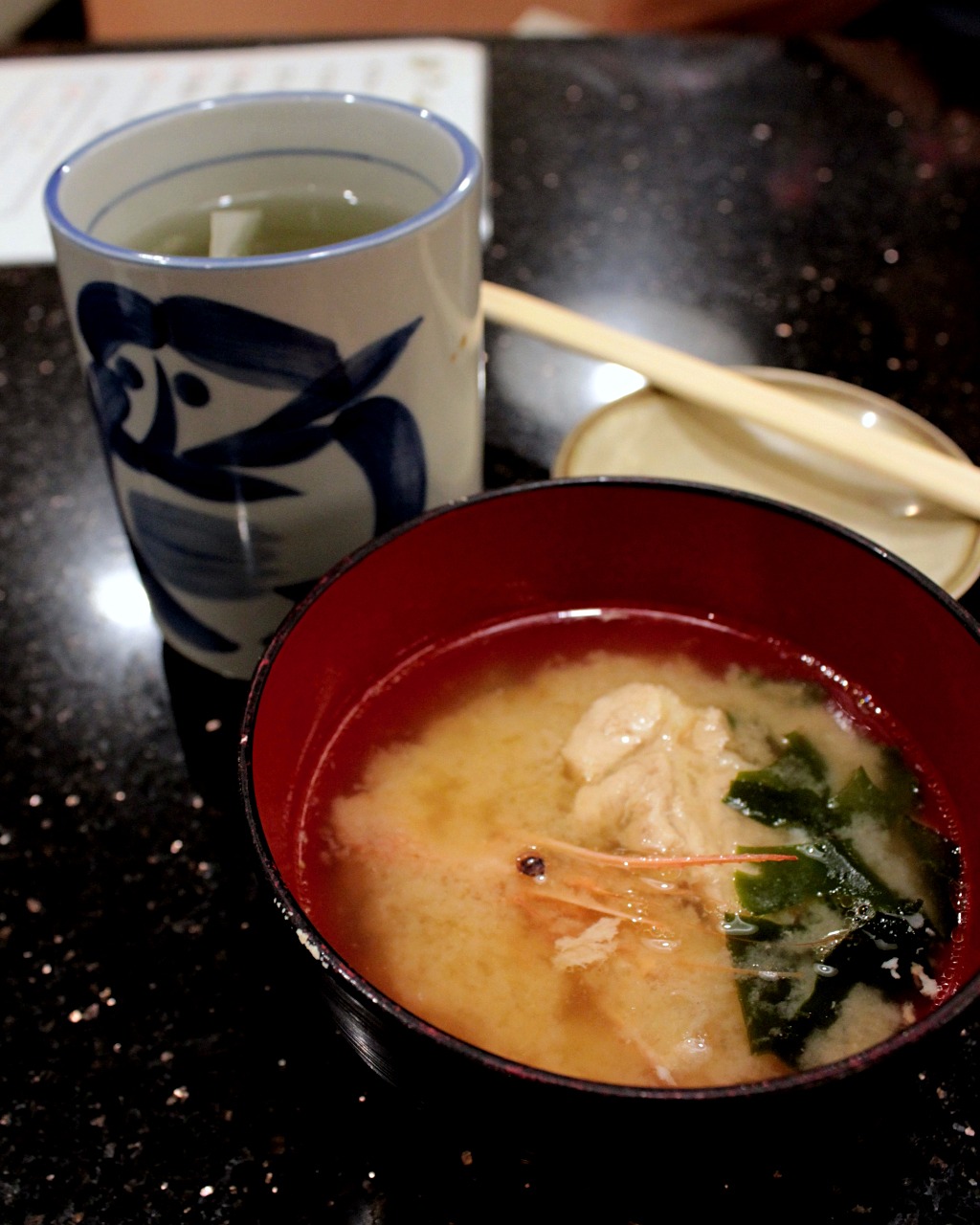 While you're waiting on your order, help yourself to the seafood and miso soup! It's special here, made from all the leftover seafood bits that aren't the most beautiful for sushi, but are still so delicious! Today's batch had quite a few shrimp heads and plenty of tender fish collar. Ponta guests can eat two bowlfuls gratis.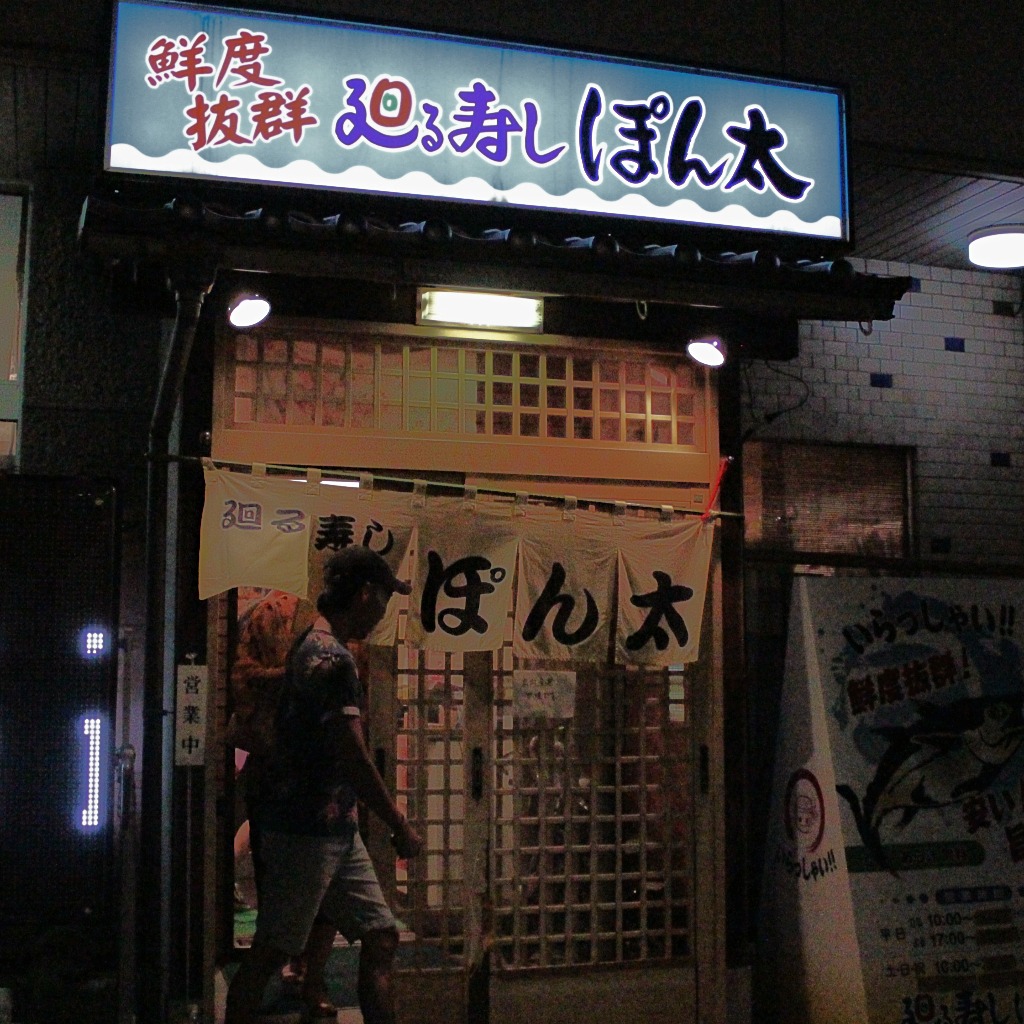 Ponta
4-15-1 Sainen, Kanazawa
Open every day: 10:00 a.m. – 2:00 p.m. & 5:00 – 8:30 p.m.
12 minutes by car or 26 by bus from Kaname Inn Tatemachi
---
Notice concerning COVID-19: Information and services for the above sites may be temporarily suspended due to the coronavirus pandemic. Please check again close to the dates of your visit. Guests of Kaname Inn Tatemachi may also use our concierge service to make inquiries as necessary. Thank you for your understanding, and we eagerly look forward to your stay.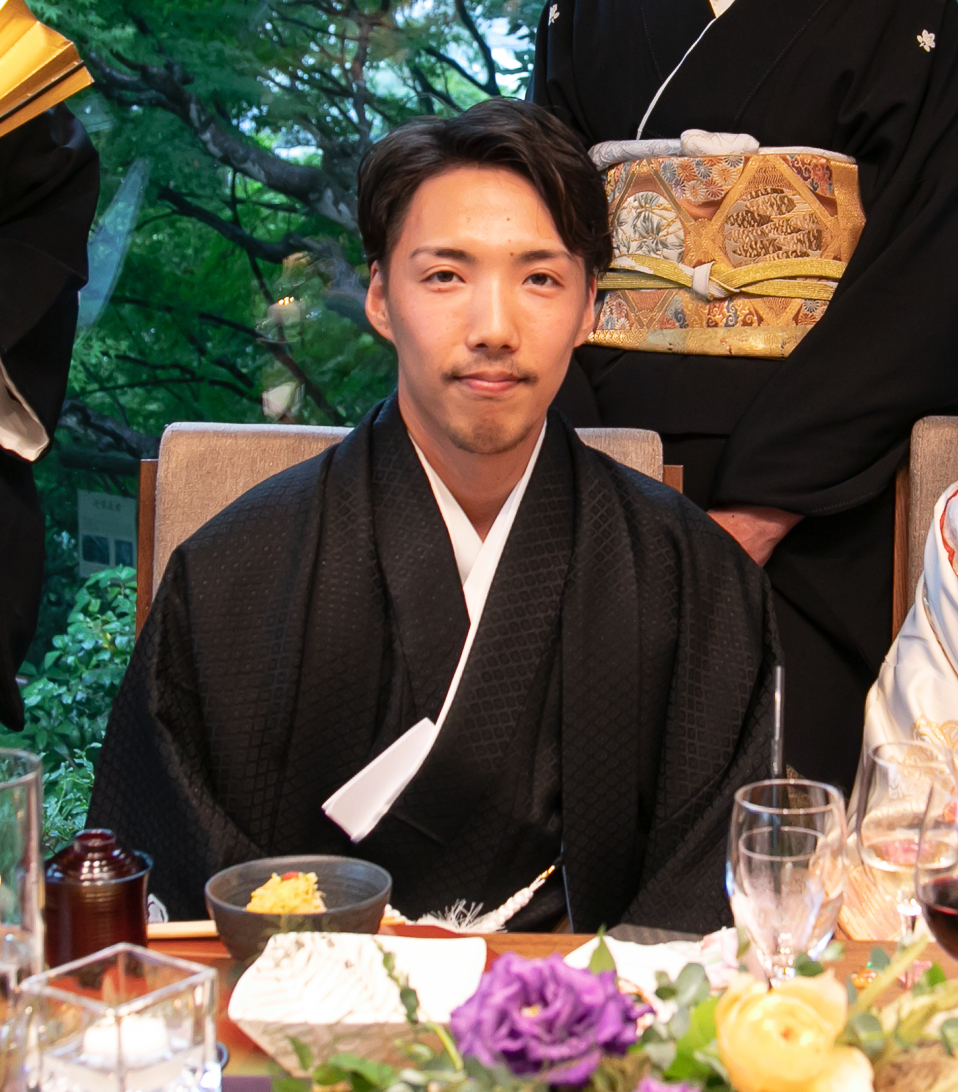 Haruki
Hey, Haruki here! I'm the concierge from Kaname Inn Tatemachi. I can tell you all about Kanazawa and nite life in the city. I'm traveler myself and love making connections with people. I also dig dancing! Haruki's Instagram