The Kimono Silk of Kanazawa: Kaga-Yuzen
24.06.2021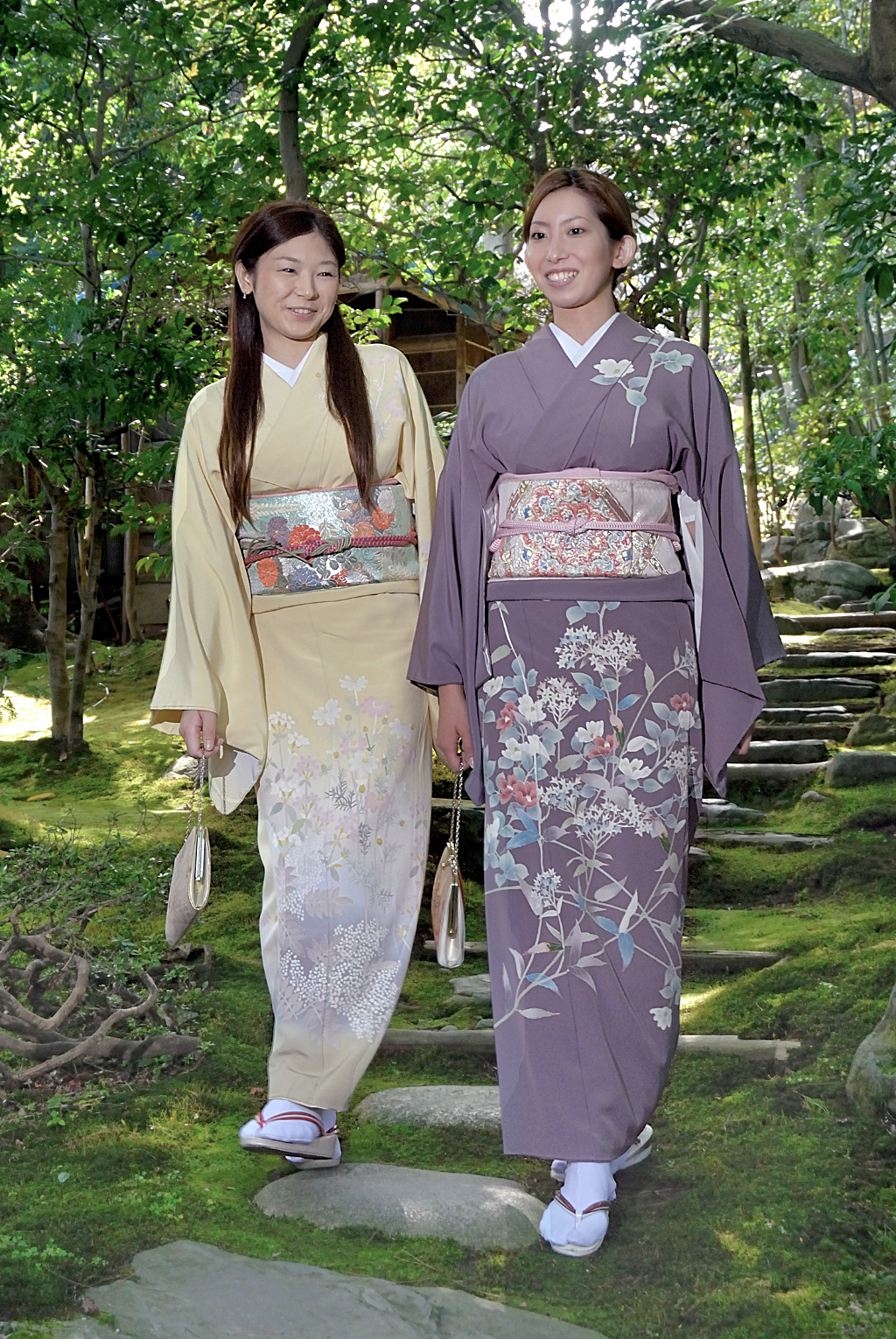 photo courtesy the city of Kanazawa
A real kimono is handcrafted from start to finish. The initial designer of the finished pattern is attributed as "the artist," but, in fact, an entire team of professional artists work on one kimono for up to a year, each specializing in a single step of the multi-step process that the Japanese call yuzen.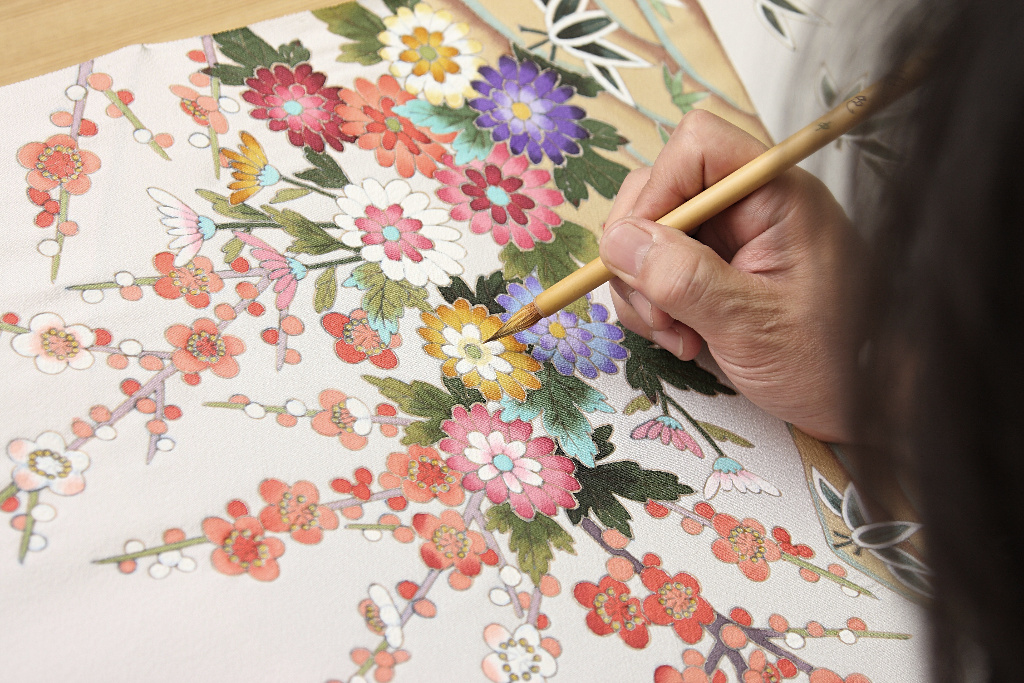 photo courtesy the city of Kanazawa
There are three schools of hand-dyed kimono, and all follow the basic, yet painstaking process. However, they differ wildly in theme and ornamentation.
Edo-yuzen from ancient Tokyo was made for the merchant class and depicted scenes from city life or simple landscapes in muted colors, often requiring fewer artists.
Kyo-yuzen from Kyoto catered to the aristocracy and features an array of embellishments, including gold and embroidery, set against vibrant colors and geometric patterns.
However, the silk-dyeing of the Kaga Domain, whose capital is today's Kanazawa, was neither for the highest or lowest classes. Kaga-yuzen reflected the Buddhist values of the samurai class: nature with all her imperfections, creating refinement from simplicity, and the calm and stillness of the tea ceremony.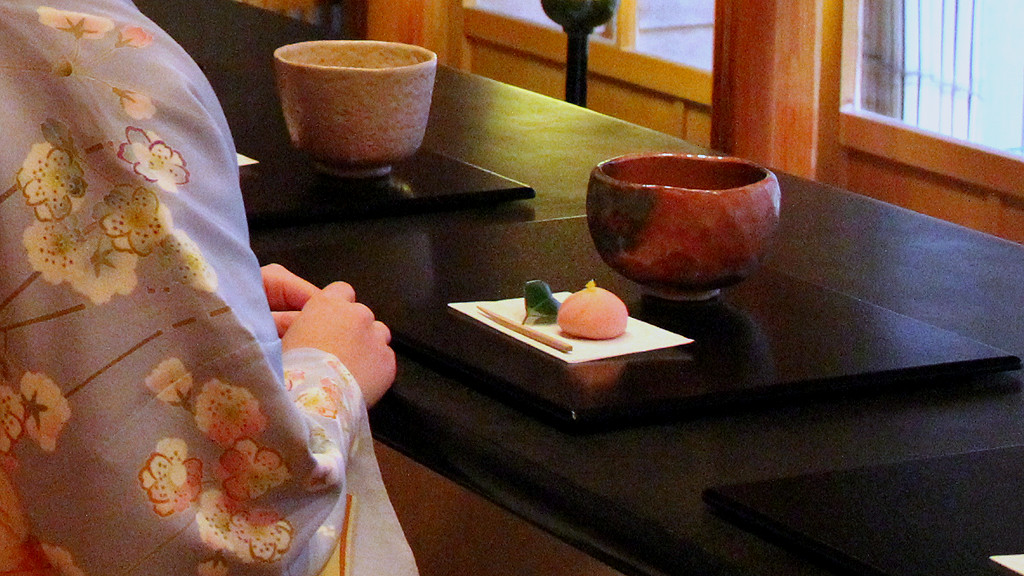 photo courtesy of the city of Kanazawa
The tea ceremony is intimately connected with the culture of Kaga-yuzen. One without the other is an incomplete experience.
The Culture of Kaga-yuzen Silk
The tea ceremony in Japanese is called sadō. The arrangement of flowers is kadō. The practice of creating incense is kōdō. The method of swordfighting, kendō. The samurai code of conduct, bushidō. All the aspects of Japanese culture adapted from the meditative practices of Buddhism are suffixed with –dō, meaning "the way of..." The way of tea. The way of flowers.
Nothing related to "the way" should be done for profit. Culture should never be about making money.
The kimono artist who sits across from us is relaxed and comfortable in the studio packed with paints and brushes. Despite his calm demeanor, he speaks firmly and passionately.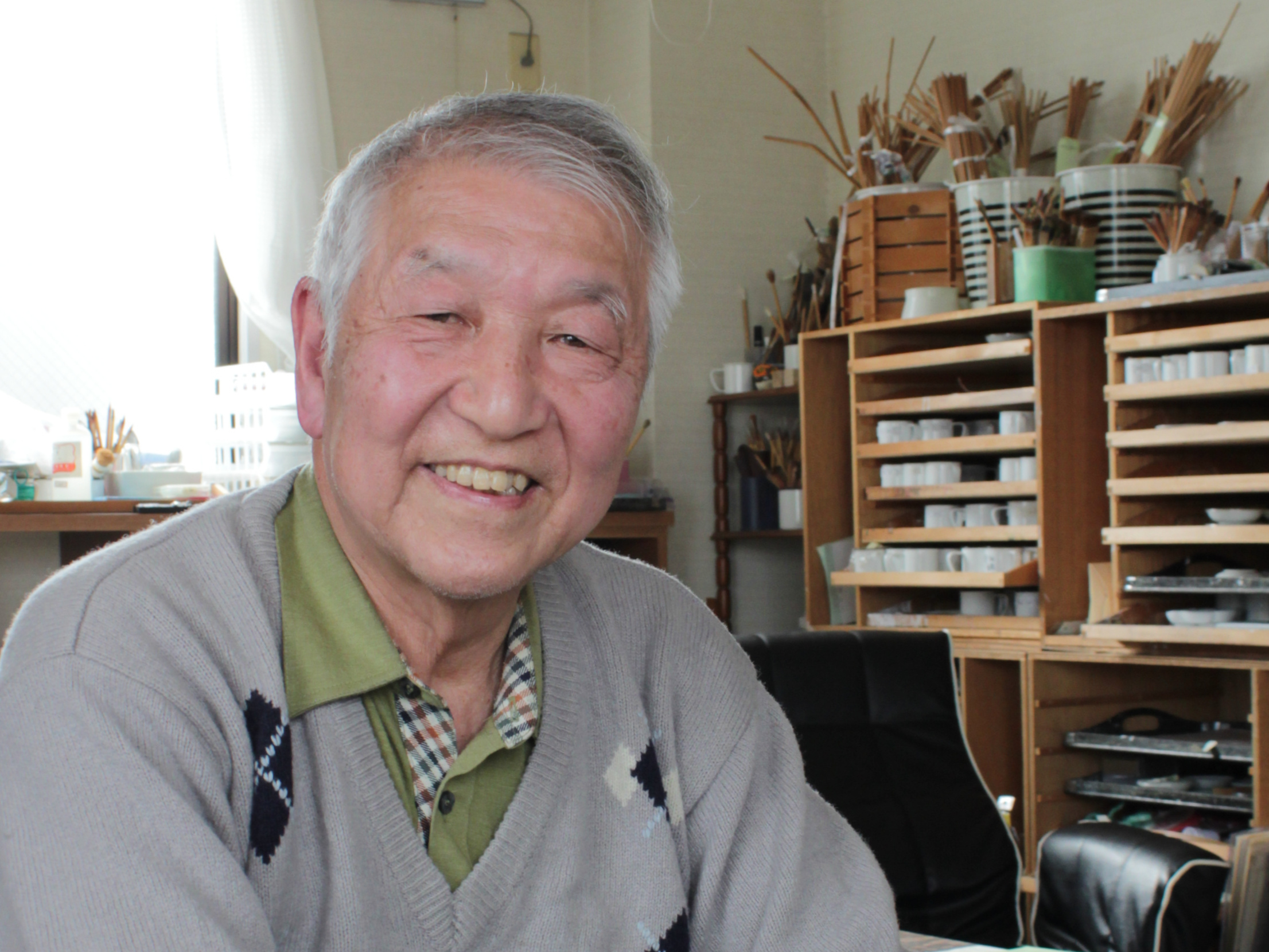 Kimono Artist Ikkou Teranishi
Ikkou Teranishi is the 7th generation of Kaga-yuzen artists at the Nagamachi Yuzenkan, the yuzen crafting studio in Nagamachi, just outside of the streets that comprise the Samurai District and founded 200 years ago. He learned the trade from his mother, who served the highest level of customers in Tokyo. Despite being in his 80s, Teranishi has yet to retire from creating kimono and tirelessly promotes the traditional craft of Kanazawa.
Few kimono shops show how to dress kimono properly. Younger people demand to be eye-catching. But that's not the purpose of Kaga-yuzen. It's not about a chance to brag. It's not here to make some opportunity to show off the kimono and say, "Look! I'm wearing a piece by a famous kimono artist!"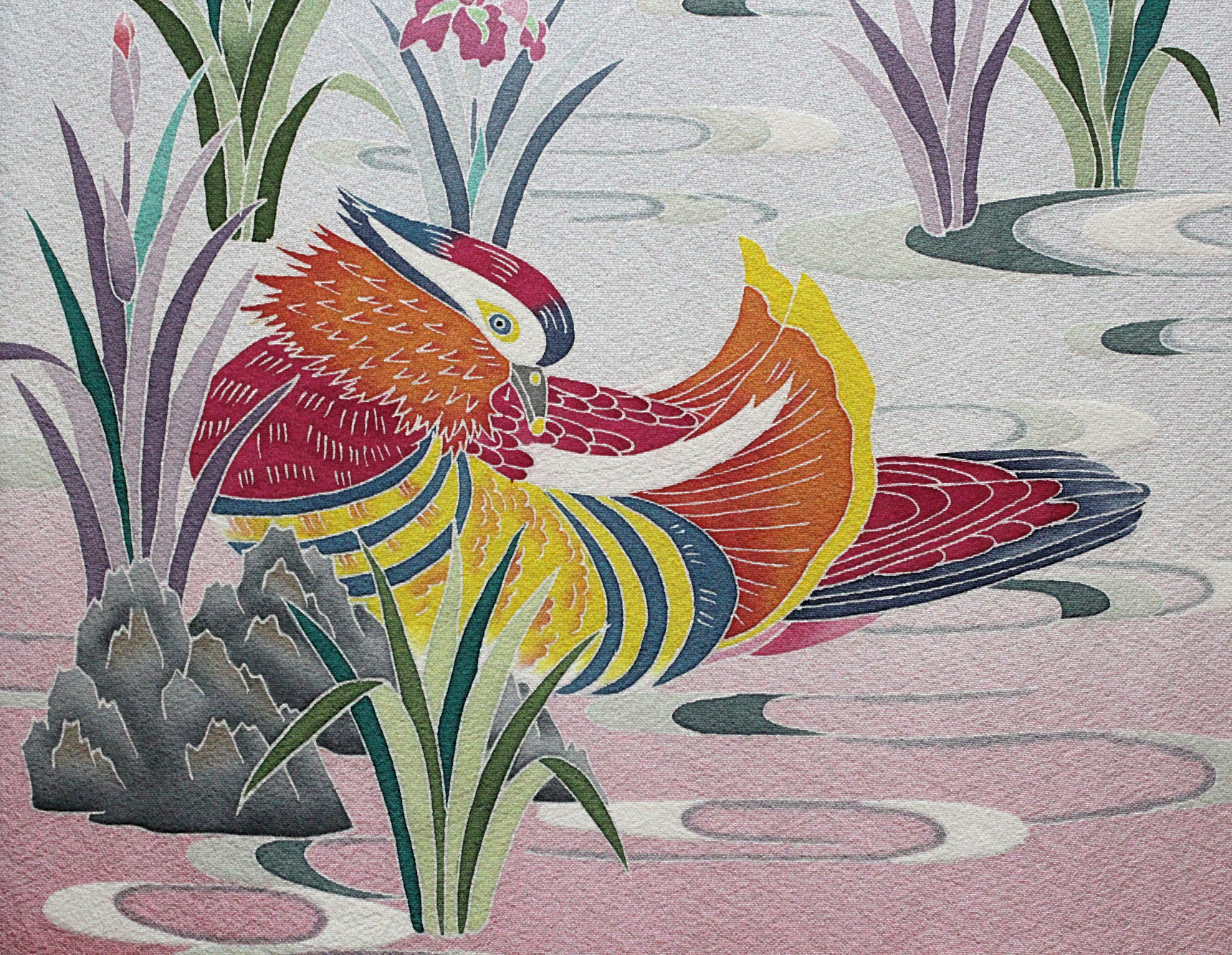 He goes on to describe the kind of person who wears a kimono of Kaga-yuzen: one who is gracious and considerate. They're comfortable with other people. They value acceptance and show it to everyone. They strive for harmony.
Kaga-yuzen is about three things: simplicity, especially regarding lessons we take from nature; grace, that is, to be respectful and thoughtful; and mastery, in that it matures over a period of traditional study, technique, and attention to detail.

There's culture in what we wear, and there's human culture between us. Kaga-yuzen is about being beautiful for each other.
He admits that the wearing of a Kaga-yuzen kimono implies a kind of class. They're not cheap, and if you're wearing one, you're obviously not the porter.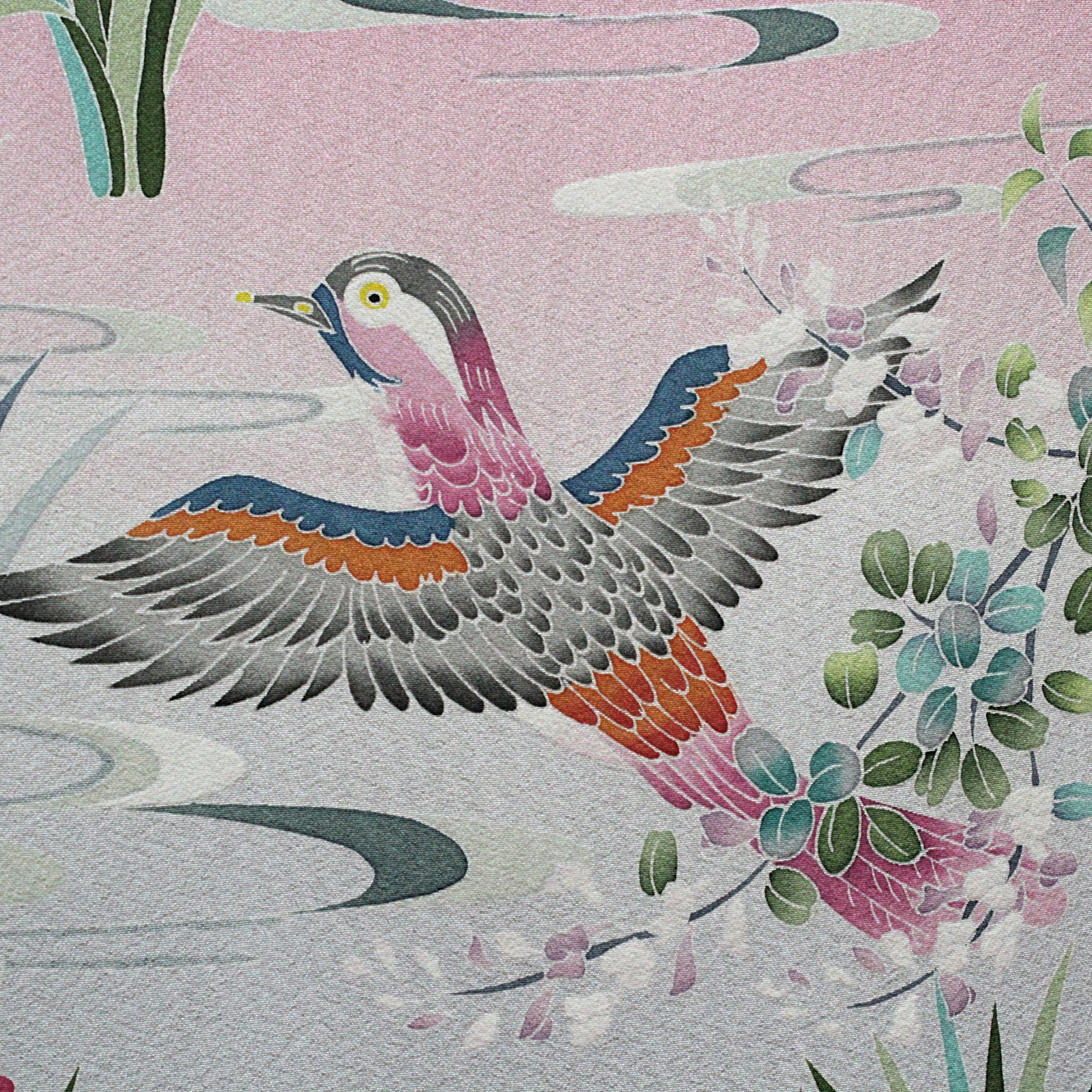 When to Bring Out the Kaga-yuzen
Of course, Kaga-yuzen kimono aren't only for parties and tea ceremonies. Special events and formal occasions of all types are reasons to don the traditional silk. In addition to weddings, Japanese once-in-a-lifetime events include newborn christenings at Shinto shrines and Coming-of-Age Day, when 19-turn-20-year-olds celebrate their graduation into adulthood.
Additionally, Kaga-yuzen silk is used for more than just kimono.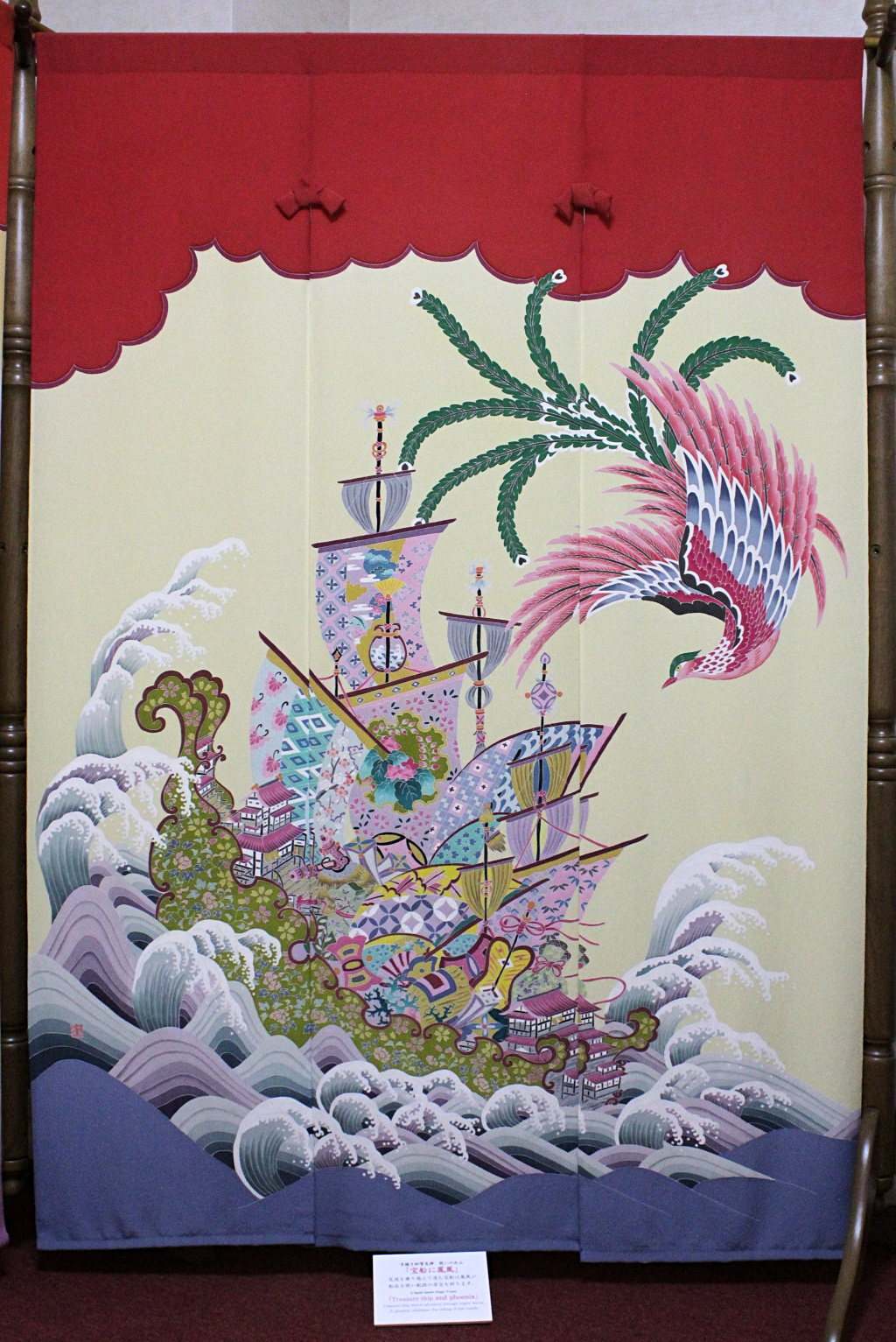 A true local original, the hanayome noren, or "bridal curtain," is a featured craft of the nearby city of Nanao in the Noto Peninsula, just north of Kanazawa. This beautifully adorned curtain is hung for the Buddhist portion of the traditional Japanese marriage ceremony and is left up for only one week.
Hanayome noren typically feature the family crest of the bride's house near the top. As they are made to order, they—like a wedding kimono—are expensive when new and often passed down the maternal line.
The rumor among locals is that, while Nanao claims the craft for their city, it originated in Kanazawa.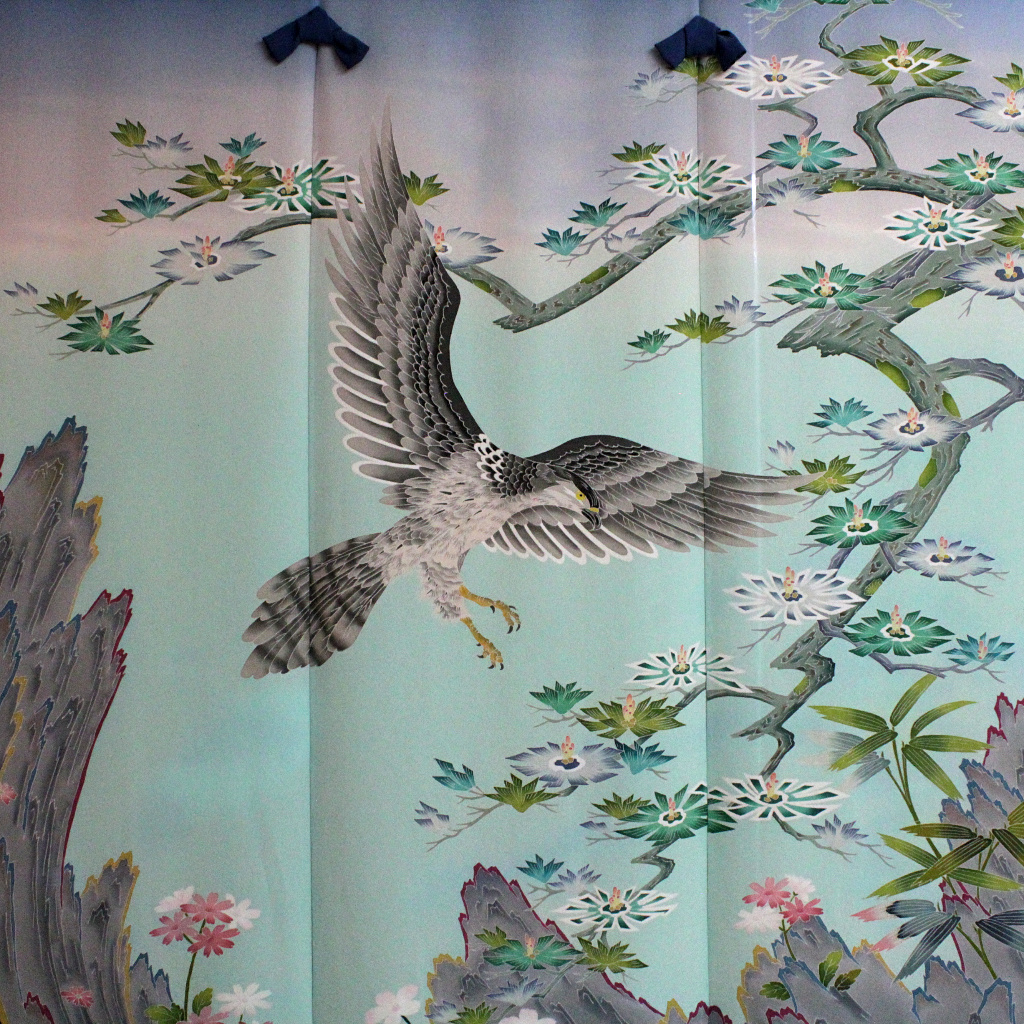 This noren by Teranishi is suited for a groom and features a hawk in flight.

This panel of Kaga-yuzen depicts aspects of Kenrokuen Garden throughout the seasons.
Another unusual sighting of Kaga-yuzen silk can be found floating down the Asano River during the first night of Kanazawa's three-day long Hyakumangoku Festival. Hand-painted sheets of Kaga-yuzen form the covers of toro nagashi, lanterns that light the way for the spirits of ancestors, inviting them to visit.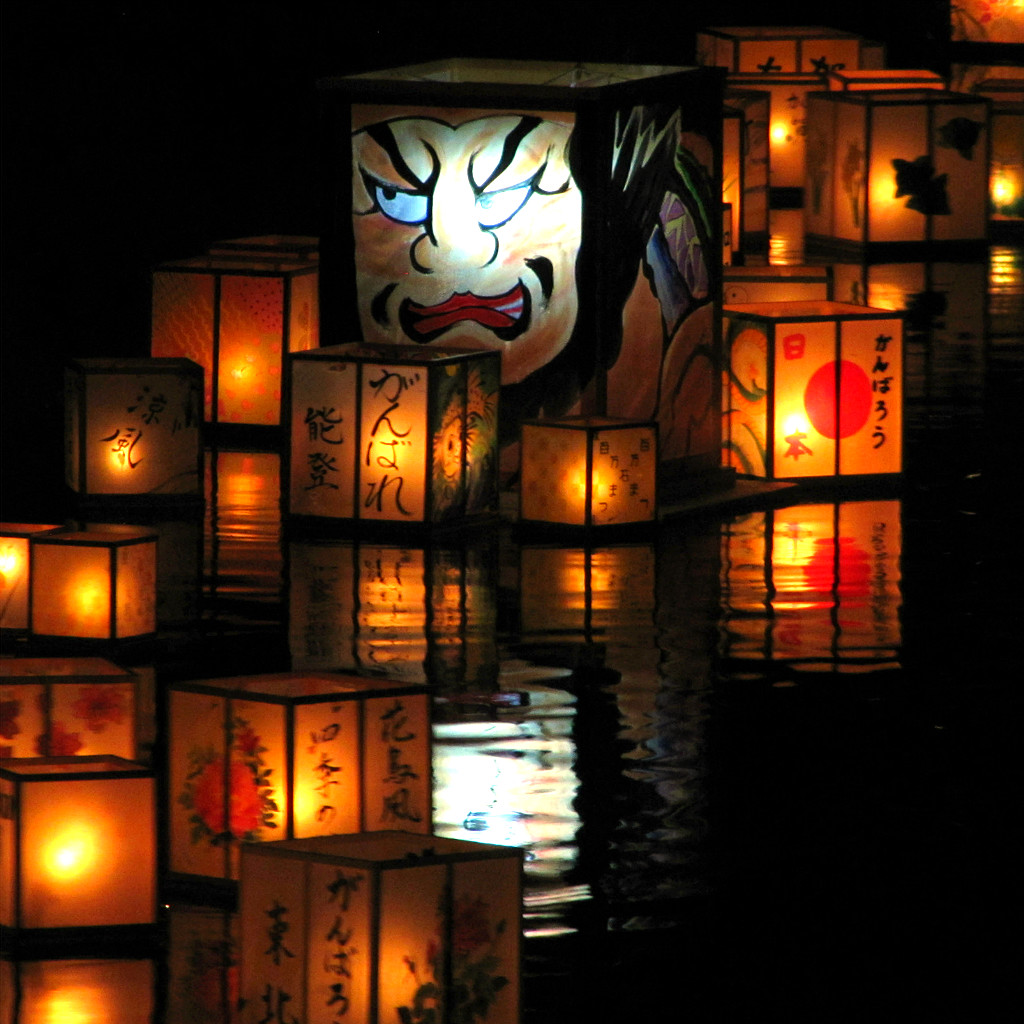 Characteristics of Kaga-Yuzen Silk
Especially compared to the Kyo-yuzen of Kyoto, Kaga-yuzen kimono are subdued and gentle. There are distinct qualities that are unique to its designation as a traditional craft of Ishikawa:
realism in design through natural subject matter, including nature's "imperfections"
lack of gold-leaf application, tie-dyeing techniques, or embroidery
gradient color blending, especially light inner tones extending out to darker ones
a restricted color palette (only 5) of subdued colors


 dark red 




 ochre yellow 




 grass green 




 indigo blue 




 ancient purple 
The image above gives a close up of the texture of the silk used in one of Teranishi's Kaga-yuzen kimono, as well as two examples of mushi-kui (damage from insects), the most common of nature's imperfections featured in the craft. Additionally, the variety of life can be seen in the hue and tint: darker colors for older leaves and lighter colors for younger ones.
When not in formal black (called kuro-tomisode), most traditionally-crafted Kaga-yuzen kimono are pastel in color, adorned with nature motifs in simple designs. But even kuro-tomisode are adorned with motifs of nature in delicate color. The black background makes the image pop.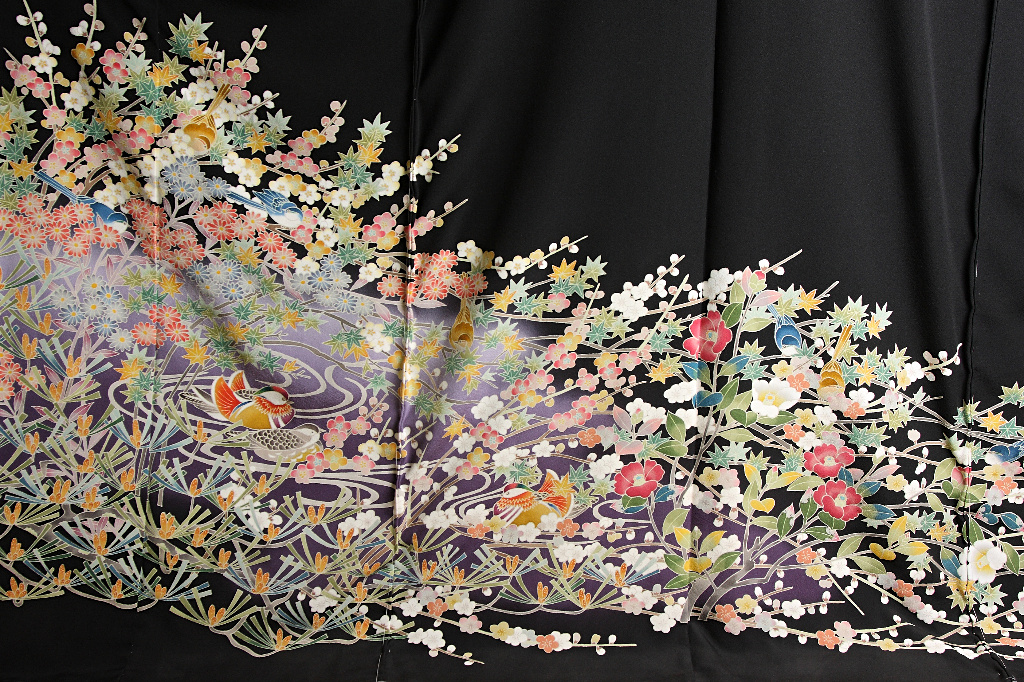 photo courtesy the city of Kanazawa
Resplendence isn't important. The elegance of a Kaga-yuzen kimono is in its simplicity. And "simple" designs can be the most difficult to create. It's not so easy to work around any mistakes!
1 Kimono: 9 Steps, Minimum
Most kimono take a few months to make. The most detailed and expensive kimono can take up to a year to complete. But even the very simplest kimono require many steps and months to make.
The Kaga-yuzen artist creates the design.
The tracing artist transfers the design from paper to pre-cut strips fabric.
The outline masking artist finely coats each line with a paste made from seaweed.
The colorist paints the subject of the design inside the lines.
The design-masking artist coats the entire subject of the design with seaweed paste, covering the colorist's work.
The background artist applies color to the rest of the fabric.
The pieces of silk are steamed to set the color.
The fabric is washed, removing the paste.
The pieces are sewn together, creating the completed kimono.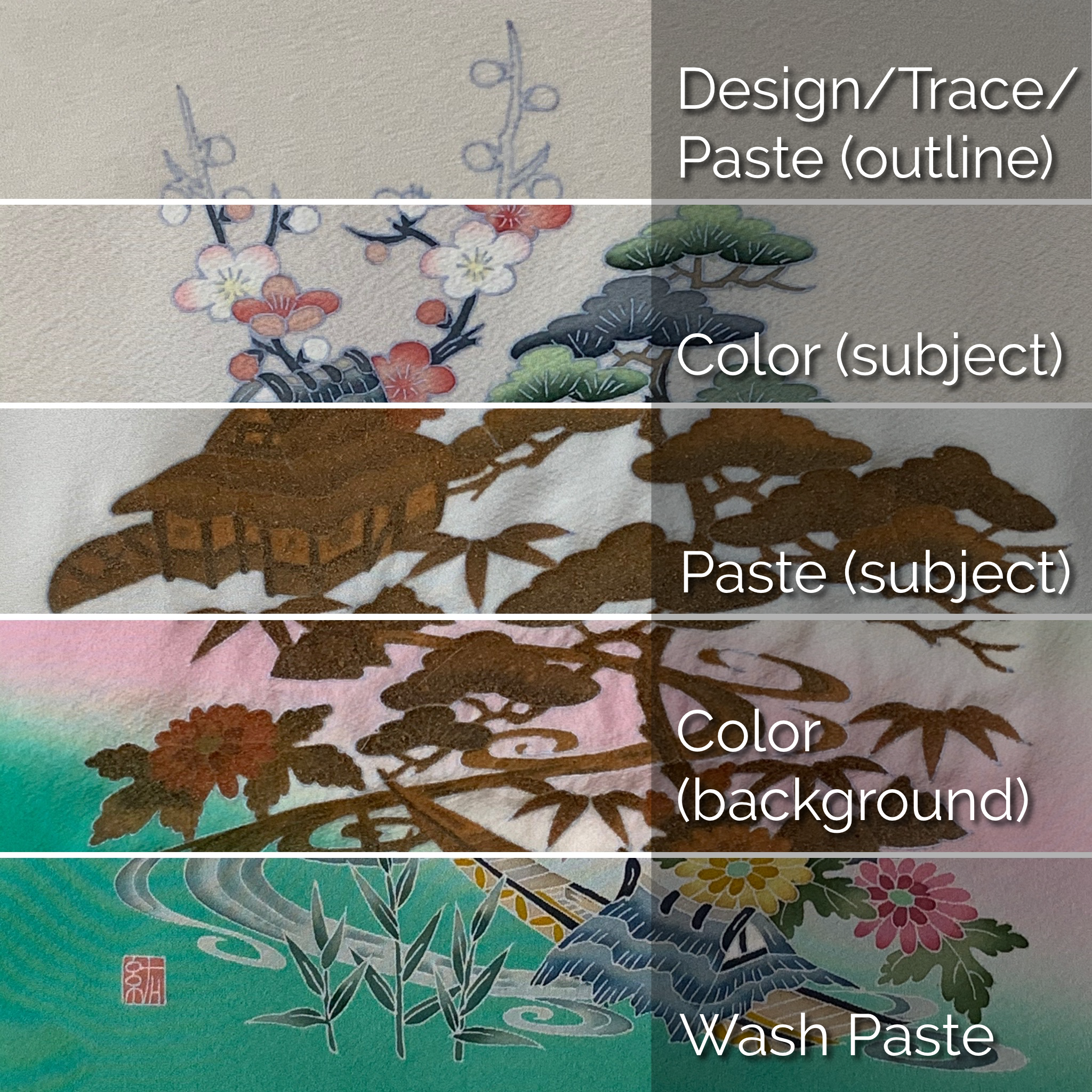 Wearing a Kaga-yuzen Kimono in Kanazawa
When you're wearing Kaga-yuzen kimono, you really are wearing a magnificent work of art. As such, it duly deserves to be worn in an appropriate "gallery." We recommend enjoying a slow stroll through the Samurai District, one of Kanazawa's three geisha districts, or the castle park and Kenrokuen Garden.
Below are some of the best places to rent a kimono as well as learn more about the craft and see the work up close.
Nagamachi Yuzenkan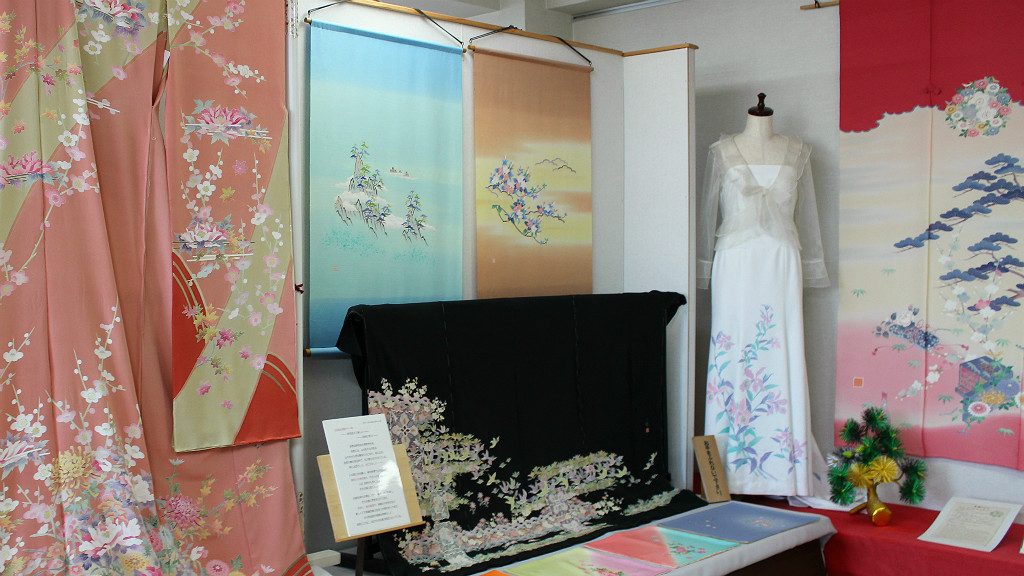 To whom we are most grateful and could not have completed this article without.
Located a few blocks from the Samurai Residence District in a white tile building, this site is often missed by tourists for its distance and design. The first stop inside is the 3rd floor workshop area to overview the entire kimono-making process. Back down to the 2nd floor, visitors will find a spectacular collection of traditionally made kimono, hanayome noren, and other decorative pieces.
2-6-16 Nagamachi, Kanazawa
9:30 a.m. – 5:00 p.m.
closed Tuesdays, Wednesdays and from December through February
350 yen museum entry
4000 yen kimono fitting and rental (during museum opening hours only)
950 meters (about 11 minutes) on foot from Kaname Inn Tatemachi
Kaga-Yuzen Kimono Center
Just a block away from the north side of Kenroku-en Garden, the Kimono Center features a mixed gallery of traditional and contemporary examples of Kaga-yuzen silk products. Artists regularly work in the front room with space for visitors to observe. Downstairs, the large store and workshop area are free to enter.
They also have an informative and beautiful online exhibition.
8-8 Kosho-machi, Kanazawa
9:00 a.m. – 5:00 p.m.
closed Wednesdays and for New Year holidays
310 yen
1.5 km (about 19 minutes) on foot from Kaname Inn Tatemachi
The following shops will require Japanese-language ability or assistance:
Studio Mon'an
This private home studio in southern Kanazawa is out of the way for most visitors, but they offer a unique service to promote the local style of dyeing: Bring them a pair of sneakers, and they will paint them for you in the style of Kaga-yuzen!
You can work with the artist on a design and the colors you'd like. A base fee of ¥10,000 is required before and in addition to the processing fee, which takes into account the size of the shoe, the extent of the painting, and your budget. Painting is complete in 2 to 3 weeks, but allow another 6 to 8 weeks for international deliveries.
Please note that Studio Mon'an's website and interactions are Japanese only.
Other Nearby Kimono and Yukata Shops
Both the Nagamachi Kaga-Yuzen Hall and the Kaga-Yuzen Kimono Center listed above will rent kimono, but here are a few other locations we also recommend close to your hotel.
Kagayuzen Erihana
Just three doors down from Kaname Inn Tatemachi is Kagayuzen Erihana, a two-story shop, museum and kimono rental. The shop has no shortage of Kaga-yuzen and kimono-adjacent products. Upstairs is their fitting area, as well as a private gallery of centuries-old original indigo kimono on display.
Takeya
Though the kimono shop Takaya does not rent kimono out, they are worth a visit as an authentic kimono store that has been around for generations and is just down the street from Kaname Inn. It's also a great place to get a souvenir made with Kaga-yuzen or made to go with a kimono, like their many lovely accessories.
A Final Word from a Kaga-yuzen Kimono Master
Just inside the entrance to the Nagamachi Yuzenkan is a message from Teranishi, written like a Japanese poem. It translates:
When I make a kimono, I consider how it can become lovely and gentle. I'm always thinking like this. And it could be, that somewhere in my mind, I start thinking how it might reflect on me—how someone might praise me. But such thoughts are distractions. And I can't imagine the resulting kimono would be very endearing.

I'm aware that I always have more to learn as a artisan, so I continue to work as hard as I can even to this day. As I work, I feel gratitude for the elders who continue the traditions, and then I can make a truly heartfelt kimono.

— Ikkou Teranishi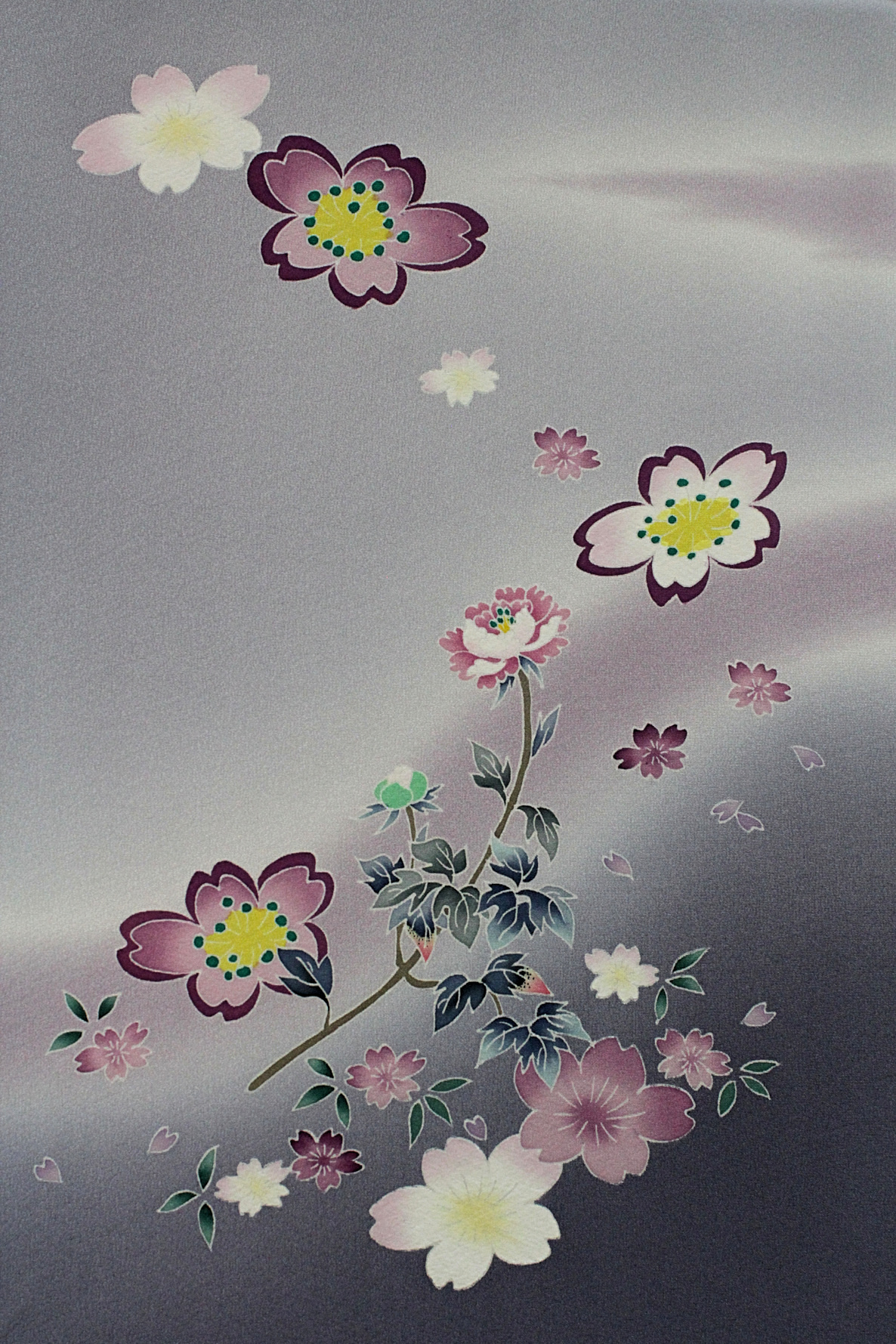 ---
Notice concerning COVID-19: Information and services for the above sites may be temporarily suspended due to the coronavirus pandemic. Please check again close to the dates of your visit. Guests of Kaname Inn Tatemachi may also use our concierge service to make inquiries as necessary. Thank you for your understanding, and we eagerly look forward to your stay.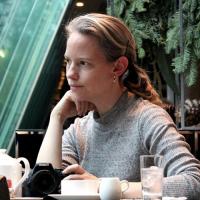 Rachel
About a decade ago Rachel fell off a bus and then fell in love with this traditional-crafts and ice-cream-consuming capital of Japan. Editor and amateur photographer with a penchant for nature and history. Not actually fifty songbirds in a trench coat. (Former penname: Ryann)