Ice Cream Capital of Japan!
06.04.2021
A few years ago, a survey came out revealing that the people of Kanazawa consume more ice cream than those of any other city in Japan! And it's no surprise if you look around. Both then and now, in nearly every neighborhood you'll find delicious flavors of ice cream, especially in soft serve form. Here are some of the must-try varieties while you're in town!
Kinpaku (gold leaf & gold flake)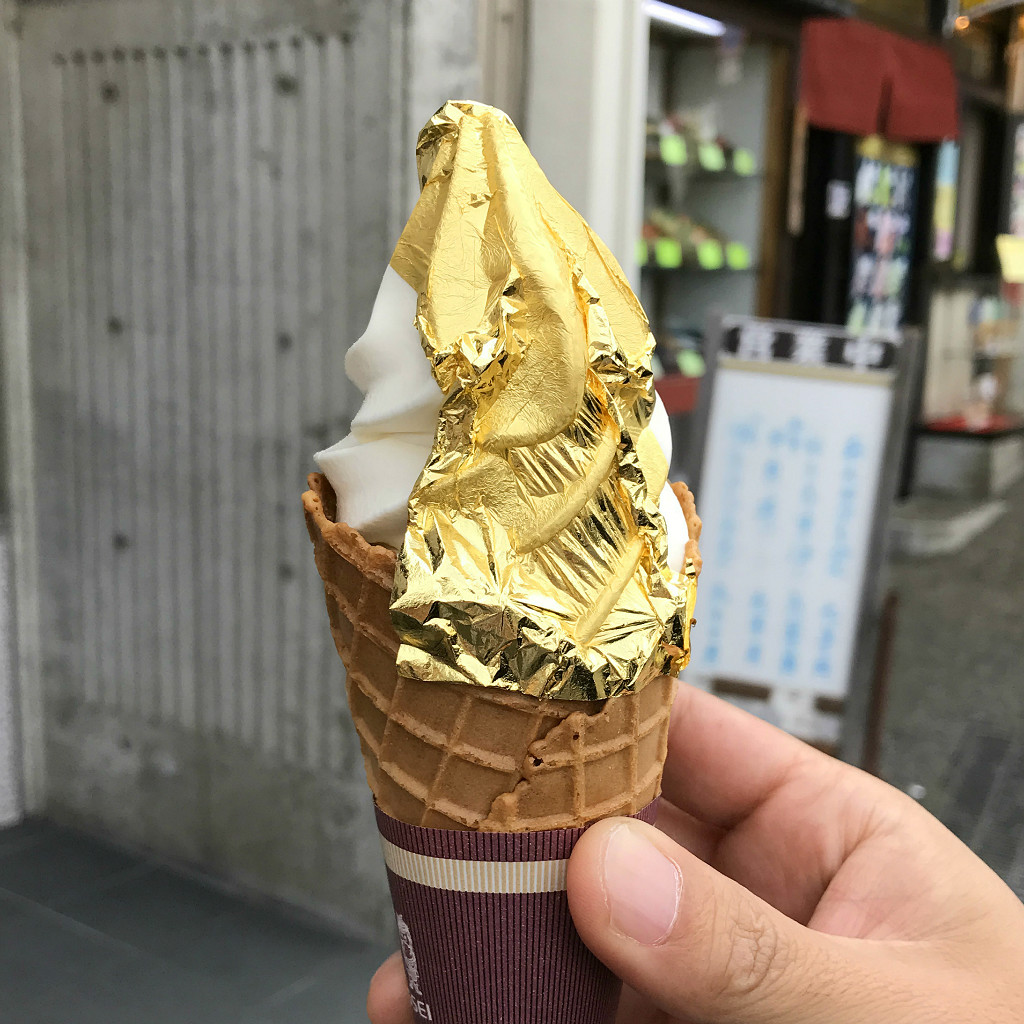 Okay, so gold leaf is not so much a flavor as a decoration. But isn't it chic to eat? And unlike all the viral videos you may have seen of edible gold food, gold foil treats are cheap in Kanazawa.
You might have seen gold ice cream in other Japanese cities, so what makes it special here? Kanazawa actually produces over 99% of all the gold leaf in Japan! If you've had it before, the gold you've eaten came from Kanazawa. What better way to enjoy this brilliantly gilded treat than in the very city that makes it so?
Houji-cha (roasted green tea)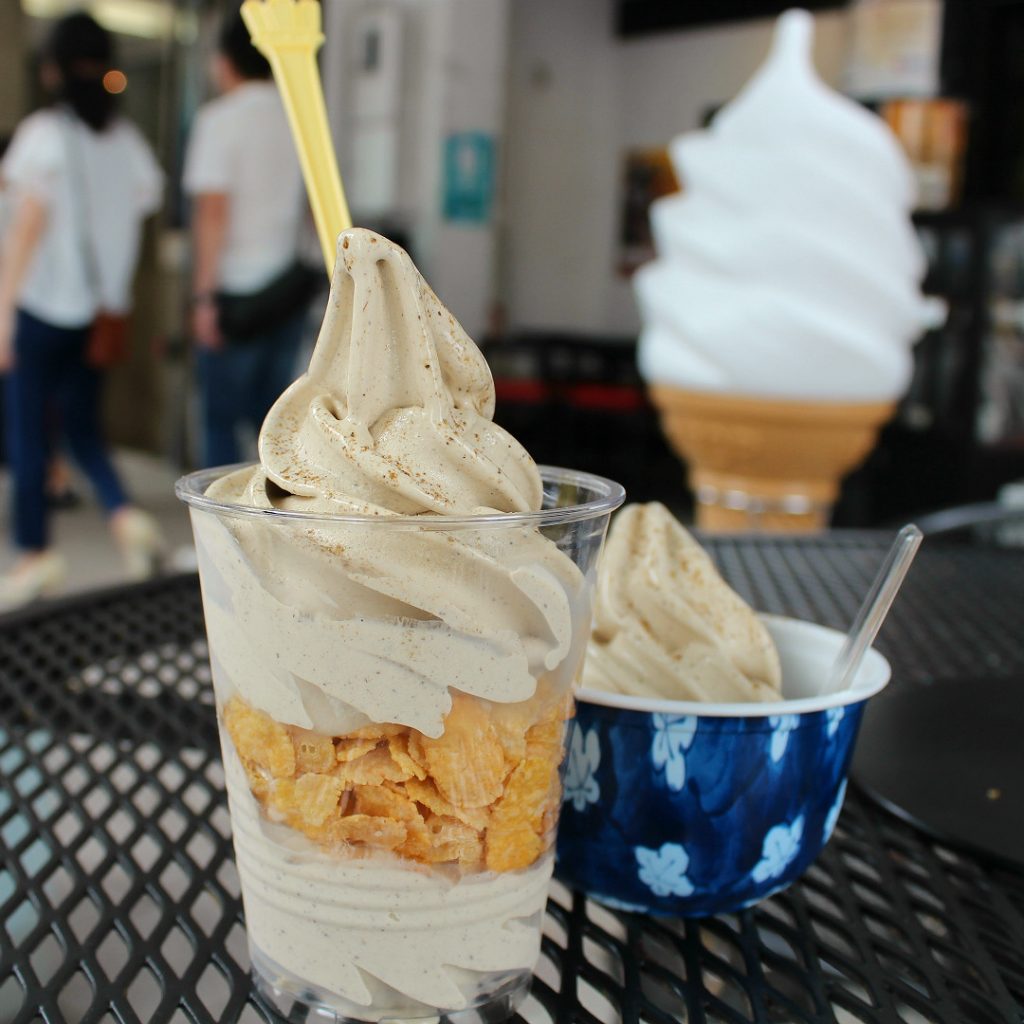 You'll have come across hōjicha at most restaurants. This mild green tea is reddish in color and has an earthy flavor and caramel aroma. The roasting process is authentically Japanese, and it's one of the most common teas in the country.
Recently, it's become popular as a flavor of ice cream, particularly in the summer. Along Tatemachi Street, just a few blocks away from us, Nodaya Tea Shop sells tea-flavored ice creams, with hōjicha as a particular summer specialty.
Soy Sauce Ice Cream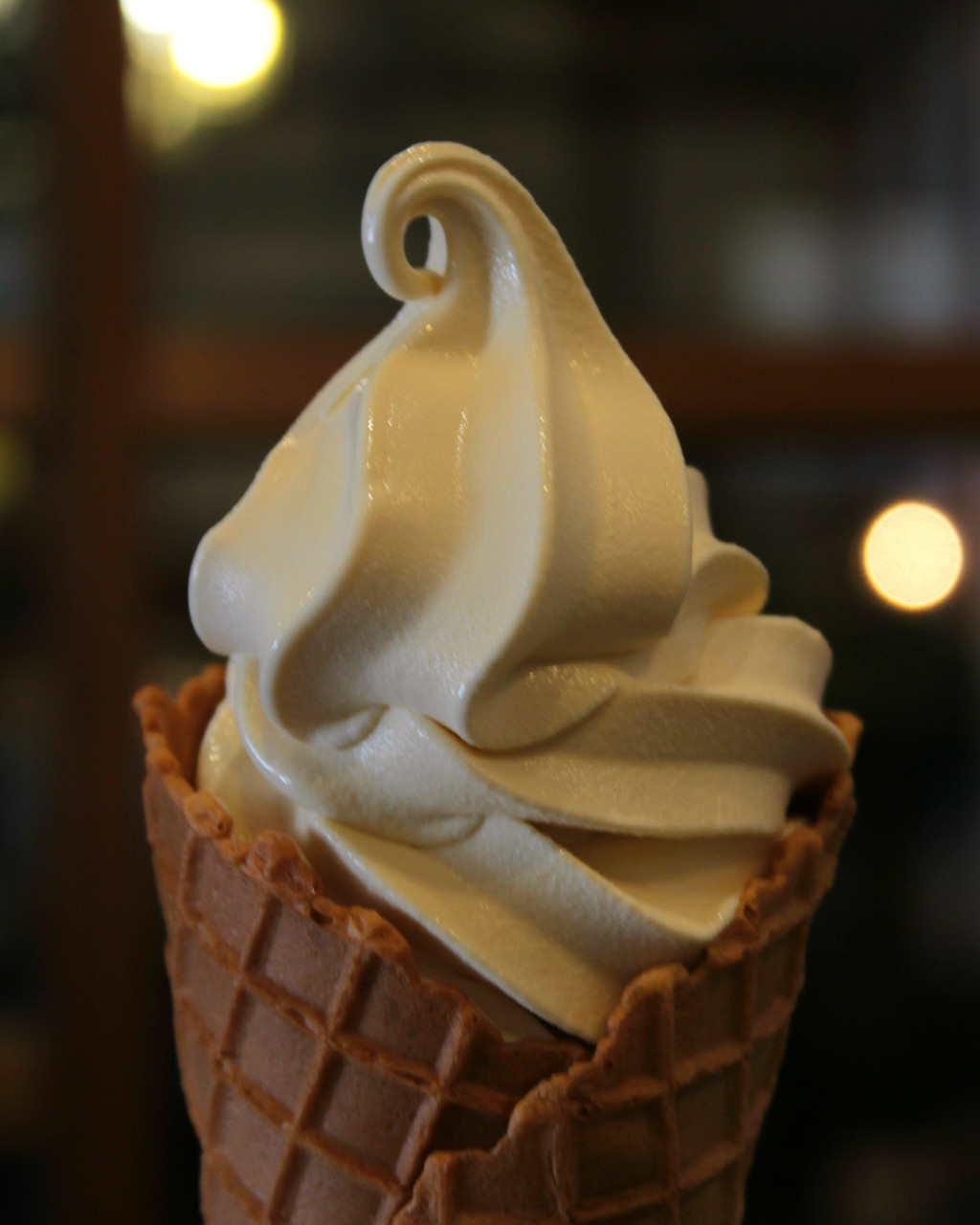 Surprised? Don't be! The saltiness of the soy sauce enhances the sweet of the ice cream. The mix makes for a delectable taste of salty and sweet together, much like salted caramel.
Kanazawa's own Yamato Soysauce & Miso Company produces the soft serve variety of this delight. Be sure to try it on your next trip to Kouji Park before or after the factory tour. While in Higashi Chaya, the largest of Kanazawa's geisha districts, you can get soy sauce ice cream in gelato form. (More on that one below!)
Tofu
At the end of the smaller, sweeter geisha district of Nishi Chaya, just past the powder-blue geisha training hall, is small, family-owned Nakatani Tofu. The long building is a processing plant for tofu in the area. The front sells tofu snacks, including both tofu ice cream in a cup and tofu soft serve in a cone. The flavor is subtle, but differs from soy milk ice cream, and makes the ice cream particularly creamy and smooth.
Various Flavors at Kenroku-en
Along the north edge of Kenroku-en Garden, across from Kanazawa Castle Park, is a line of shops descending the Konya-zaka Slope. In addition to the many snacks and souvenirs are a number of ice cream and soft serve shops. Here are a few of our favorites:
Sake
Additionally offered at Shirakawago's center-most shop and diner. The flavor is quite subtle, so I recommend staying away from anything stronger before trying it. If you're a fan of amazake or nihonshu, you'll be able to detect the hints of it as it melts.
Black Sesame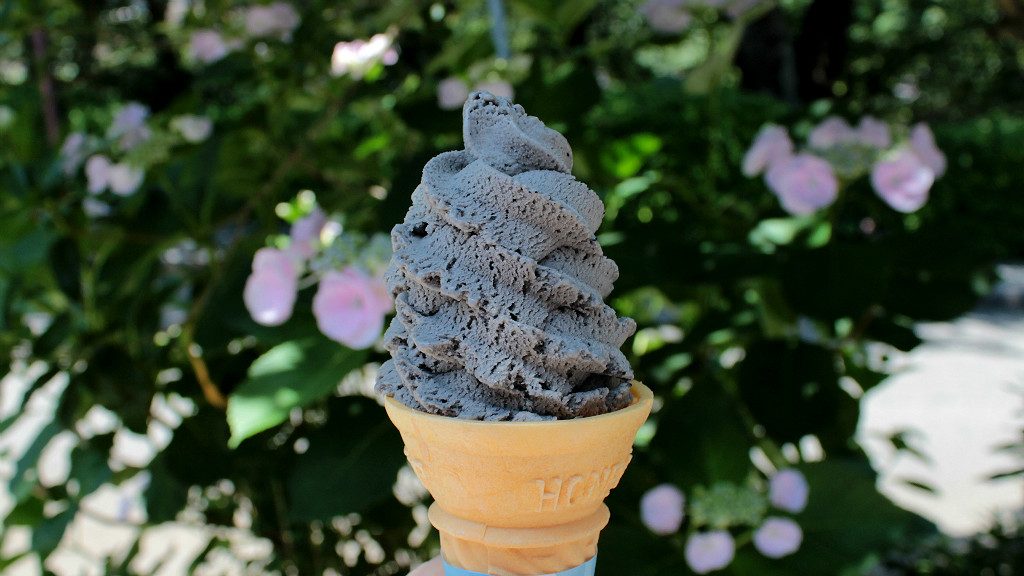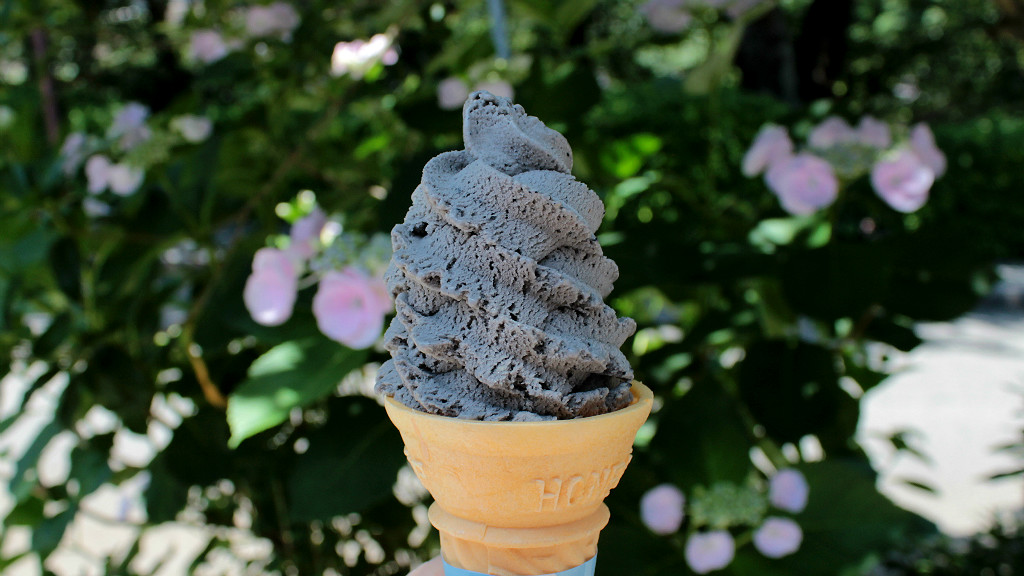 Called kurogoma in Japanese, this mauve soft serve has a mild, peanut buttery taste to it. This is one of my own favorites, second only to soy sauce!
Ramune
A light-blue soft serve with the same lemon-lime flavor of its marble-sealed namesake. Don't worry! You won't have to smash a marble to savor this flavor.
Chestnut
Called "maron," expect to see this flavor in autumn and winter. The tan-colored treat has a lightly nutty flavor. If you've never had a chestnut, it tastes a sweet potato trying its best to be a hazelnut.
Adzuki
The sweet red bean is the basis for traditional as well as modern Japanese treats. As an ice cream, it comes across as a creamy and cold version of zenzai, sweet bean soup.
Black Vanilla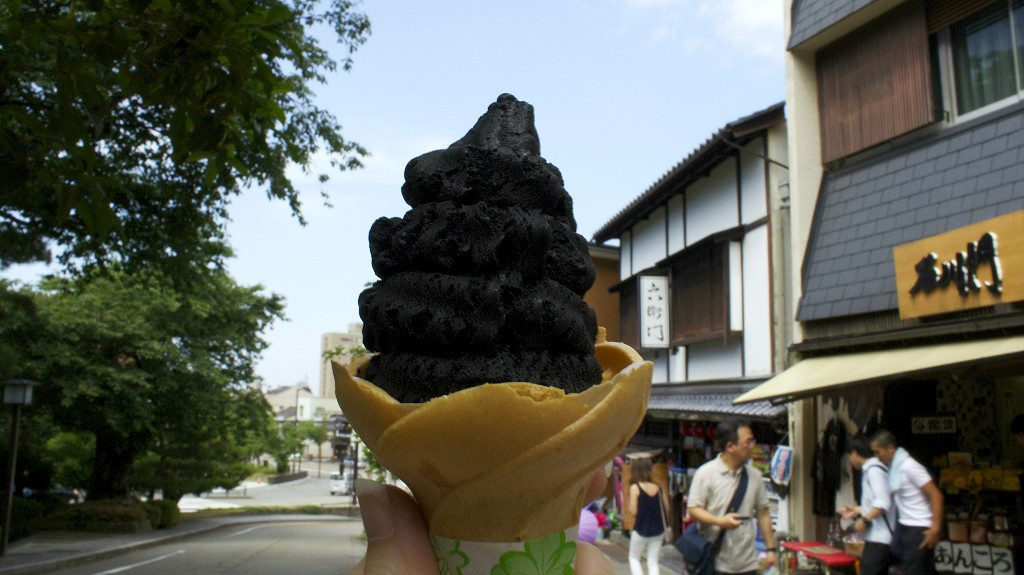 Darkened with charcoaled bamboo, the flavor is actually a simple vanilla! Be careful with this one if you're taking medicines as the charcoal may prevent some absorption. If you are free to eat it, be sure to stick your tongue out at your friends!
Sakura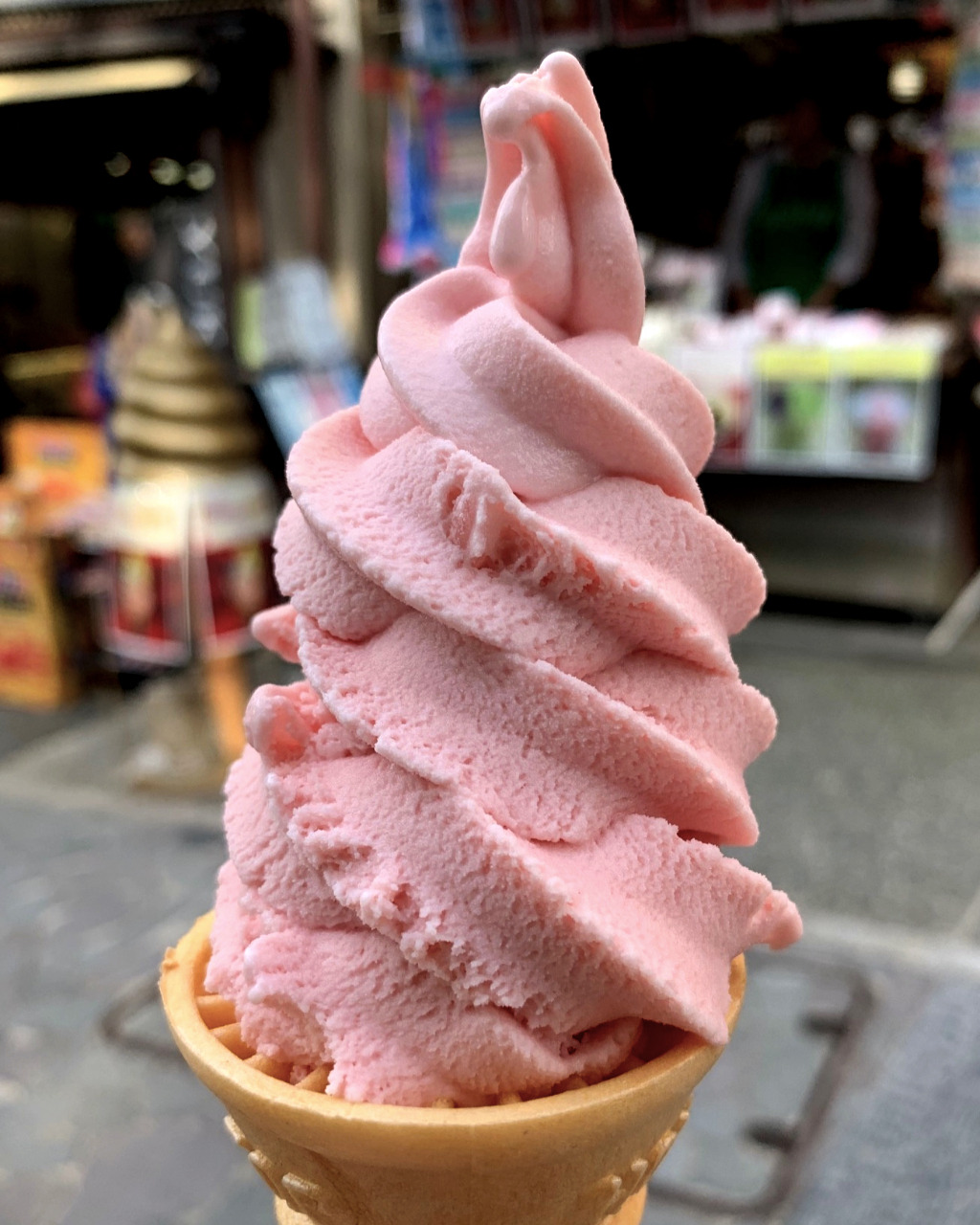 In cherry blossom season, this treat is a must-eat on site. Like other seasonal sakura sweets, the flavor is delicate with hints of sour and sweet. There are even varieties of sakura throughout the season, like the super-sweet "sakura mochi" flavor pictured above.
Matcha
As deep green as the powdered tea, this flavor is everywhere! It's even found in convenient store fountains alongside vanilla, and you can get a swirl of both.
Higashi Chaya ("East Geisha District")
One of Kanazawa's biggest draws is the Higashi Chaya District, the largest of Kanazaw's three geisha districts. Here you'll find three ice creams worth a bite.
Castella Cake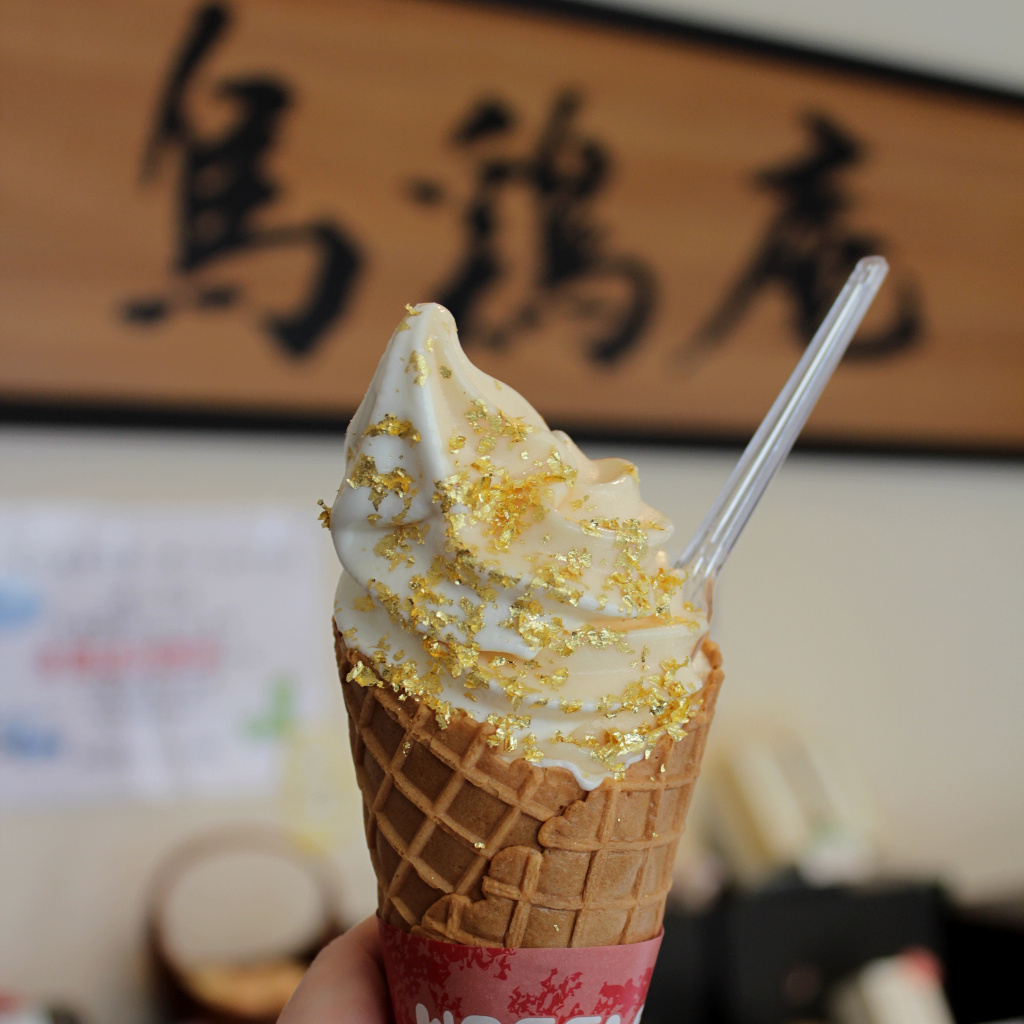 Of course, I got the one with gold foil flakes!
Just a block from the bus stop, where the main street of Higashi Chaya meets the largest road, is Ukeian. Ukeian specializes in castella, a moist cake with a flavor like custard. The shop also sells castella soft serve, with or without gold flakes. It may look like vanilla, but the flavor is as rich as the cake.
Roasted Sweet Potato
Along a southern street  of Higashi Chaya, just down the way from a shamisen shop, is Noukaya Cafe. This tiny, out of the way cafe has a menu themed in roasted sweet potato. Naturally, they have an ice cream, too! Enjoy a cup with a slice of roasted sweet potato on the side!
Unique Gelato Flavors at Chayu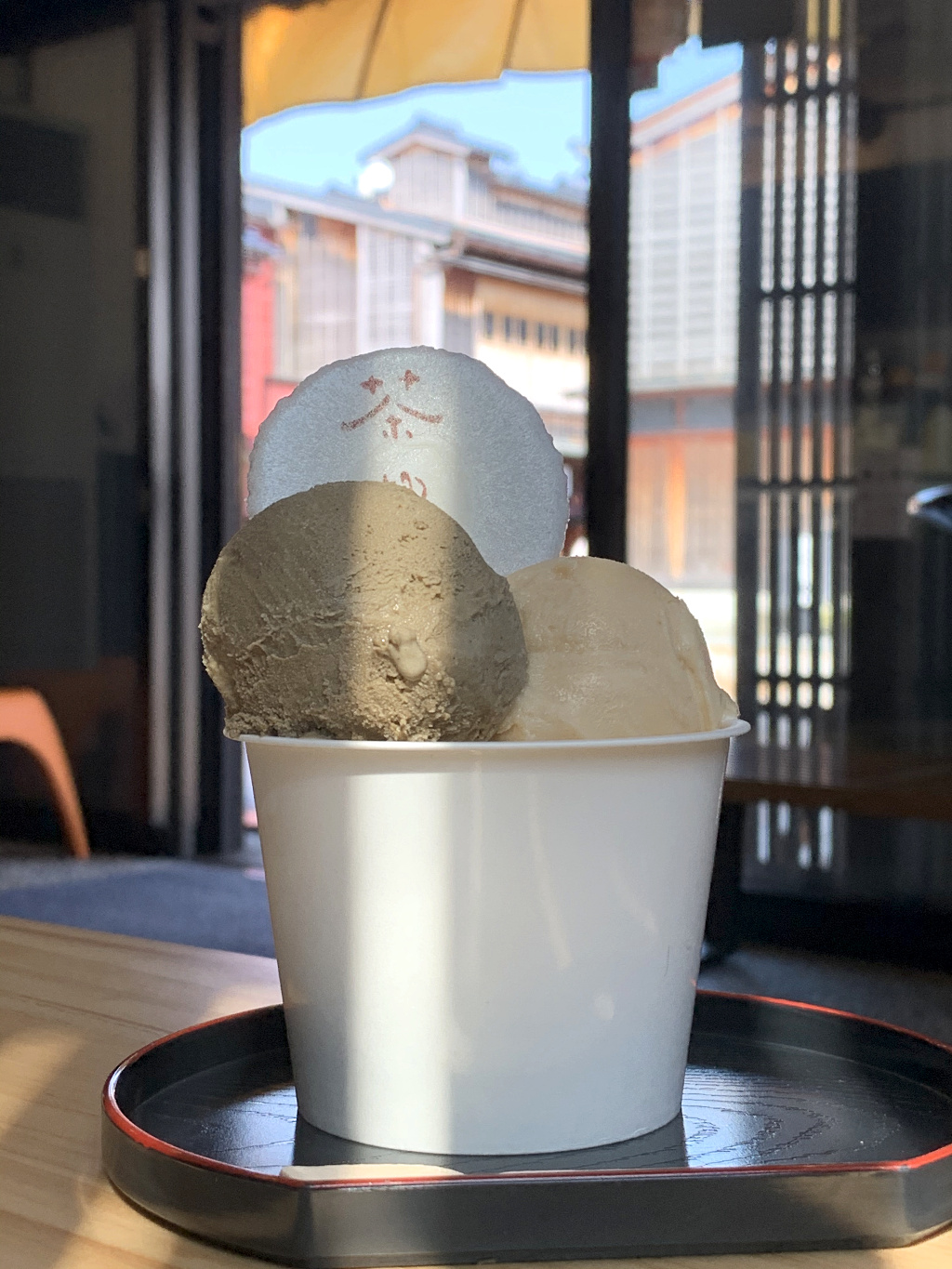 In the center-most square in Higashi Chaya is Chayu, a two-in-one shop with Japanese sweets on the second floor (with a lovely view of the street below) and a gelato shop downstairs. Expect to wait in line, as there is always one out the door and down the street. But their unusual flavors are worth the wait!
The wine-colored blueberry and black charcoal pistachio scoops are the most photogenic. But I favor the flavors that come in shades of brown, like subtle and earthy roasted stem tea, light and nutty roasted soy bean, and soy sauce (from another local brand, Hongo). My personal favorite is the miso gelato, which tastes like a rich and creamy caramel with just a hint of tang.
Non-melting Ice Cream
Yes, you read that correctly.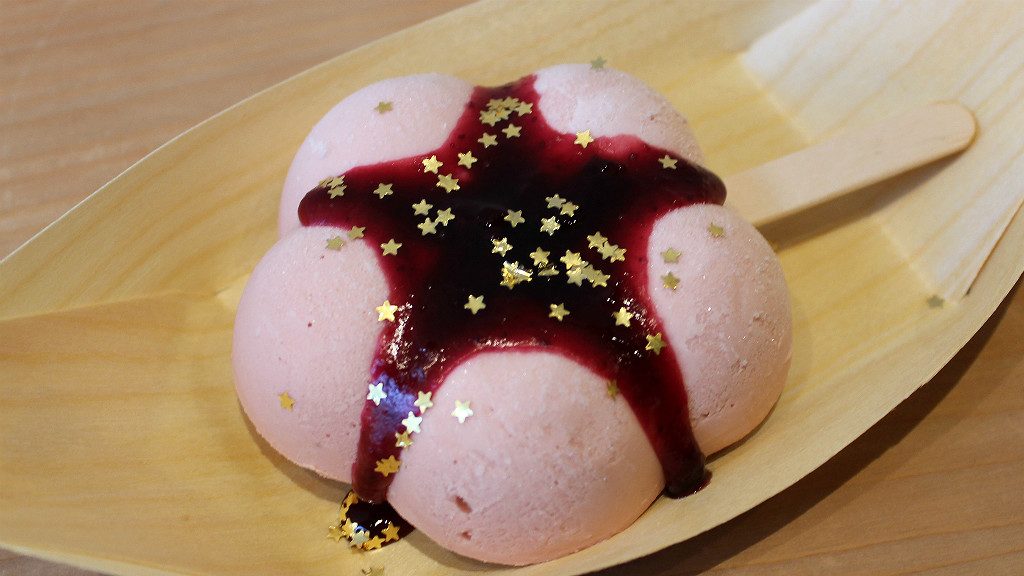 I let it sit here like this for ten whole minutes!
At Kanazawa Aisu in the middle of Higashi Chaya, you can purchase a plum-blossom-shaped strawberry or yukizuri-pine-shaped matcha ice cream pop that you can hold in your hand or let rest in a bamboo boat with no fear of melting!
Using completely organic strawberry polyphenol, this ice cream retains its shape under considerably more heat than the regular stuff. The texture reminds me a bit of dried marshmallows in kids' cereals that have re-hydrated in milk. But it quickly melts in my mouth no less so than regular ice cream, and the taste doesn't seem in anyway altered. It's unusual, but delicious!
It should come as no surprise that the origin of this innovative ice cream method is one of Kanazawa's own. Tomihisa Ota, professor emeritus of pharmacy at Kanazawa University, invented it. Where better to create ice cream that never melts than in the ice-cream-consuming capital of Japan!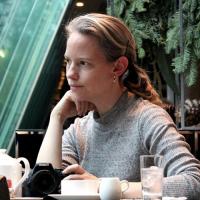 Rachel
About a decade ago Rachel fell off a bus and then fell in love with this traditional-crafts and ice-cream-consuming capital of Japan. Editor and amateur photographer with a penchant for nature and history. Not actually fifty songbirds in a trench coat. (Former penname: Ryann)