Sakura Season! Seeing Kanazawa's Cherry Blossoms in One Day
19.02.2021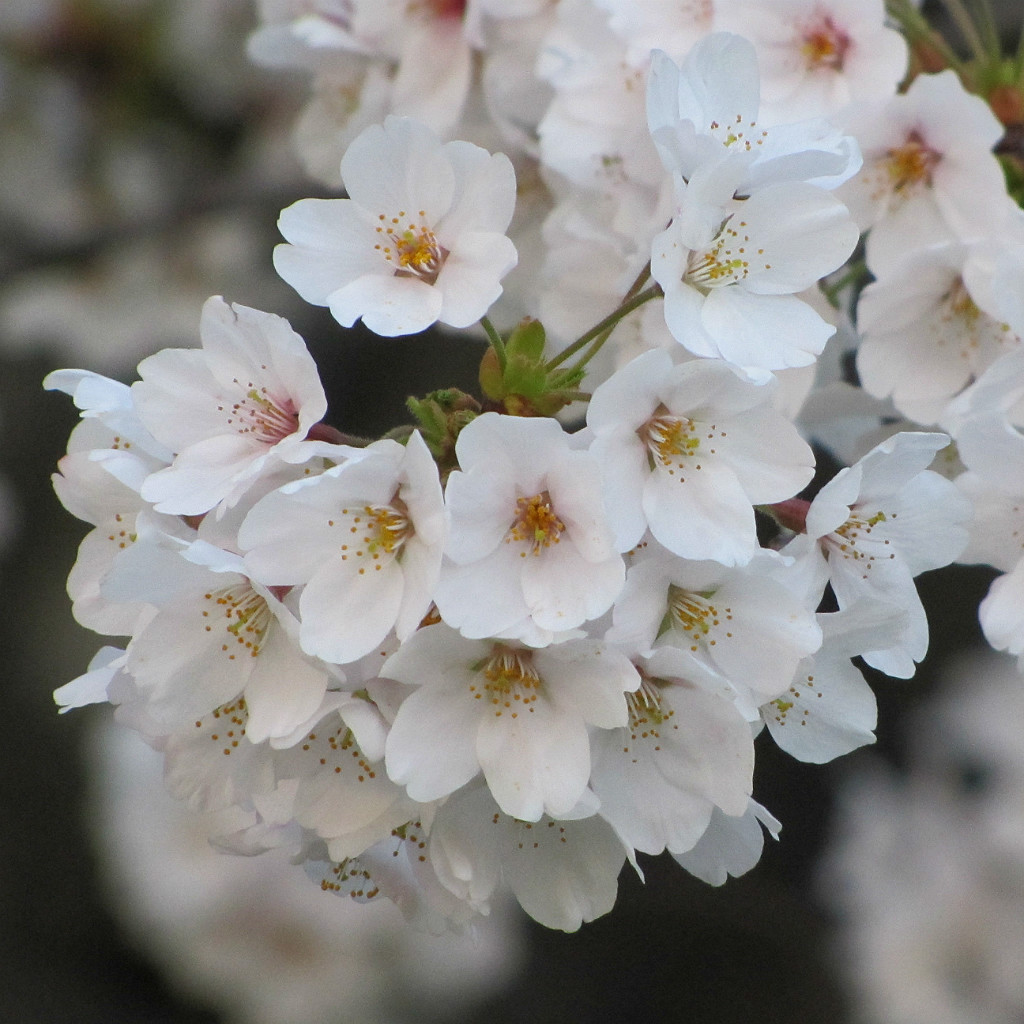 The sakura, or cherry blossom, is one of the most iconic images of Japan, lasting only a couple of weeks each year. As is no surprise, the blooms are a primary draw for springtime tourists!
If you're lucky enough to be in Kanazawa for them, you'll find these pretty pink petals throughout the city. Here is your itinerary to see them from one side of the city to the other all in one day. And if you're worried about being too early or late, we've included our favorite spots for these times, too!
---
1. The Banks of the Sai River, West Kanazawa's Open Park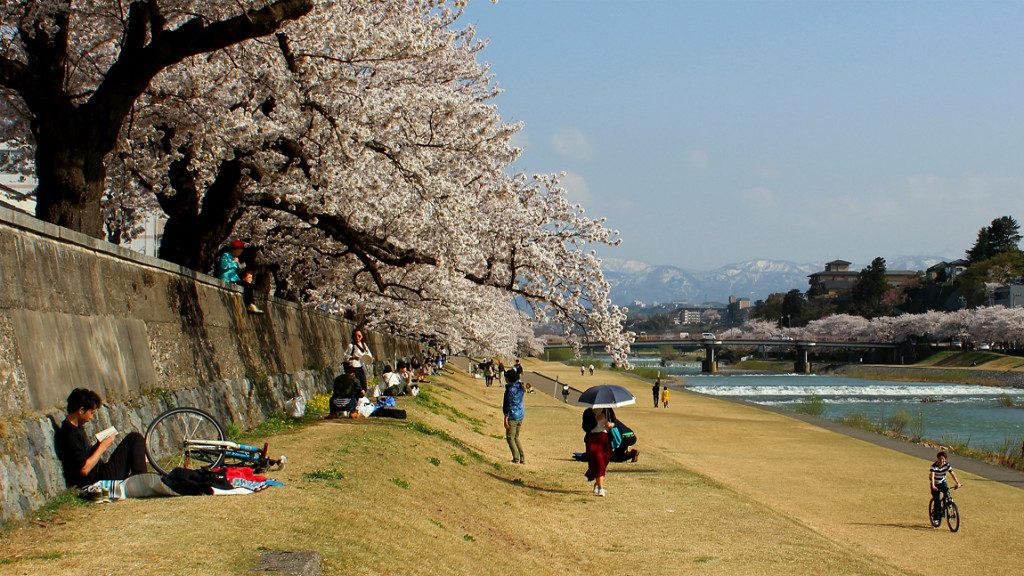 From Kaname Inn Tatemachi, pop down south about 350 meters. Less than a 4-minute's walk away is the the Saigawa, or Sai River. The wide banks are perfect for Kanazawa cherry blossom viewing with a backdrop of the nearby mountain range. Couples, families and school children occupy the abundant shade under overhanging sakura branches. The cherry trees extend along the river south beyond the Sakura-bashi Bridge, between the charming Shin-Tatemachi (a neighborhood of mom-&-pop shops) and Teramachi (the largest of Kanazawa's three temple districts).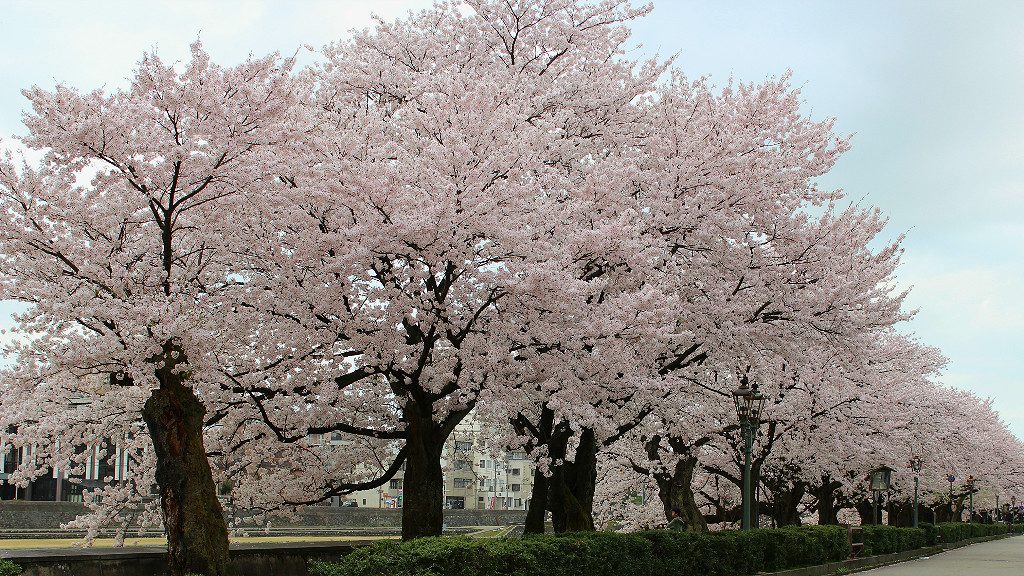 These and most others are yoshino cherry trees. When most people think of a Japanese cherry tree, it's the yoshino that comes to mind with its five pale-pink petals. Most yoshino in Japan are grafts from the same source tree, guaranteeing that all yoshino cherries will bloom at the same time in a given temperature zone.
Early riser? Go to the Western Geisha District & Ninja Temple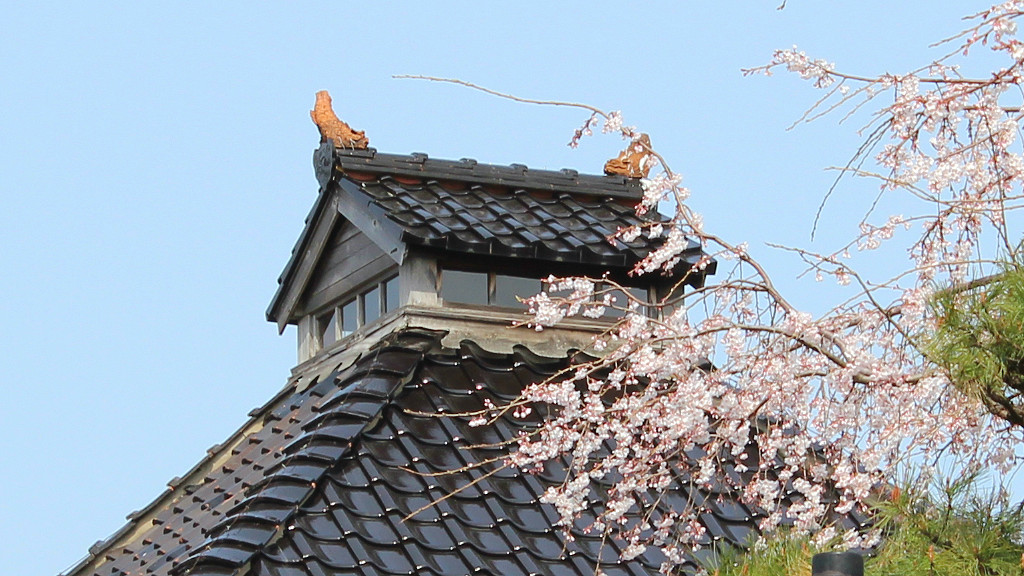 Start the day earlier in Nishi Chaya, the western-most of Kanazawa's three geisha districts for some dark pink weeping cherries, and be sure to pop into the sweets shops for a treat and some matcha tea.
MORNING PICK-ME-UP:
Rakugan Moroe Nishi Chaya
10:00 a.m. – 6:00 p.m.
recommendation:
Grilled rice cake and white sesame sweet soup, or
Matcha green tea with seasonal confectionery
A few blocks away is an entrance to Teramachi and the Ninja Temple. It and many other temples are graced with cherry trees of their own. The earliest tours are the best at the Ninja Temple as well, as the crowds are low. (The veggie-friendly restaurant, Taste & Scent is quite close!)
EARLY LUNCH (veggie option):
Taste & Scent
11:00 a.m. – 2:00 p.m. (closed Sunday, Monday)
recommendation:
Zenbu Set with Soup
Too late for yoshino sakura? See the Mountain Cherry!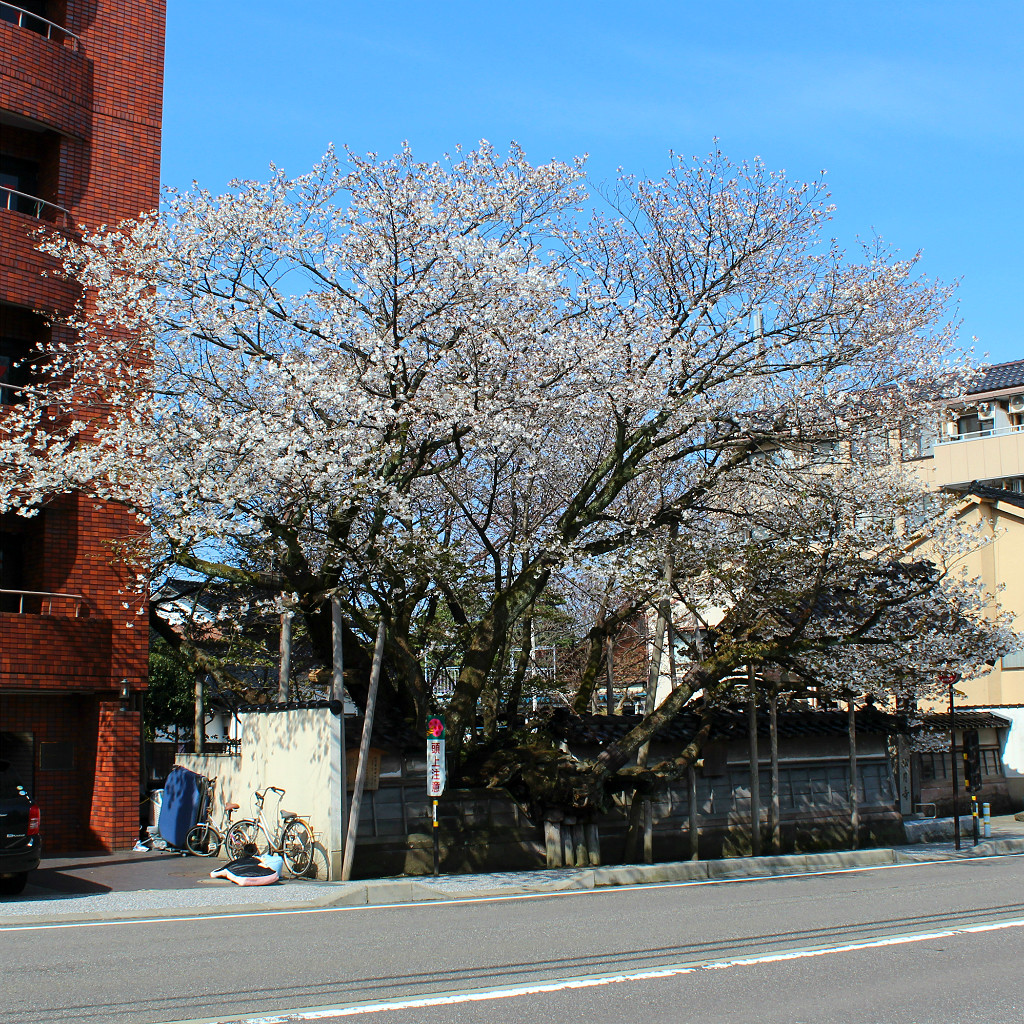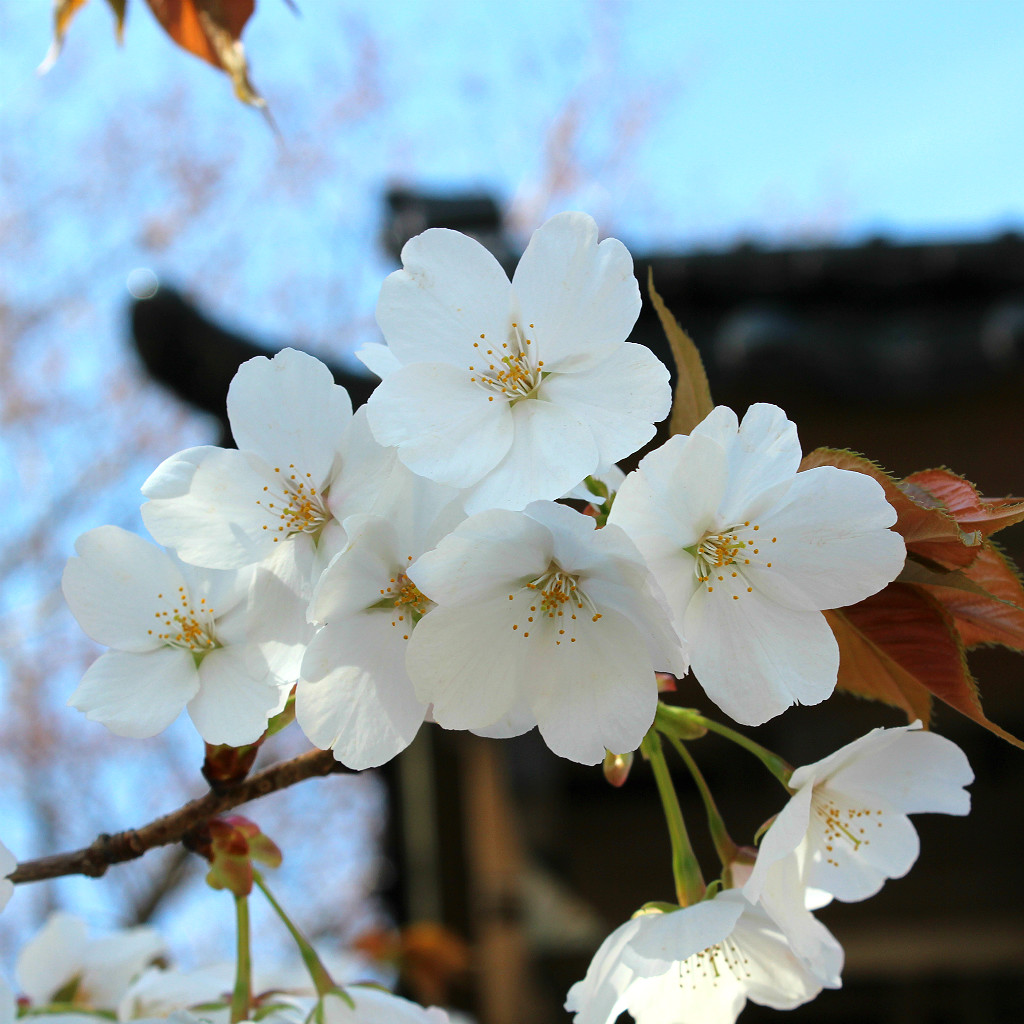 If you're too late for the yoshino cherries along the riverside, you can still see this beauty! Take the W-slope up from the Sakura-bashi Bridge and go check out the 400-year old Great Sakura of Shogetsu-ji Temple in Teramachi. This massive specimen is a mountain cherry, a pure white variety of sakura that blooms a week after its pink cousins.
2. Persimmon Grove & Hirosaka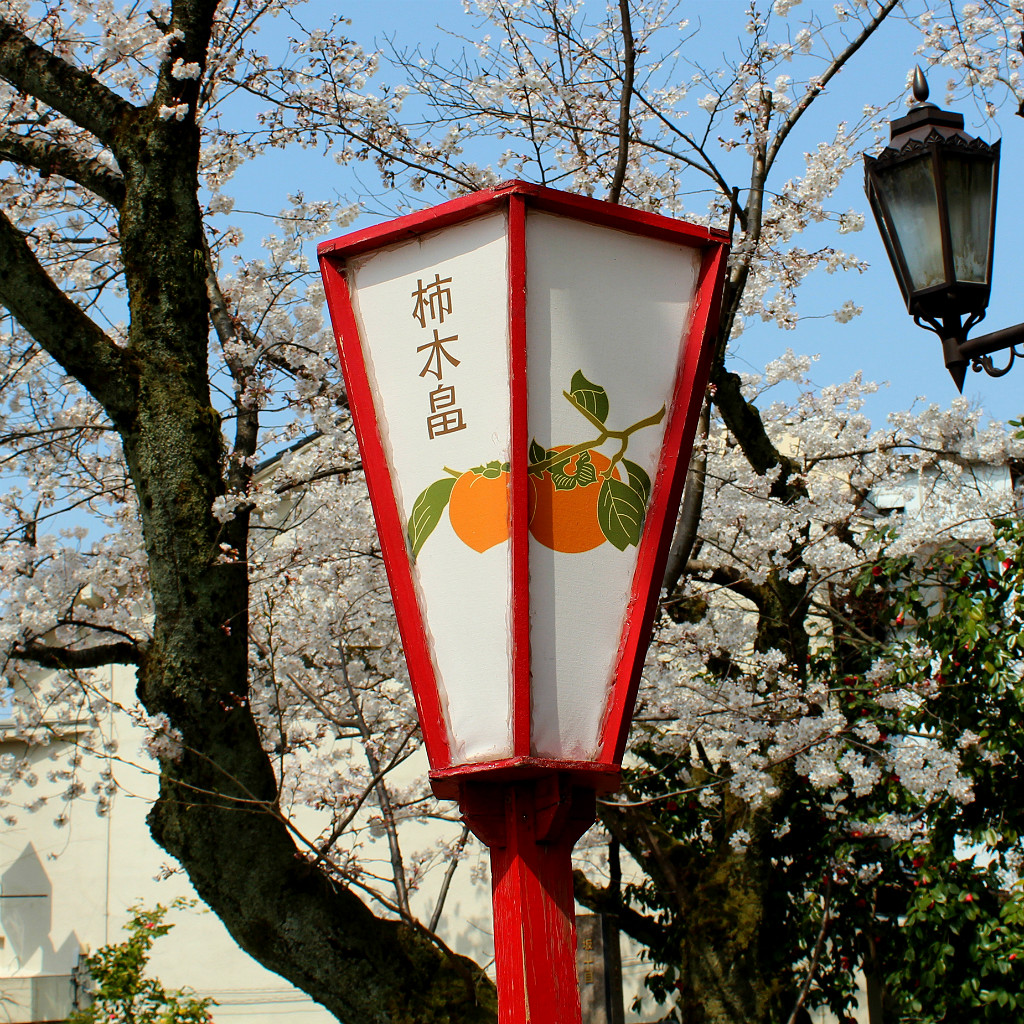 Now head in the opposite direction, northeast of Kaname Inn for the next bundle of blossoms. This neighborhood called Kaki-no-Ki-Batake, or "Persimmon Grove." It's capped by a collection of cherry trees next to The 21st Century Museum of Contemporary Art, overhanging one of Kanazawa's many castle moats.
The neighborhood itself is an excellent spot for lunch. (I recommend Amatsubo's Kaga Hiru Gozen local cuisine set with tempura. For some excellent Japanese fishcake, Hiroshi recommends a seafood lunch at Ageha, where they have some English assistance as well.) Kaki-no-Ki-Batake is also known for its enthusiastic participation in the summertime Mizukake Mikoshi Festival.
LUNCH:
Amatsubo
11:30 a.m. – 1:30 p.m. / 5:00 – 11:00 p.m.
recommendation:
Kaga Hiru Gozen (with tempura)
Ageha
11:30 a.m. – 3:00 p.m. / 6:00 – 10:00 p.m.
recommendation:
seasonal seafood set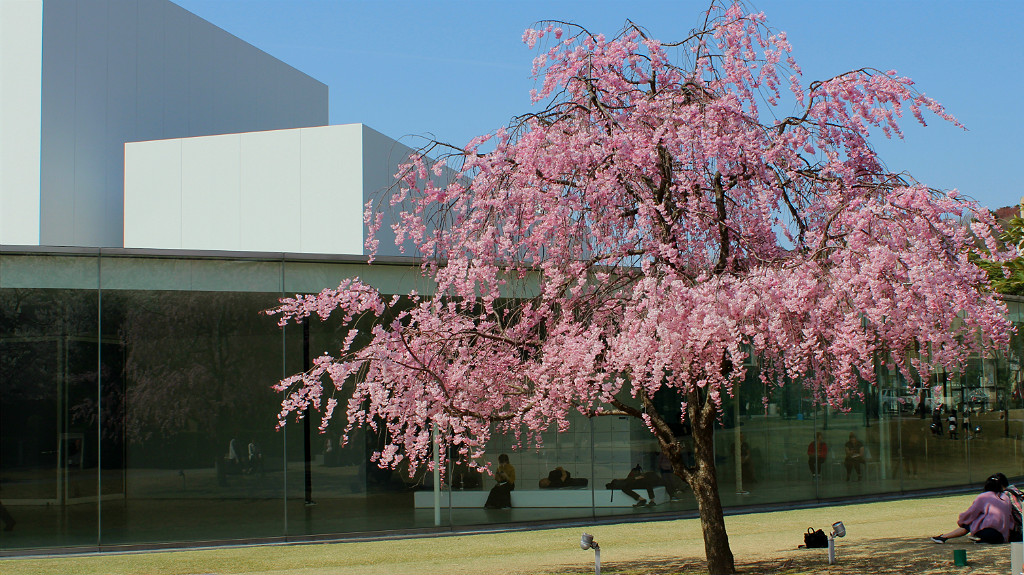 Across the way, the museum proper is peppered with several sakura varieties. A line of yoshino cherries border the walkway on the south side. The 21st Century Museum is a great place for the kids. The outside exhibitions and several inside areas are free. Head toward the Noh Museum nearby to reach the next area, or pop in to try on a costume and mask.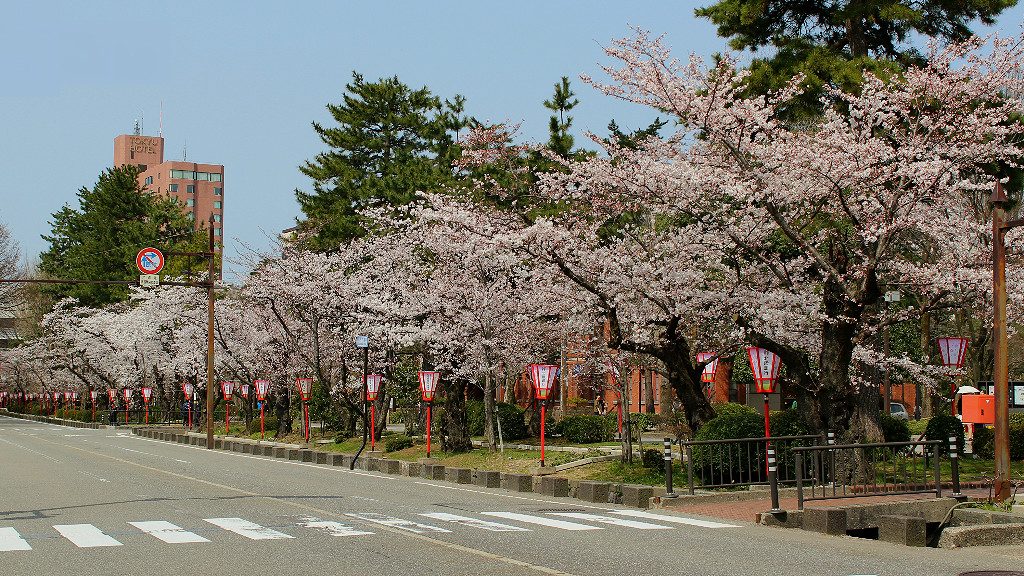 On the other side of the Noh Museum is the Hirosaka section Hyakumangoku-dori, or Hyakumangoku Road. Sakura trees line the median of this boulevard, raining petals down on local traffic and pedestrians. Enjoy the view on your way through the intersection while heading to the next and most popular areas: Kenroku-en Garden and Kanazawa Castle.
3. Kanazawa's Castle and Garden
No Kanazawa cherry blossom venture is complete without a pass through Kenrokuen Garden and Kanazawa Castle. Sakura trees line the roads on both sides, creating a corridor of pale pink flowers.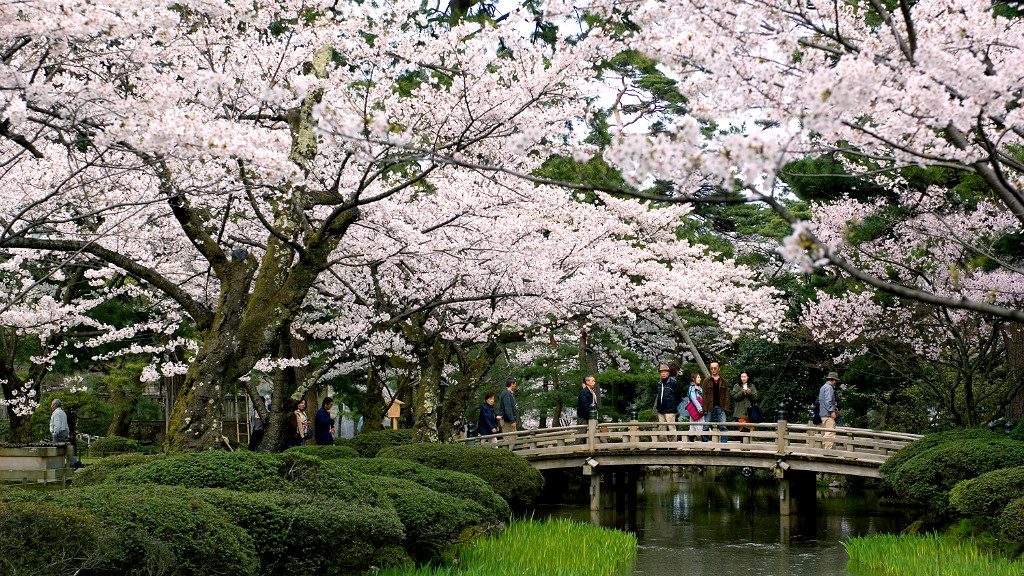 courtesy the city of Kanazawa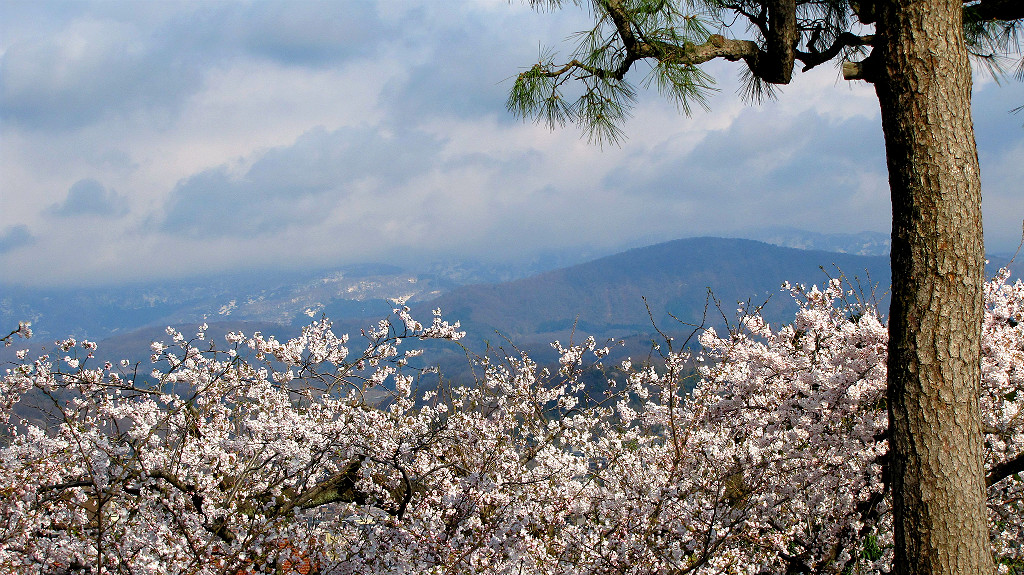 Inside Kenrokuen, don't miss the photo opportunity at Hanami-bashi (literally, the "Flower-Viewing Bridge"). This delicate wooden bridge overlooking one of the garden's many water ways is framed by yoshino cherries. Along the garden's north side is a panoramic view overlooking a cherry tree canopy.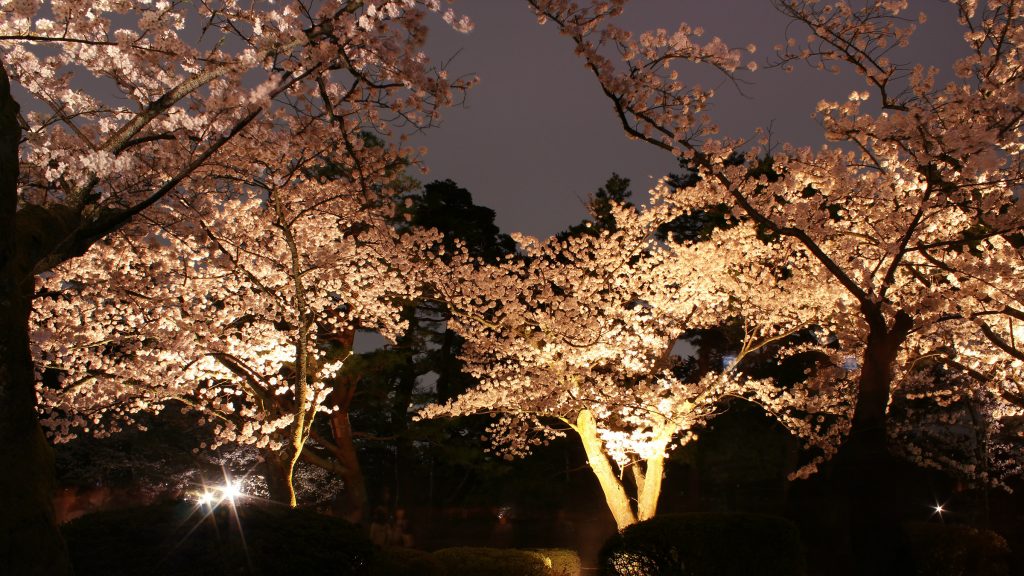 Come back at night during the garden's light up event, when the garden is free. The cherry trees are lit from beneath against the night sky.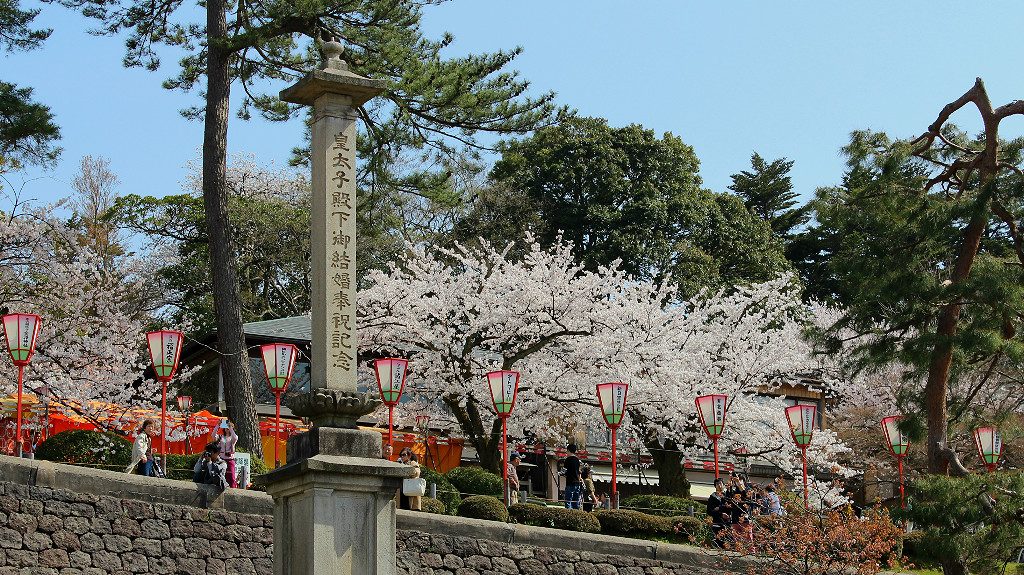 Yoshino abound along Kenrokuen's series of shops and restaurants in "Little Edo" and the Katsura-zaka Slope. From the bridge connecting Kenrokuen to Kanazawa Castle Park, you can see sakura blossoms spilling over onto the road below. This area used to be the private homes of 3-year-old Princess Tamahime's entourage!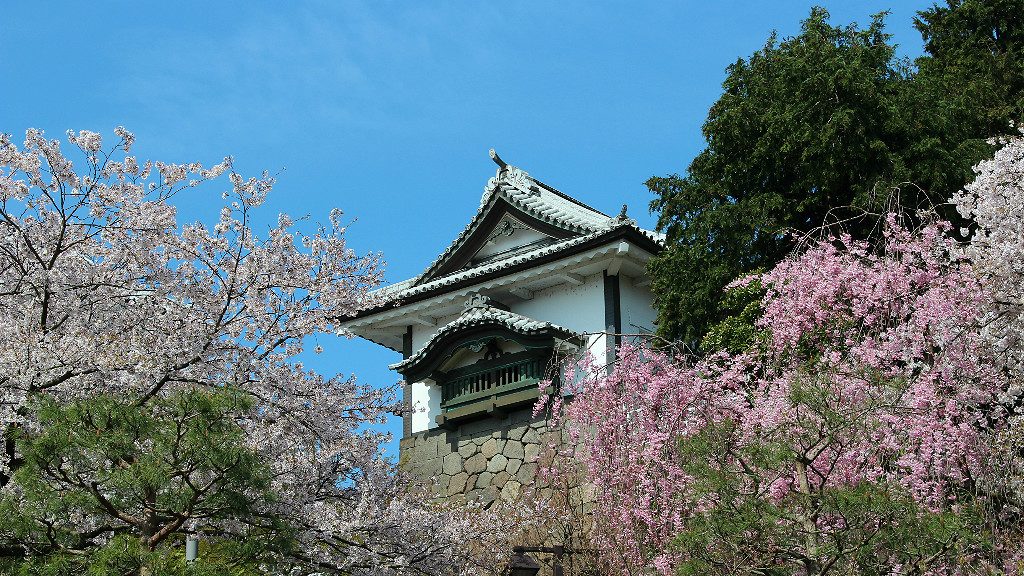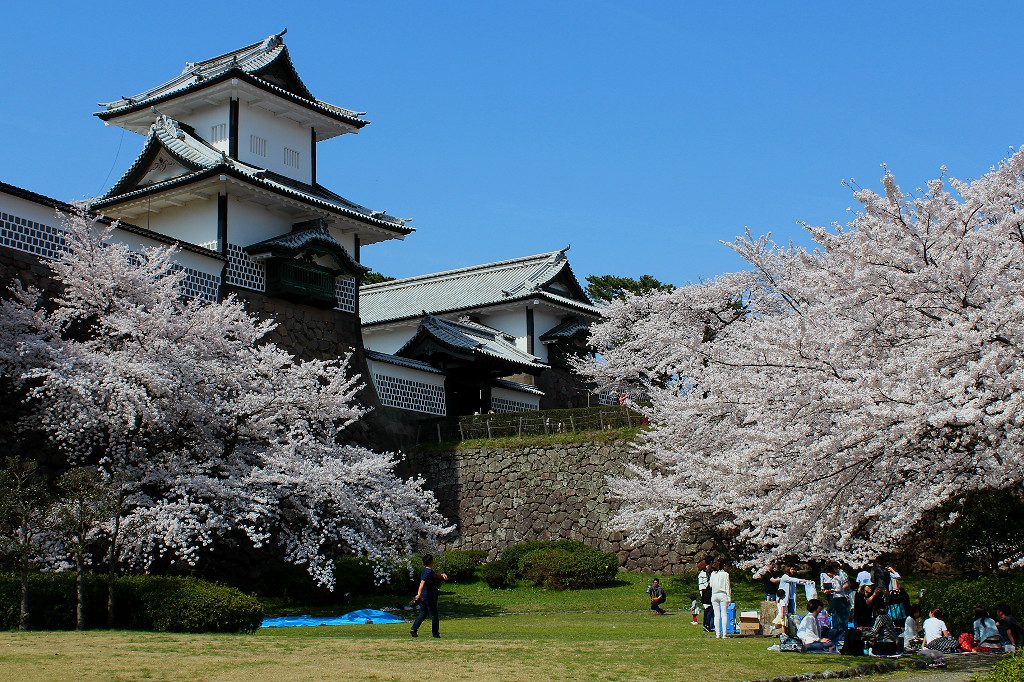 The grounds of the castle park are abundant in sakura trees, but it's the outer lawns and gardens that see the most hanami picnickers. Along the grassy knolls near Kanazawa Central Park, pale yoshino are more abundant. Larger groups of families and friends favor this area. The castle's east side has a variety of plants, including dark pink willow-like weeping sakura.
Pass through Hakuchoro, "White Bird Path," the forested corridor along the northeast edge of the castle park. You'll get a shaded sakura experience as you head to the next area.
Too early? Enjoy the original hanami flower, the Plum Blossom!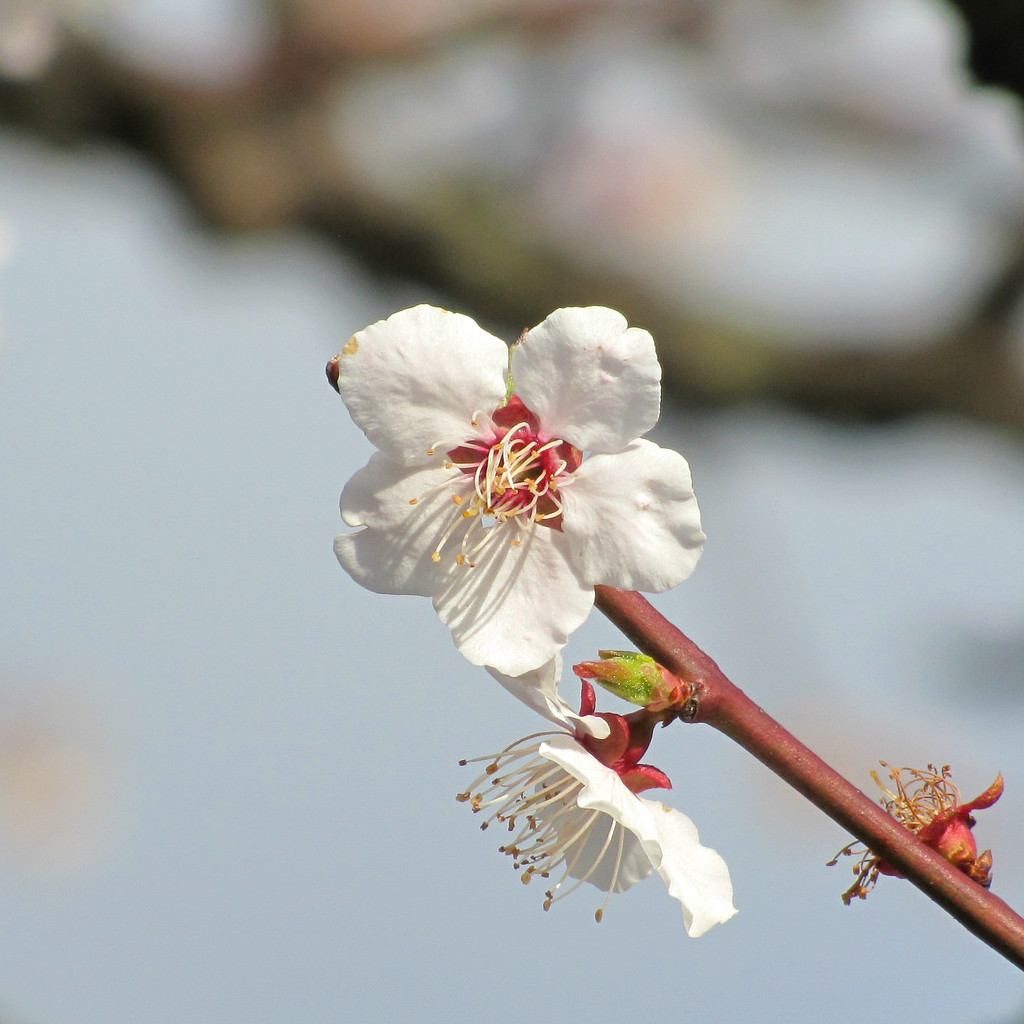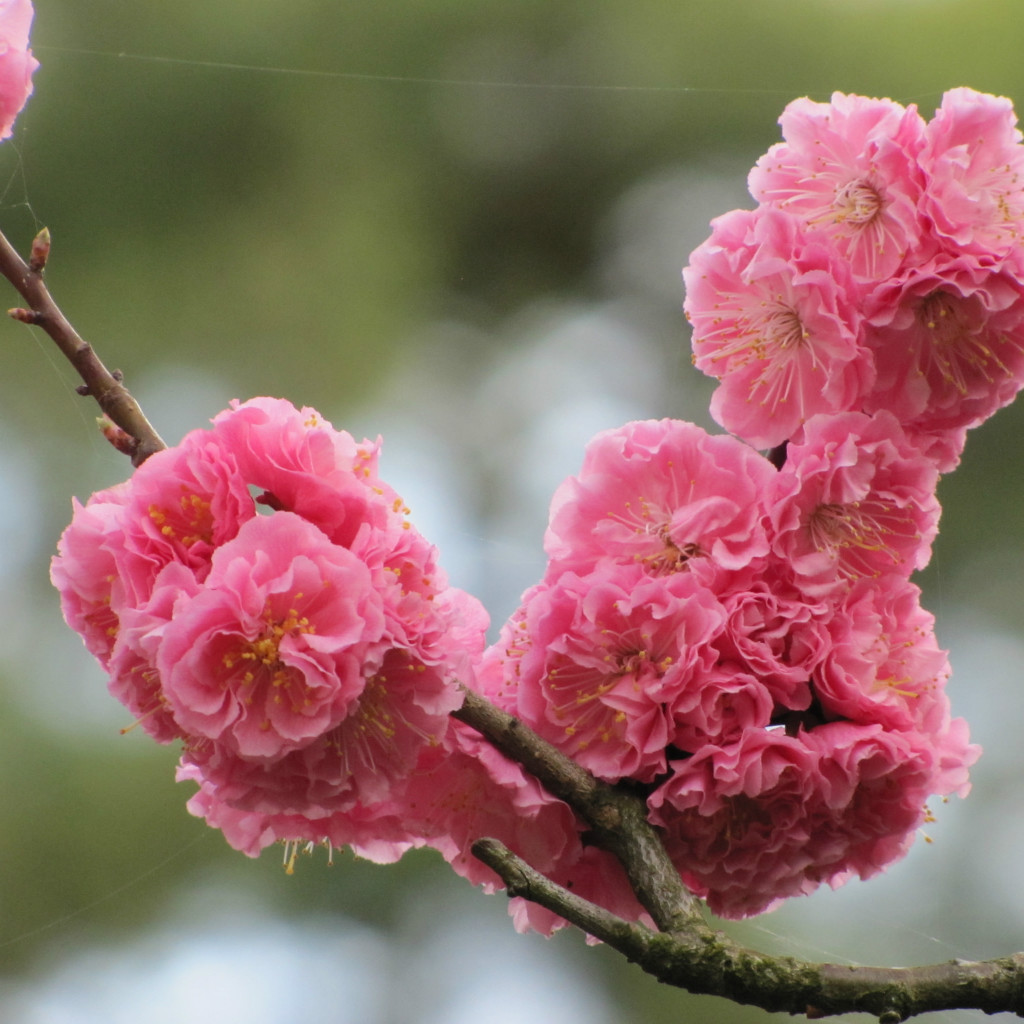 The seasonal tradition of picnicking among the sakura trees called hanami actually started with the earlier-blooming plum blossoms. Just like sakura, plum blossoms come in a variety of shapes and colors. This five-petaled white plum is reflected in the symbol of the Maeda family, the daimyo who ruled Kanazawa for three centuries before the Meiji Restoration.
Too late? Enjoy the Chrysanthemum Cherry!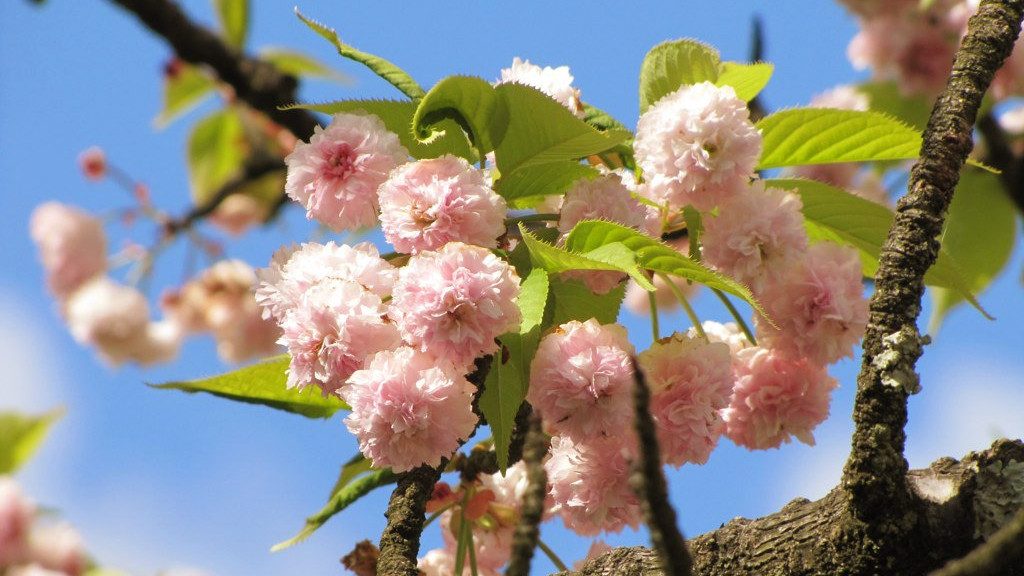 Later blooming yaezakura are a richer pink color. They're striking for their lushness, with many more petals in a single flower. There are many subvarieties of yaezakura, including the kikuzakura, or Chrysanthemum Sakura, with 100 petals per flower. Kenrokuen features two large kikuzakura trees prominently during the later season.
DESSERT/SNACK:
The tea houses along Edo-machi often offer tea-&-sweet sets just for the spring season. There are several to choose from, but I recommend these:
Kenroku-tei
8:30 a.m. – 5:00 p.m.
recommendation:
Ankoro Zanmai (colored red bean paste sweets) with Matcha
Shiroyama-tei
9:00 a.m. – 5:00 p.m.
recommendation:
Kaga-bocha Tea* and Wheat Gluten Sweets
*roasted stem tea and a regional specialty!
Chaya Kenjou-tei
11:30 a.m. – 3:00 p.m. / 6:00 – 10:00 p.m.
recommendation:
Gold Leaf Sprinkled Matcha Sundae
4. The Asano River and the Geisha Districts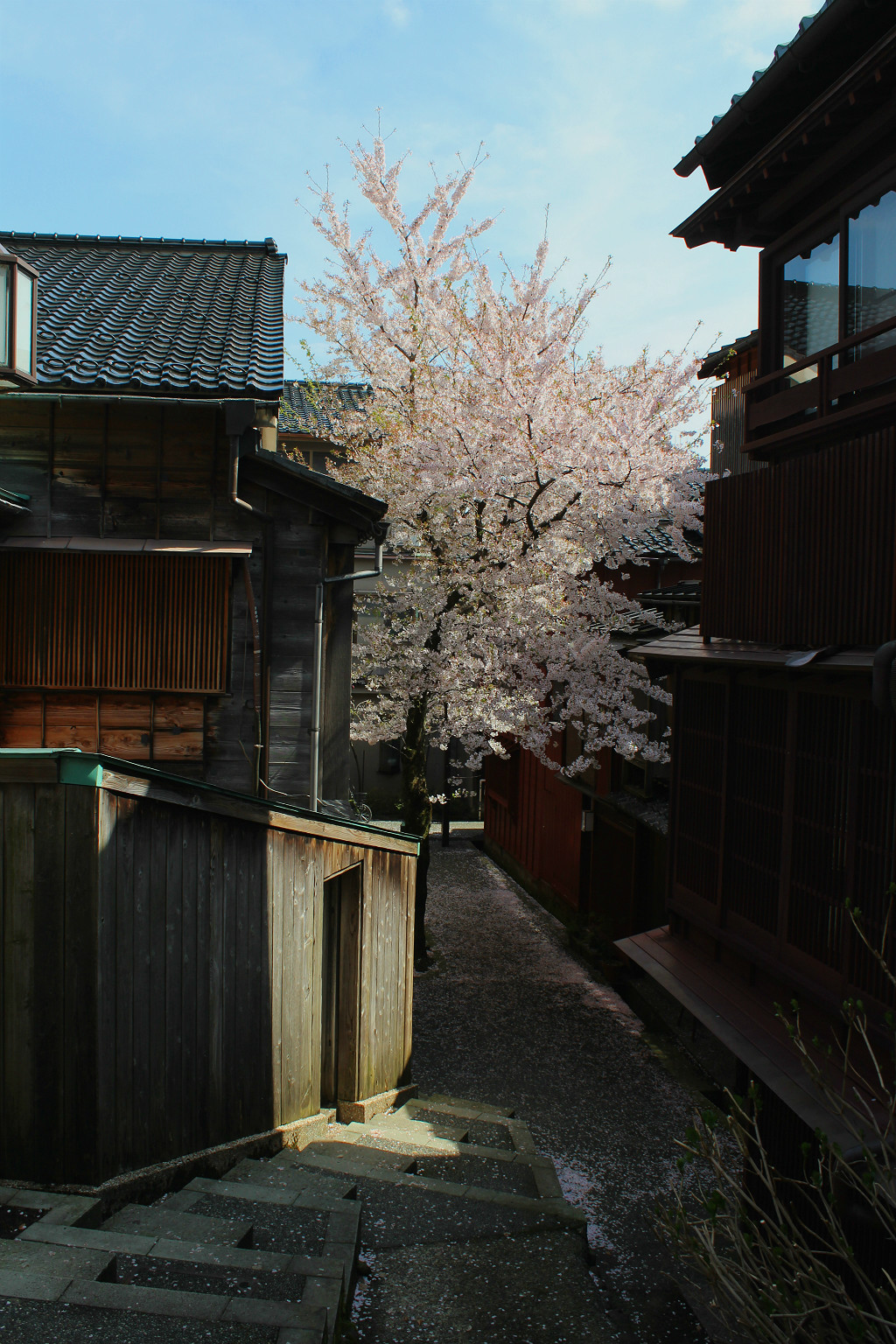 Head to Kazue-machi, Kanazawa's most secretive teahouse district. One entrance is a small hidden stairway called Kuragari-zaka, which literally means "the dark slope." Here, a single, towering cherry tree waits to greet all who arrive. At the base of the stairs is a small gallery honoring a late woodblock artist who resided in Kanazawa. If you're very lucky, you can hear geisha practicing their songs in the training center near the tree itself.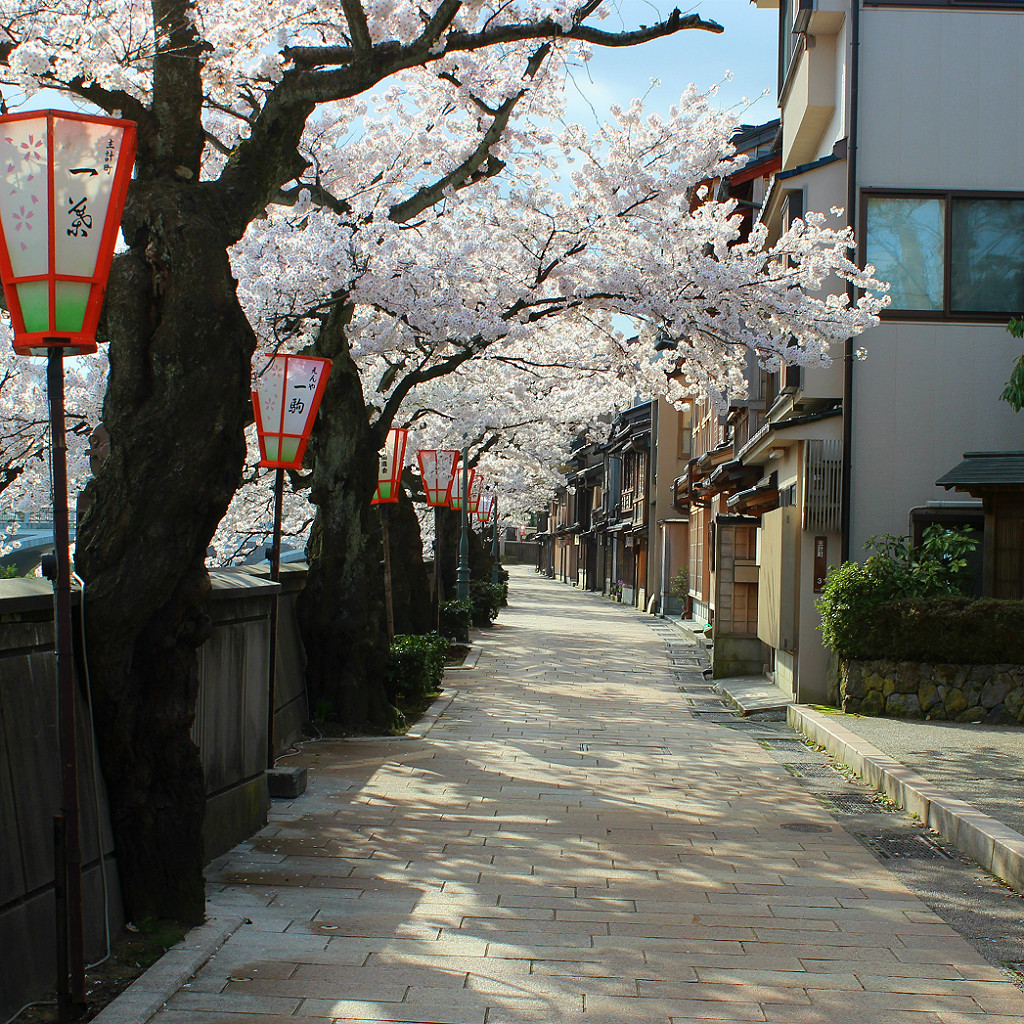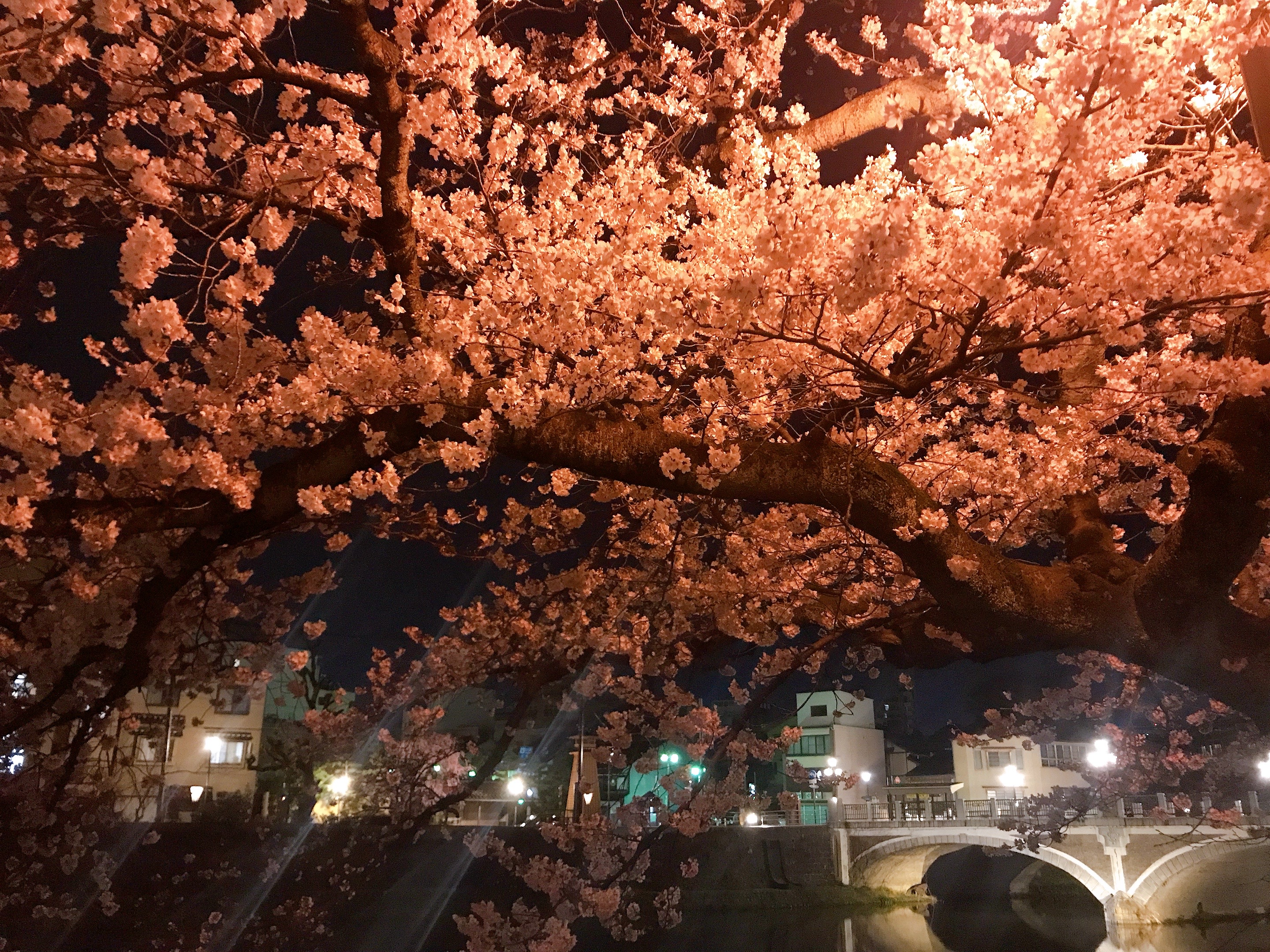 photo by Ayumi
Kazue-machi has the best view of sakura overhanging the Asano River. Along the riverside by traditional Japanese restaurants, a sakura canopy shades the promenade. They're particularly lovely at night, as well.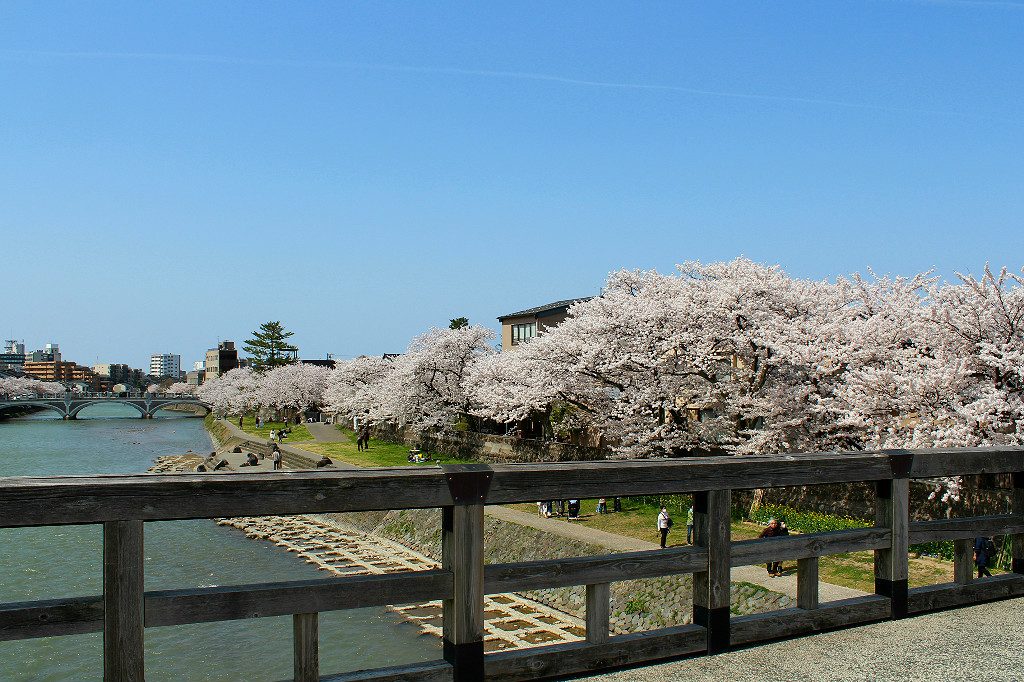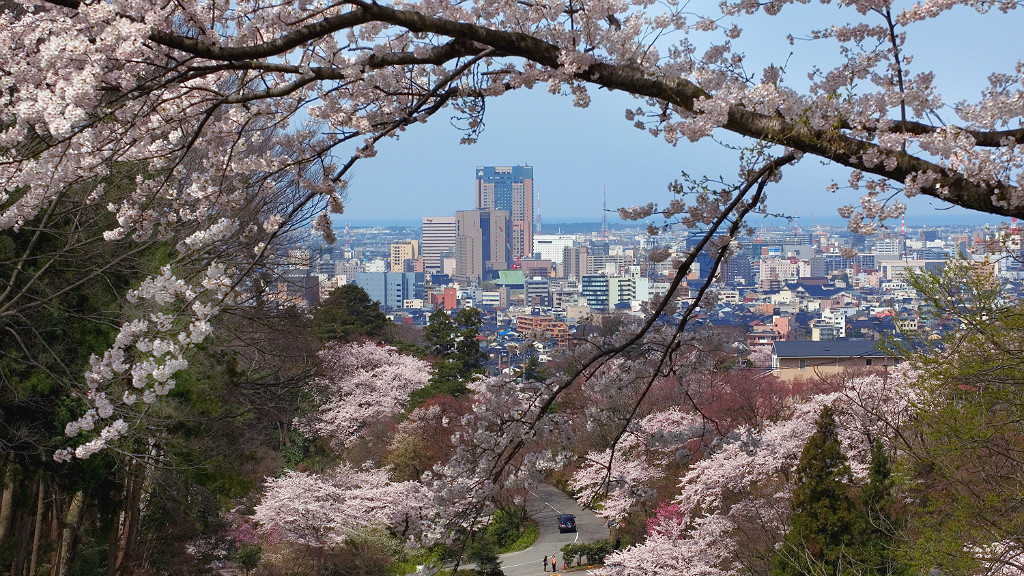 courtesy the city of Kanazawa
Sakura trees continue north along the river toward Highashi Chaya, the largest and busiest of the geisha districts. And if you're at least a light hiker, head up past Higashi Chaya onto the Utatsu mountain area for Utatsu-yama Park, for a more sakura as well as a view of the city. (In the evening, stop by Buemon for flavorful soba, Sake Bar Makoto for sake from around Ishikawa, or Dining Bar Huni for amazing cocktails and a look at a master carver's Buddhist handiwork.)
DINNER & DRINKS:
Buemon Otoyu
11:30 a.m. – 4:00 p.m. / 6:30 p.m. – 1:00 a.m.
recommendation:
Hanamaki Soba
Sake Bar Makoto
12:00 – 4:00 p.m. / 7:00 – 11:00 p.m.
recommendation:
seasonal recommendation & Ishikawa Sake Set
Dining Bar Huni
6:00 p.m. – 12:00 a.m.
recommendation:
Spicy Mentaiko on Chilled Tofu & Kaiun sake
Notice concerning COVID-19: Information and services for the above sites may be temporarily suspended due to the coronavirus pandemic. Please check again close to the dates of your visit. Guests of Kaname Inn Tatemachi may also use our concierge service to make inquiries as necessary. Thank you for your understanding, and we eagerly look forward to your stay.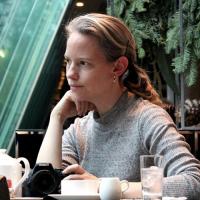 Rachel
About a decade ago Rachel fell off a bus and then fell in love with this traditional-crafts and ice-cream-consuming capital of Japan. Editor and amateur photographer with a penchant for nature and history. Not actually fifty songbirds in a trench coat. (Former penname: Ryann)