Kanazawa in Focus: Written with Light
05.09.2018
Aaron Mannino is a multimedia artist based in the Greater Philadelphia area, which has shared a rich history with Japan since 1876. Mannino's artistic discipline is site-specific and involves film/video, photography, installation and drawing. They also dabble with the written word as an analytical film reviewer. While visiting Kanazawa, Mannino produced a series of articles cataloguing some of their favorite places, spaces and experiences in the City of Gold.
---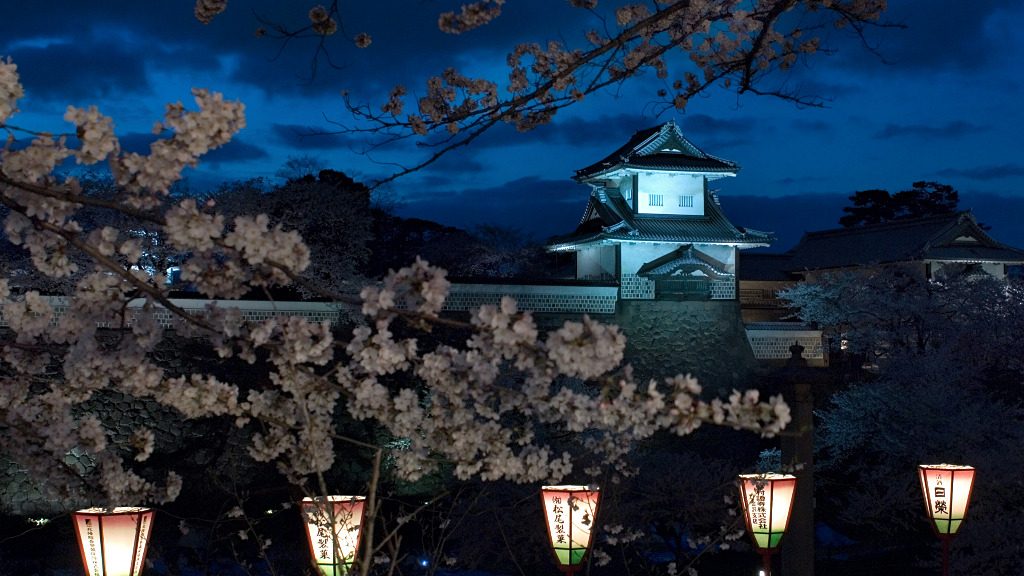 courtesy the City of Kanazawa
During my three weeks in Kanazawa, I found myself flowing into moments with an open an unfixed mindset. Steeping in one place without delimiting plans engenders this type of communion, as does travel heighten awareness. It felt as though each decision I made connected me to a new experience or a new person that helped to weave a growing understanding of Kanazawa in particular and Japan in general, which is the underlying hope of most travelers who aren't simply trying to escape. Event after event seemed to be designed, in one way or another, to give the city unexpected dimension, and to reveal its depths of content and character, like the citywide Kogei (artisan craft) celebration.
Sometimes this "dimension" was literal.
Stand Out Street Art
One evening, while sipping an americano at Curio Espresso and Vintage Design (the nexus of my Kanazawa days), I caught the makings of a sidewalk chalk-based public "3D" art competition, a new annual event hosted in the Yasuecho section of Kanazawa.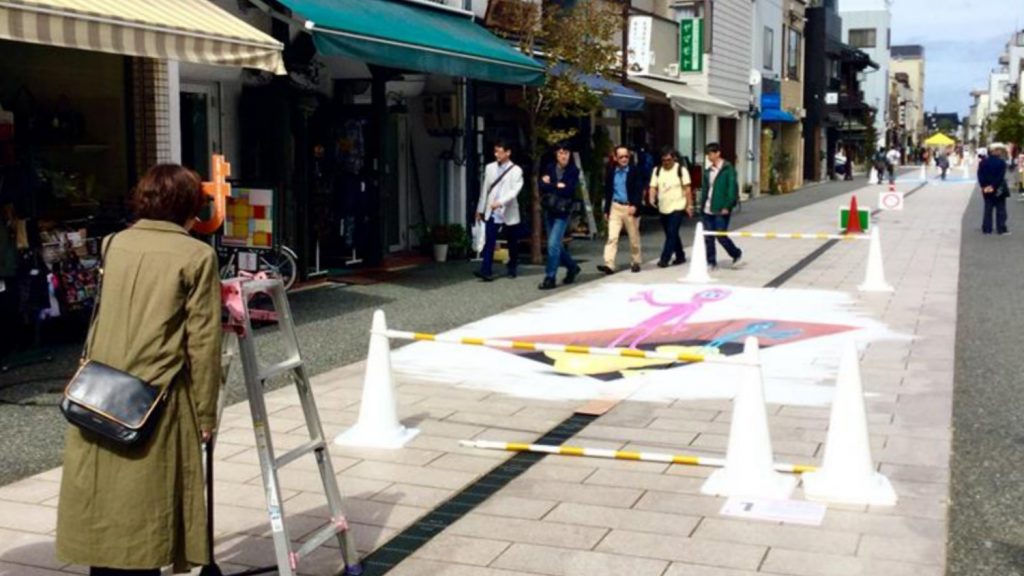 At around sunset, teams began setting up digital projectors and cones and sketching out their 3D illusion designs on smooth stone. The "3D" effect of these finished compositions is discernible from only a single vantage point, otherwise they simply appear like smeared or stretched out colors. It was also at this event that I made some joyful and still enduring human connections, all by virtue of time and place and openness. Reuniting the next day, I watched with new pride when team Curio won second place!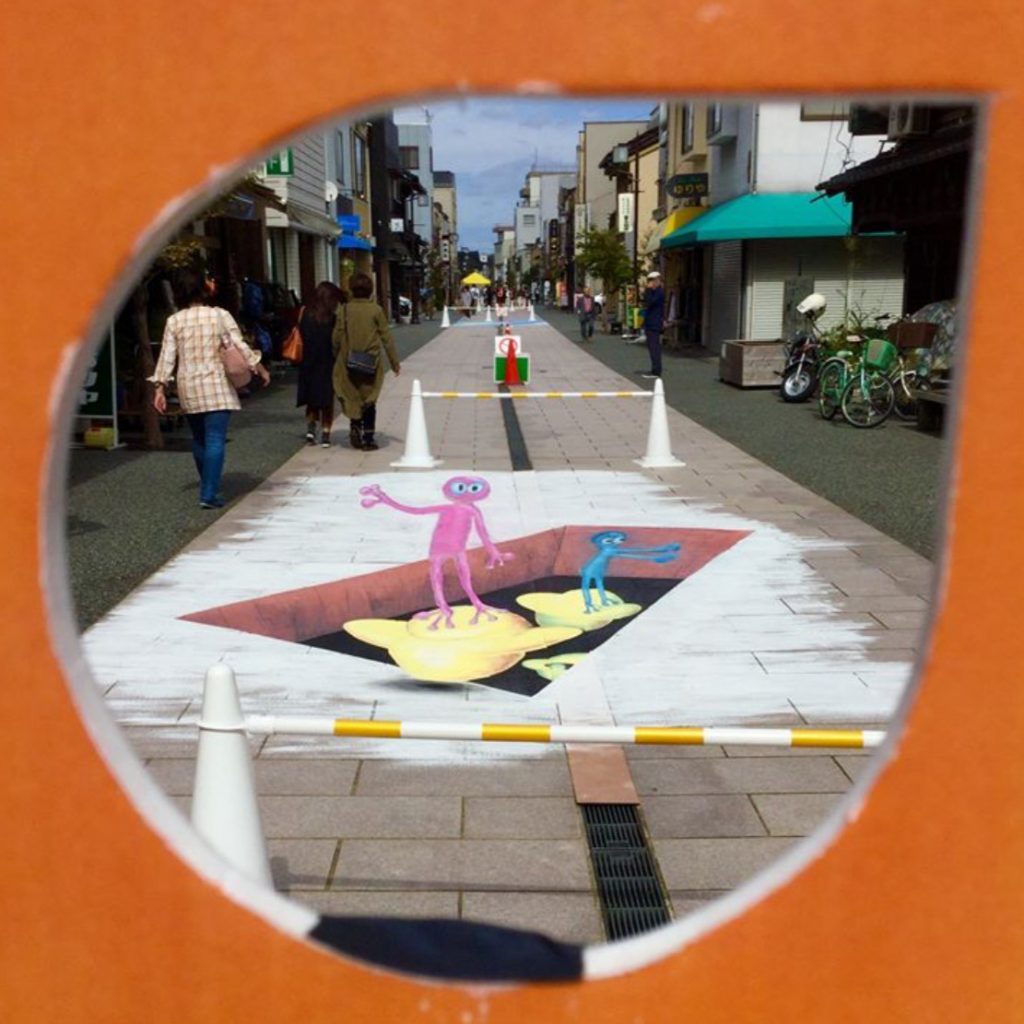 2nd place winners by the staff and friends of Curio Espresso & Vintage Design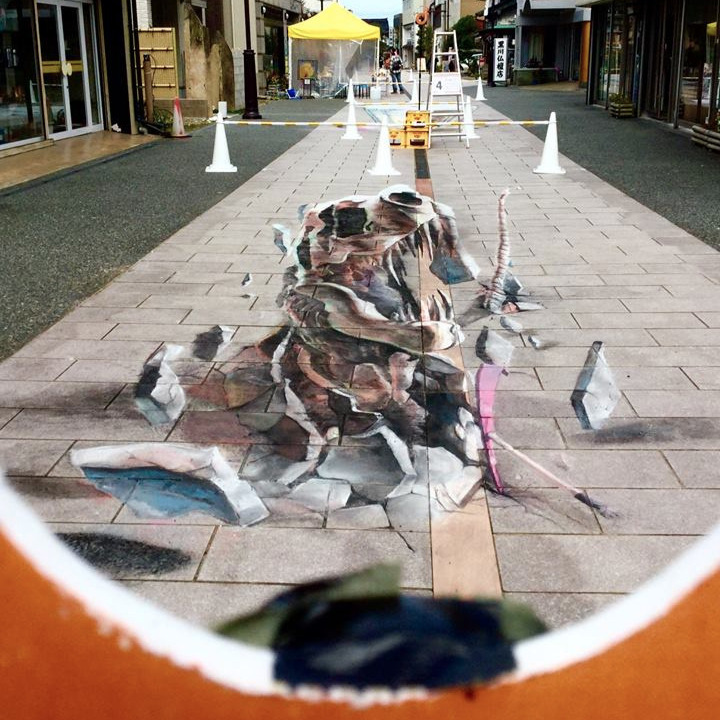 1st place winner, Fukuisaurus
Any Surface a Canvas
On that very same night, I partook of yet another random "dimensional" arts event, this time hosted at the Kenrokuen Gate (east entrance) of Kanazawa Station, only this time, light was the instrument itself. This event was conducted by a local university as part of a series on projection mapping. Those who gathered were treated to a spectacle of spatially intuitive digital light and animation projections that played on the complex and varied planes and surfaces of the three-story mon (gate) along with music.
It was a memorable display which activated the gate, already an intimately familiar space to me, in a surprising ways. Because the projections were responsive to the pitch and curve of each surface, the structure of the gate itself was emphasized and activated by the shifting patterns and colors, rather than simply serving as a screen.
Night Museum
On another evening I found light being used as an attraction at one of my favorite places in the city, the D.T. Suzuki Museum (a highlight of my trip in and of itself, all three times I visited). A much more secluded environment, the minimalist linear design of the museum is primarily meant to provide a meditative experience.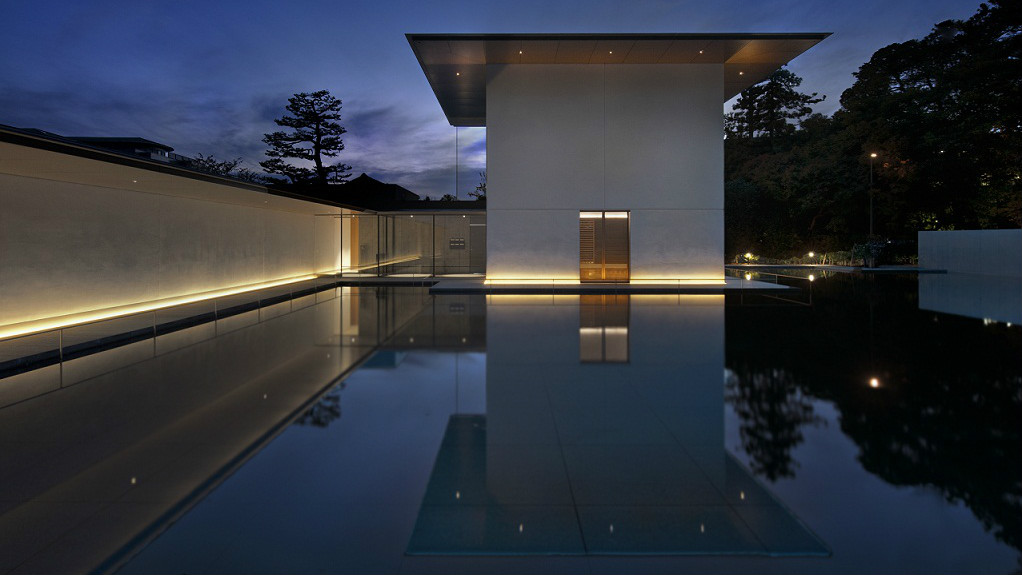 courtesy the City of Kanazawa
On the occasion of their 5th anniversary, the museum hosted an after-hours "light up" event. I was overjoyed to partake in something that celebrated Suzuki and his continued influence. The path of the exterior reflecting pool and the cube shaped Contemplation Wing were gilded by warm light radiating up from along the wall seams. Subtle rippling reflections from the placid pool projected themselves onto the white walls in a delicate kind of cinema.
This was a popular event, and it brought a smile to my face to see so many people enjoying such a simple pleasure. Light, and the idea of being somewhere at an abnormal time brought an unexpected vitality to the stillness that characterizes that museum. And in its state of "commotion," I could see that each person was still having a private, passionate and thoughtful experience.
Old Town in New Lights
The Higashi Chaya Tea District is a location beyond renown in Kanazawa. It exists on par with Kenroku-en. But by suggestion, I visited after sunset and found myself virtually alone on what is normally one of the most crowded and photographed historical streets in all of Japan.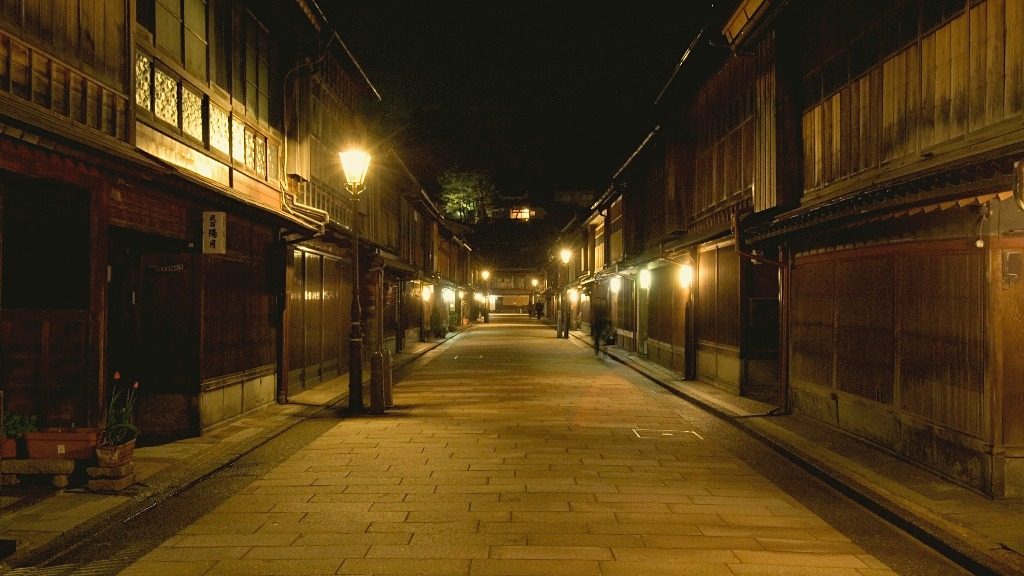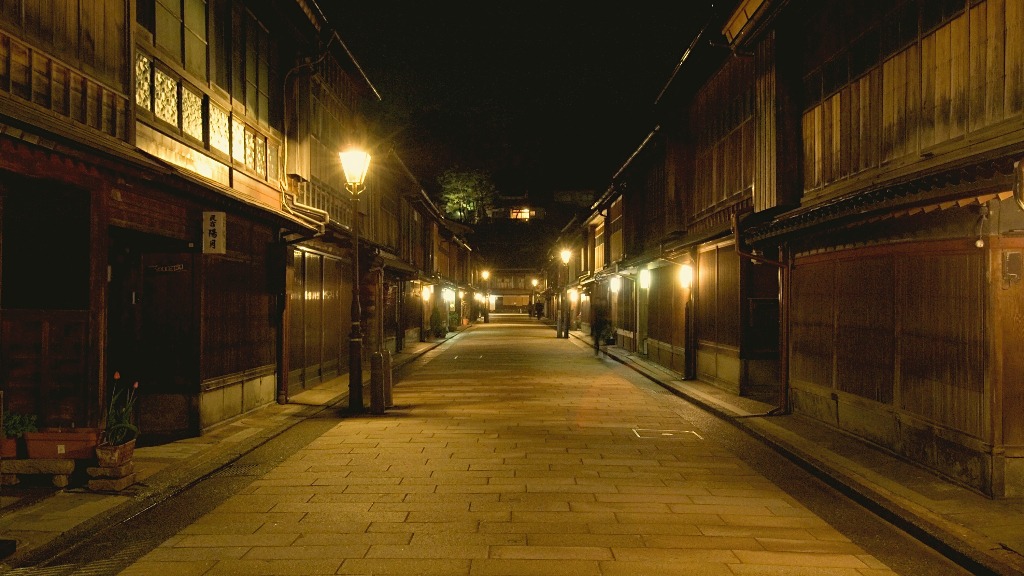 courtesy the City of Kanazawa
Lit by gas lamps and a full moon, there was a palpable sense of mood and mystery that evoked all my fondest recollections of noir cinema. I remained for only a short while, but it left a distinct impression that I was able to contrast against the daytime visit I had made, strolling through a river of people. To whit, it was the adjacent Asano River itself that captivated me that day. The dance of light on crystal clear ripples of water was my meditation, and is but one strand of the shimmering thread that scripts my memory of Kanazawa entirely.
---
Originally posted on the website of the Japan America Society of Greater Philadelphia. Republished with permission from the author.
---
Notice concerning COVID-19: Information and services for the above sites may be temporarily suspended due to the coronavirus pandemic. Please check again close to the dates of your visit. Guests of Kaname Inn Tatemachi may also use our concierge service to make inquiries as necessary. Thank you for your understanding, and we eagerly look forward to your stay.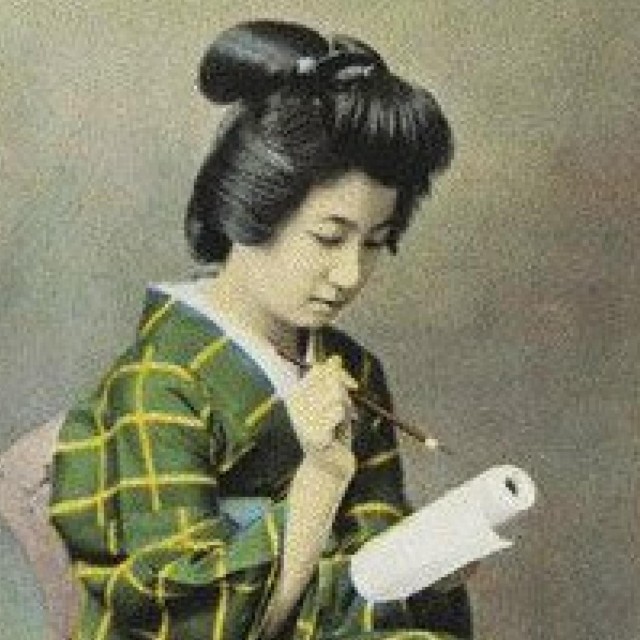 guest authors
Do you have a Kanazawa experience you'd like to share? Have you been a guest in one of Kaname's accommodations or restaurants? We'd love to share your story! Contact us about submissions to see your experience featured here.