Kanazawa in Focus: She Sells Sweets by the Seashore
31.07.2018
— ARCHIVED —
This article is no longer being updated and may contain old or incorrect information. For the latest information on Kanazawa and recommendations for guests of Kaname Inn Tatemachi, please check our
IDEAS main page
.
Aaron Mannino is a multimedia artist based in the Greater Philadelphia area, which has shared a rich history with Japan since 1876. Mannino's artistic discipline is site-specific and involves film/video, photography, installation and drawing. They also dabble with the written word as an analytical film reviewer. While visiting Kanazawa, Mannino produced a series of articles cataloguing some of their favorite places, spaces and experiences in the City of Gold.
---
She Sells Sweets….
Festivals at Kanazawa Central Park
For my incurable sweet tooth, the timing in Kanazawa could not have been more fateful. It all began with the back-to-back Sweets Fairs at the Shiinoki Cultural Complex featuring a vast array of Japanese confections as well as Japanese interpretations of French, German and American pastries.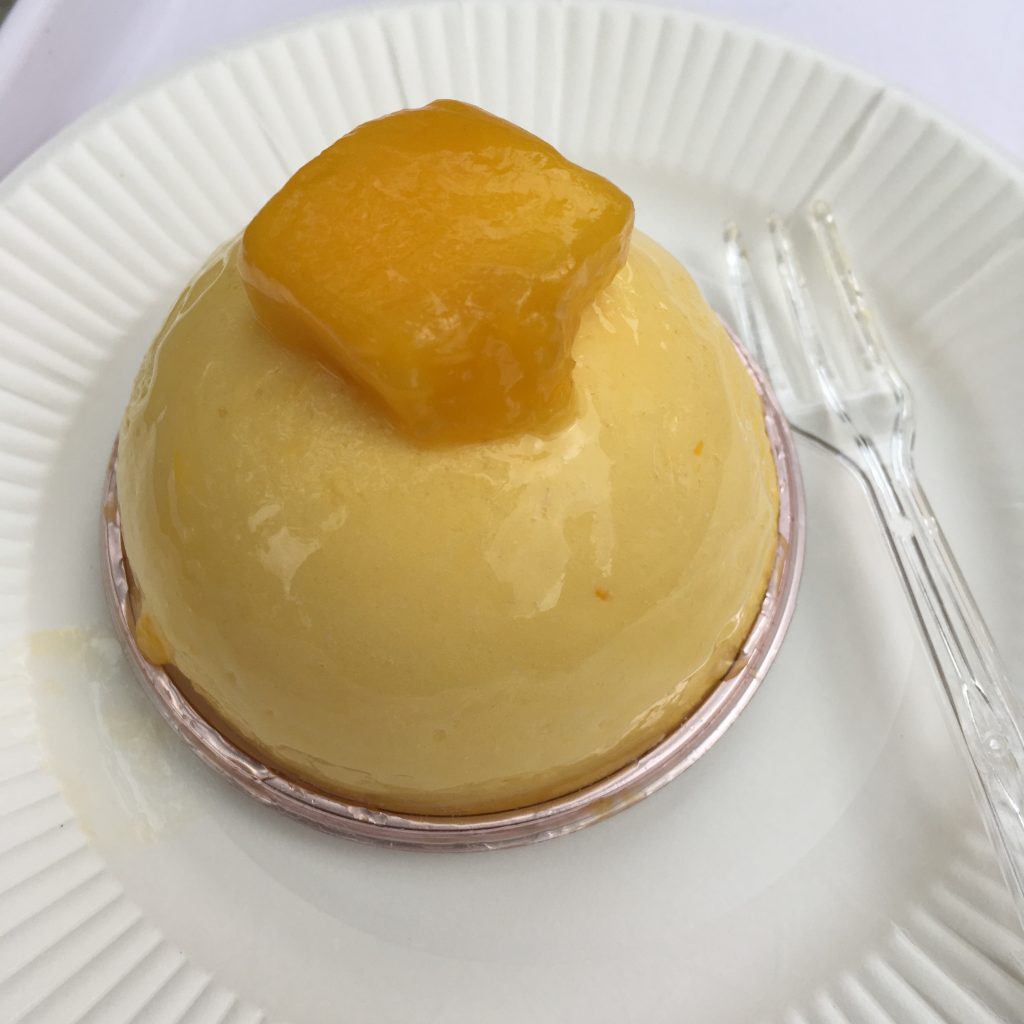 It was here that I encountered a flaky, crispy, fist-sized cream puff that almost put me into a coma, and a glistening mango custard that somehow had the texture of angelfood cake. The fairs were overflowing with options: things that looked familiar, things that looked completely alien, and things that lived somewhere wonderfully and perfectly in between.
Mushipan at Watanabe-ya
Surprisingly, it was neither of these grand displays that stole my sugar-coated heart, for I surely sought indulgences at every opportunity. It was a petite (and I do mean petite) bakery called Watanabe-ya, tucked away on the side of the amazing Oyama Shrine that nestled into the fondest space of my memory. I'd have missed it if not for the little swatch of blue, white and orange that constitutes its storefront, spied out of the corner of my eye as I parked my bike to visit the shrine.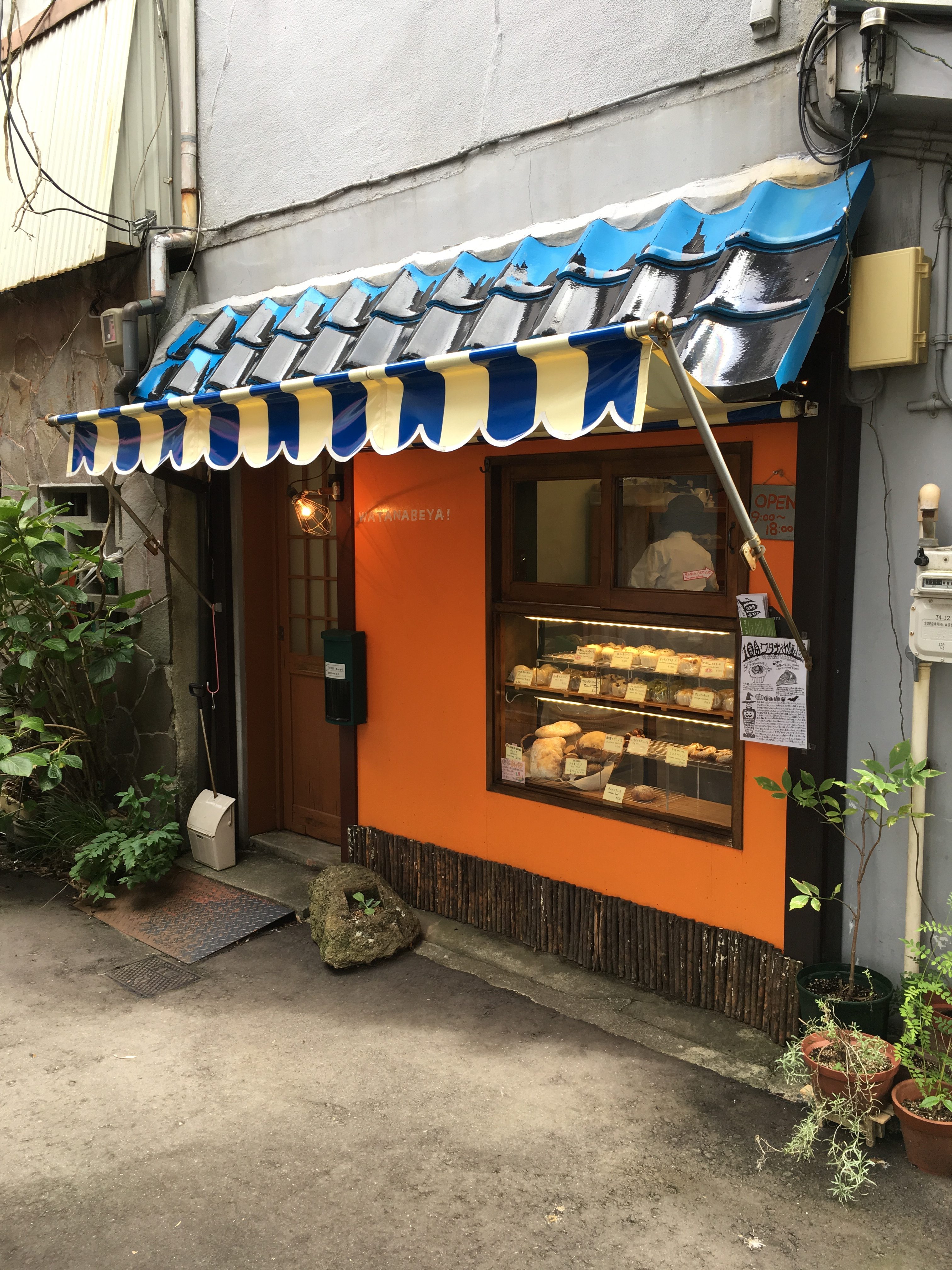 Watanabe-ya boasts a small but delicious array of rustic European-style breads Euro-Japanese pastries, all side by side in the tiniest lil' glass display case. Watanabe-ya's mushipan were my moment of pure Zen. I literally had to sit down when I ate those fluffy, chewy, airy, sweet little steamed wonders that look a bit like a burst cupcake. The one stuffed with with a buttery-brown sugary kabocha (sweet pumpkin) custard is virtually indescribable. Suffice it to say, I finally understood the lyrics "I'll stop the world and melt with you." A close second and third were the Earl Grey and matcha mushipan respectively, making for a perfect East-meets-West combination.
Editor's note: Watanabeya has relocated to 5-13 Yasuecho, Kanazawa, a few minute's walk from Curio Espresso & Vintage Design, Higashi Betsuin Temple, and Iwamoto Paulownia Studio.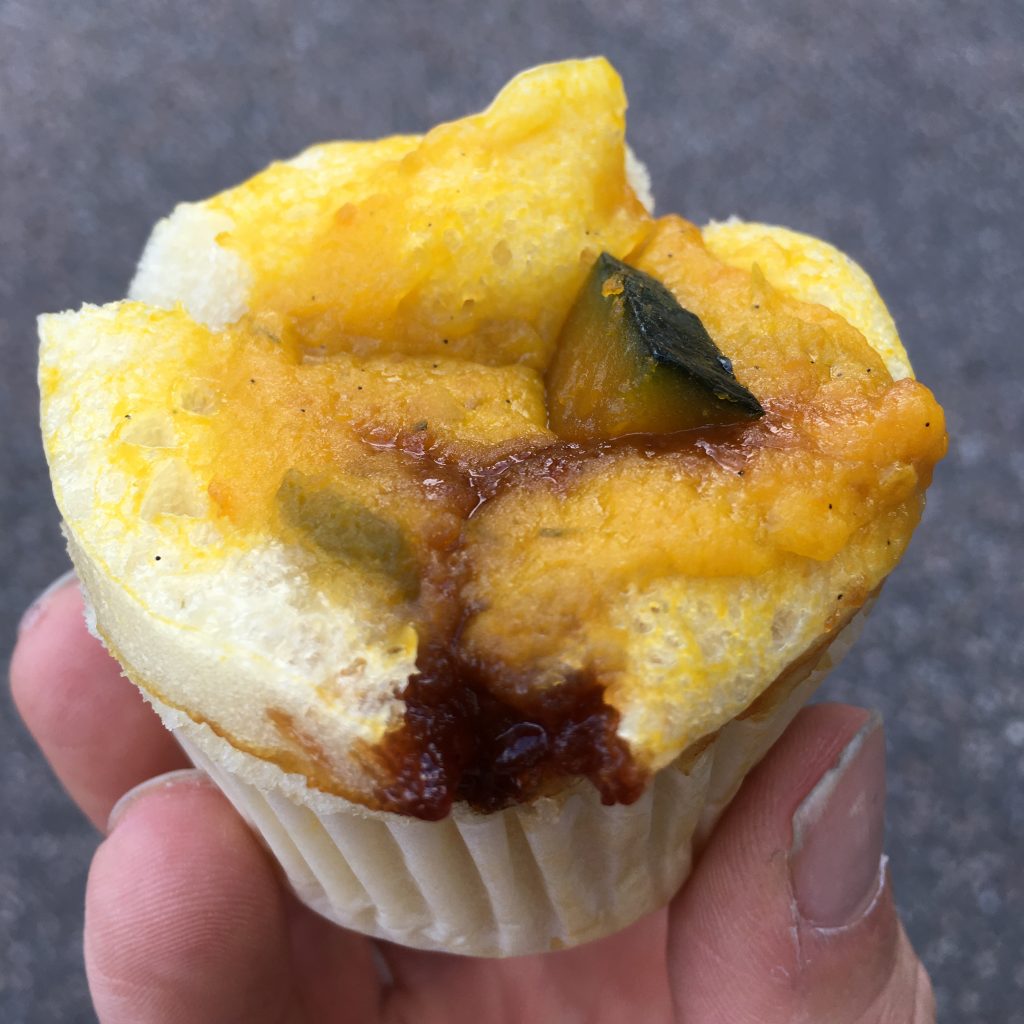 …by the Seashore
With Kanazawa being a coastal and a port city, one might have thought sushi or shellfish to be my gastronomic priority. However, noodles hijacked my brain chemistry for the majority of my trip. Perhaps it was the unprecedented umami of true tonkotsu (fried pork) that preoccupied me, but I didn't partake of the day's catch until my final week! A new friend treated me to one of the best little spots west of Kanazawa Station called Ponta Sushi, neighboring a fish market (a very good sign) and right across the street from the delectable Shinsen Soba.
Ponta Sushi
At the modestly sized Ponta, patrons are seated around a centralized rectangular bar as three gentlemen make sushi at a ceaseless clip. We made sure to arrive early (as should you) to take advantage of the freshest cuts. Primed by warming bowls of their seafood miso soup, I was soon to behold something beautiful.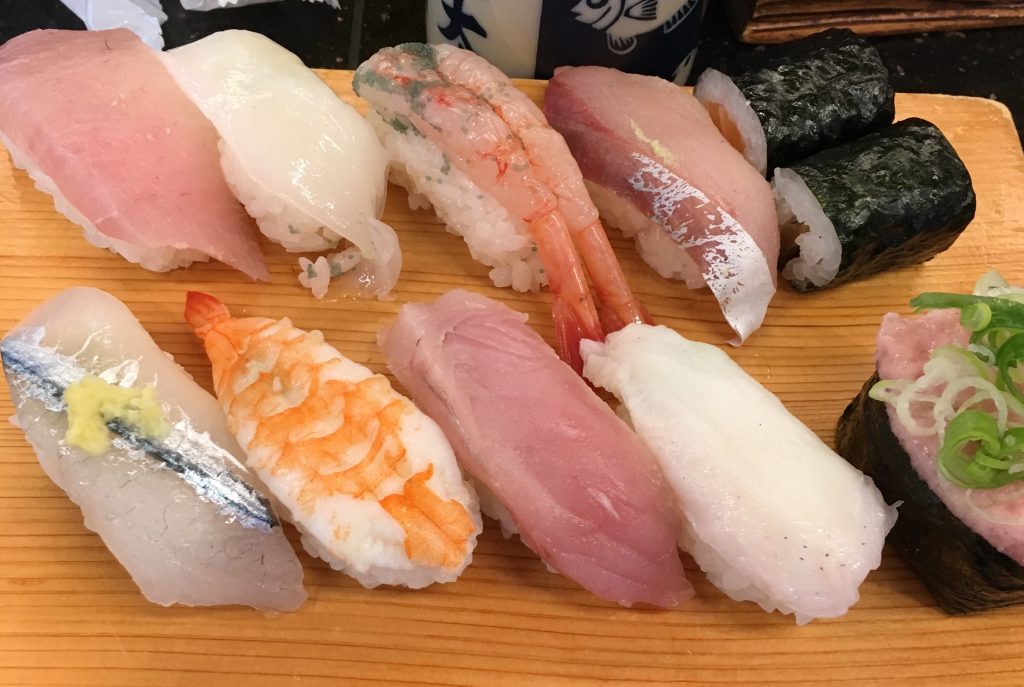 Ten pieces of chef's choice sushi, arranged on a small wooden platter made for a short lived autumnal color swatch. In between each fresh, subtle and tasty morsel of fish and rice, were even more bowls of their rustic life-giving soup. My only regret was going just once, but in that limitation I have the most potent memory. And for under 1000 yen, it is an absolute steal!!
Omicho Market
The centuries old and centrally located Omicho Market, one of Kanazawa's most renown attractions, is a thriving sprawl of stalls hawking the day's catch from the Port of Ono, meats from neighboring Noto Peninsula, and numerous food stands peppered throughout. Though enclosed, it has the feeling of an open-air market. While strolling the asphalt of Omicho, keep your eyes peeled for the amber shellacked Iro Zuke, grilled fish on a skewer glazed using Noto-Peninsula's uniquely mild and sweet Shoyu. For little more than pocket change I had enough protein for the afternoon and the yen I spared got me cup of the most delicious and enormous purple grapes I have ever tasted. Grapes are big in Japan… roughly 3 times the size of grapes in the US. I don't know why, and I don't want to know why.
Huni Dining Bar
On one of my last evenings in Kanazawa I took myself out on a date to the easily missed, word-of-mouth wonder, Huni Dining Bar. Astride the Higashigawa river, Huni has the feel of someone's house, which it might literally have been considering the foyer / living room / kitchen / lofted second floor layout. The menu incorporates some French and Italian notions harmoniously alongside Japanese flavors and ingredients. The kitchen is smaller than small and yet everything is run with ease and precision by chef Takuo Hasegawa, who not only cooks before your eyes, but engages in conversation (and happens to be an accomplished sculptor of Buddhist imagery). As we discussed art and film, and plates magically materialized in front of me, I felt a deep sense of mutual appreciation, beyond mere courtesy.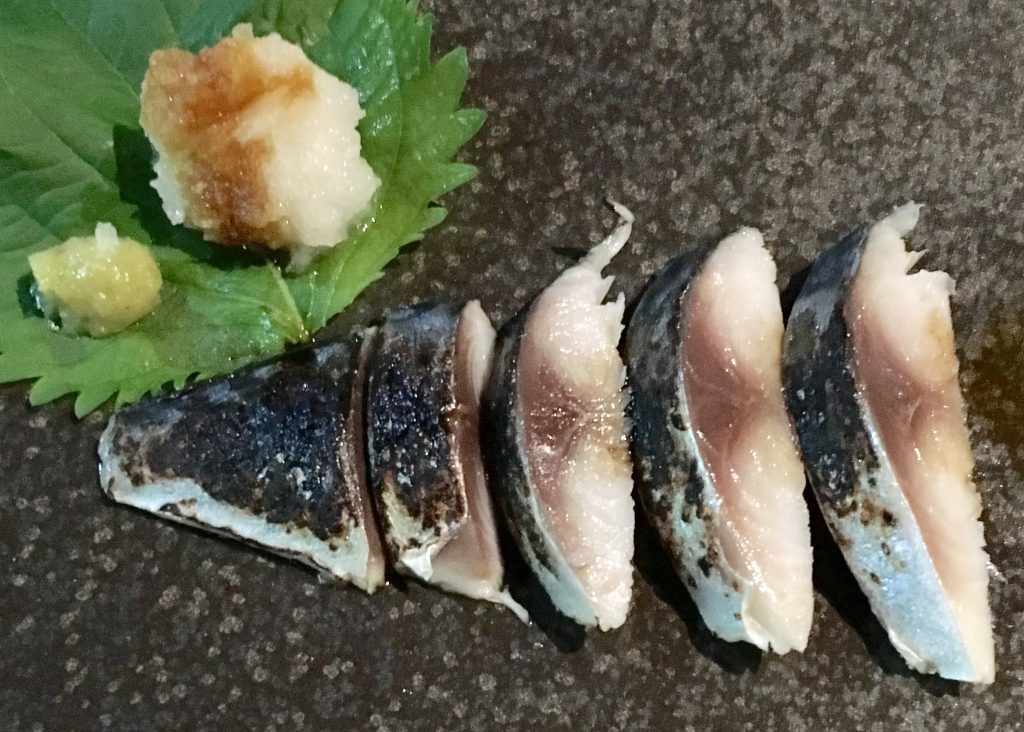 My menu selections were "rather Japanese" Takuo-san remarked in an approving tone. Pickled mackerel, chilled tofu with spicy roe, and fried burdock (gobo furai). Above all else, the mackerel still lives in my memory. Pickled in Noto's semi-sweet soy sauce and sliced into thin medallions accompanied by daikon puree and sharp wasabi dollop, this irreducible delight was served modestly on a piece of slate. All of the food was lovingly and carefully prepared, but what remains with me is the genuine kindness of the chef and barista who engaged their guests as people and not customers.
---
Originally posted on the website of the Japan America Society of Greater Philadelphia. Republished with permission from the author.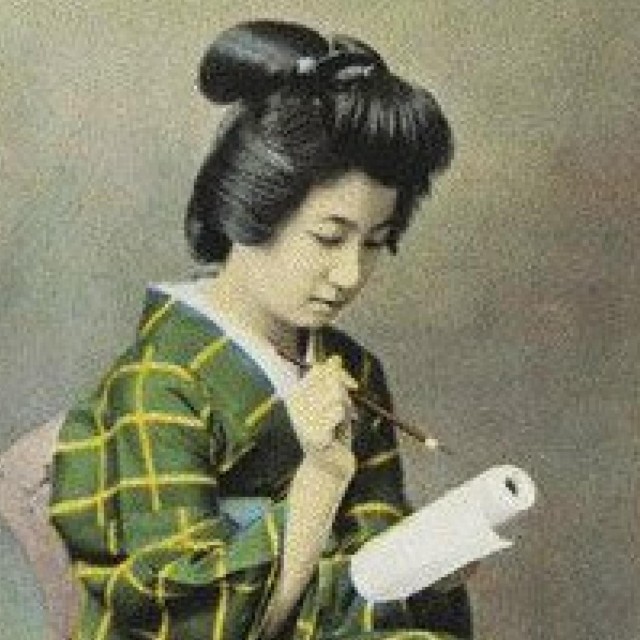 guest authors
Do you have a Kanazawa experience you'd like to share? Have you been a guest in one of Kaname's accommodations or restaurants? We'd love to share your story! Contact us about submissions to see your experience featured here.