Shukubo Ikumo: A Temple Stay among the Clouds
17.09.2016
— ARCHIVED —
This article is no longer being updated and may contain old or incorrect information. For the latest information on Kanazawa and recommendations for guests of Kaname Inn Tatemachi, please check our
IDEAS main page
.
Want get closer to the core of Japanese culture in your travels? Stay in a shukubo.

The Simplicity of a Shukubo Stay
A shukubo is hospitality guesthouse kept by a temple. Originally, shukubo were for traveling monks, but recently, everyone wants a chance to have the experience. The most famous is Koyasan, but there are many in Japan. We even have one close by in Komatsu.
Ikumo is a shukubo run by Natadera, a beautiful temple complex in Komatsu. In fact, if you're already visiting Natadera, I can't recommend staying at Ikumo enough. On the map, it appears quite close. But the way to Ikumo is a winding narrow road littered with leaves and branches, taking almost an hour to reach by car. On our way there, a branch got stack under mine, making a bit of noise.
When we arrived, we were so surprised by the location. It's on the top of a mountain between Mt. Haku and the Sea of Japan. The view was spectacular around all 360 degrees! I don't know of any other place to stay with a better view.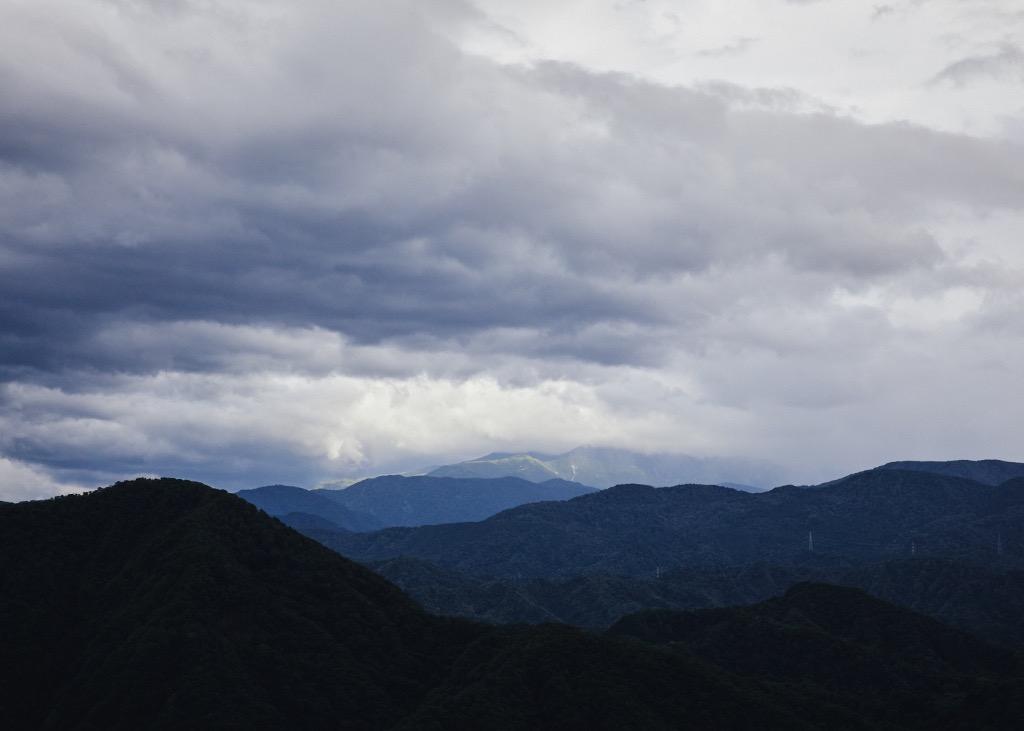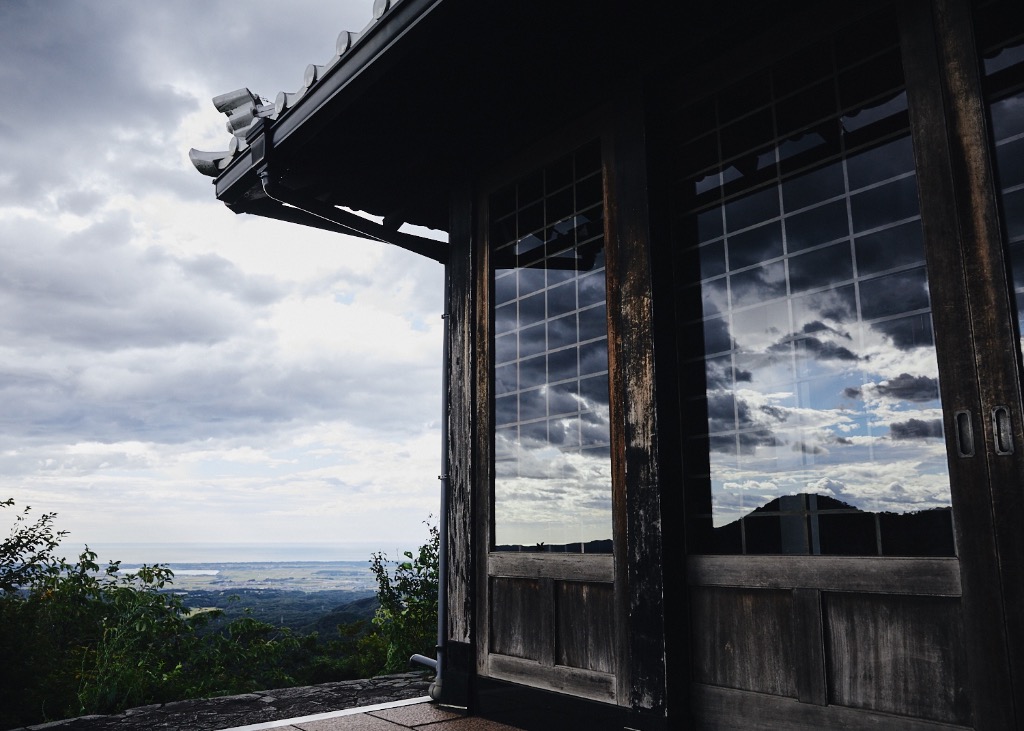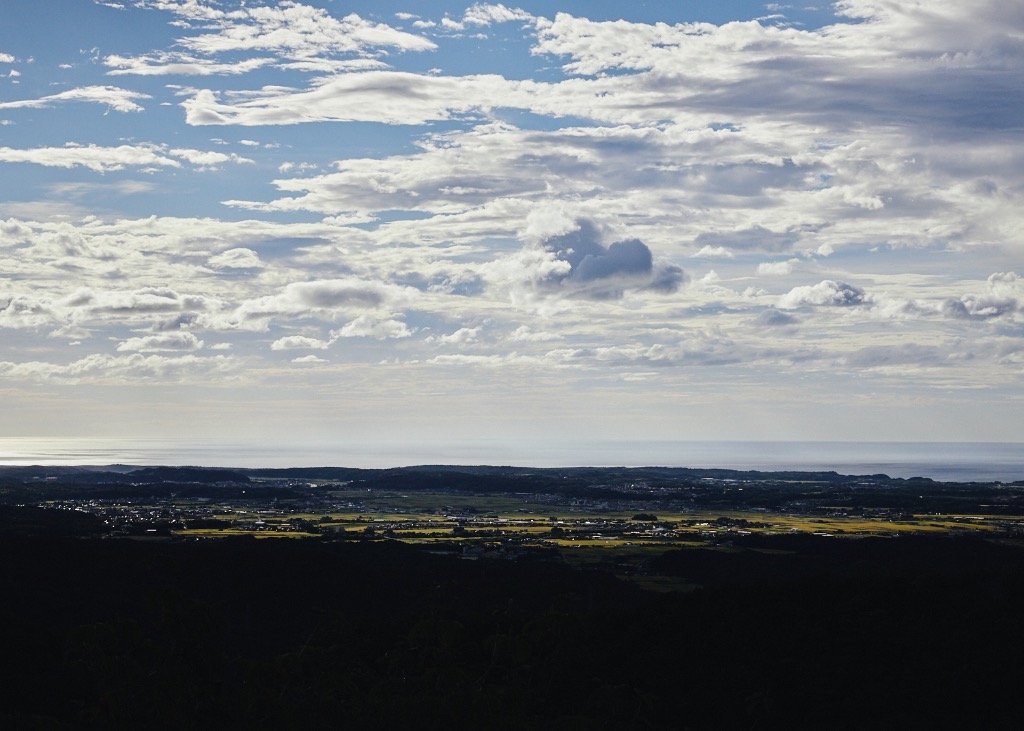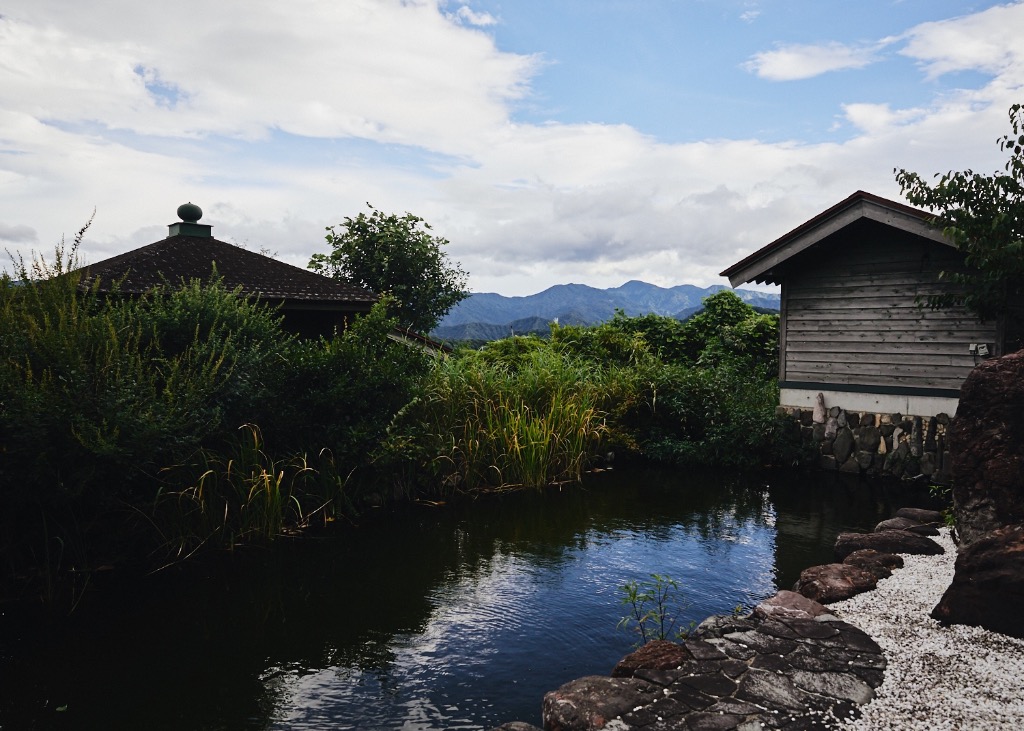 Originally established as a place for pilgrims to meditate, there was a small, lone meditation hut from long ago.
In the last forty years, Natadera built more places to sleep. The interior is simple in style and furnishings. The rooms include many tatami spaces and western bedrooms, a writing room for calligraphy, a meditation room and separate space for ceremonial fires.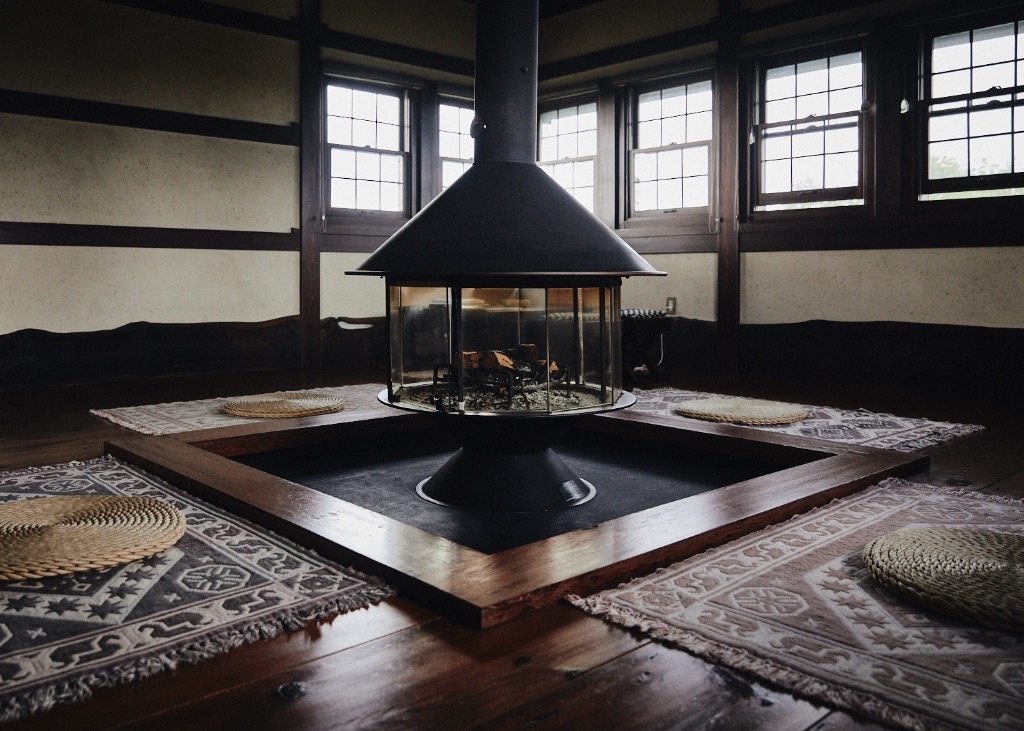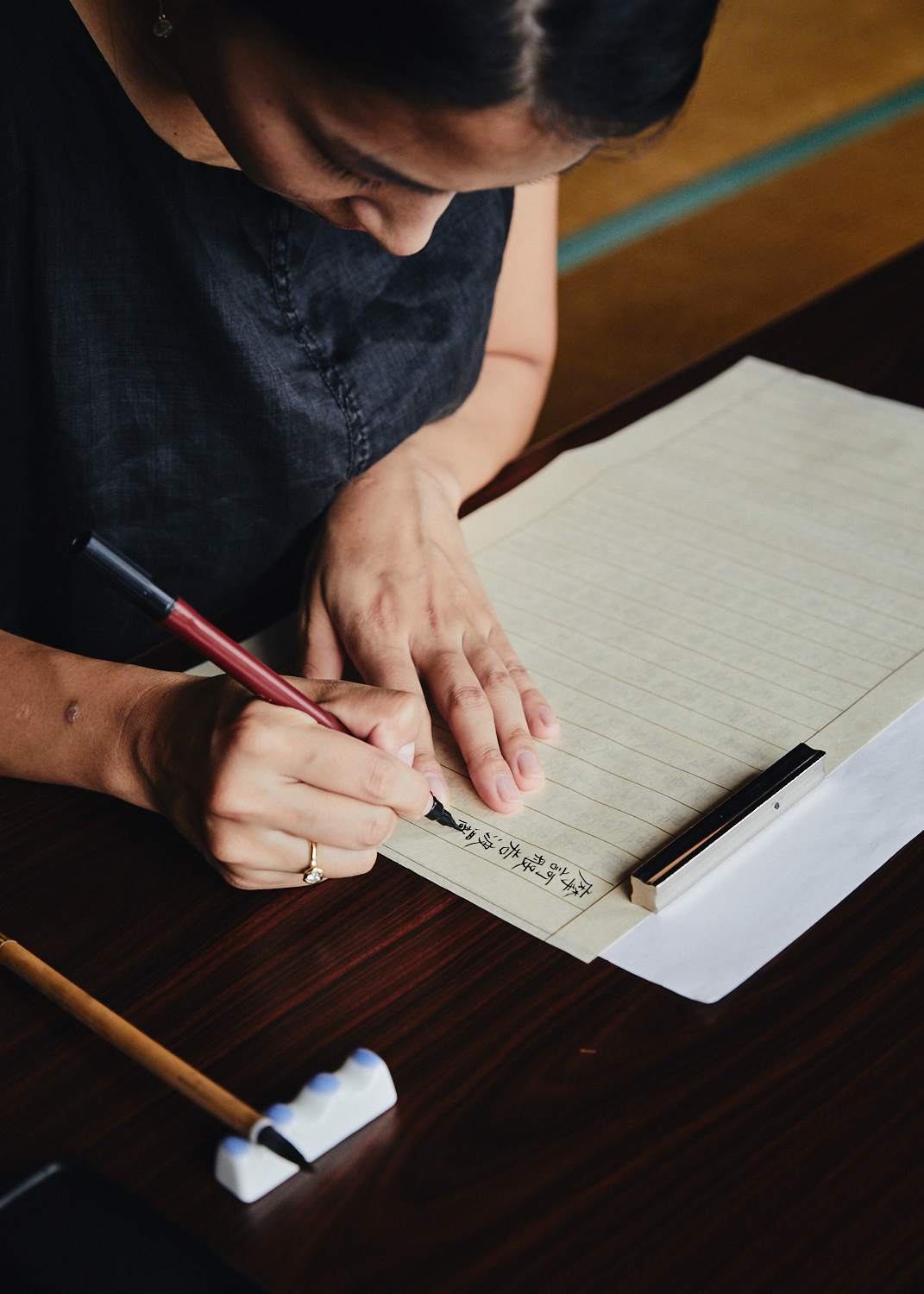 No music, no noise, no electric grid, no plumbing. We had to collect our own energy, sourced from solar panels. Water is filtered from the rain. We become aware of the limitations. We must do everything for ourselves, even make our own beds, at a shukubo.
The sky is all we watch. The movement of the clouds, the sun going down, the color changing, set to the sound of the wind. We can't stop watching nature; every moment is a new beauty. And this rainbow—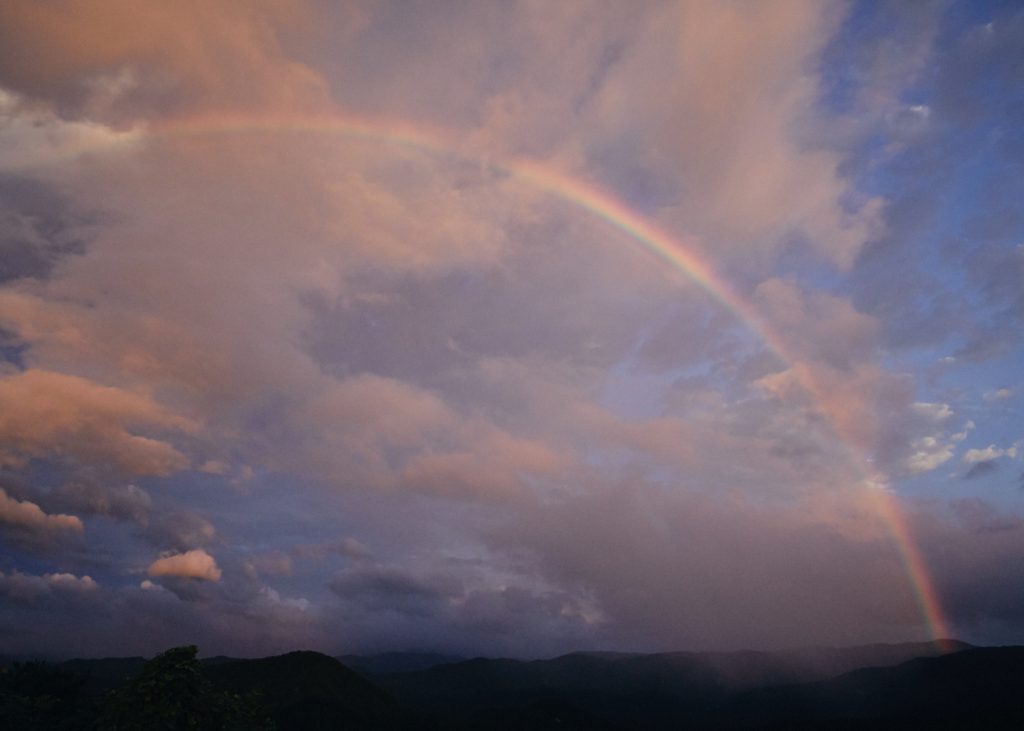 Speechless.
Reconnecting through Cuisine
We were the only guests at the time, so everything was private, just the staff, chef and us. We felt so lucky to be there.
Dinner was a gorgeous kaiseki style meal. Many shukubo offer shojin ryori, a vegetarian Buddhist diet. But, because Ikumo has strong regional connections, local styles of seafood and meat dishes are included on their menu.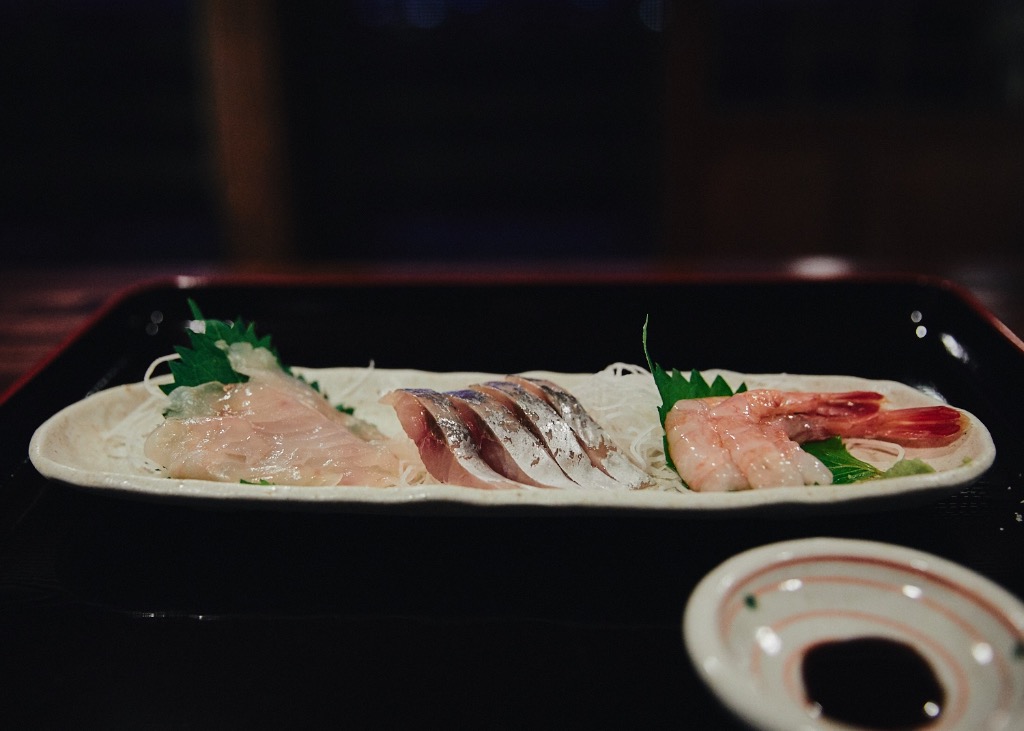 The nodoguro, black fish, was so soft and tender, the best fish I ever had! (So good, in fact, that I forgot to take a photo…)
I could picture the people involved in collecting the seafood and vegetables from the surrounding nature. How often do we really appreciate the farmer, deliverer and grocer for the food we have? There's so much to the process. It's such an ordinary thing, yet it's so easy to forget.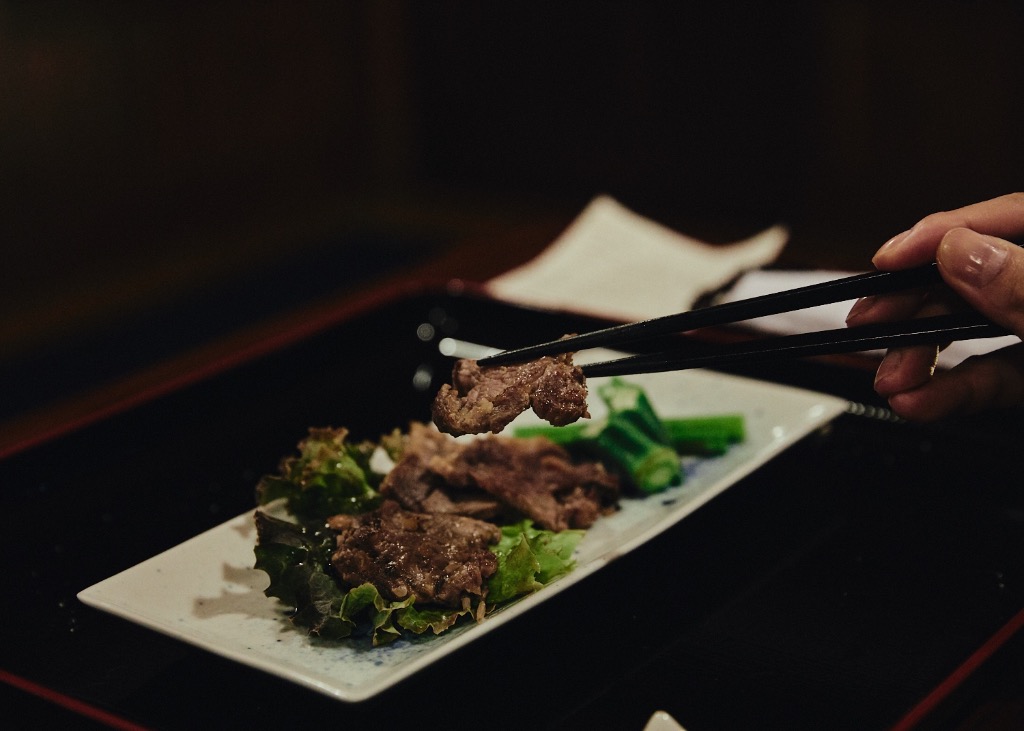 I'd had pork before, but never Hakusan wild boar. Taken from the nearby forest, it was flavorful and succulent.
Embracing Ikumo's Shukubo Spirit
The day we stayed, a typhoon was passing through on the side of the sea. The winds beat the walls, slipping through the cracks in the wooden structure. The sound was like that of roaring dragons. Even with tissues to plug our ears, we couldn't sleep at all.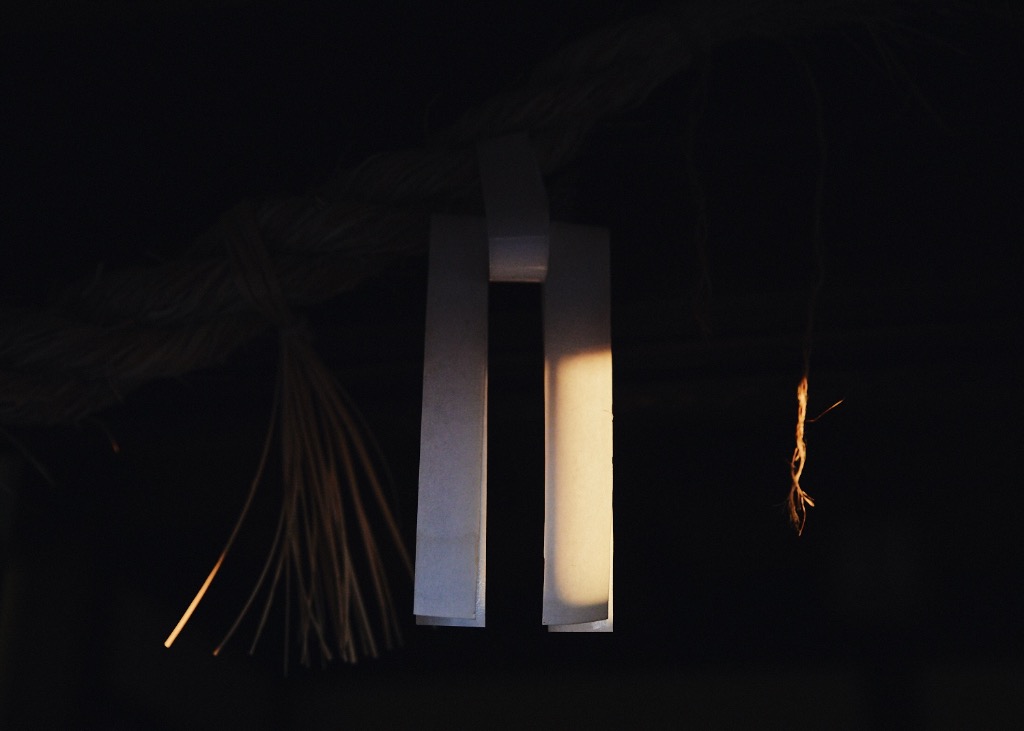 No wonder this shukudo's name translates as "the birth of clouds."
But I know that even this is a part of the experience of a staying here. As the spiritual element of Mt.Haku is water, symbolized as a deity by a dragon, it only seems appropriate. But I hope, if you choose to stay there, that the weather will be clear and calm for you. There are thousands of stars behind those clouds.
In the morning, breakfast greeted us, delicate and so, so fresh.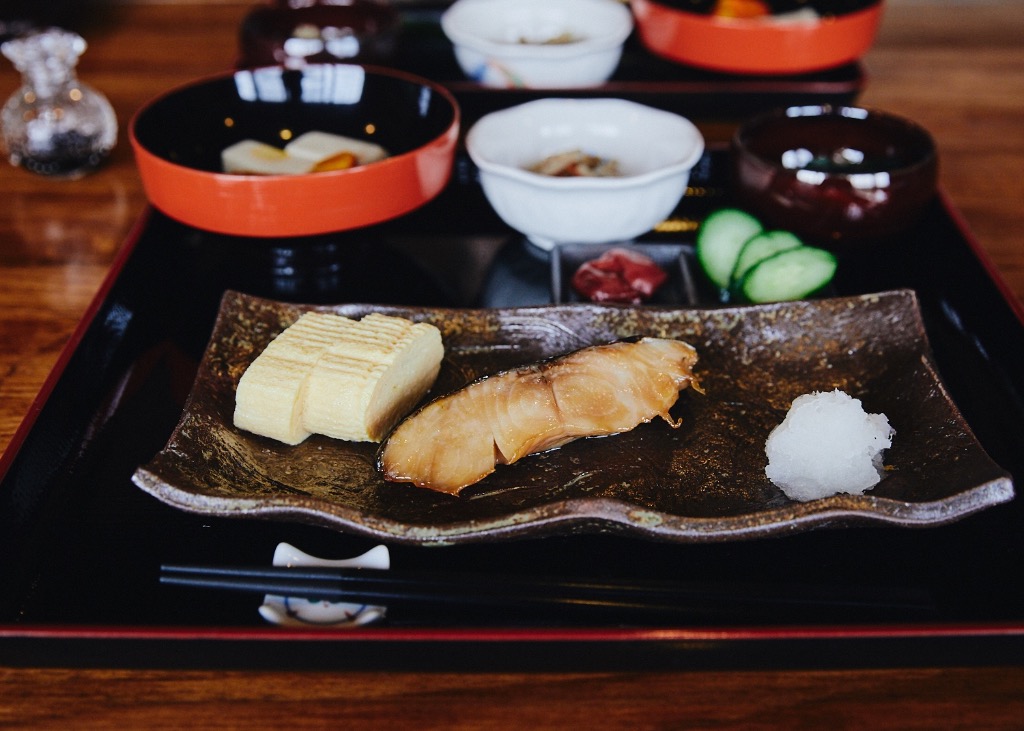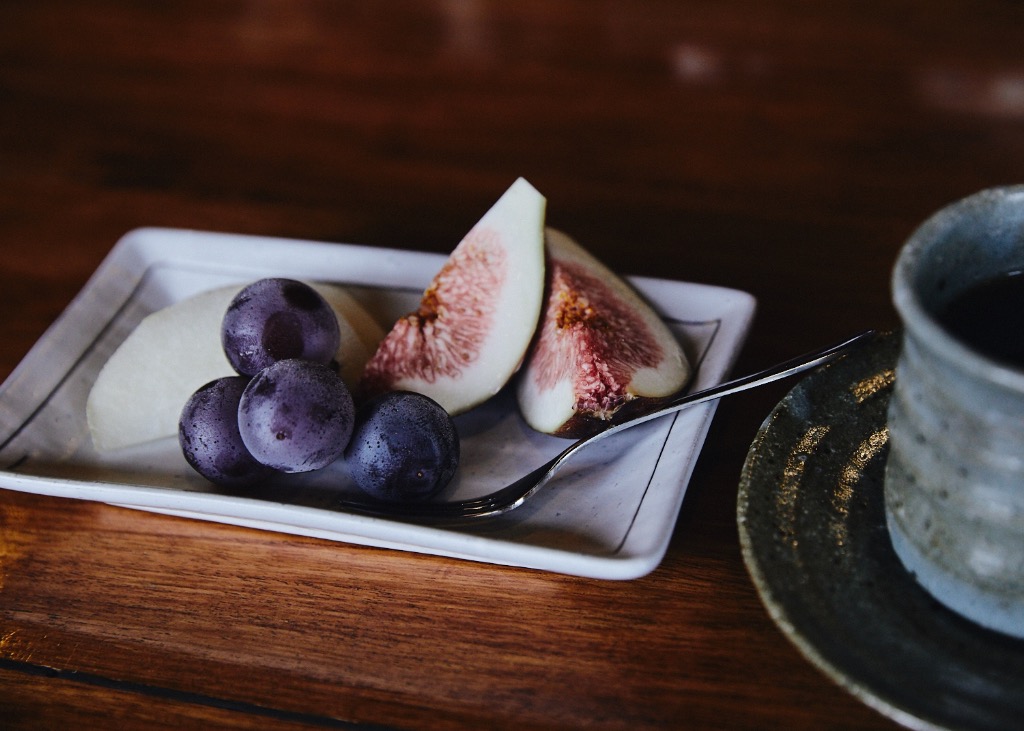 After the morning meal, we participated in the fire ceremony. Most shukudo perform gomadaki, a strictly Buddhist ritual of burning sticks and honoring Buddhist deities. However, Ikumo honors and worships the holy mountain, Haku. Ikumo's daily fire festival is the only such meeting of Buddhist and Shinto practices in all of Japan's temple lodgings.
We wrote our deepest desires onto paper, which the monk sang a mantra over and burned, sending our wishes heavenward through the smoke. It was a magical moment.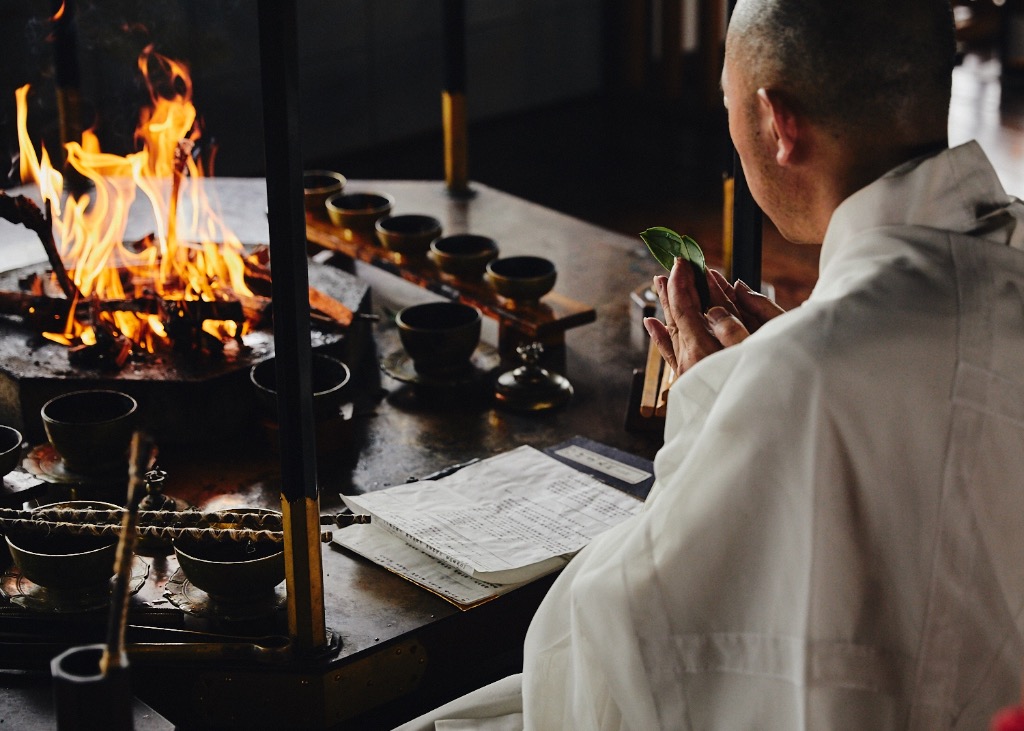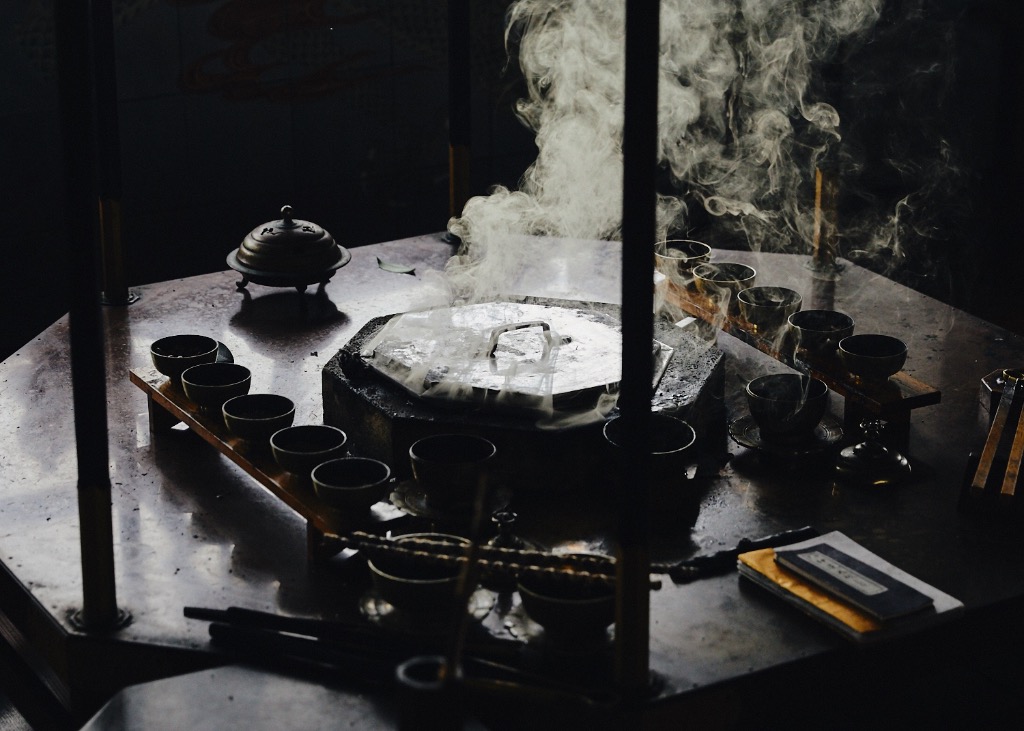 Lay expectations aside and make way for experience.
We are often influenced, perhaps too heavily, by the familiar. We have a schema—a script of expectations—based on what we already know. All those hotel stays, the need for a specific type of service, for things to be this way or that, et cetera. There's a sense of a trade off between price and quality of service. As the price rises, so do our expectations. But for the more unusual places and experiences—for the truly memorable and unique—such a metric might lead to misunderstandings.
郷に入れば郷に従え。
"When in a village, follow the rules of that village."
I recently came upon a certain monk's replies to foreign guests' unhappy reviews of another shukubo. Although I couldn't agree with the strength of his words, I could understand where they came from. In Japanese, we say, Gou ni ireba gou ni shitagae, which means the same as "When in Rome, do as the Romans do." Shukubo are not like hotels. We simply can't compare the experiences of a shukubo stay with anything else in daily life or standard travels.
Ikumo was definitely a precious experience that broke every schema I had of travel accommodations. I'm happy not to have let expectations take up space in my memory better given to this special place.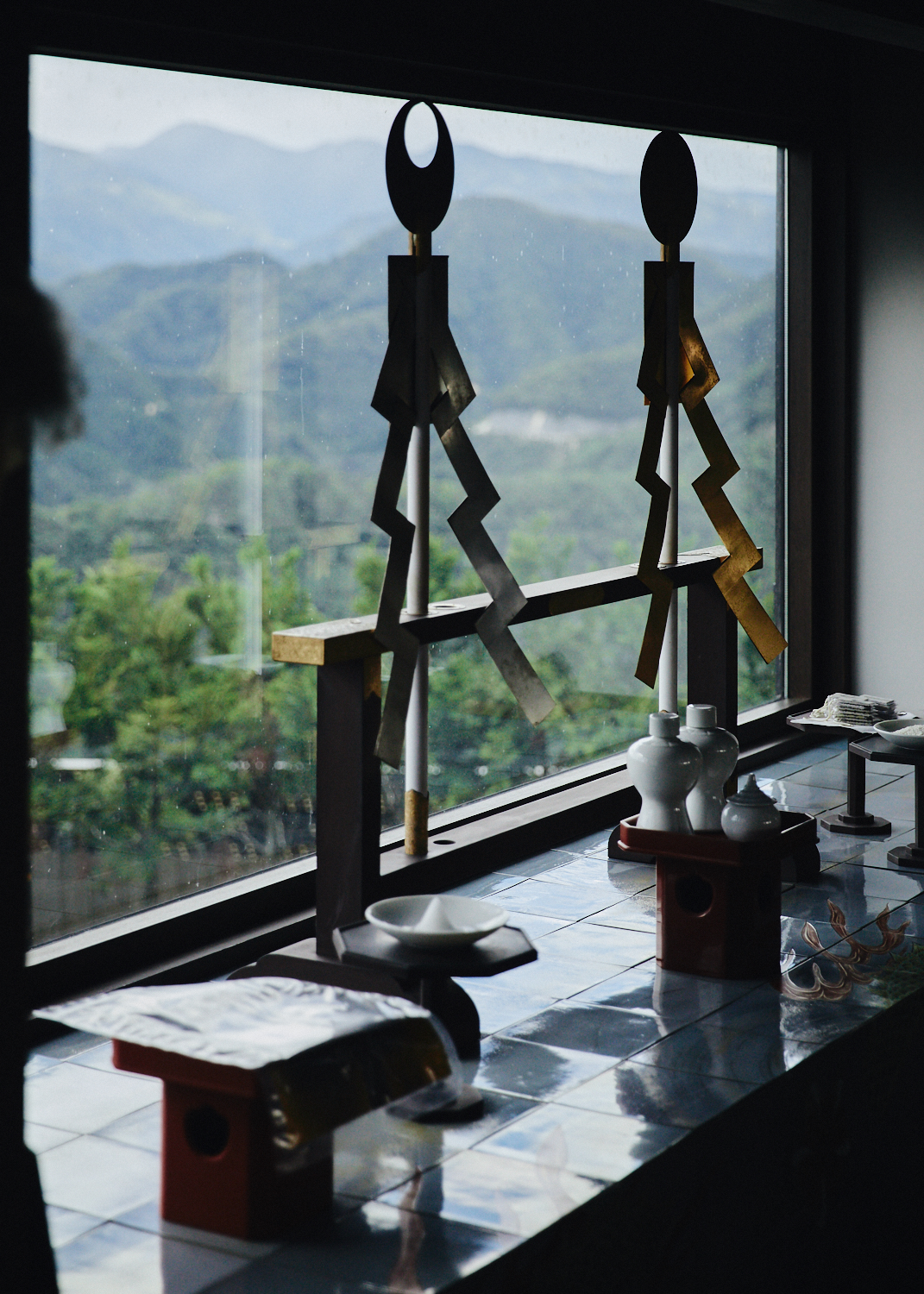 ---
Ikumo
online English reservation form
1 hour 50 minutes from Kaname Inn Tatemachi by car
20-13-14 Natamachi, Komatsu, Ishikawa
(shuttle from Natadera available upon advance request; entry to Natadera is included in Ikumo's price)
photos by Nik van der Giesen