Yosakoi: Experiencing Japan's High Energy Festival Dance
17.05.2019
Jenny Brokenshire, Sarah Morris, and Drew Principe were Kanazawa residents who even today remain deeply involved in cultural exchange and local activities. Kaname Japan asked them about their experiences with Yosakoi, the high-energy festival dance popular during Ishikawa's summer months.
---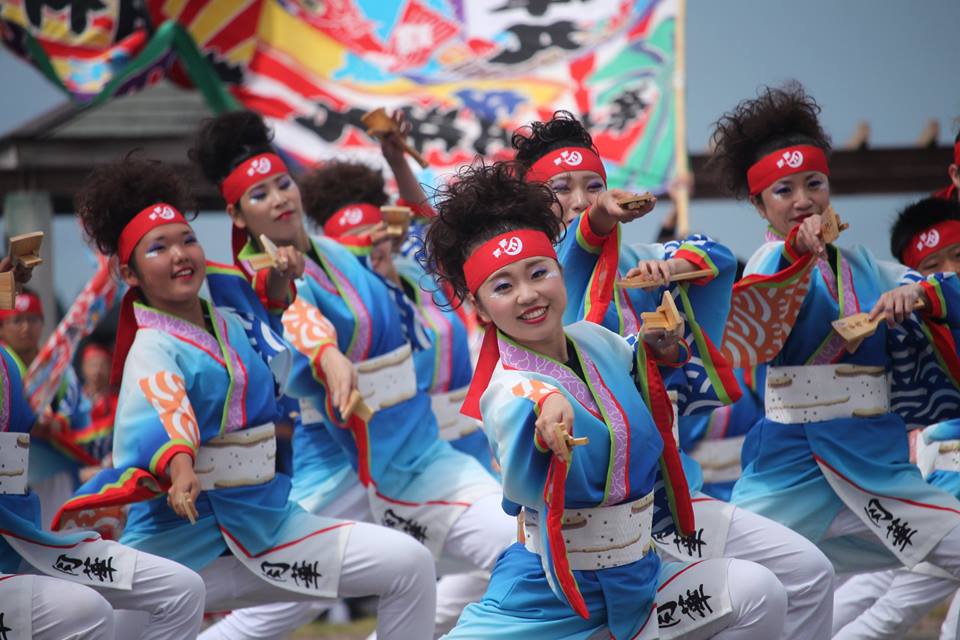 What is Yosakoi? Is Yosakoi Soran different?
Drew: From a technical standpoint, Yosakoi is unique as a fairly new and evolving style of dance. Yosakoi Soran combines the naruko clappers of the traditional Yosakoi dancing from Kochi Prefecture with dance music incorporating phrases from the traditional Soran Bushi from Hokkaido. Otherwise, there are no rules!
Yosakoi offers a lot of freedom for each team to create their own unique style, and part of the fun is watching what each unique team can bring to the table.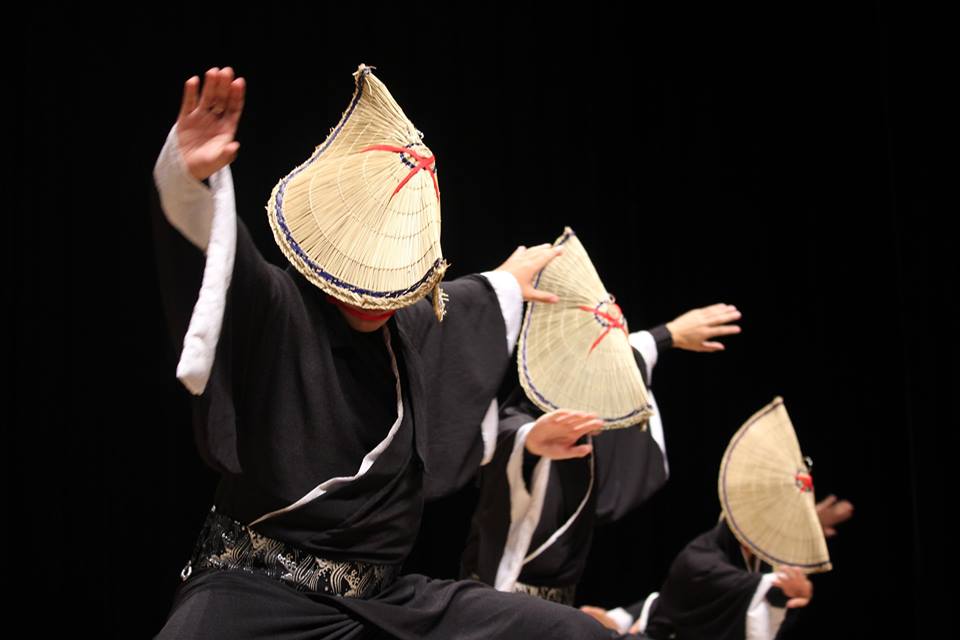 How did you discover it? What attracted you to it?
Sarah: Two years before, I decided to go see the yosakoi festival in Kanazawa and I was immediately captured by the colors, dances, and festival spirit. It's hard not to be enthralled when the music is popping and everyone dancing has a huge smile plastered on their face.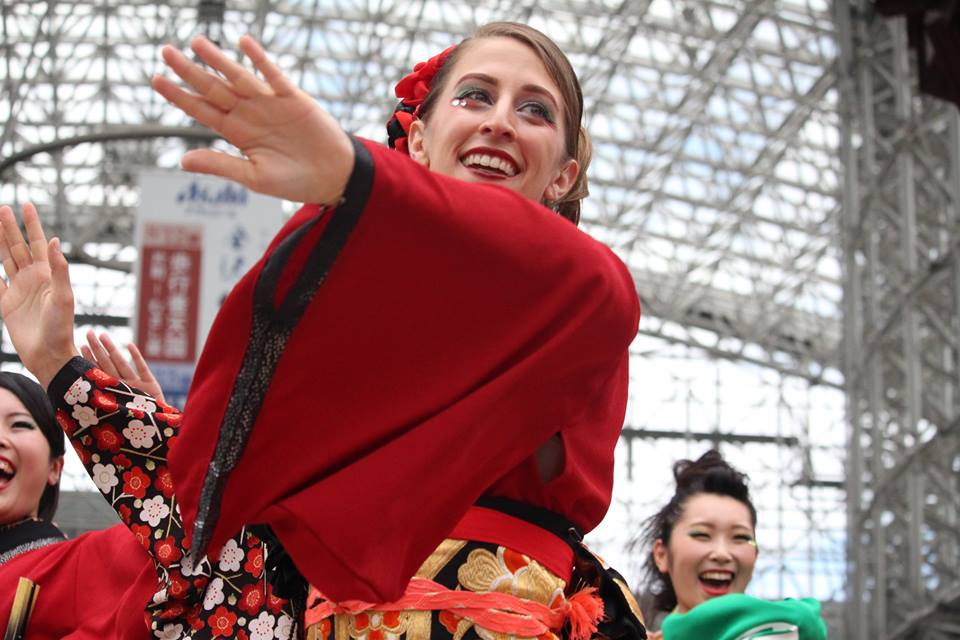 Jenny: I first saw yosakoi when I was on holiday in Sapporo, and a team came to perform one night, outside the hotel. I was absolutely captivated by the bright costumes and the really energetic dance and dancers. I was really impressed by how they could somehow make a bunch of people look like a stormy sea just by the way they moved together.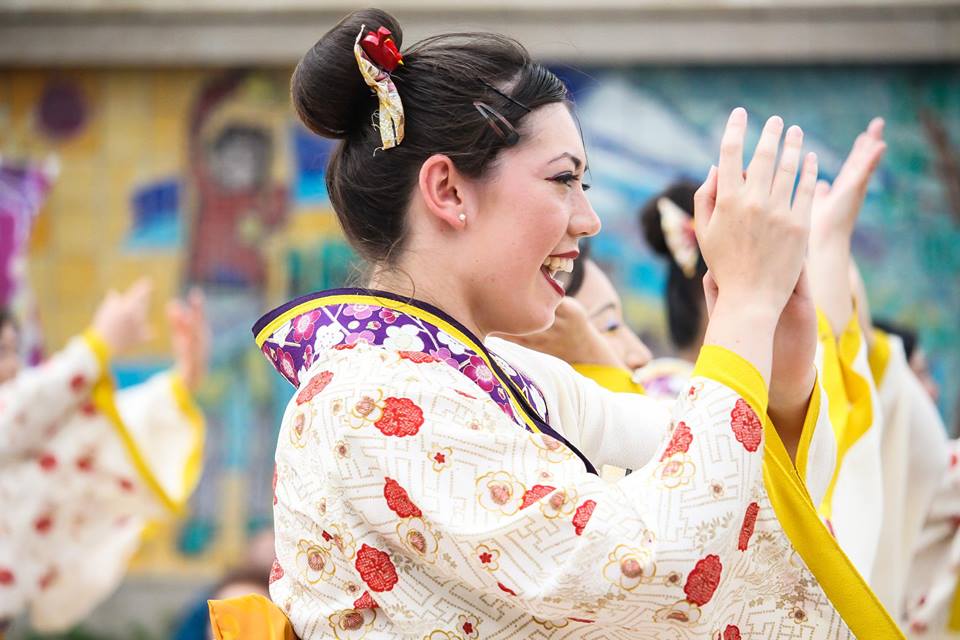 I had never been involved with any kind of team thing like sport ever before but I really wanted to try something unique to Japan during my time here so I searched around and found some local teams in Ishikawa.
Drew: To be honest, I got into Yosakoi somewhat accidentally. Before coming to Japan I used to study Circus Arts—trapeze, silks, Spanish web, etc.—so I was looking for a way to stay active and I thought taking up a Japanese hobby would be a great way to do that. A friend of mine invited me to come visit a Yosakoi rehearsal, and before I knew it I was a member!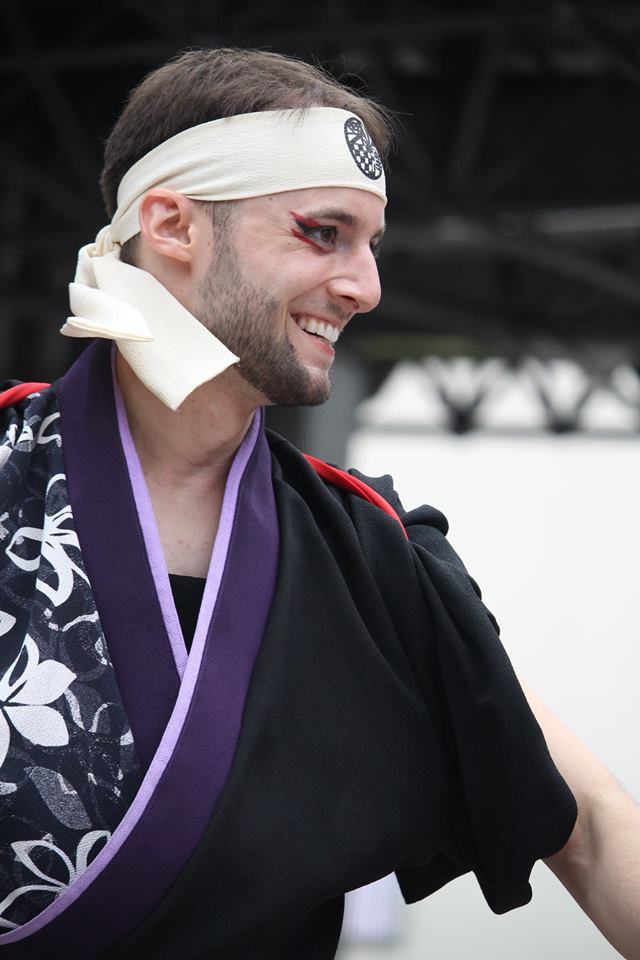 What sets it apart from other performance arts and activities?
Drew: It's a community-based activity. Teams are generally made up of people from all over the local area, some with dance experience, some without. Entire families will join a team together and find a way to contribute, whether that's waving the flags, building props and set pieces, dancing, or announcing for the team. Even our performances bring us out into local communities at neighborhood parties, nursing homes, community centers, local festivals, etc.
Besides being a great workout, Yosakoi offers a chance to meet people of all ages and from all walks of life.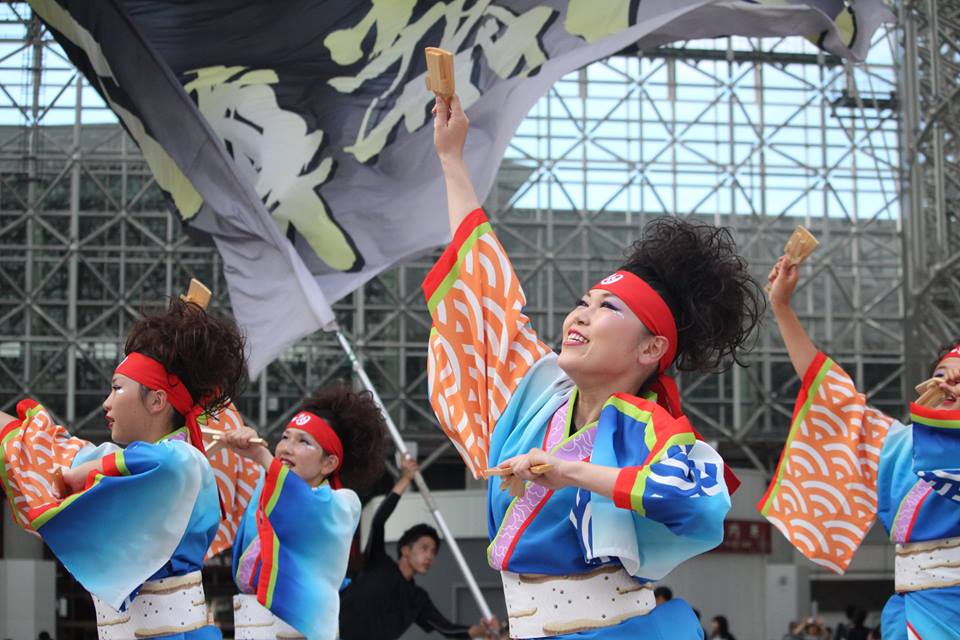 Sarah: Everyone works together as one team. We yell, sing, smile, and clap together and celebrate our love of dance. It's absolutely infectious.
Drew: And Yosakoi is for EVERYONE! There are no auditions or "cuts" to join a team. We take anyone and everyone who wants to dance. Our teams include 5-year-olds and 75-year-olds. Whether you're a seasoned veteran or a first-time dancer, there's always a place for you.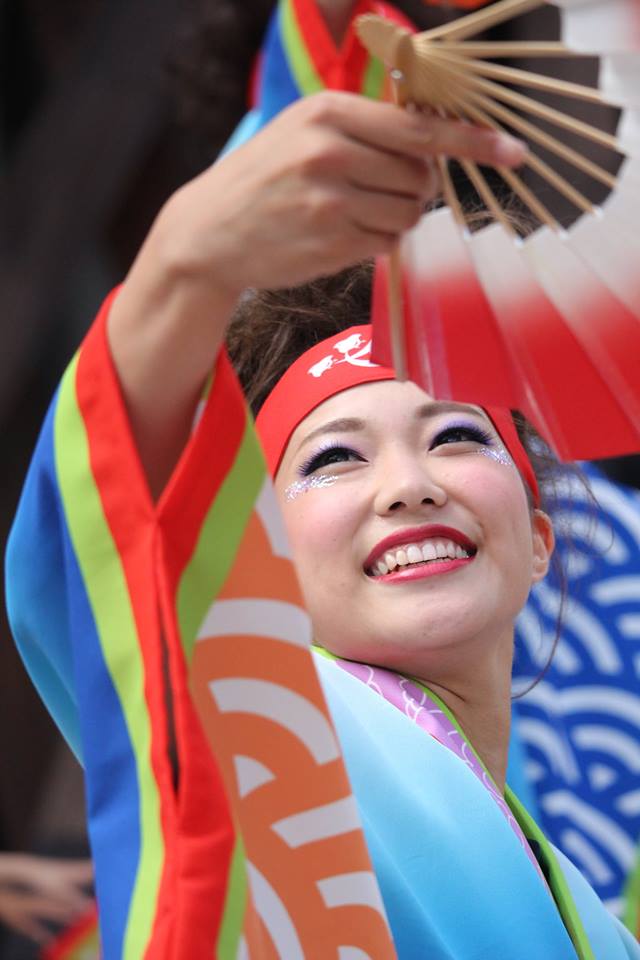 Do you have advice for people who want to experience Yosakoi?
Sarah: I can't recommend going to see yosakoi enough, especially the Kanazawa festival. My advice is to take the time and go to a big yosakoi festival, eat some festival food, have a blast, AND JOIN IN THE FESTIVITIES! There's a giant dance at the end that everyone can join in together. Even if you don't know the dance you can still join in and learn along the way. It doesn't matter where you're from or how well you can dance as long as you're having a good time! That's what this is all about, having fun and celebrating through dance!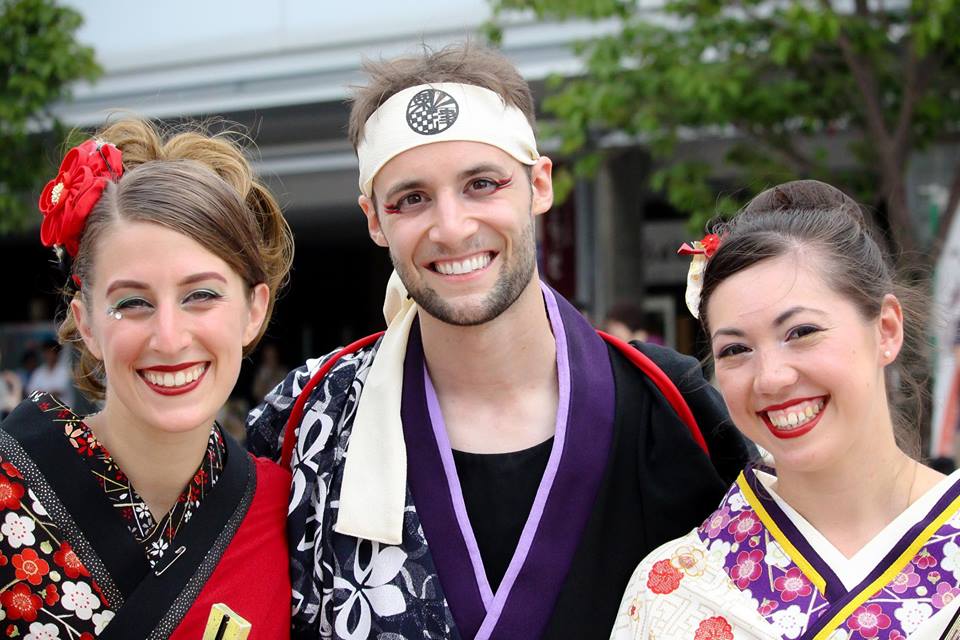 ---
The Yosakoi Soran Nihonkai is a dance showcase and competition throughout Ishikawa Prefecture and parts of Shiga. During events, roads are closed as dancers take to the streets, Kanazawa Station, and stages across city. Everyone is invited to the final dance!
Exact dates change each year, but most occur over two days on a weekend mid month.
Yosakoi dance can also be seen during other events during the year, including during the Hyakumangoku Festival in early June!
---
All photos by Tamaya Greenlee.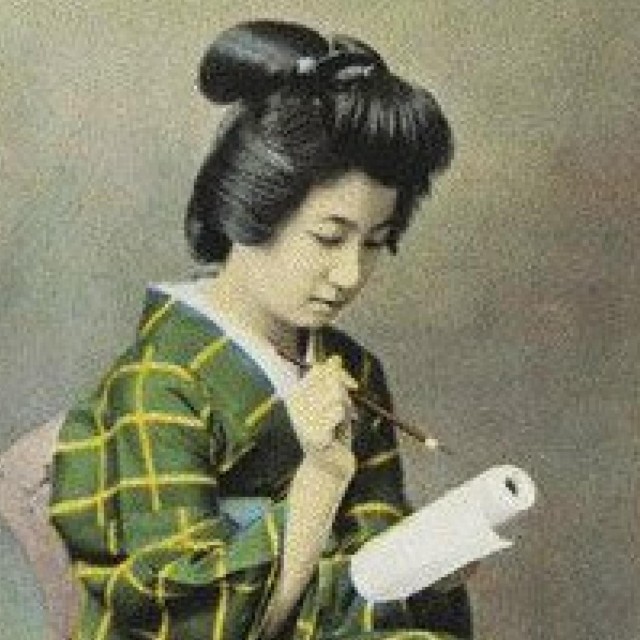 guest authors
Do you have a Kanazawa experience you'd like to share? Have you been a guest in one of Kaname's accommodations or restaurants? We'd love to share your story! Contact us about submissions to see your experience featured here.