Breakfast in Kanazawa: Where to get that early bite!
13.11.2019
For all of Japan's has many cultural wonders, breakfast is rarely among them. The meal is usually small—often only simple bowls of rice and miso soup—and eaten at home. The more gastronomically exciting dishes are reserved for lunch, dinner, at various events or even a favorite cafe, and few of these ever start earlier than 11:00 a.m. But, slowly, cafes and shops are opening their doors at dawn, especially for overseas visitors, including those in Kanazawa.
If you're so inclined, you might try sushi for breakfast. Several shops in Omicho Market open as early at 7:00 a.m., like Mori Mori Sushi Omicho.
But for something more filling, familiar or varied, these are the way to go:
Kaname Inn Tatemachi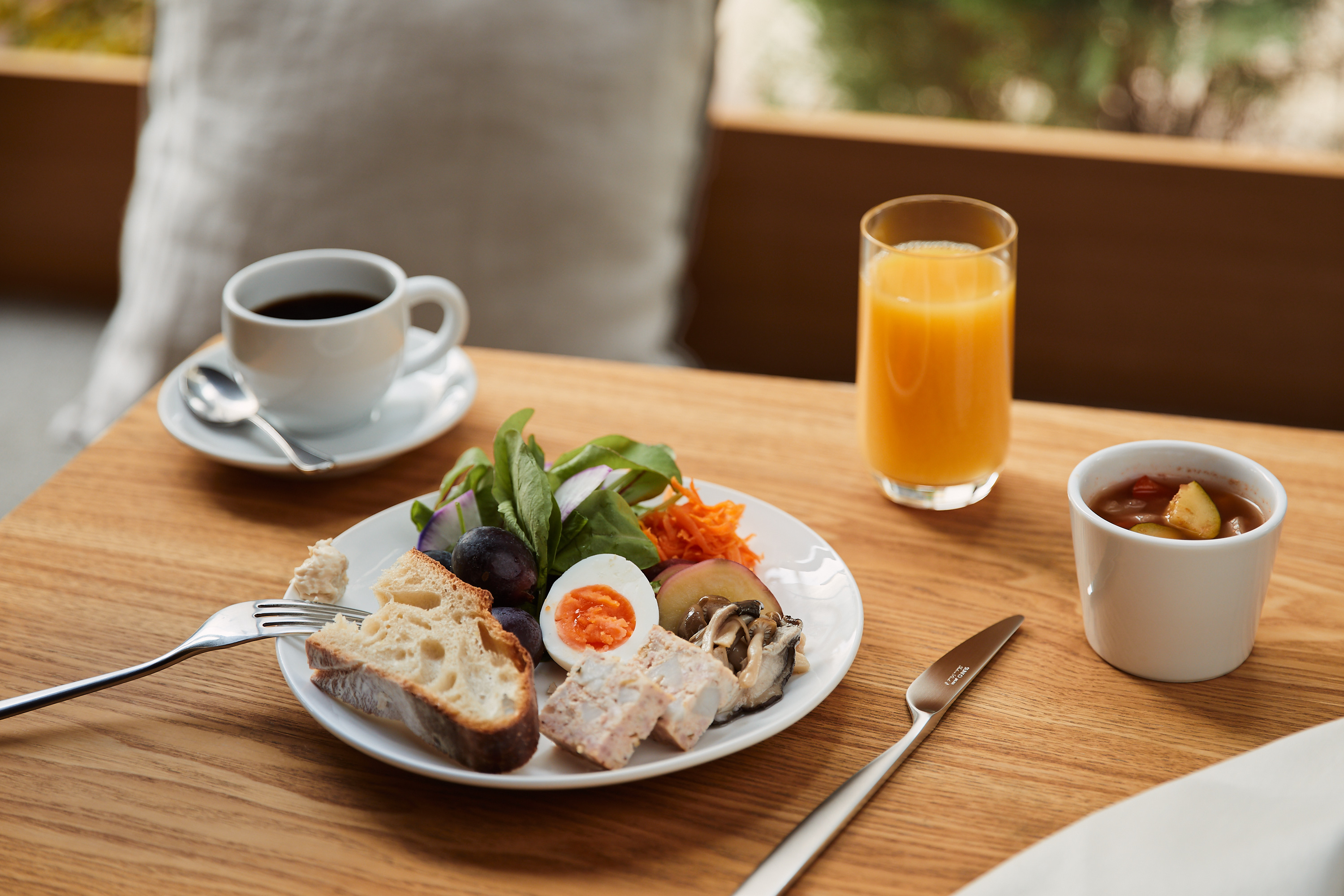 Guests of Kaname Inn can treat themselves to our newest seasonal selection for breakfast. A minestrone soup made with one of the region's famous veggies, the Kaga giant cucumber, a selection of vegetable sides, a perfectly cooked boiled egg—still gooey in the middle—and a homemade sausage meatloaf of Noto pork, chicken and another Kanazawa veggie, the Kaga lotus root.
Follow that up with coffee from our choice of local roasters, the No. 3 Warehouse Coffee Roaster, and you're ready to take on the town.
Complete breakfast: ¥1500
You are here. Enjoy!
---
Monet
More in the mood for a breakfast sandwich? The newest edition to Kanazawa's breakfast bistros is also the closest to us! Down the shopping promenade of Shintatemachi Street, just before you reach the temple, is Monet. Owned and operated by the same as that of the locally famous Plat Home, this shop uses the same quality of ingredients and thoughtfulness is in each dish here as well.
Come for the Breakfast Plate or the Croque Monsieur, either alone or as a salad set. Stay for lunch! The mackerel sandwich for lunchtime is equally delicious.
Pictured: Breakfast Plate with Salad + Juice
Monet Sandwicherie Artisanale
8:00 a.m. – 11:00 a.m. (breakfast)
11:00 a.m. – 5:00 p.m. (lunch)
open until 6:00 p.m.
closed Wednesday
3-48-1 Shintatemachi, Kanazawa
076-299-5449
400 meters from Kaname Inn Tatemachi
---
Bistro Hiramipan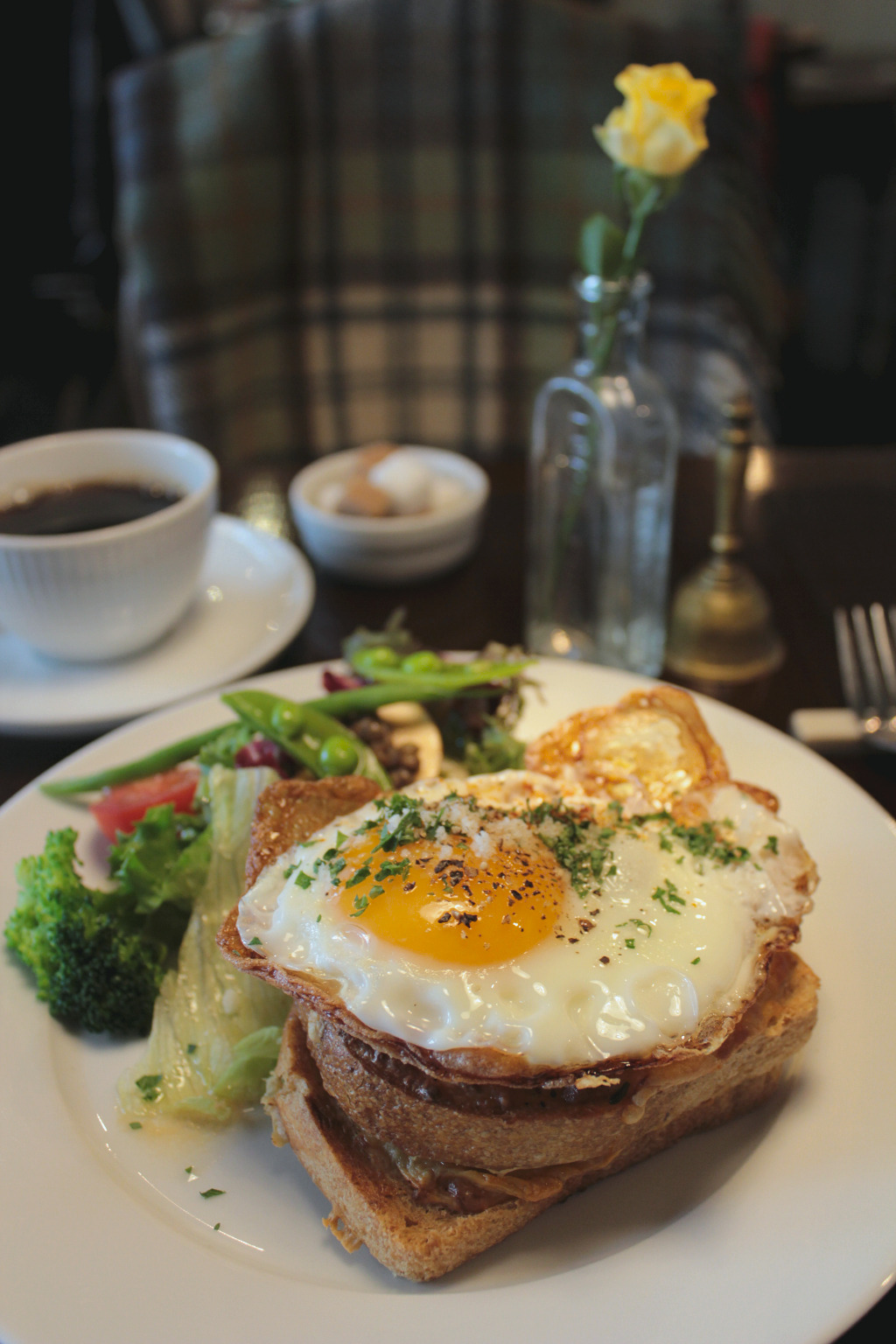 A French cuisine and bakery where the road from Oyama Shrine meets the Kuratsugi Waterway flowing from Seseragi-dori Street. For all its hours, it's open as a bread shop. The intimate cafe seating area opens at various times for breakfast, lunch, and dinner service. Breakfast here also runs later than other breakfast places, with last orders at 10:30 a.m.
Select between the croque madame (pictured) or the quiche with seasonal ingredients. The set comes with salad and a tea or coffee. For an additional treat, order the generous serving of homemade soup.
Bistro ひらみぱん
8:00 – 10:30 a.m. (breakfast)
12:00 – 3:30 p.m. (lunch)
8:00 – 6:00 p.m. (bakery shop)
closed Monday
1-6-11 Nagamachi, Kanazawa
076-221-7831
850 meters from Kaname Inn Tatemachi
---
Curio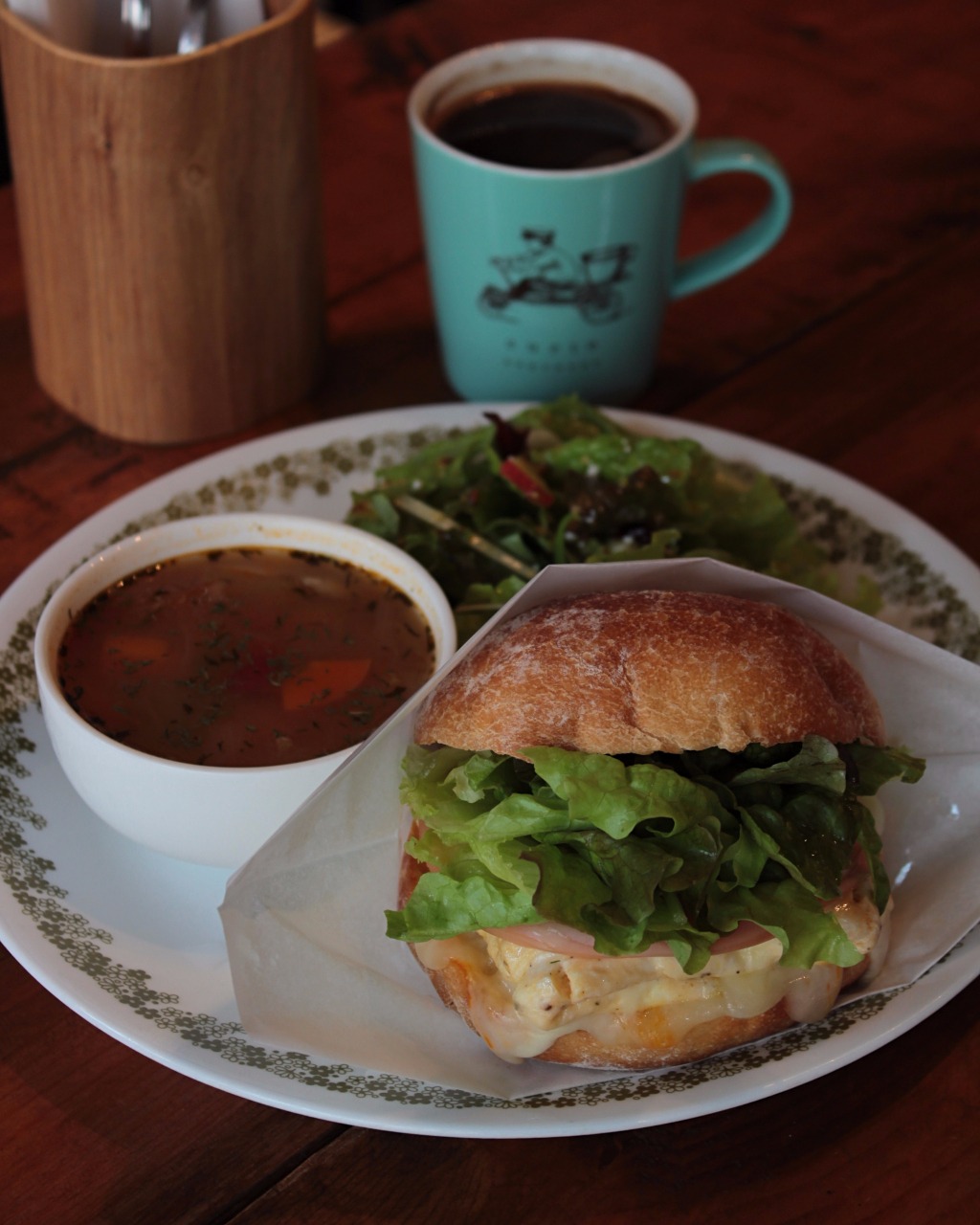 If espresso is a necessary start to your day, Curio has you covered. All coffees are espresso-based, and even the Americano is robust. The full menu is available throughout the day, so in addition to the egg and cheese Breakfast Sandwich (pictured), you can chow down on pulled-pork or perk up with the vegetarian-friendly quinoa or hummus plates. Let them know up front of any dietary restrictions, and they'll adjust your order as best they can.
The cafe itself is a charming lounge with vintage aesthetic and its own cultural hub. Tell Yuko and Sol we said, "Hello!"
Curio Espresso & Vintage Design
9:00 a.m. – 4:00 p.m.
closed Tuesdays
1-13 Yasuecho, Kanazawa
076-231-5543
1.6 km from Kaname Inn Tatemachi (12 min. by bus)
---
Kincharyo, Kohrinbo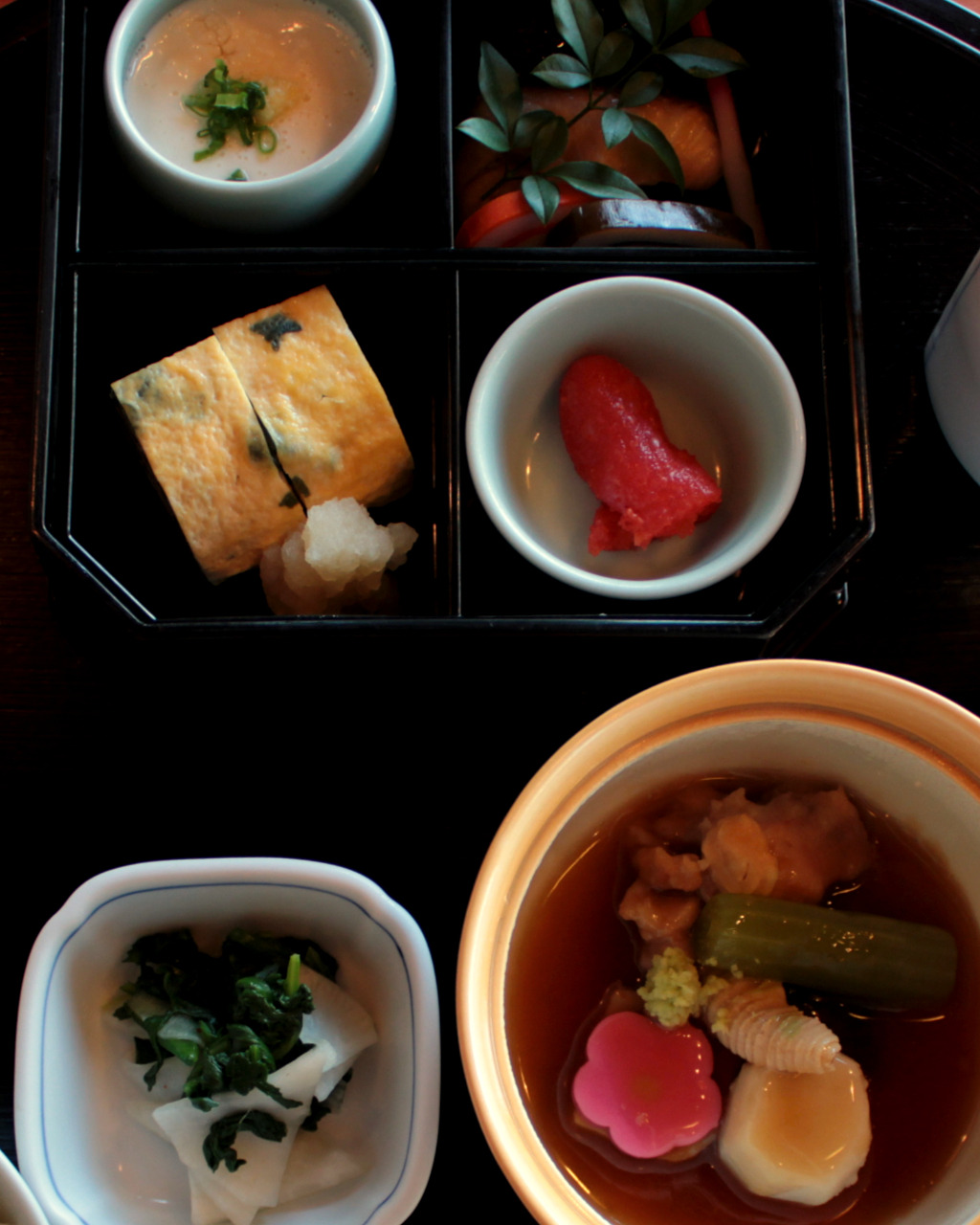 A branch of the fine-dining restaurant of the same name, Kincharyo is attached to a hotel in the Kohrinbo shopping district. However, you needn't be a hotel guest to enjoy their breakfast set. The main course is the Kanazawa local specialty, jibuni, a savory stew of duck and Kaga vegetables. Side dishes vary by day, but the price is always the same.
2732 yen
金茶寮香林坊店
7:00 – 10:00 a.m. (last order, 9:50)
Kanazawa Tokyu Hotel, 3F
2-1-1 Kohrinbo, Kanazawa
076-263-5511
450 meters from Kaname Inn Tatemachi
---
Notice concerning COVID-19: Information and services for the above sites may be temporarily suspended due to the coronavirus pandemic. Please check again close to the dates of your visit. Guests of Kaname Inn Tatemachi may also use our concierge service to make inquiries as necessary. Thank you for your understanding, and we eagerly look forward to your stay.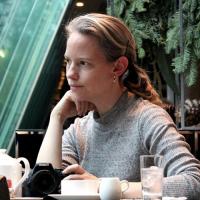 Rachel
About a decade ago Rachel fell off a bus and then fell in love with this traditional-crafts and ice-cream-consuming capital of Japan. Editor and amateur photographer with a penchant for nature and history. Not actually fifty songbirds in a trench coat. (Former penname: Ryann)