Noguchi: The Brewery of a Sake Master…
27.09.2019
Sake, what Japanese call nihon-shu, takes only three simple ingredients: rice, water and the mold for fermenting, koji. Yet from these three, we can produce an abundant variety of flavors and intensities.
In Japan, Ishikawa Prefecture is famous for its sake. Fresh water flows clear down from our holy mountain, Hakusan. Sake rice is grown in our fields. And we've no shortage of delicious seafood that pairs perfectly with Japan's drink of choice.
These ingredients come alive in the hands of a skilled toji, a sake brewery master. One of Japan's most famous brew masters is in Ishikawa's Noto Peninsula: Noguchi Naohiko.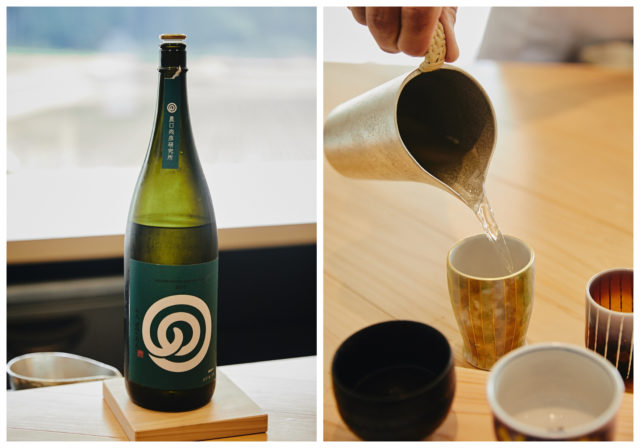 A Beethoven Among Brewers
Sake brewing is the Noguchi family business, and Noguchi himself grew up alongside another brew master, his grandfather. To learn the tradition of sake brewing, a 16-year-old Noguchi moved to the most austere location available among his family connections, in Shizuoka. He then worked at various other breweries until he was 27, when he returned to his home prefecture of Ishikawa.
He begin his work in Ishikawa at Kikuhime Sake Brewery with great confidence, which he now attributes to his then relatively-young age. When his delicate sake wasn't readily accepted, he was initially discouraged. However, he quickly adapted.
At that time, sake was the worker's drink, something hearty to accompany a big meal. Little by little, Noguchi changed his technique, relying on feedback from the community he wanted to brew for, until his sake matched their needs.
But Noguchi himself cannot have a drop.
Noguchi is one of approximately one-third of Japanese people who have "Asian flush," a a symptom of alcohol toxicity that puts sufferers at a higher risk for other diseases.
And yet, he has authored the recent history of sake in Japan. By promoting premium ginjo sake and reviving the gamier-tasting yamahai tradition of sake production, he led booms in markets of both. He was working two breweries at once when he retired in 2015.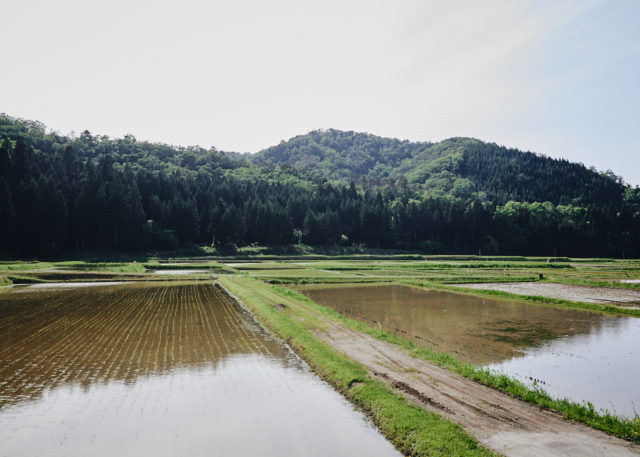 The master returns, once more …
But Noguchi could not resist coming out of retirement. In 2017, he established the Noguchi Naohiko Sake Institute to share his philosophy and technique of sake production with the next generation. It's also a brewery with a modern design and using the latest technology.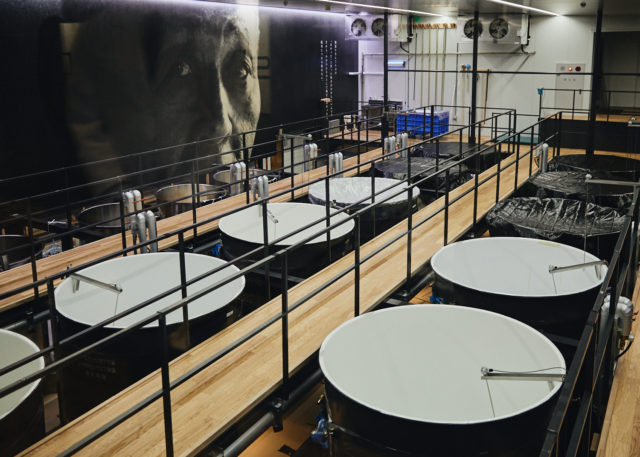 I didn't feel like I was in a brewery at all.
"Brew sake honestly, and with love."
These words are printed in Japanese on the wall…
The important part of brewing is the care you put into it. The koji isn't going to talk back, so it's on you to be completely honest about your work. If you try to cut corners, you will never be truly successful.

Connect with the work, even if you have to sprinkle yourself into it. The koji, the yeast, they are connected to you. If you can't feel that, then you can't make good sake. Don't try to force your own conventions onto it, either. It will not follow you.

Whenever I think I've understood the brewing of sake, it turns out I don't. It's an unknown, and if I didn't start, I absolutely wouldn't learn.
Visit this place; feel his world.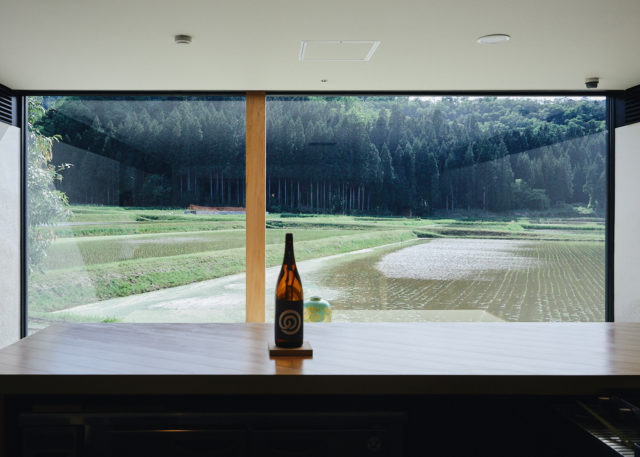 Tasting Room Toan, inspired by tea room design
Alongside the brewery is a beautiful sake bar, Toan. The design is fashioned after a traditional Japanese tea room. However, instead of a view of the garden, the window—appropriately—overlooks rice fields.
The counter space is minimal and sophisticated. Sake cups of all materials and shapes allow the taster to experience the drink in many ways, finding new flavors and aromas. Enjoy several with well-paired nibbles.
2:15 – 3:45 p.m. (90 min.)
Noguchi sake tasting course: 5,000 yen
Non-alcohol course for designated drivers: 3,000 yen
Reservations required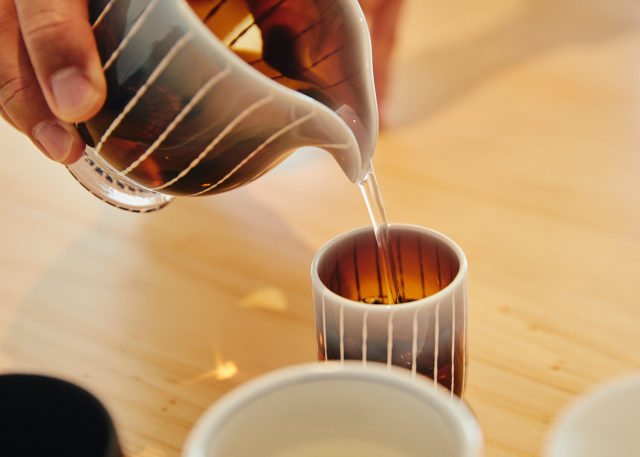 Where can we taste Noguchi's sake in Kanazawa?
Even you don't have time to travel to the Noto (a lovely road trip in and of itself), you can taste Noguchi's sake in Kanazawa. My favorite sake bars which sell Noguchi are…
Nihonshu Makoto
Higashi Chaya District (one of
Kanazawa's 3 geisha districts
)
This tiny sake bar has an amazing selection of sake from the Noto area's master brewers. Flights of 3 sake for tasting are very affordable.
Nihonshu Bar Kanazawa Shushu
near
Omicho Market
Run by another Kikuhime alumnus, and inspired by Noguchi.
Washu Bar Inuwashi
along the main road between Omicho and
Oyama Shrine
All-you-can-drink (1800 yen for 1 hour) from a chilled selection. Be careful not to get too drunk!
Just like wine is the nectar of the gods in the west, sake is for us in Japan. Personally, the only drink that gives me memory loss is sake… which is sometimes not good end, but I think it is for people get out from annoyance. So…it's sometimes good!
Noguchi Naohiko Sake Institute
i 1-1, Kannonsimo-machi, Komatsu
49 min. from Kaname Inn
official website
---
Plus . . .
We had some time after visiting the brewery, and when we asked the staff if there was any place to visit nearby, they recommended this short, easy hiking spot, Kannon-yama. Check it out if you go. You can see the Japan Sea from the top.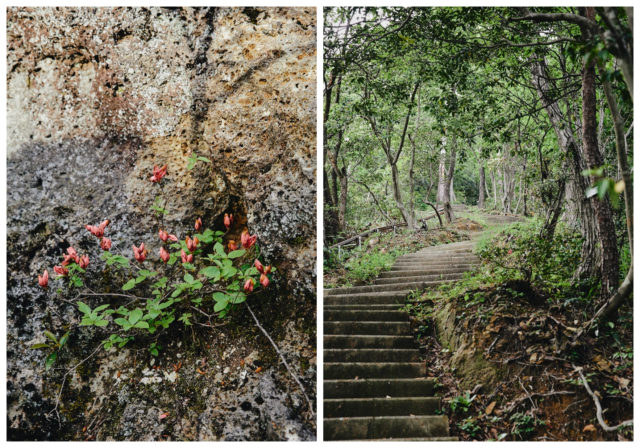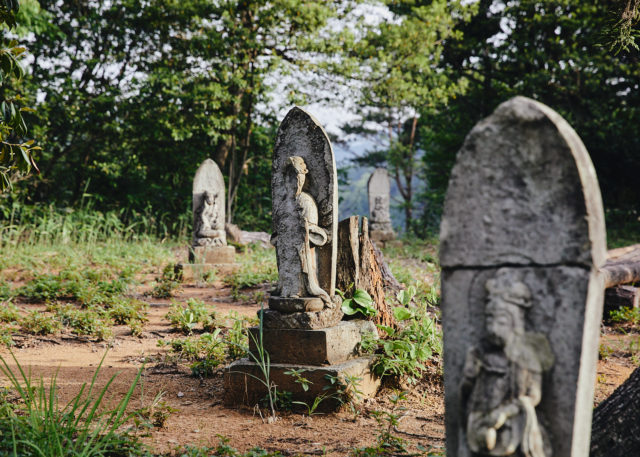 photos by Nik van der Giesen (hitonoto)
---
Notice concerning COVID-19: Information and services for the above sites may be temporarily suspended due to the coronavirus pandemic. Please check again close to the dates of your visit. Guests of Kaname Inn Tatemachi may also use our concierge service to make inquiries as necessary. Thank you for your understanding, and we eagerly look forward to your stay.